Mark-Evan Blackman, Menswear Faculty Member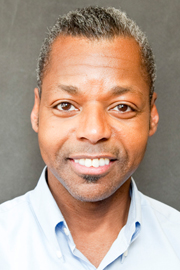 At first, students think about a collection in only one way: "I like this, I don't like that." They have to learn there's more to it.

I once I took a group of first-year students, all Menswear Club members, to Los Angeles to see different lines, including Dries Van Noten, Paul Stuart, Jeffrey from Project Runway, and Ben Sherman. They ranged from street wear to young men's to high end. I asked the students, "What's the color range, the price point, the finishing details? This jacket has full detailing, a nice lining, and grommets, so the price point is here. The other one is crazy and wonderful, just to get your juices going, but there are only three on the rack. Why is that? A collection needs little ancillary items, too."

They had never thought about how pieces work together in a line, that it takes a concept to sustain it over six looks or 12 or 50. Now they understand that for a portfolio you need more than pretty pictures. What makes a good designer isn't just the ability to design great stuff, but the ability to edit what is there.