Degree Details
FIT offers a two-year Associate in Applied Science (AAS) degree program in Jewelry Design. See eligibility requirements before you apply. Applicants to the AAS program are expected to provide a competitive portfolio.
Work with industry-grade facilities, including professional metal-arts studios, silversmithing equipment, state-of-the-art computer labs, industry-standard 3D printing, and a fully equipped gemology lab. You'll also learn design development, CAD modeling, high-tech welding, electroforming, etching, enameling, and goldsmithing from internationally acclaimed masters of the craft.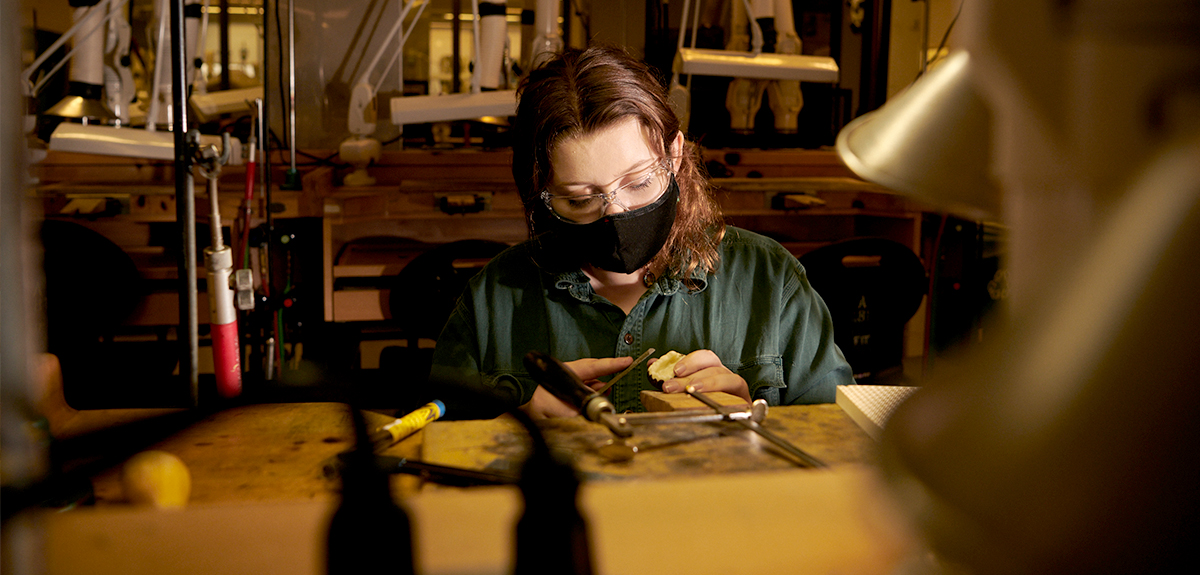 The Jewelry Design program blends the disciplines of design and fabrication. To support the mastery of both design and studio practices, our curriculum provides students with a variety of skills, such as piercing, soldering, and model making, in addition to digital skills in CAD modeling, prototyping, design, and rendering.
Our program also teaches our students to confront sustainability issues in both design and manufacturing.
The Jewelry Design program includes a studio course in alternative/sustainable materials, giving students the opportunity to confront sustainability issues in both design and manufacturing. An understanding of sustainability in mining practices, gemstone origins, and trends is essential to success in today's marketplace.
An individualized internship can be arranged but is not required. FIT students have interned at top jewelry companies including Tiffany & Co., Miriam Haskell, David Yurman, and Mikimoto.
Collaborate With Other Students
Join FIT's Jewelry Design Connection student club and work on projects with students from around the world who bring a unique perspective to jewelry design.
SHOW US YOUR WORK: A COMPETITIVE PORTFOLIO IS REQUIRED FOR THIS MAJOR
Contact Us
If you have questions about this program, please reach out.
Jewelry Design
School of Art and Design
Pomerantz Center, Room A471
(212) 217-5736