Create a Permanent Legacy with a Name on FIT's First Donor Walk
Celebrate a person, group, or organization by having a name engraved on FIT's new Donor Walk. You or your company can purchase a space on the walkway—a place of honor on this prominent new campus feature.
An enduring tribute to a loved one
A unique gift to a graduate or graduating class
A meaningful salute to a notable person or organization
A commemoration of your own FIT experience
The name of your choice will become a permanent part of the campus and the New York cityscape.
About the Donor Walk
The Donor Walk will be located in front of a striking, state-of-the-art building now being constructed on West 28th Street—the first new academic facility on FIT's campus in more than 40 years. The building will be a lively new center of creative energy for FIT and the Chelsea neighborhood. The glass façade makes the life of the college visible to the street, bringing an exciting synergy to the area.
A name on the Donor Walk is a tax-deductible gift to FIT. Funds raised from this project will help secure the college's future for generations of students to come.
You can purchase a larger inscription (2-inch high letters; 35-character maximum, including spaces) or a smaller inscription (1-inch high letters; 45-character maximum, including spaces), with a range of text options. View a larger image of the pavers.
A limited number of spots are available. Act now to make your mark!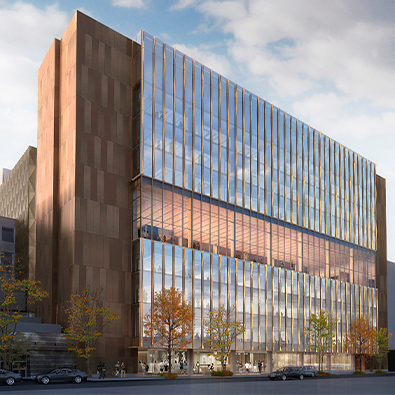 FIT's New Academic Building
Designed by SHoP Architects, FIT's new academic building will transform the campus with advanced facilities and flexible learning spaces.
Learn More