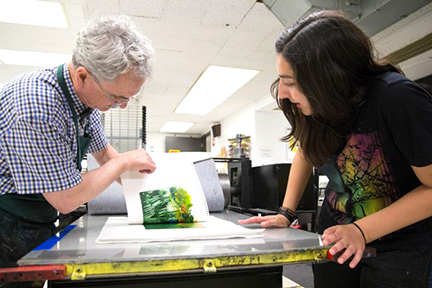 Precollege Programs at FIT prepares high school students for the FIT admissions process, including creative arts portfolio development. Enrolling in a Precollege class gives younger students a unique experience of being part of FIT's dynamic and diverse college campus. They also encounter the cultural vibrancy of New York City, which informs and enriches FIT, our history, and our campus community.
Here are some of the reasons why students choose Precollege Programs at FIT:
FIT's Precollege Programs will prepare you to apply to art and/or design colleges while you explore potential majors. You'll be able to sample FIT courses, professors, and campus before making that tuition commitment!
You'll make friends with like-minded students from all over the tri-state area—and during summer sessions, all over the world! Meet interesting people and develop relationships with new friends you'll keep throughout college and beyond.
» Read student stories on our blog
FIT has lots of unique classes that will teach you skills and techniques you'll use throughout your career: international trade, footwear design, cosmetics and fragrance marketing, studio jewelry, interactive and digital marketing, public relations, interior design, fashion, styling, photography, animation, and more.
View Precollege Course Offerings