Residential Life Senior Staff
Angela Brown, Interim Director of Residential Life
The director oversees all aspects of the residential educational and housing operations of the Office of Residential Life. The director provides strategic direction, leadership, budget management, and supervision of the department, including facility long-term planning, residential education initiatives, staff development, and assessment initiatives. The director supervises the residential life staff, executes policy and procedures, and functions as a liaison between the residence halls and the college. The director also serves on the FIT CARE Team.
Associate Director of Residential Life - TBD
Residential Education
Ashley Wolfe, Assistant Director of Residential Education for 27th Street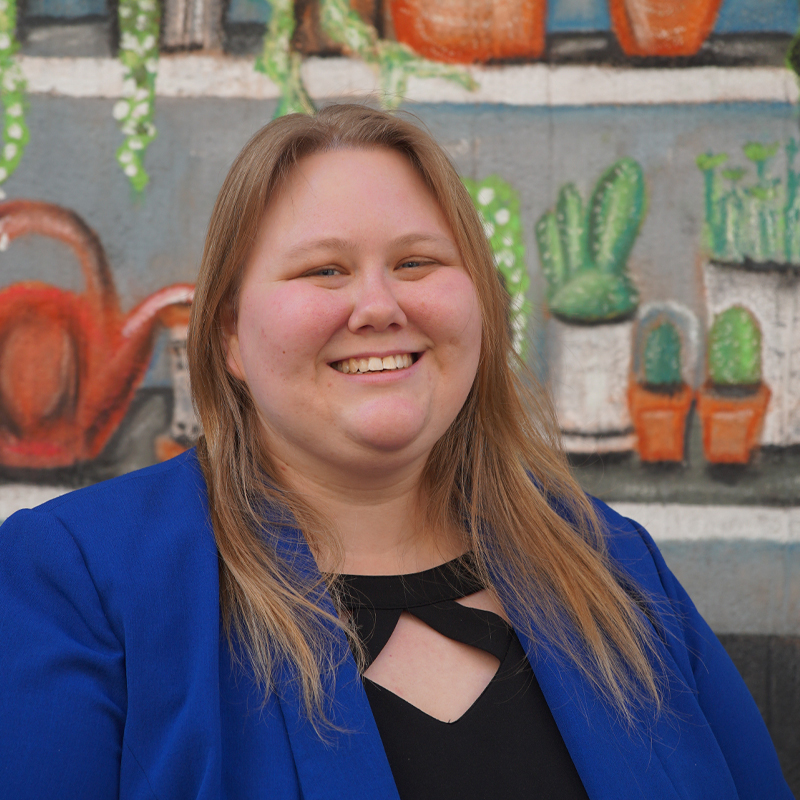 Ashley Wolfe (she/her) joins the FIT Residential Life team as the Assistant Director of Residential Education. Ashley is a first-generation college student who completed her master's degree in College Student Personnel from Western Illinois University and her bachelor's degree in Psychology from Augustana College (Illinois). She is pursuing a PhD in Education and Social Justice from Lancaster University.
Prior to arriving at FIT, Ashley served as a program manager at the University of Chicago and as a resident director at Fordham University. Ashley is also actively involved with NASPA (Student Affairs Administrators in Higher Education), where she has presented at multiple conferences, including the NASPA Strategies Conference, and at the Region II Careers in Student Affairs Conference.
Outside of work, Ashley can be found swimming at the local YMCA, hiking, knitting hats and scarves for family and friends, writing, reading, and volunteering. Ashley is a volunteer for Kiwanis International, a global service organization dedicated to making a difference in the lives of children. Lastly, Ashley is a New York State trained sexual assault crisis and intimate partner violence advocate, with more than 200 volunteer on-call hours under the supervision of Crime Victims Treatment Center NYC.
Fun fact: Ashley's first job was in second grade as a paper route carrier!
Assistant Director of Residential Education for 31st Street - TBD
Residential Education Coordinator, Coed Hall - TBD
Amanda Díaz, Residential Education Coordinator, Nagler Hall
Amanda Díaz (she/hers) joins FIT as a residential education coordinator for Nagler Hall. As a native New Yorker, Amanda received her Bachelor degree from SUNY New Paltz in Sociology and Criminology, and continued in higher education by receiving dual Masters degrees in Public Administration and Student Affairs Administration from Binghamton University. Additionally, she will be pursuing a Doctor of Law and Policy at Northeastern University this fall. With her previous work experience at Columbia University, University of Connecticut, SUNY Albany, and Binghamton University, Amanda aims to embed facets of diversity, equity, and inclusion into the fabric of residential life and within the greater community.
While in graduate school, Amanda found her passion for policy analysis work within higher
education, and has made a commitment to advocate for all students, especially those from
underrepresented, marginalized communities and backgrounds. Providing support, resources, and
holistic developmental opportunities for students are Amanda's top priorities as a residential
education coordinator and she is immensely excited to contribute towards FIT's academic and
residential communities.
Fun fact: Amanda is a published poet!
Alyssa Haining, Residential Education Coordinator, Alumni Hall
Alyssa (she/her) is the residential education coordinator for Alumni Hall. She received her Bachelor of Arts degree in Psychology from SUNY New Paltz and her Master of Arts degree in Higher Education Administration from Stony Brook University.
Before coming to FIT, Alyssa worked in residential life at Stony Brook University and as an academic advisor at Hunter College.
Alyssa spends her free time with her beloved cat Minerva, at the gym, or re-watching Gilmore Girls.
Fun Fact: The first time Alyssa rode on a plane was when she went skydiving!
Richard Moreno, Residential Education Coordinator, Kaufman Hall Floors 1-7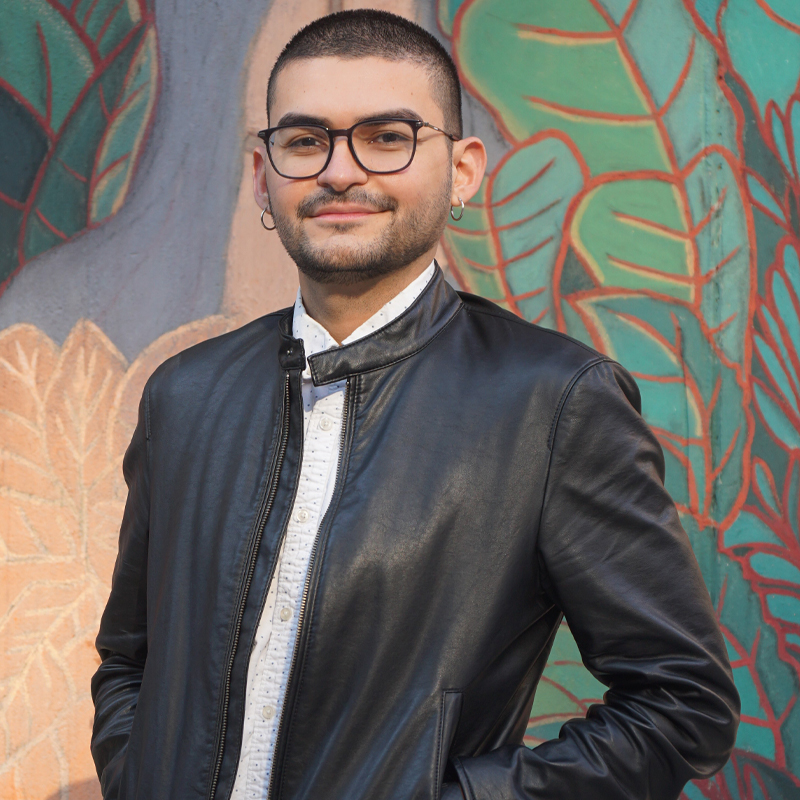 Richard (they/them, he/him) serves as a residential education coordinator, supporting the development of resident assistants, assisting in residential program development, and providing direct oversight to a specific residential community.
They are originally from Los Angeles, CA. They received their Bachelor of Arts degree in Communication Studies from UC Santa Barbara and their master's degree in Higher Education Administration from Florida International University.
Richard began their work in student affairs by advocating for queer and trans students in various positions through programming and student development initiatives. In their spare time, Richard enjoys reading queer fiction and trying new restaurants in the city, especially for a good brunch. They are always looking for recommendations!
Fun fact: Richard's favorite album is "Channel Orange" by Frank Ocean.
Sarah Guzmán, Residential Education Coordinator, Kaufman Hall Floors 8-15
The Residential Education Coordinator (REC) is responsible for providing leadership and supervision for a residence hall community. Reporting to the Associate Director of Residential Life, RECs oversee the daily operation of a residence hall and serve as an active and visible Residential Life staff member. RECs lead educational and community-building initiatives within a residence hall through supervision of staff, building relationships with and assisting residents, enacting community standards procedures, and serving on an on-call duty rotation. RECs are also instrumental in contributing to the success of Residential Life and the FIT Division of Student Success through department-wide and campus activities including move in/out, student leadership retreats, summer housing, departmental committees, assessment, and more.
Community Standards
Destini Young, Assistant Director of Community Standards & Student Support
Destini Young (she/her) is the Coordinator of Community Standards, responsible for managing the daily operations associated with the residential student conduct process. These tasks include providing referrals for critical incident follow-up to students who need additional support, overseeing the procedures associated will major crisis response, and provides insight to policy changes or updates on all levels (FIT, SUNY, State, Local Laws).
While attending SUNY Purchase and earning a degree in Psychology, Destini found her passion for higher education after being a student leader herself. Helping to support student growth and development brings her great joy! Destini previously worked at Clarkson University and transitioned from Stony Brook University in 2021.
Fun fact: Destini is known for being close to her father, claiming pizza as her favorite food, and being an active Beyoncé fan. She loves to make people laugh and believes laughter brings together the community.
Asante Rivera, Assistant Residential Education Coordinator/COVID-19 Program Assistant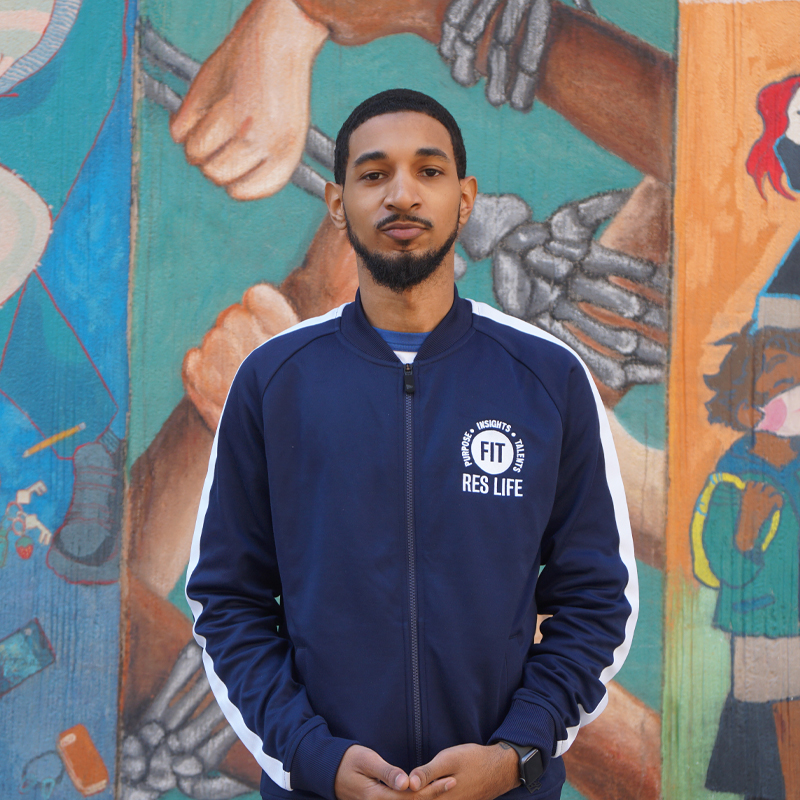 A go-getter from Brooklyn, Asante (he/him) finds different methods to elevate in every way.
Asante graduated from FIT in 2018 with a degree in Advertising and Marketing Communications. After graduating, he worked at the FIT Foundation as a Development and Operations Coordinator to assist in the department's mission to fundraise for college events, scholarships/stewardships/endowments, and institutional improvement.
Fun fact: Sports, gambling, and crypto is life.
Operations and Administration
Adam Gray, Assistant Director of Housing Operations
Adam (he/they) assists with creating and maintaining processes and projects related to the housing application process, assignments, and billing for academic year and summer housing/conferences.
Adam received his Bachelor of Arts in History from Western New England University and his MSc in College Student Development and Counseling from Northeastern University.
Before serving as the Housing Operations Coordinator, Adam was a residence director at University of New Haven and Stony Brook University. What he enjoys most about operations is learning new software, especially Excel. When not at work, Adam enjoys reading, exploring different coffee shops, and having adventures across the city.
Fun fact: Adam loves raccoons and having one as a pet is on his bucket list.
Housing Operations Coordinator - Marta Toledo
Marta M. Toledo (she/her) joins the FIT Residential Life team in Fall 2022 as the Housing
Operations Coordinator. She has worked for over 8 years in education in South and North
America. Marta will also serve in the Diversity, Inclusion and Education Committee.
Before FIT, Marta has dedicated her work to different areas: admissions, workforce, Residential
Life and Housing for the past 3 years serving as the Housing Director of an International
language campus here in NY. Marta went to Law School in Chile, and continued her studies in international law focusing in community interaction and justice systems. Marta is passionate about equity, diversity and social action. She enjoys learning about other cultures, the expression of their history and languages. She speaks Spanish and is beginner in Portuguese.

Fun fact: Marta has lived 5 different countries: U.S.A, Chile, Venezuela, New Zealand and
Germany!
Gissell Dume-Perez, Office Manager, 27th Street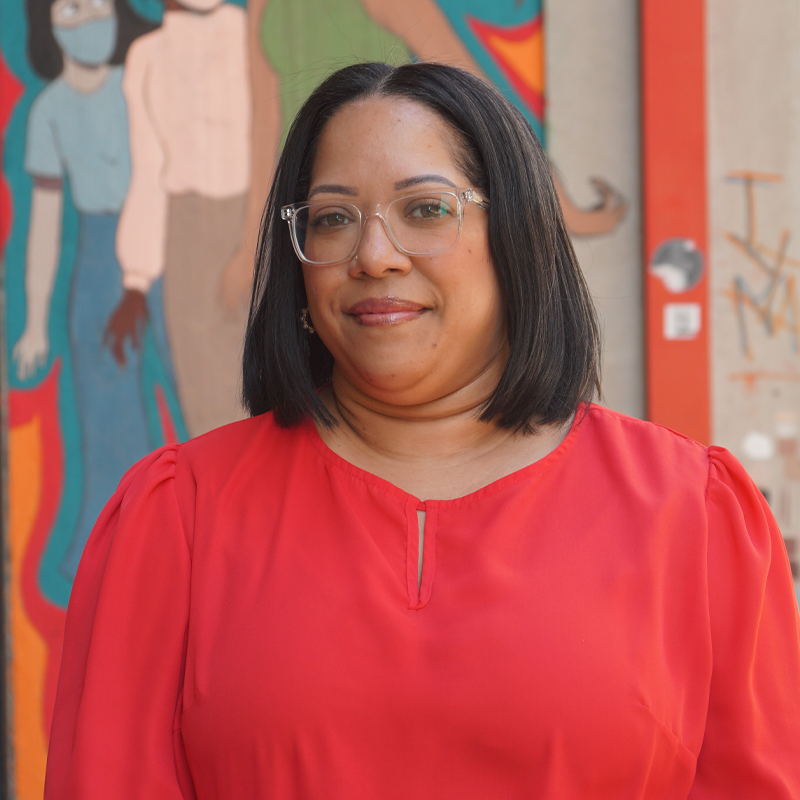 Gissell (she/her) is the Office Manager and joined FIT in 2001. In her role, Gissell assists with the daily business operations involving the Department of Residential Life. When not at work, Gissell spends time with her family, enjoys hiking and camp fires.
Fun fact: Gissell has taken more than a dozen cruise vacations. Her goal is cruise around the world.
Joann Puryear-Cole, Office Manager, 31st Street
Joann (she/her) is the Office Manager in Kaufman Hall (31st). In her role, Joann assists with the daily business operations in the Department of Residential Life. She graduated from F.I.T with a degree in Production Management.
Fun Fact: Joann has two cats "Coco" and "Honey" along with one dog named "Seven"