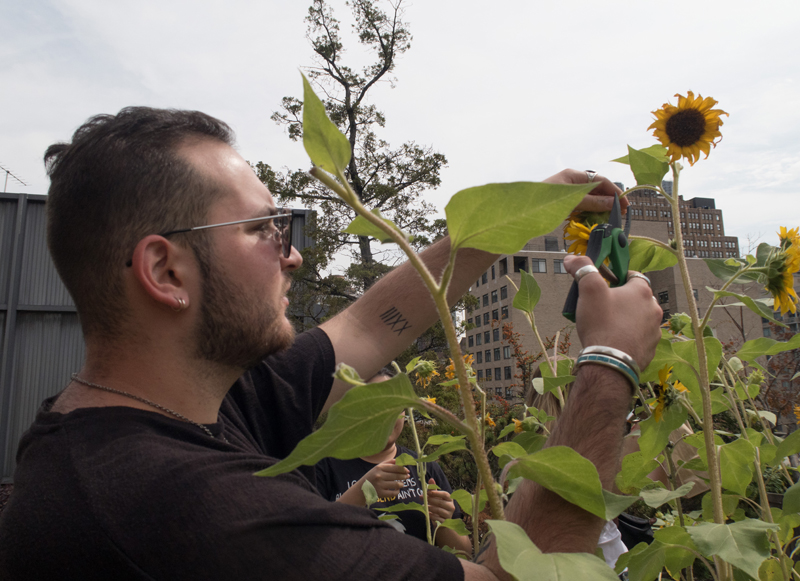 Get Involved with a Campus Group
FIT Student Government Association
The Sustainability Committee of the Student Government Association advocates for sustainable improvements to the college.
Ethics & Sustainability Club
The Ethics & Sustainability Club focuses on the following aspects of corporate social responsibility: cause-related marketing, employee empowerment, and ethical relations. The club creates opportunites for members to collaborate and network with one another, as well as outside sources, connecting students to respected members of the industry.
Sustainability Council
FIT's Sustainability Council also offers an opportunity for students to get involved. Student members are selected to serve one- to three-year terms. The Council typically meets every other Wednesday at noon. The Council coordinates the annual Sustainable Business and Design Conference, manages and awards a $15,000 grant, helps to foster new initiatives, and sponsors other campus-wide events.

Become a Genspace Scholar
The FIT Genspace Scholars Program provides FIT undergraduate majors the opportunity to develop and complete research at the state of the art Genspace Laboratory in Brooklyn during the spring semester.
» Apply to be a Genspace Scholar
Apply for a Sustainability Grant
The Sustainability Council offers an annual grant-fund of $15,000 to support creative and innovative initiatives that help to infuse various aspects of sustainability into our college culture, curricula, operations, and physical environment. Project proposals can come from FIT faculty, staff, or students (student projects need faculty or staff advisor) Three individual grants are awarded up to $5,000 each. The fund is administered by the Sustainability Council.
Participate in the Clinton Global Initiative
The Clinton Global Initiative University (CGI U) is looking for higher education student leaders who are committed to take action in their community to address a pressing challenge. Each CGI U student must make a Commitment to Action: a specific plan of action that addresses some of the world's most pressing challenges. The FIT Natural Dye Garden, and FIT Hives were Commitments to Action by FIT students who were selected to participate in CGI U.
» Apply to represent FIT at CGI U: Think Big Challenge
Promote Sustainability Activities (Newsroom)
Are you doing something cool? Let us know! You can tell FIT's Communications and External Relations office what you're doing by submitting an item to our Newsroom.