Registration Error Messages
Do your research before your registration assignment time/day, using Class Search to avoid registration errors.
By clicking anywhere on the hyperlink of a course title in Class Search, information about the course-section will pop up (restrictions, prerequisites, general education attributes, capacity limits, waitlist information).
Example: TEXTILE CONVERTING & COSTING - 27142 - TT 477 - 701

Detailed Information About Registration Errors

This error message means that the major department requires another course or courses be taken during the same semester. To register for co-requisites:

Log in to MyFIT

Under the Registration section in MyFIT, click on Register/Add/Drop Classes

Under Add Classes to Worksheet, enter in the CRNs (4 or 5 digit course reference numbers) for each of the courses in separate boxes

Click Submit Changes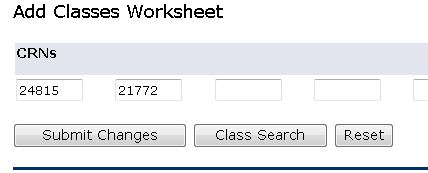 Educational Skills (ES) courses, Science courses with a lab (SC032), and Cosmetics courses with a lab (CM024), must be registered for at the same time, and paired up with the matching section for the lecture course. You will need to enter the CRNs of the co-required courses into worksheet and click Submit Changes, in order to register both successfully.
For example, SC332 section 802 must be paired up with its matching section, SC032 section 802. Enter in the CRNs (4 or 5 digit course reference numbers) under Add Classes to Worksheet to register the co-requisites successfully.

Registration Add Errors Status Closed Section
This means that the section/meeting time is full. There is no space available in the section. You may check Class Search frequently, as students add and drop courses daily.
The Registrar's Office is not authorized to register students into closed classes.

This error message means you are already successfully registered for another section/meeting time of the same course. You must drop the section you don't want, before you add the new section.
In the example above, the student is trying to register for another section/meeting time of FD342. The system will not allow you to be registered for two sections of the same course during the same semester.

Major departments place restrictions on some sections of their courses. As a result, certain sections of a course are reserved for a particular major. Although a course may be required for your major, the section/meeting time you are trying to register for is reserved for students in another major (who also need the same course). If you get this error message you will have to choose another section (meeting time) that is either reserved/restricted for your major or has no restrictions. Information about restrictions can be found on Class Search by clicking on the course name, Course Reference Number (CRN), and section number.
This is an example of how Class Search will list Restrictions on an Accessories course:
LEATHER AND MATERIALS TECH - 1970 - LD 111 - 101
Restrictions:
Must be enrolled in the following major: Accessories Design/2 Yr AAS

In this example, section 101 of LD111 is reserved/restricted for students admitted into the Two-Year Accessories Design program students. Students admitted into the One-Year Accessories Design, or any other major will not be able to register for section 101 of this course.
Evening/Weekend Majors
Majors with evening/weekend programs also have restrictions. If you are admitted into a major's day program, you may get a <Field of Study Restriction> error message if you try to register for evening sections of a subject, and vice versa.
Sections reserved for evening students will say this on Class Search:
>>Restrictions - Must be enrolled in one of the following Majors: Major Name/Eve/Wknd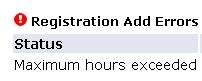 You are attempting to register for more credits than are allowed for the term. Click here for more information about credit limits.
Pre-Requisite(s)
Department chairs place pre-requisites on some of their courses. What this means is you need to successfully complete (receive a "D" grade or better at FIT, or receive transfer credit) a lower level course or courses. Information about pre-requisites can be found in Class Search by clicking on the course name, course reference number (CRN) and section number.
As an example, the prerequisites for MG306 will appear like this:
Prerequisites:
Undergraduate level MG 153 Minimum Grade of D or Undergraduate level TT 173 Minimum Grade of D or Undergraduate level AC 161 Minimum Grade of D
If you have not completed the pre-requisites (MG153 or TT173 or AC161) you will get this registration error message when trying to register for MG306:


Test Score
For English, math, and science courses, placement is required. You will not be able to register for English, math, or science until you have submitted SAT or ACT scores or taken the FIT placement exam or received transfer credit for an appropriate English and math course.

Review your degree audit (DARS) for your English and math placement status. If there is a <NO> to the left of these requirements, you have not satisfied placement and will not be able to register for English, math, or science.
=================================================================
NO English Placement Results
NO Educational Skills Requirement
NO Mathematics Placement Results
=================================================================

Related Link
» Placement Tests

This error means you fall into one of the categories below:
successfully completed this course and have received a passing grade

have received transfer credit for this course

are currently registered for this course
Only a course with a grade of "F", "WA", "WD", or "WF" may be repeated.

You will get this error message even though Class Search shows there is a seat available because the system is giving priority to student(s) who have placed themselves on this course's waitlist.
For example, when a seat becomes available to Student1 on a Waitlist, an email notification is sent to that student letting them know a spot has become available, and a deadline to register for this 1 spot. The system is giving priority to student1, and allowing him/her time to register for the open seat. If Student1 does not register for the course within the allotted time, the system moves on to Student2 and the process repeats.

In the example above, the one (1) seat remaining (circled in red) is open only to the students who have been on its waitlist. Class Search shows there is a waitlist for this course under the Waitlist Capacity, Waitlist Actual and Waitlist Remaining columns.
Do not attempt to register for a class that has a waitlist count unless you have personally received the email to your FIT account informing you that there is a spot available.

You are registered for another course that meets at the same time as the one you are now trying to add. You may not register for courses with conflicting times.
If you are not currently enrolled at FIT, you will not be able to register until you have been admitted (or re-admitted) to the college. Contact Admissions.
Log off, clear your web browser's cache/history, and log back in to registration.
Related Links