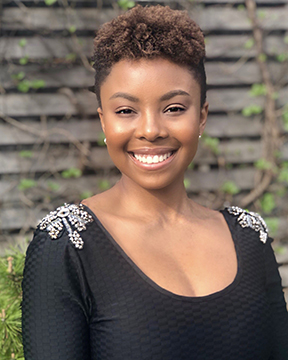 Name: Anya
Major: Fashion Business Management BS '22
Hometown: Kingston, Jamaica
Involvement on Campus: Vice President of Fundraising for Phi Theta Kappa Honor Society, Track & Field
Community Service: Help Earth and Lives (HEAL), Operation Help the People, International Coastal Cleanup Day
Moving to New York City and studying at FIT is a teenage dream come true for Anya! She wanted to live in a fashion capital and gain professional international experience in the industry. Her goal is to use the knowledge and skills gained at FIT to help represent her home country in fashion. She is determined to increase the visibility and recognition of Jamaican fashion and thinks her studies at the center of the industry will aid her success.
Anya advises new international students to have an open mind and not stress by having too many expectations. Arrive with positive energy: this is just the beginning, and great things will happen! Attending orientation events and joining a club will help with adjusting to a new environment. Anya loves that FIT communicates events and resources available both on campus and in industry, keeping students engaged and aware.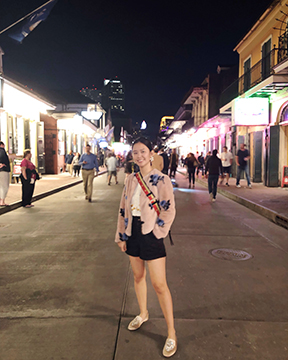 Name: Audrey
Major: Textile Surface Design BFA '21
Minors: Asian Studies, History of Art
Hometown: Bandung, Indonesia
Involvement on Campus: Phi Theta Kappa Honor Society
Audrey loves the community and friendships that can be found at FIT with people from different backgrounds and cultures. She wants new international students to know that they may feel lonely at times—this is normal and okay! She suggests working to build new friendships that can support you and make you feel whole. Also remember that family and friends are just one phone call away.
Audrey participated in a short-term FIT study abroad program, spending a summer in Italy studying Fabric Styling. She finds her instructors to be experienced and have extensive knowledge of the fashion industry. Outside of school, Audrey is a spin enthusiast and passionate about cooking.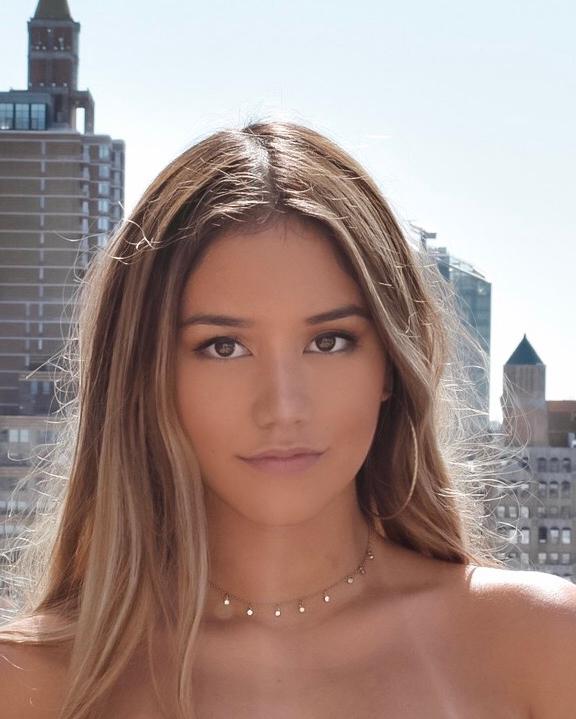 Name: Awani
Major: Fashion Business Management AAS '21
Hometown: Melbourne, Australia & Jakarta, Indonesia
Involvement on Campus: Residential Life Social Media Assistant, Merchandising Society, Style Shop
Awani has spent her whole life abroad, living and studying in seven different cities throughout Asia. Coming to FIT meant being on her own for the first time, and she was initially concerned about homesickness. Luckily, she found a strong sense of community here, and living on campus her first year helped her to make friends.
Awani loves all the opportunities to get involved on and off campus, like volunteering at New York Fashion Week. She advises new students to join clubs, volunteer at events, and use all the resources FIT presents to you. She also loves FIT's location on Fashion Avenue, in the heart of Chelsea. To her, the block that FIT is on feels like a little community, but then you step outside onto 27th street to the hustle of NYC. Awani's favorite thing about living in New York City is how alive the city makes you feel when you walk down the street: it feels like you are living in a movie!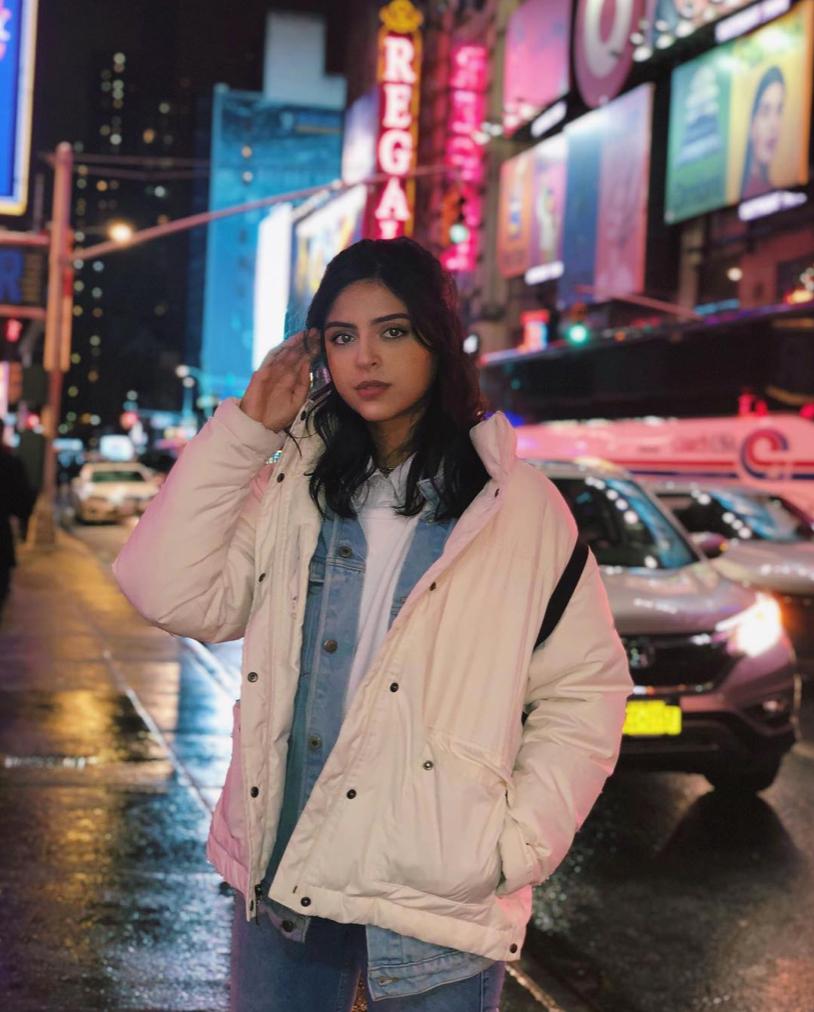 Name: Camila
Major: Fashion Business Management AAS '21
Hometown: Lima, Peru
Community service: Gallop NYC
The desire for a different lifestyle and a better education led Camila to pursue studies in the US, and she joined FIT after transferring from another university in NYC. Starting as a second year student at FIT, she learned to be patient with herself while transitioning to a new environment. She advises new students to be open minded and curious. The city can be intimidating at times, but she finds it has so much to offer, and so does FIT! After investing so much to study abroad, she advises other international students to be sure to take advantage of your experience. To de-stress, she recommends Mindful Mondays offered by Health Services; they provide the opportunity to converse in a respectful, safe space.
Camila's favorite thing about FIT is that students are very driven and career oriented. She finds it can be competitive but likes that it makes for an environment that pushes her harder. She loves the resources on campus, from the library and its archives of countless collections, to New York Fashion Week-related opportunities. Camila finds that NYC literally has something for everybody, with so many people from different walks of life all coexisting. Camila recognizes that it can be hard to survive in New York, and to her this means everybody who stays here wants to be here. She strongly encourages everyone to explore Queens, as you'll likely find your favorite foods from home there!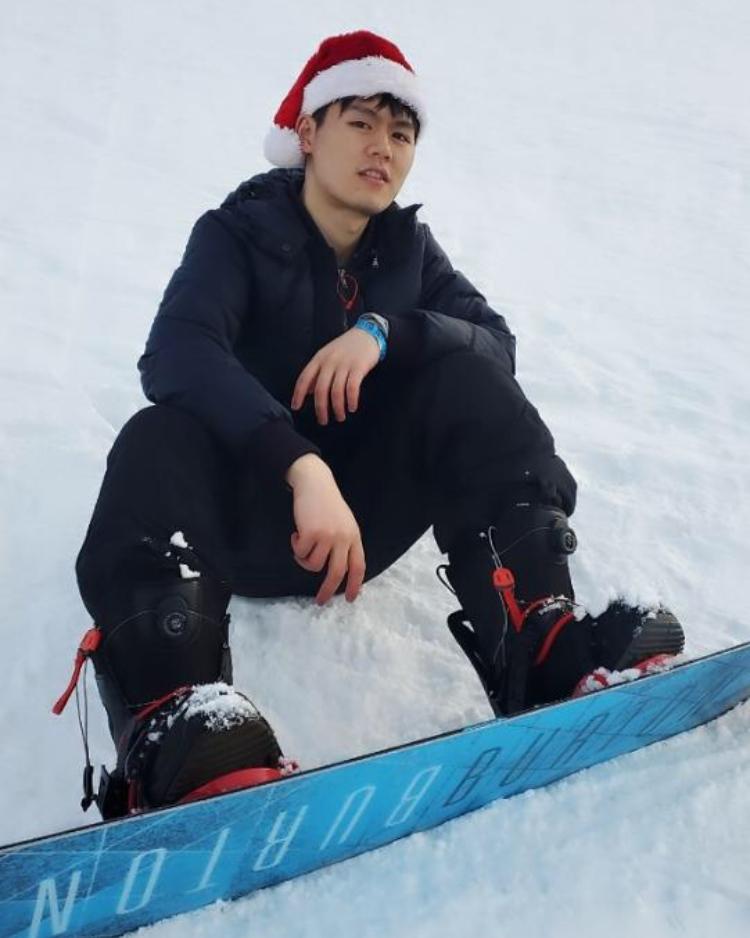 Name: Connor
Major: Fashion Business Management BS '22
Hometown: Chengdu, China
Involvement on Campus: IN.dustry Club Student Senate
Connor's interest in studying abroad comes from a desire to understand how people from different cultures experience the world. Before arriving FIT, he was concerned about balancing the time between his school life and social life, and he quickly found managing his time among classes, work, internships, and exploring the city was important to learn. He recommends that new students check their FIT email frequently. FIT often invites companies to campus, and clubs often host guest speakers. He advises that you don't want to miss these great events, so checking your email is the best way to keep up! Be sure also to also take advantage of the free acupuncture and massages offered by Health Services, which Connor has found helps you to relax and release stress during finals.
Connor loves how FIT provides a welcoming and diverse environment for everyone to be able to live freely and be themselves. He has met people from different cultural backgrounds and creative fields that he wouldn't have had been exposed to otherwise. He is proud to have met classmates who have made a positive impact him and broadened his perspectives. Outside of class, Connor enjoys very spicy food and exploring NYC; to him, New York is a city where you never need to worry about not having something exciting and new to do!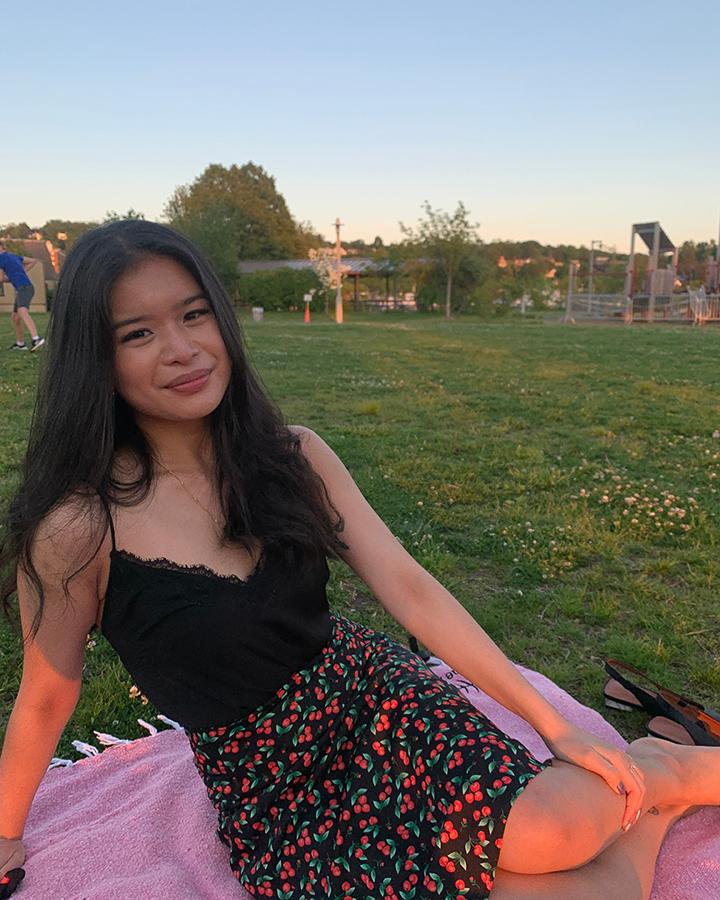 Name: Cristina
Major: Fashion Business Management BS '21
Minor: Spanish
Hometown: Hawthorne, NY
Involvement on Campus: National Retail Federation Student Association
Cristina participated in FIT's Semester Study Abroad program in Australia at the Royal Melbourne Institute of Technology, where she pursued coursework related to her Fashion Business Management program. She wanted to study abroad in order to gain a global perspective. Through this experience, she encountered many individuals from different regions of the world who gave her better understanding of their cultures and values.
Before starting at FIT, Cristina was concerned that she would need to compete with other students. While Cristina's found that classes can be competitive, everyone is willing to help one another and wishes to see each other succeed. She emphasizes the importance of time management: no matter how good you think you are at it, you can always improve! She feels the greater the time you invest in your work, the better the payoff you'll receive. In her free time, Cristina enjoys exploring new stores, art exhibitions, and going out for brunch on weekends.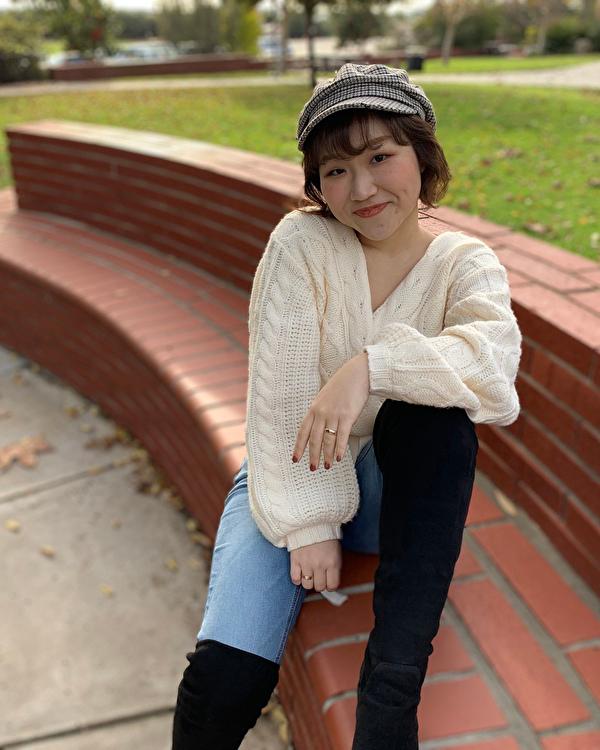 Name: Hinako
Major: Advertising & Marketing Communications '20
Hometown: Tokyo, Japan
Hinako began her college education in Southern California before transferring to FIT. It had always been her dream to live in the US and she feels that studying abroad is not something you do alone; your family is also here to help you, so don't forget to appreciate them!
After initially feeling concerned about moving to a place where she didn't know anyone, Hinako now feels at home in NYC. She loves the fast pace and opportunities, such as volunteering at New York Fashion Week. She finds it important to constantly study to keep up with her classwork and recommends using FIT tutoring services for extra help. Hinako loves sushi and is passionate about doing yoga in her free time; she finds stretching is a great way to refresh and relax! She looks forward to connecting with other students to share her experiences living in the US and as a student at FIT.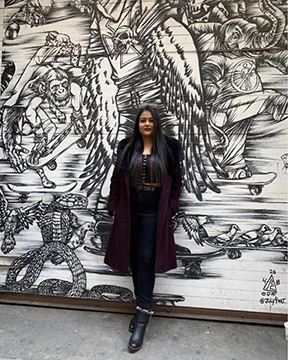 Name: Isha
Major: Fashion Design AAS '20
Hometown: Lucknow, India
Community Service: Prom Plus NYC
Isha is a seasoned international traveler who feels that her extensive travels have helped her grow as a person, so it only made sense for her also to pursue her college education abroad. Her initial application to FIT was not accepted, but Isha is proud to have succeeded on her second attempt; this made her feel that she can achieve anything she sets her mind to! While new international students may initially feel out of place in a new environment, Isha has found FIT and New York City to be accepting places where there is much to look forward to.
Isha finds her studies to be a lot of hard work, but they provide valuable training and skills for her profession, preparing her to succeed in the workplace. She stresses the importance of submitting your work on time! The tutoring services from the Academic Skills Center to be a helpful resource. When not in school Isha is a huge thrill seeker! While travelling, her activities lean toward the adventurous, including scuba ping, skyping, and bungee jumping.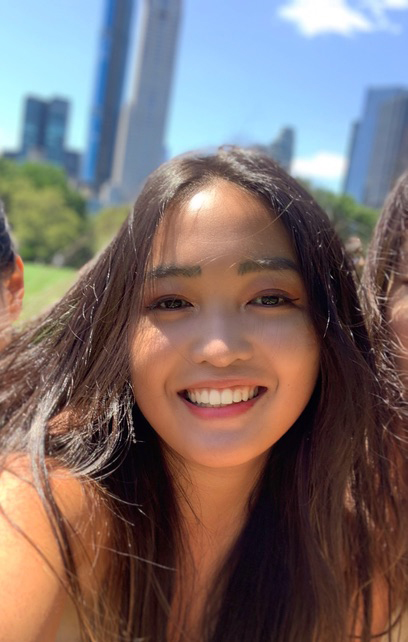 Name: Joyce
Major: Fashion Business Management BS '21
Hometown: Jakarta, Indonesia
Singapore-born Japanese-Indonesian Joyce was interested in studying abroad in order to make friends and work with people from different cultures. She advises new international students to take advantage of the opportunities provided by FIT. Since starting her studies, she has learned to develop personal and professional connections by networking at campus events. Joyce loves the diverse, welcoming culture of the FIT community. She gets advisement about her status from the International Students Service office and curriculum advisement from the Office of the Registrar.
Joyce is interested in sustainable fashion, and is an avid runner and photographer in her free time.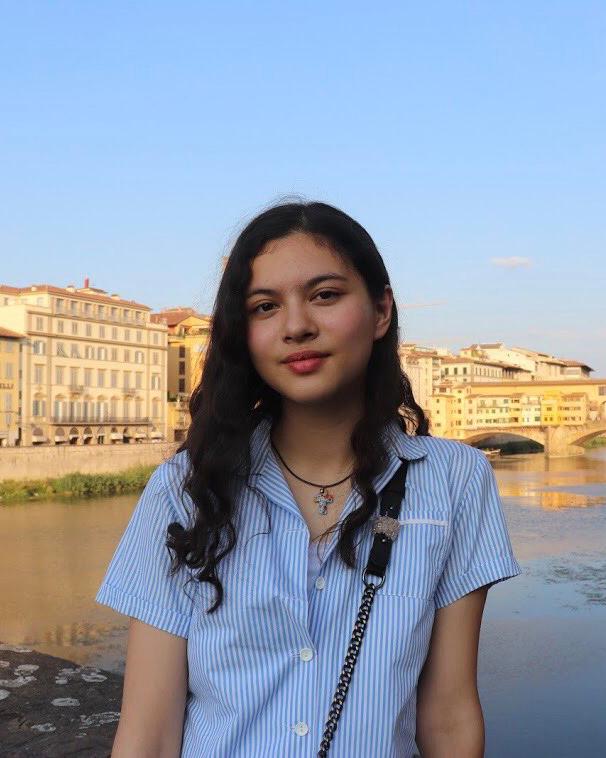 Name: Marie
Major: Fashion Design BFA '22
Hometown: Hannover, Germany and Brussels, Belgium
Involvement on Campus: Phi Theta Kappa Honor Society
Community service: Student Volunteer Community Service (SVCS)
Marie's Fashion Design studies at FIT have led her to pursue coursework in both Italy and New York City. She spent her first year with the FIT in Florence program at Polimoda and will complete her studies as an international student in the US. Marie fell in love with NYC while visiting as a teen and was determined ever since to live here.
Her favorite thing about FIT is how much she has learned in such a short time and how inspiring her professors are. She finds FIT's approach to teaching to be very career and industry oriented, including both creative and technical aspects. She advises new students to make the most out of the opportunities and events on campus, including the Museum at FIT. She strongly encourages students not to be afraid to step out of your comfort zone and talk to new people from different cultures!
Marie is an outdoorsy person and, while home, enjoys hiking, time spent in nature, and walks with her dog. In NYC, she enjoys exploring new places, thrifting, eating out, and spending time with friends. She is also passionate about playing the harp.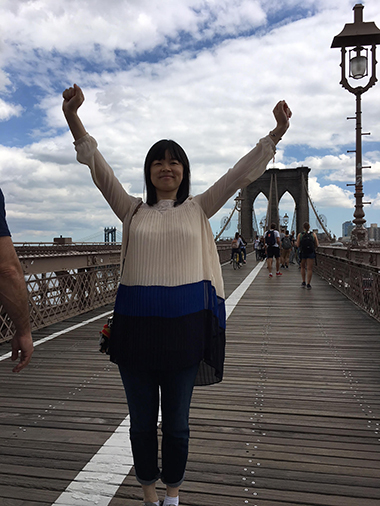 Major:
Fashion Business Management AAS
, '21
Involvement on Campus:
Production Management Club
Nan is an experienced international businesswoman, who has worked on three continents! She was drawn to study in the US to gain new experiences and professional knowledge. Before arriving at FIT, she was concerned about language proficiency affecting her studies, but Nan has found the tutors available through the Academic Skills Center and the Writing Studio to be valuable resources. She advises new international students not to be afraid to ask questions--that is how you will get answers and receive help! Her proudest moment at FIT was being the recipient of a QVC International Scholarship. Nan is skilled at cooking, and enjoys practicing meditation and yoga in her free time.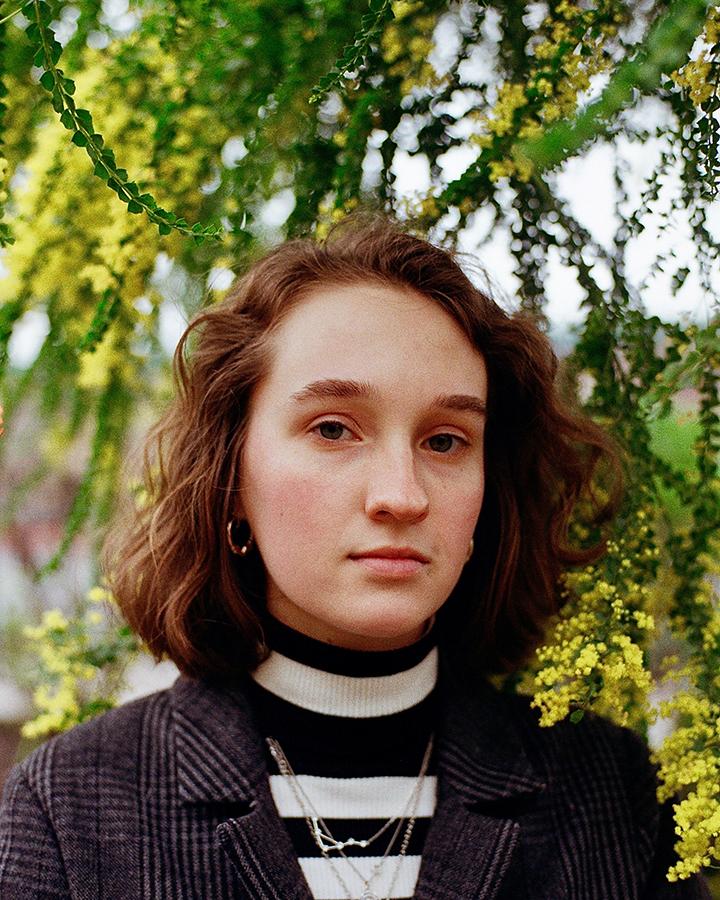 Name: Natalie
Major: Art History & Museum Professions BS '21
Minor: French, English, Ethics & Sustainability
Hometown: Warren, New Jersey
Involvement on Campus: Presidential Scholars
Community service: Brooklyn Bridge Park Green Team, Apexart Open Call juror
Natalie has always been fascinated with French culture and knew she would study abroad in France during college. She even started taking French classes since the age of 11 to prepare! She participated in FIT's Semester Study Abroad program at the American University of Paris, where she was able to study famous works of art in person.
Natalie finds that going to college, especially in NYC, gives you the time to explore who you are and enjoy yourself. She learned during her first semester that most college students don't have it all figured out, and there's no rush to do so. At FIT, she loves being surrounded by creative and passionate people. She feels that while the FIT community thrives on diversity, that common thread of passion and creativity draws many to choose FIT. She feels something special brings everyone at FIT together, and she's grateful to share this experience with her peers.
Natalie loves hairless cats and hope to adopt her own someday! Outside of class, she could be doing anything from exploring Central Park and the Met, to having brunch at a vegan crêperie, to seeing a friend's band play a show in a basement bar in Brooklyn.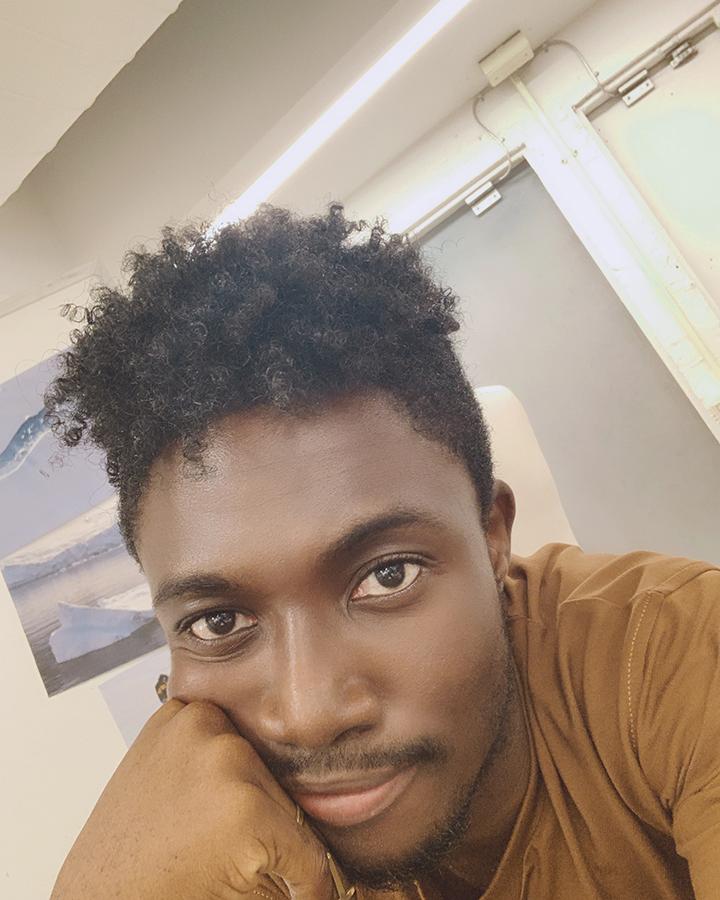 Name: Papa Oppong
Major: Fashion Design MFA '21
Hometown: Accra, Ghana
Papa's original creative muse was Barbie: her many outfits and careers inspired him to draw his own dolls. This interest led to his start in fashion illustration and set him on a path to become a fashion designer. He wanted to study in NYC in order to gain a more global perspective on fashion and expand on the knowledge he gained in his home country.
Papa loves the resources and facilities available on campus. The Museum at FIT and Special Collections & College Archives in the FIT library are treasure troves of information for conducting research. He finds the studios and equipment to be world class, making learning fun and efficient. Because there can be a heavy workload, he advises new students to structure their time well and be organized to meet deadlines. He encourages students to remember that your work is enough: love what you do and defend it with all your heart. Papa feels grades matter, but passion and love for what you do will carry you even further because that shows authenticity, which cannot be faked.
Outside of class, Papa enjoys playing videogames (Playstation only. Sorry, Xbox!), and meditating using the app Headspace.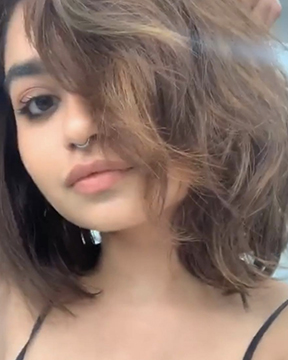 Name: Rhea
Major: Fashion Business Management AAS '21
Hometown: Guangzhou, China
Involvement on Campus: Phi Theta Kappa Honor Society, National Society of Collegiate Scholars
Community Service: Friends International – Laos
Rhea is truly a global citizen. She is of Indian descent, born in Uganda, raised in China, and attended secondary schools in Singapore and India. She is also a polyglot who speaks five languages. Still, moving to the US to attend FIT was a big change and she experienced culture shock while adjusting to her new home. She emphasizes the need for time management; it is very important to schedule yourself in order to complete assignments on time in order to avoid stress and do your best work. Rhea loves the opportunities she has at FIT. Rhea feels that the people, events, and resources available here will assist in the transition to the professional world.
Rhea enjoys a sense of freedom in New York City. She loves that people here express themselves and are accepted for who they are; this inspires her to do the same.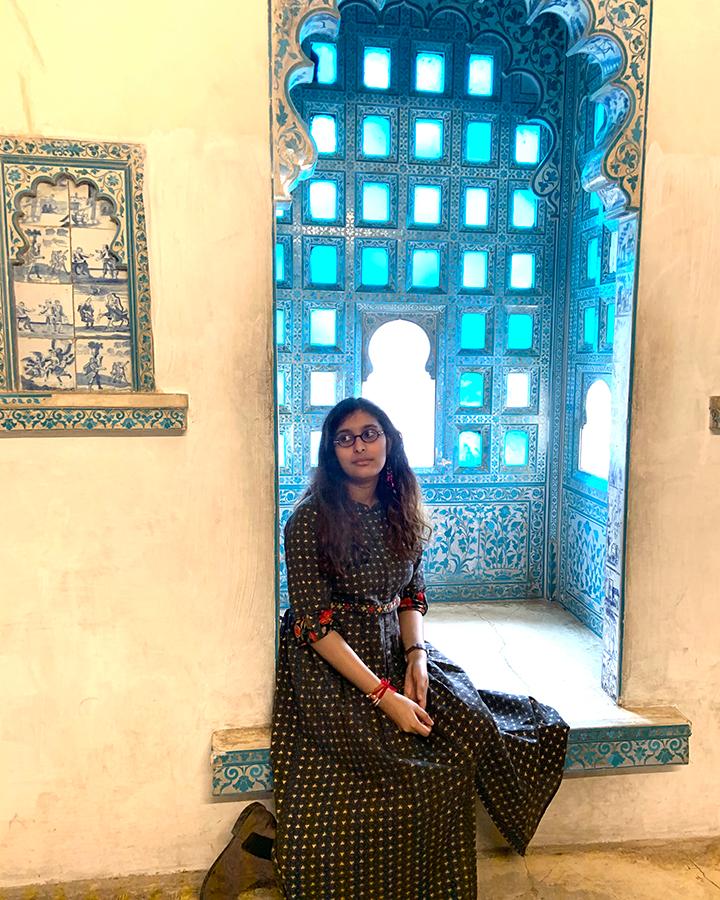 Name: Siddhi
Major: Fashion Design BFA '22
Minors: Economics and History of Art
Hometown: Bangkok, Thailand
Involvement on Campus: Academic Skills Center Tutor, Model United Nations, Indian Cultural Society, Former Vice-President of Florence Abroad Student Activities (FASA)
Siddhi is both an international student and an FIT study abroad student! She began her first year of Fashion Design studies with the FIT in Florence program at Polimoda in Italy. Growing up in a place that she didn't originate from led to a curiosity about other cultures and ways of life, motivating her to pursue studies in Italy and the US. Before coming to New York, she was concerned about making friends, fitting in, and missing home. But here she found a diverse student population where it is easy to make friends, bonding with people when you spend time together in the classroom and at campus events. She recommends using Whatsapp for video calls to reduce homesickness.
Siddhi loves the hustle and bustle around campus. There is always something interesting happening, like a visit from the cast of Project Runway. Being involved in clubs provides a chance to interact with people outside of her major. Outside of FIT, her favorite activity is walking around the city; even after being here a year, she still finds there is so much left to explore! She recommends visiting the nearby High Line elevated park when you need a study break.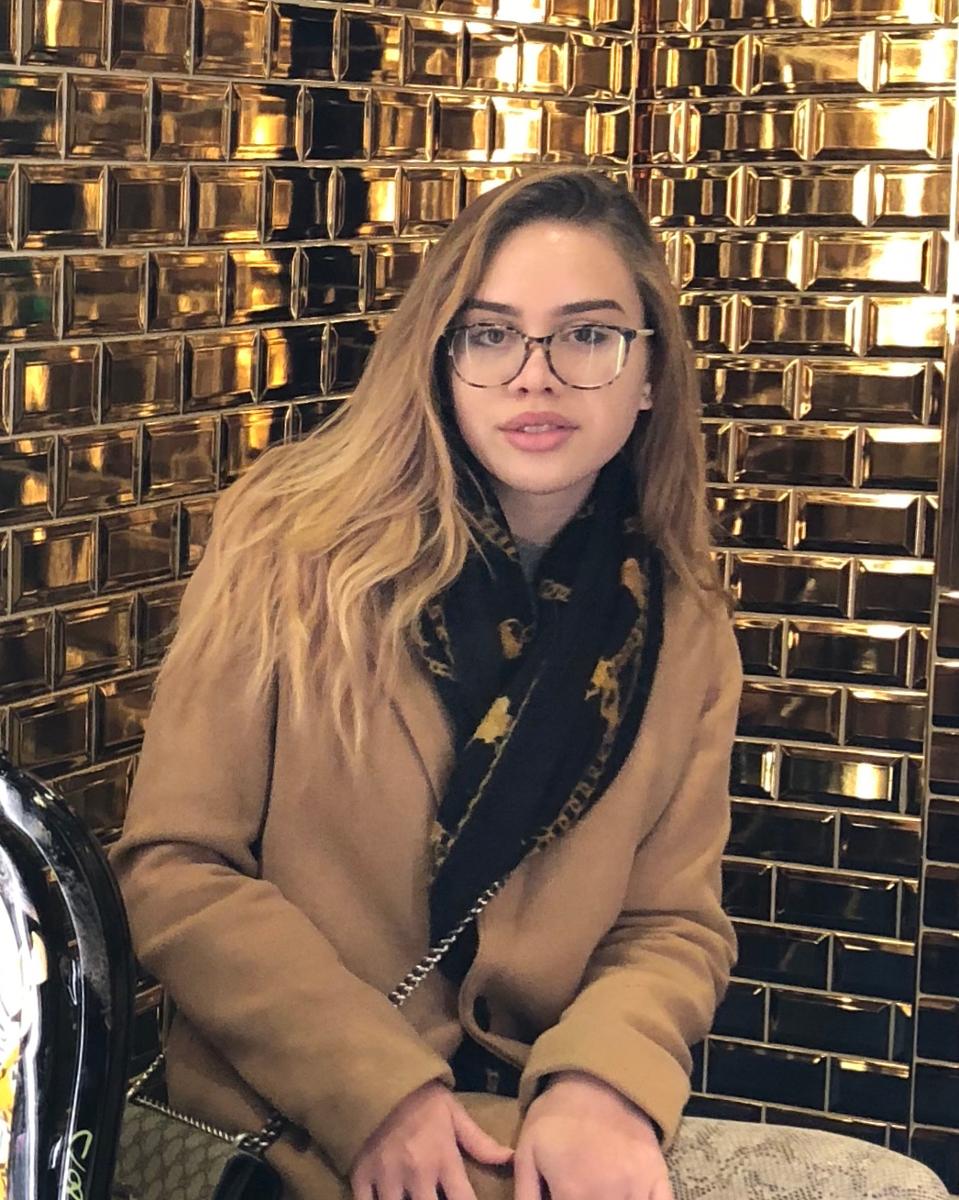 Name: Stephanie
Major: Fashion Business Management BS '22
Minor : International Trade and Marketing
Hometown: Willemstad, Curacao
Involvement on Campus: Writing & Speaking studio tutor
Community service: Global Issues Network
Stephanie is truly a global citizen, having lived in four different countries—each with its own unique culture—and having traveled to over 25 more. She was brought up with the idea of studying abroad as a way to access greater educational opportunities. Before coming to FIT, she was concerned that she wouldn't enjoy her intended FBM major, despite her interest in the field. Luckily, she loves the program and finds it the right choice for her future career. She likes the small size of her classes, as they make it possible to have close relationships with professors and fellow classmates.
Stephanie has found that FIT has a lot of free resources. Her favorites are the fitness classes and access to Adobe applications. Be sure to ask her for recommendations! Outside of school, Stephanie enjoys swimming, hiking, painting, and spending time with friends.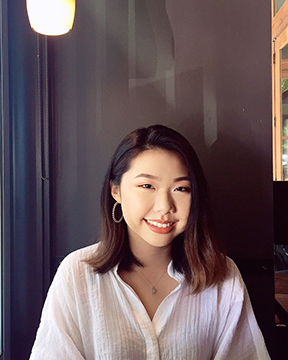 Name: Ying-Chih
Major: Fashion Business Management BS '21
Hometown: Taipei, Taiwan
Ying-Chih was inspired by her family to study abroad. Her mother studied and worked in Japan, and Ying-Chih was eager both to experience places that were previously only accessible through media and live in a new culture. Ying-Chih is comfortable living in New York City; she finds the urban atmosphere similar to that of her hometown, Taipei. She advises new international students to be brave. Reach out to others, and don't be afraid to speak English! Being curious is important: it will help you to adjust to your new environment and have fun in the process. Ying-Chih loves the professional nature of FIT and finds her professors to be passionate about their work and push their students to succeed. She has gotten to know her new home by taking extensive walks throughout the city and discovering new favorite restaurants and shops with friends along the way. Ying-Chih is passionate about cosmetics and also a big reader, counting fiction, anime, and comics among her favorite genres.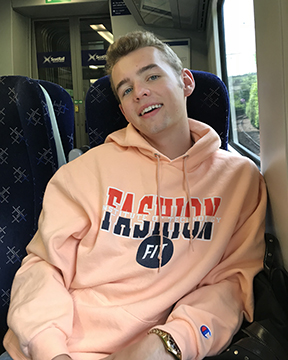 Name: Zeke
Major: Entrepreneurship BS '22
Minor: Design Thinking
Hometown: Atlanta, Georgia & Hanoi, Vietnam
Zeke lived abroad throughout his childhood as a result of his mother's profession and had the good fortune of being able to visit five continents by the age of 15! He feels that the experiences he gained living overseas and the diverse array of people he's met have helped to inform the way he views and moves through the world.
Before coming to FIT, Zeke worried about living in an expensive, stimulating, and often times overwhelming city. He learned that your time in New York City is what you make of it. It is important to gradually open yourself up to new experiences and go out of your way to explore new areas. He feels that the best ways to engage with the local culture are through extracurricular activities and outings with friends. The sense of ambition here is contagious! He advises new international students to be open to befriending all types of people so you don't find yourself only hanging out with people from your home country.
Zeke loves being at a school that embraces individuality; he finds that FIT allows all students to showcase their unique natures. Zeke encourages everyone to express yourself because that's what FIT students love most about each other. When not busy with schoolwork, Zeke enjoys exploring the city with friends and binge-watching crime docuseries on Netflix.