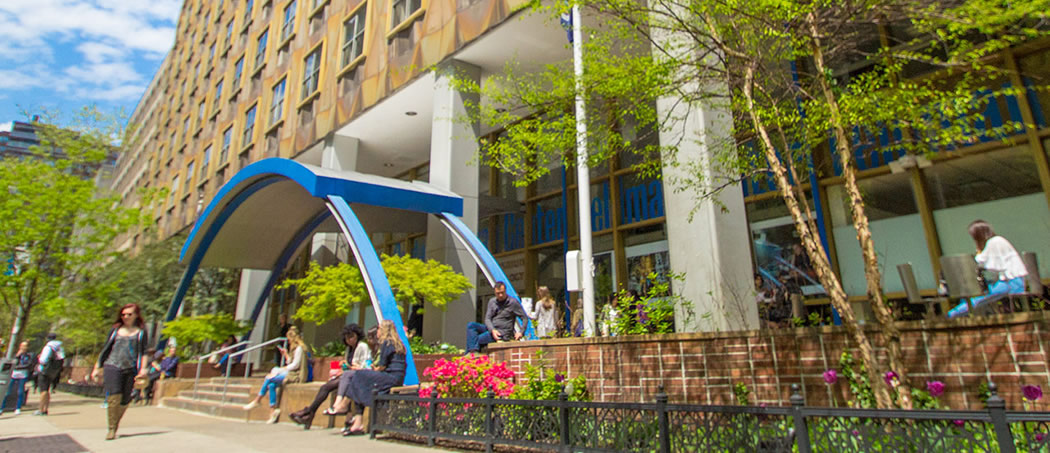 FIT recognizes rankings as one tool in the toolbox of resources that students and families use to consider their college choices. Still, you won't find FIT in the ever-popular U.S. News & World Report rankings because specialty colleges, such as FIT, are excluded. Nor is FIT included in some other high-profile rankings because we do not fit their "traditional" criteria.
Nonetheless, you will find FIT listed in any number of rankings. While a college must be measured by far more than its statistics and its rank, we do think you will find these of interest.
BusinessofFashion.com ranks FIT's undergraduate programs—both Fashion Design and Fashion Business Management—among the best in the world.
Fashionista.com ranks FIT number four on its list of the 25 Best Colleges in the World and second in the U.S.
In 2019, CEOWORLD magazine ranked FIT number one of 109 colleges worldwide offering fashion-related degrees.
WardrobeTrendsFashion, an Asian fashion and luxury online magazine, ranked FIT the second best fashion school in the world, based on a survey of 58,000 former students, fashion houses, recruitment consultants, designers, and other industry professionals.
The Art Career Project, an online resource for students and professionals in the arts, ranked FIT number one on its 2019 list of the Best Fashion Merchandising Schools in the U.S., for its "commitment to research, experiential learning, adaptable academics, and industry partnerships.
StyleCraze.com, India's largest beauty community, ranked FIT fourth in their list of the Top 10 Fashion Schools in the World. In 2018, Fashion-Schools.org ranked both FIT's Fashion Design and Fashion Business Management programs number one in the nation.
Niche.com ranks FIT the eighth best public college in New York State, based on a comprehensive assessment of U.S. colleges based on millions of statistics and student reviews.
In 2016, Community College Week ranked FIT #1 on the list of Top 50 associate's degree-granting institutions in Communications, Journalism, and Related Programs. The publication also ranked FIT #6 in Business, Management, Marketing, and Related Support Services.
Design Intelligence ranks FIT's Interior Design Program as the 10th "Most Admired" program in the nation, and number 6 in the list of Interior Design Schools Most Hired From By Firms.
Career site Zippia.com ranked FIT number one in its list of the "7 Best Colleges for Advertising Majors in New York," based on data from the National Center for Education Statistics, taking into account selectivity, graduation rate, cost to attend, job placement, and earnings. FIT is the only New York City-based school on the list.
College Factual ranks FIT as the most popular school in the nation for public relations and advertising; specialized sales, merchandising and marketing; and design and applied arts. According to the site, FIT has the highest-paid grads in the nation in textile and apparel studies; specialized sales, merchandising, and marketing; and family, consumer, and human sciences. And FIT is ranked #53 among the best marketing colleges in the U.S.
College Magazine ranks FIT eighth in its Top 10 Universities for Graphic Design Majors.
Animation Career Review ranks FIT's Graphic Design program sixth in New York State for 2019.
BackgroundChecks.org, a public safety–focused organization, ranks FIT the eighth safest college in New York State.
FIT has the second lowest rate of campus crime among the 100 most-attended U.S. colleges and universities, according to a recent survey at CollegeStats.org.
Washington Monthly ranked FIT 33rd in the northeast in its "Best Bang for the Buck Colleges" in its 2018 America's Best Colleges Rankings.
Value Colleges, an independent online guide for prospective students, ranked FIT's Bachelor of Fine Arts in Graphic Design as the sixth best value among accredited programs nationwide, taking into account reputation, cost, and median alumni salary.
College Consensus, a rankings aggregator, placed FIT's two online programs—in Fashion Business Management and International Trade and Marketing—at number 19 for return on investment among all online colleges.
AffordableSchools.net ranks FIT third in its list of the Most Affordable Bachelor's Degrees in Animation, fourth for Entrepreneurship and 14th for Marketing.
Payscale.com ranks FIT #4 on its list of "Best Value Colleges for Art Majors" who live in New York State; #5 for "Best Value Colleges for Art Majors" who live out of state; and #7 for "Best Community & Career Colleges by Salary Potential."
The State University of New York ranks seventh in the country for its community colleges, by WalletHub.com.
In 2018, Student Loan Hero ranked FIT the tenth most affordable college in the Northeast, based on the cost of tuition and fees ($7,463) and the average student loan balance among graduates with debt ($24,850).