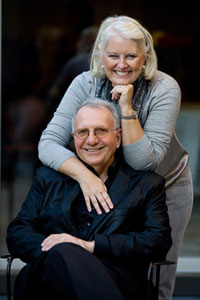 In 2001, an unparalleled gift of $10 million from Jay and Patty Baker began an enduring relationship between the couple and FIT. The funds enabled the college to break ground on the first major campus building project in 25 years (the Conference Center at FIT and a state-of-the-art dining facility opened in September 2005). The donation also endowed 40 scholarships in perpetuity. The School of Business and Technology, which offers 13 majors and has more than 4,000 students, was named in the Bakers honor in 2006.
The Bakers donation set the high water mark for individual philanthropy at FIT. At the time, it was the largest gift to a SUNY community college and the second most generous personal contribution to any of the university's 62 campuses. Jay Baker had a powerhouse career in retail, culminating in the presidency of Kohls Department Stores; he has found a way to keep an industry he loves vibrant by supporting both a great educational contributor to that industry and some of its best students. Patty Baker studied theater arts and art history at Hunter College; with FIT she has a fulfilling connection to a renowned cultural institution and the creative talent it nurtures.
The scholarships, endowed with a total of $2 million, were established for deserving students in the Jay and Patty Baker School of Business and Technology. Awards are based on financial need, academic achievement, community service, and commitment to a non-smoking lifestyle. Recipients, known as Baker Scholars, have the valuable opportunity to join a tight-knit group of 40 supportive peers, helping to make the most of their FIT experience. Beyond this, the scholars receive a priceless benefit. Throughout the year they enjoy an unusually close relationship with the Bakers, coming together at receptions and dinners to share the highlights of their FIT journey. For many Baker Scholars, the relationship is enriched by having Jay and Patty Baker in their lives well after graduation. And the Bakers maintain a fulfilling connection with the life of the school that bears their name.
Jay Baker is an expert in the retail industry, a philanthropist, an avid sports fan, and a lover of the arts. After completing his undergraduate degree in management and marketing from the Wharton School at the University of Pennsylvania, he built his career first in buying and management positions, then as Merchandising Manager and Director, and ultimately Chairman and President at companies including Macy's, Ohrbach's, Famous Barr, BATUS Retail, Sak's Fifth Avenue, and Thimbles. In 1986, Jay Baker became the President of Kohl's. Working with the CEO and Executive Vice President, along with outside investors, Jay and his partners led a management buyout of Kohl's from BATUS. Jay was the lead merchant and, under his leadership, the company grew from 40 to 350 stores, with revenue growing from $280million to over $6billion. Before he retired in 2000, Jay ensured ongoing success of Kohl's by mentoring and the next President. As the second-largest department store by retail sales in the US, Kohl's now operates 1,162 stores in 49 states.
Patty Baker studied theater and art history at Hunter College, worked at Tiffany & Co., and is now a Broadway producer. She credits a theater course for sparking an interest that led to a new vocation, Tony honors, and, most recently, the musical Beautiful, a Broadway show about singer/composer Carole King. Patty also serves on the boards of the Naples Players in Florida and the Milwaukee Repertory Theater.
Jay and Patty Baker believe in education and the future of the retail industry. Jay actively draws on his career to create opportunities for promising business school students to become successful leaders in the retail industry. Jay and Patty have sponsored significant infrastructure updates for founding what is now known as the Patty and Jay Baker School of Business and Technology at FIT, and continue to support annual scholarships for forty Baker Scholars.
Jay and Patty Baker are active community members in Naples, Florida, where they reside much of the year. Jay serves as the Chairman of The Patty & Jay Baker Naples Museum of Art, a Trustee of the Naples Philharmonic, and is a part owner and member of the Board of Directors for the Port Charlotte Stone Crabs (a Single A, Tampa Bay baseball team.) In 1999, Jay and Patty Baker established the Pat and Jay Baker Foundation to support their charitable interests. Jay and Patty visit New York City on a regular basis, and enjoy time on FIT's campus meeting with Baker Scholars each semester.