Name: Alexis
Major: Advertising and Marketing Communications BS '22
Hometown: Kuala Lumpur, Malaysia
Involvement on Campus: Student Government Association: Secretary of Campus Affairs
Alexis is a seasoned international student, having started her studies in the US at age 14 in California. The experience of studying abroad has challenged her to step out of her comfort zone and to gain new perspectives in life. Before arriving at FIT, she was concerned about assimilating herself to life in New York, due to its reputation as a fast-paced city.
Alexis advises incoming international students to be proactive in making friends. She also feels it is important to remember to ask for help if you need it! There are plenty of campus resources available for students. Be patient with yourself when adjusting to life in New York City, as it takes time.
Alexis is very proud of her Malaysian-Chinese roots and enjoys sharing her culture with friends in the US. She encourages her peers to celebrate Chinese New Year with her and believes in spreading love and acceptance of different cultures with everyone she meets. Alexis's favorite part about FIT is the diversity and creativity of the students. In her free time, she loves working out and visiting the many art museums in the city.
Name: Anya
Major: Fashion Business Management BS '22
Minors: Asian Studies, History of Art
Hometown: Kingston, Jamaica
Involvement on Campus: Vice President of Fundraising for Phi Theta Kappa Honor Society, Track & Field
Community Service: Help Earth and Lives (HEAL), Operation Help the People, International Coastal Cleanup Day
Moving to New York City and studying at FIT is a teenage dream come true for Anya! She wanted to live in a fashion capital and gain professional international experience in the industry. Her goal is to use the knowledge and skills gained at FIT to help represent her home country in fashion. She is determined to increase the visibility and recognition of Jamaican fashion and thinks her studies at the center of the industry will aid her success.
Anya advises new international students to have an open mind and not stress by having too many expectations. Arrive with positive energy: this is just the beginning, and great things will happen! Attending orientation events and joining a club helps with adjusting to a new environment. Anya loves that FIT communicates events and resources available both on campus and in industry, keeping students engaged and aware.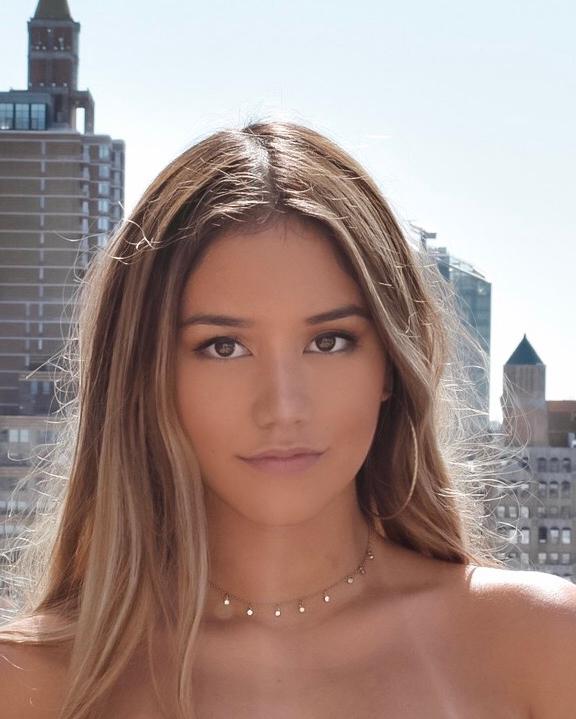 Name: Awani
Major: Fashion Business Management AAS '21
Hometown: Melbourne, Australia & Jakarta, Indonesia
Involvement on Campus: Residential Life Social Media Assistant, Merchandising Society, Style Shop
Awani has spent her whole life abroad, living and studying in seven different cities throughout Asia. Coming to FIT meant being on her own for the first time, and she was initially concerned about homesickness. Luckily, she found a strong sense of community here, and living on campus her first year helped her to make friends.
Awani loves all the opportunities to get involved on and off campus, like volunteering at New York Fashion Week. She advises new students to join clubs, volunteer at events, and use all the resources FIT presents to you. She also loves FIT's location on Fashion Avenue, in the heart of Chelsea. To her, the block that FIT is on feels like a little community, but then you step outside onto 27 th street to the hustle of NYC. Awani's favorite thing about living in New York City is how alive the city makes you feel when you walk down the street: it feels like you are living in a movie!
Name: Ayaka
Major: Interior Design AAS '22
Minors: Color Study, Creative Technology, French
Hometown: Chiba, Japan
Involvement on Campus: Phi Theta Kappa Honor Society, Academic Skills Center Tutor
Community service: National Society of Leadership and Success
Ayaka's aspiration to become multilingual led her to first study abroad as a high school student in Brisbane, Australia. The experience inspired her to explore more places in the world.
Ayaka's academic experience covers multiple fields. She first studied science and math to get into medical school, but felt it wasn't the right fit. She earned her Associate degree in French Horn Performance and Music Theory and was majoring in Theatre at SUNY Buffalo before transferring to FIT.
Due to the pandemic, she started her program at FIT remotely and will first come to campus for fall 2021. She found campus Instagram accounts such as the Student Activities Board and International Student Services to be helpful for finding events that gave her the opportunity to interact with other FIT students. Ayaka enjoys the communication that takes place between professors and their students, she has found them to be open to speaking outside of the class and providing extra help.
In her free time, Ayaka is passionate about cooking and baking. She finds it to be an effective way to clear her mind and to relieve stress. In addition to the calming process, she has a delicious meal to enjoy afterward! Her travel experiences have helped her to make friends all over the world and she's here to answer any questions or concerns students may have about studying abroad.
Name: Camila
Major: Fashion Business Management BS '23
Hometown: Lima, Peru
Community service: Gallop NYC
The desire for a different lifestyle and a better education led Camila to pursue studies in the US, and she joined FIT after transferring from another university in NYC. Starting as a second year student at FIT, she learned to be patient with herself while transitioning to a new environment. She advises new students to be open minded and curious. The city can be intimidating at times, but she finds it has so much to offer, and so does FIT! After investing so much to study abroad, she advises other international students to be sure to take advantage of your experience. To de-stress, she recommends Mindful Mondays offered by Health Services; they provide the opportunity to converse in a respectful, safe space.
Camila's favorite thing about FIT is that students are very driven and career oriented. She finds it can be competitive but likes that it makes for an environment that pushes her harder. She loves the resources on campus, from the library and its archives of countless collections, to New York Fashion Week-related opportunities. Camila finds that NYC literally has something for everybody, with so many people from different walks of life all coexisting. Camila recognizes that it can be hard to survive in New York, and to her this means everybody who stays here wants to be here. She strongly encourages everyone to explore Queens, as you'll likely find your favorite foods from home there!
Name: Conner
Major: Fashion Business Management BS '22
Hometown: Chengdu, China
Involvement on Campus: IN.dustry Club Student Senate
Connor's interest in studying abroad comes from a desire to understand how people from different cultures experience the world. Before arriving FIT, he was concerned about balancing the time between his school life and social life, and he quickly found managing his time among classes, work, internships, and exploring the city was important to learn. He recommends that new students check their FIT email frequently. FIT often invites companies to campus, and clubs often host guest speakers. He advises that you don't want to miss these great events, so checking your email is the best way to keep up! Be sure also to also take advantage of the free acupuncture and massages offered by Health Services, which Connor has found helps you to relax and release stress during finals.
Connor loves how FIT provides a welcoming and perse environment for everyone to be able to live freely and be themselves. He has met people from different cultural backgrounds and creative fields that he wouldn't have had been exposed to otherwise. He is proud to have met classmates who have made a positive impact him and broadened his perspectives. Outside of class, Connor enjoys very spicy food and exploring NYC; to him, New York is a city where you never need to worry about not having something exciting and new to do!
Name: Fatma
Major: Fashion Design BFA '22
Minors: International Trade and Marketing, Ethics and Sustainability, Spanish, History of Art
Hometown: Istanbul, Turkey
Involvement on Campus: Presidential Scholars, Phi Theta Kappa Honor Society, Academic Skills Center Tutor
Fatma is a highly involved FIT student, both in the classroom and in her extracurricular pursuits. How to make such a busy schedule work? She has learned to work smart and not hard. This allows her to be more creative and find innovative ways to achieve her goals. She advises incoming students to never compare themselves with others. Instead, compare your current work to your previous work and determine how you can improve in the future. The Academic Skills Center is an important resource. Tutors are great for assistance with classwork. Early on, Fatma worked with tutors to improve her sewing and draping skills.
Fatma recommends that new students come to New York City a few weeks early if possible. This will provide time to get to know more about the city, subway, and campus beforehand. Look for a supermarket that sells your favorite foods from home. For her, finding Turkish chocolate in a local Turkish grocery store was a helpful way to cope with homesickness.
Fatma's proudest FIT moment was having her design displayed in the 2021 Macy's Flower Show. In addition to the exposure for her work, it meant that her creativity and love of design prevailed despite a difficult pandemic year. In her free time, Fatma enjoys reading and relaxing in Central Park and listening to music while walking down the streets of Manhattan.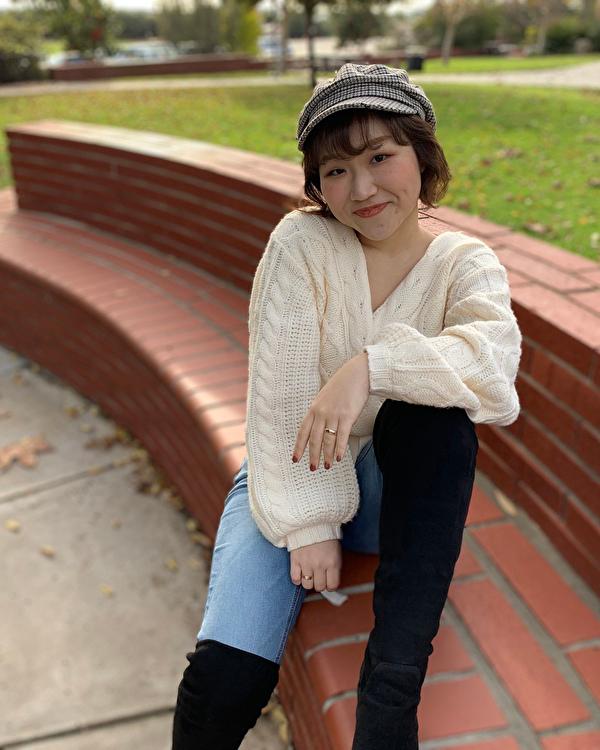 Name: Hinako
Major: Advertising & Marketing Communications AAS '22
Hometown: Tokyo, Japan
Hinako began her college education in Southern California before transferring to FIT. It had always been her dream to live in the US and she feels that studying abroad is not something you do alone; your family is always with you, so don't forget to appreciate them!
After initially feeling concerned about moving to a place where she didn't know anyone, Hinako now feels at home in NYC. She loves the fast pace and opportunities, such as volunteering at New York Fashion Week. She finds it important to constantly study to keep up with her classwork and recommends using FIT tutoring services for extra help. Hinako loves sushi and is passionate about doing yoga in her free time; she finds stretching is a great way to refresh and relax! She looks forward to connecting with other students to share her experiences living in the US and as a student at FIT.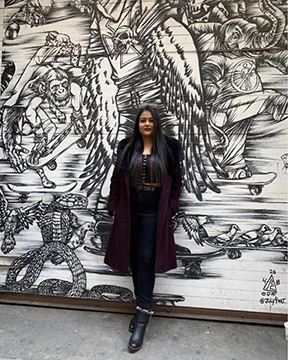 Name: Isha
Major: Fashion Design BFA '23
Hometown: Lucknow, India
Community Service: Prom Plus NYC
Isha has completed her AAS degree in Fashion Design and she's beginning a new journey by starting her bachelor's program.
Isha is a seasoned international traveler who feels that her extensive travels have helped her grow as a person, so it only made sense for her also to pursue her college education abroad. Her initial application to FIT was not accepted, but Isha is proud to have succeeded on her second attempt; this made her feel that she can achieve anything she sets her mind to! While new international students may initially feel out of place in a new environment, Isha has found FIT and New York City to be accepting places where there is much to look forward to. She loves to work as a Cultural Fellow as it allows her to help other people who come to FIT.
Isha finds her studies to be a lot of hard work, but they provide valuable training and skills for her profession, preparing her to succeed in the workplace. She stresses the importance of submitting your work on time! The tutoring services from the Academic Skills Center are a helpful resource. When not in school Isha is a huge thrill seeker! While travelling, her activities lean toward the adventurous, including scuba diving, skydiving, and bungee jumping.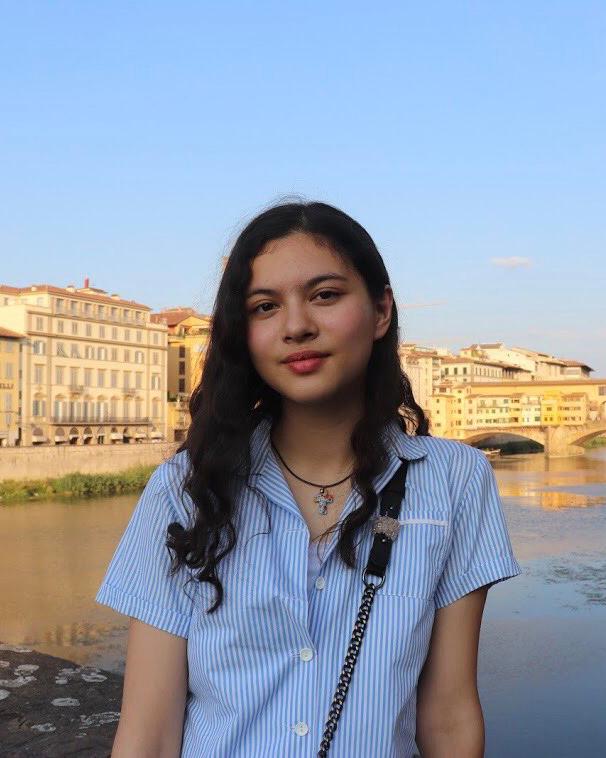 Name: Marie
Major: Fashion Design BFA '22
Hometown: Hannover, Germany and Brussels, Belgium
Involvement on Campus: Phi Theta Kappa Honor Society
Community service: Student Volunteer Community Service (SVCS)
Marie's Fashion Design studies at FIT have led her to pursue coursework in both Italy and New York City. She spent her first year with the FIT in Florence program at Polimoda and will complete her studies as an international student in the US. Marie fell in love with NYC while visiting as a teen and was determined ever since to live here.
Her favorite thing about FIT is how much she has learned in such a short time and how inspiring her professors are. She finds FIT's approach to teaching to be very career and industry oriented, including both creative and technical aspects. She advises new students to make the most out of the opportunities and events on campus, including the Museum at FIT. She strongly encourages students not to be afraid to step out of your comfort zone and talk to new people from different cultures!
Marie is an outdoorsy person and, while home, enjoys hiking, time spent in nature, and walks with her dog. In NYC, she enjoys exploring new places, thrifting, eating out, and spending time with friends. She is also passionate about playing the harp.
Name: Nazera
Major: Fashion Design AAS '22
Hometown: New Cairo City, Egypt
Nazera is truly a world citizen, having lived in 6 different countries. Moving around allowed her to acquire knowledge of different types of cultures and people and taught her to adapt in different environments.
Nazera will be studying on campus in fall 21 for the first time after a year of remote study. Starting a degree virtually can be a challenge and she was initially concerned about meeting new people. However, she was able to make strong connections with others and found some amazing classmates and faculty. She advises anyone engaged in remote study to not worry about missing out, but be sure to make the most of available opportunities.
Nazera loves the fast pace of New York City and its role as a fashion capital made it the right place to pursue her studies and career. She has found her instructors to be empathetic and helpful - students should ask them as many questions as needed.
Outside of school, Nazera is an adrenaline-loving thrill seeker! Her activities include adventure parks, diving, sprinting, and water sports - anything that gives her a rush. She is also passionate about working out and a major fan of Bollywood films.
Name: Rhea
Major: Fashion Business Management BS '23
Hometown: Guangzhou, China
Involvement on Campus: Phi Theta Kappa Honor Society, National Society of Collegiate Scholars
Rhea is truly a global citizen. She lives in Dubai, is of Indian descent, born in Uganda, raised in China, and attended secondary schools in Singapore and India. She is also a polyglot who speaks five languages. Still, moving to the US to attend FIT was a big change and she experienced culture shock while adjusting to her new home. She emphasizes the need for time management; it is very important to schedule yourself in order to complete assignments on time in order to avoid stress and do your best work. Rhea loves the opportunities she has at FIT. Rhea feels that the people, events, and resources available here will assist in the transition to the professional world.
With the uncertainty and restrictions the pandemic forced on us, Rhea thinks New York is the perfect place to dive back into exploring the world, new people, and parts of yourself you didn't even know existed. The diversity and newness that New York provides pushes her out of her comfort zone while making her feel at home at the same time. She is looking forward to a great COVID-safe semester this year!
Name: Riya
Major: Graphic Design BFA '22
Minor: History of Art
Hometown: Queens, New York
Involvement on Campus: Blush Magazine
Community service: CAAC (Collegiate Association for Artists of Color), TIUSA (The Ismaili USA)
Riya is a New York City native who participated in a FIT study abroad summer program. The short term photography program took her to Florence, Berlin, and London. She found this to be an enlightening experience, learning more about herself as an artist, a student, and a citizen of the world. As a local commuter student, Riya was concerned about finding her place on campus and interacting with students outside of her major. Studying abroad helped with this, as students from multiple majors participated in the program.
She recommends that incoming international students browse the FIT website thoroughly, they'll find it has many unique and helpful resources. Riya loves the diversity in NYC and finds it a place of inspiration. The people are expressive and unafraid to be their authentic selves. A fun fact about Riya - she was featured on Michelle Obama's Instagram page in a video for Giving Tuesday!
Name: Sarah
Major: Fashion Design MFA '22
Hometown: Portland, Oregon


Before attending FIT, Sarah earned her Bachelor's degree in Chemistry. Not having an art background and entering a graduate program in a new field concerned her. Turning her initial intimidation into determination was key to loving her first year at FIT. She believes it is important to focus on yourself and your goals. Your personal growth is ultimately your success!
Sarah advises incoming international students to examine any ideas or interests they have! Do not wait for a class opportunity to explore your personal creativity. The FIT community has such a diverse network of student backgrounds, she suggests making an effort to make friends and collaborate on mini projects just for fun. Also, find New York events that are relevant to your field of study and experiment with new ideas there. The access and excitement within the FIT campus and New York City environments is something you will likely only get to experience once so make the most of it!
On campus, Sarah finds the tutoring services at the Academic Skills Center to be helpful in getting an outside opinion on her work, and a different perspective on her class deliverables. She loves that FIT students come from all kinds of backgrounds; culturally and academically. Having a different background is a huge asset to the FIT community! This is a place where you can explore your own identity more deeply, and use that knowledge to propel your work forward.
New York is the first US city Sarah has lived where she has met many people her age who grew up with a similar cultural background. The diversity of experiences and backgrounds has allowed her to personally feel comfort and "home" while away from family. She encourages students to give themselves time and space to enjoy and explore the city. Long walks with no specific destination is a great way to dissociate from school work and return to your ideas more refreshed.
Name: Scarlett
Major: Fashion Business Management BS '22
Minor: Design Thinking
Hometown: Daegu, South Korea


New York City's status as a global fashion capital brought Scarlett to FIT after she decided to study Fashion Business Management. Before arriving, she was concerned about communicating solely in English and finding other students she could relate to. She wants incoming international students to know that they are not the only ones who are afraid of being alone and communicating in a different language. Be confident and express yourself to people. Everybody will love you! She advises students to not be afraid to speak confidently in front of their classmates and take advantage of new opportunities. For Scarlett, this included participating in a virtual summer internship based in London.
Scarlett found the Writing & Speaking Studio to be a helpful campus resource. The tutors are available to assist with editing and recommendations for written assignments. Outside of school, she is a Friends superfan who enjoys discovering new restaurants. When under stress, she craves spicy foods. The spicer, the better! Scarlett's proudest FIT achievement is graduating Summa Cum Laude from her AAS degree.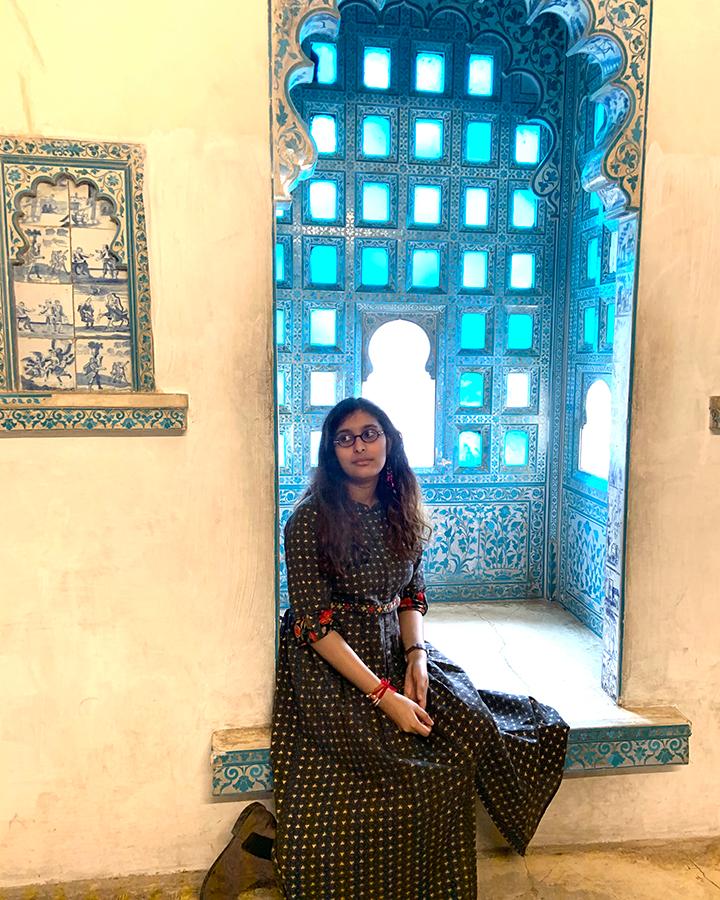 Name: Siddhi
Major: Fashion Design BFA '22
Minor: History of Art
Hometown: Bangkok, Thailand
Involvement on Campus: Academic Skills Center Tutor, Model United Nations, Indian Cultural Society, Former Vice-President of Florence Abroad Student Activities (FASA)
Siddhi is both an international student and an FIT study abroad student! She began her first year of Fashion Design studies with the FIT in Florence program at Polimoda in Italy. Growing up in a place that she didn't originate from led to a curiosity about other cultures and ways of life, motivating her to pursue studies in Italy and the US. Before coming to New York, she was concerned about making friends, fitting in, and missing home. But here she found a strong student population where she found it easy to make friends. She recommends bonding with people when you spend time together in the classroom and at campus events. She has also found that using Whatsapp for video calls to family back home reduces homesickness.
Siddhi loves the hustle and bustle around campus. There is always something interesting happening, like a visit from the cast of Project Runway. Being involved in clubs provides a chance to interact with people outside of her major. Outside of FIT, her favorite activity is walking around the city; even after being here a year, she still finds there is so much left to explore! She recommends visiting the nearby High Line elevated park when you need a study break.
Name: Stephanie
Major: Fashion Business Management BS '22
Minor: International Trade and Marketing, Economics
Hometown: Willemstad, Curacao
Involvement on Campus: Writing & Speaking studio tutor
Community service: Global Issues Network
Stephanie is truly a global citizen, having lived in four different countries—each with its own unique culture—and having traveled to over 25 more. She was brought up with the idea of studying abroad as a way to access greater educational opportunities. Before coming to FIT, she was concerned that she wouldn't enjoy her intended FBM major, despite her interest in the field. Luckily, she loves the program and finds it the right choice for her future career. She likes the small size of her classes, as they make it possible to have close relationships with professors and fellow classmates.
Stephanie appreciates the variety of free resources that FIT offers students. Her favorites are the fitness classes and access to Adobe applications. Be sure to ask her for recommendations! Outside of school, Stephanie enjoys swimming, hiking, painting, and spending time with friends.
Name: Zeke
Major: Entrepreneurship BS '22
Hometown: Atlanta, Georgia & Hanoi, Vietnam
Zeke lived in Hanoi, Vietnam throughout his childhood as a result of his mother's profession and spent much of this time travelling internationally. He holds close the many experiences gained and relationships built while living overseas as they continue to inform the way he sees the world.
Since moving to New York, Zeke has made a concerted effort to indulge in all of the city's chaos—from unsavory internships, to minimum wage retail jobs, to pandemic parties in the park. Needless to say, he has no plans to leave. He embraces the city's diversity of cultures and experiences, and encourages new international students to immerse themselves in all its wonder and madness. Despite his extensive travels, Zeke still believes you won't find the places or faces of this city anywhere else.
Zeke loves being at a school that embraces individuality; he finds that FIT allows students to showcase their most authentic selves. As a current senior, Zeke advises incoming students to lean into their personal evolution because that's what FIT—and college—is all about. When not busy with school or work, you might find Zeke buzzing through downtown with friends or searching for the next best Vietnamese restaurant. Be sure to let him know if you have recommendations!