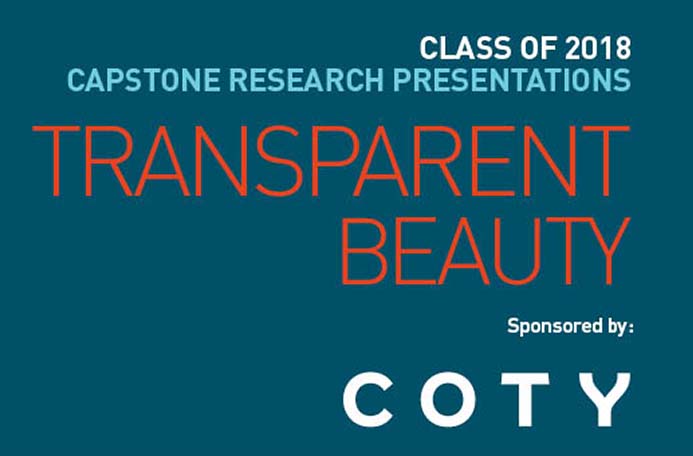 Presentation
Assignment Brief: Transparent Beauty
The CFMM 2018 Capstone research re-examines the 21st century values of wellness, and the emerging consumer demand for transparency, to predict how beauty brands and beauty companies will evolve in the next 10 years. The research focuses on how beauty must be positioned to engage the future consumer, and embrace transparency on multiple levels. Will the future of beauty become Transparent Beauty … with brands, products, and organizations completely visible to the end consumer?
Original Quantitative Consumer Research:
2018 FIT Transparency Perception Assessment Survey
The proprietary survey discovered that consumers crave communication, accountability, and values from both brands and beauty industry employers. Lack of transparency is impeding the consumer path to purchase as well as the employee pursuit of purpose.
Clean Beauty
In a world where consumers are demanding more transparency from brands, the rise of naturals and the notion of Clean Beauty is more prevalent than ever. But what is Clean Beauty - is it Organic? All-Natural? Cruelty-Free? Vegan? Gluten-Free? Toxin-Free? Sustainable? With limited Federal regulations, consumers are actively searching for information and are overwhelmed trying to decipher truth from fake news. In this blurred new world, brands must answer the demand for transparency and educate their increasingly savvy consumers about their product formulations, supply chain, and marketing claims.
» Clean Beauty Infographic (.pdf)
» Clean Beauty White Paper (.pdf)

Glassbox Organizations
The rise of technology and access to on-demand information has shifted control to the individual. Newly empowered citizens, now more knowledgeable and vocal than ever before, are losing faith in their governments' ability to protect society. As this government distrust escalates, individuals are asserting their collective strength on organizations they can control—corporations. But under this level of scrutiny, how can profit-driven companies survive? A brand's survival will be determined by its ability to operate as a Glassbox Organization, accountable at every step of the way.
» Glassbox Organizations Infographic (.pdf)
» Glassbox Organizations White Paper (.pdf)