Art and Design Gallery
The exhibition space showcases the work of students, faculty, and distinguished alumni, as well as invited guest artists.
Exhibitions
The Art and Design Gallery is open from 9 am until 5 pm, seven days per week. The gallery is located at the northwest corner of Seventh Avenue and West 27th Street.
March 27 – 29, 2023
Student Showcase 2023
This showcase features works by students from the School of Art and Design, the School of Liberal Arts and Sciences's Art History and Museum Professions (BS) and Film and Media (AAS/BS) programs, and the School of Graduate Studies's Fashion Design program.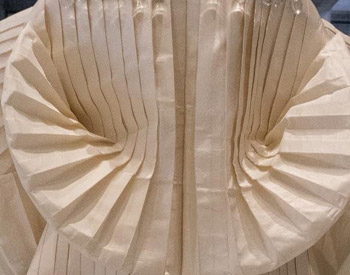 April 12 – 19, 2023
Crafted:
Fashion Design AAS Exhibition
For the spring 2023 Fashion Design AAS program's capstone projects, students were asked to create their garments using muslin fabric exclusively. As a result, the exhibition focuses on simple forms and techniques, encouraging innovation and skill. For example, students could choose from a variety of weights, and the muslin could be draped, pleated, embroidered, dyed, or hand-painted. Included are works selected for Critic Awards by industry mentors who have worked alongside students throughout the semester—two in fashion illustration and three in apparel design.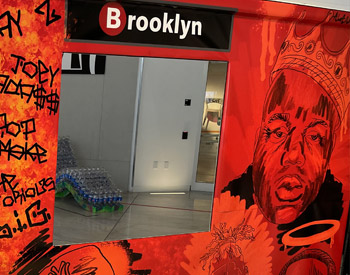 February 8 – March 12, 2023
FIT Fabulous: A Modern Investigation of Hip Hop
In a unique counterpoint to The Museum at FIT's Fresh, Fly and Fabulous: Fifty Years of Hip Hop Style exhibition, students present work with hip-hop themes from their respective majors. Works include graffiti-themed murals by Illustration students, hip hop–inspired furniture by Interior Design students, and a DJ booth for sampling hip hop music created by a team from Spatial Experience Design. Also on display will be a typeface created by Graphic Design students after exploring iconic spots in New York City where hip hop got its start.
Contact
Art and Design Gallery
227 West 27th Street, New York, NY 10001