Art and Design Gallery
The exhibition space showcases the work of students, faculty, and distinguished alumni, as well as invited guest artists.
Exhibitions
The Art and Design Gallery is open from 9 am until 5 pm, seven days per week. The gallery is located at the northwest corner of Seventh Avenue and West 27th Street.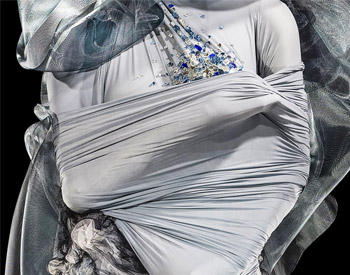 September 18 – October 15, 2023
The Unwearable Collection
The FIT Foundation, in partnership with the FIT DTech Lab, presents the evolution of The Unwearable Collection by Boehringer Ingelheim: pieces that are impossible to wear and impossible to ignore. The Unwearable Collection Exhibition—inclusive of "Uncertainty," the fifth piece designed by FIT's Fashion Design MFA students Natalia Robles-Oteiza and Urvi Selarka under the supervision of Dobriana Geneva, assistant professor, Fashion Design, with creative direction by Michael Ferraro, executive director, FIT DTech Lab—utilizes fashion to illustrate the debilitating pain and uncertainty that people living with generalized pustular psoriasis (GPP) endure during a flare.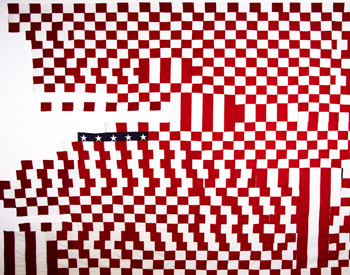 October 27–December 3, 2023
Pattern, the Grid, and Other Systems
Curated by FIT Associate Professor of Fine Arts Julia Jacquette, this exhibition at the Fashion Institute of Technology features work that utilizes and explores all aspects of repetition and pattern.
Pattern is often thought of in terms of art and design: the repetition of shape in surface design. But the definition of pattern can be even more expansive: It's a regularity or repetition in the world in general. It includes the repetition of abstract ideas as well as form.
Pattern, the Grid, and Other Systems will include two-dimensional, three-dimensional, and time-based artwork from FIT faculty, students, and distinguished alumni, as well as from guest artists. In addition, panel discussions and talks by participating artists and guest lecturers will take place during the run of the exhibition.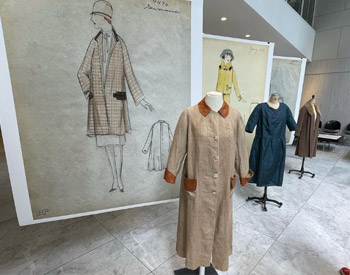 August 3 – September 10, 2023
Unconventional Then, Now, & Always:
A Helix of FIT Influence from Max Meyer to Daria Dorosh
This exhibition explored FIT founder Max Meyer's impact on the fashion industry through his role at Abraham Beller and Company, a women's clothing manufacturer in NYC. It highlighted the connection between the fashion industry and FIT, showcased by significant donations that built the Library's Special Collections and College Archives. Meyer's gift of over 8,000 Beller company sketches depicting renowned Paris couture from 1915-1929 were featured, and garments from the F&TS collection were conserved by students and alumni.
Also presented were contemporary art and fashion vignettes by FIT alumna and professor emerita Daria Dorosh, Ph.D. The exhibition emphasized Meyer's lasting influence on modern artists and the garment industry, aligning with celebrating the College's 80th anniversary.
Contact
Art and Design Gallery
227 West 27th Street, New York, NY 10001