Art and Design Gallery
The exhibition space showcases the work of students, faculty, and distinguished alumni, as well as invited guest artists.
Exhibitions
The Art and Design Gallery is open from 9 am until 8 pm, seven days per week. The gallery is located at the northwest corner of Seventh Avenue and 27th Street.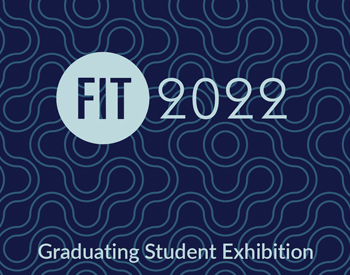 May 17 – May 29, 2022
FIT Art and Design
2022 Graduating Student Exhibition
This 2022 Graduating Student Exhibition (GSE) presents the work of more than 600 student graduates in 16 areas of study from the School of Art and Design. The work is the culmination of each student's unique experience in FIT's diverse, challenging, and demanding undergraduate art and design programs. Featuring juried, award–winning, and thesis projects, this presentation is the manifestation of several years of research, experimentation, critical thinking, and artistic proficiency. The Graduating Student Exhibition advances the college's philosophy that integrates practice in industry with theory and teaching inside the studio.
----------
The Black View:
A virtual exhibition displayed via the large screen
The Black View, sourced from an open call organized by FIT's Black Student Union, discusses the work of BIPOC members in the FIT community.
The artists include Dane Tewari, Christien Lamoth, Yamilet Almonte, Racquel k. Jones, Keanu Williams, Kailee Finn, Alexis CrokerBenn, Thermal Taveras, Tigidankay Saccoh, Genique Smith, Lauryn Reeves, Kyle Reynolds, Genia Charles, and Nia Jackson.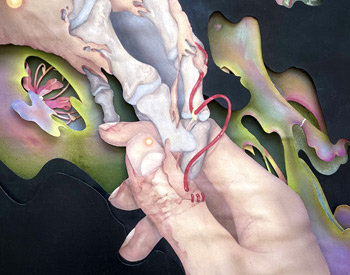 June 16 - July 17, 2022
End of The Line
2022 MFA Illustration Visual Thesis Show
The 2022 Visual Thesis Show, titled "End of The Line", represents the culmination of three years of graduate study for the FIT MFA Illustration candidates. Each MFA candidate develops and executes a unique body of work that represents the cumulative experience of three years of study, exploration, artistic growth, academic research, and professional development. The exhibition will consist of works on paper, collaged drawings, digital art and motion graphics, and picture books.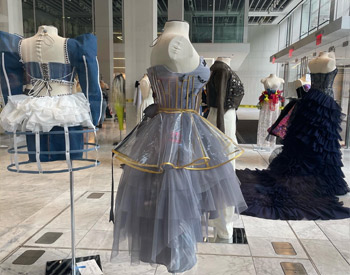 APRIL 19 - APRIL 24, 2022
Empire State of Mind
Fashion Design AAS Spring 2022 Capstone Exhibition
This exhibition, featured degree-culminating work by students in the Fashion Design AAS program, celebrated the influential, diverse, and dynamic city of New York through the lenses of individuals and their unique experiences with it.
The lobby of the Art and Design Gallery featured finished student garments, and the back gallery showcased examples of students' portfolio work and model drawings.