Art and Design Gallery
The exhibition space showcases the work of students, faculty, and distinguished alumni, as well as invited guest artists.
Exhibitions
The Art and Design Gallery is open 9 am until 6 pm, seven days per week. The gallery is located at the northwest corner of Seventh Avenue and 27th Street.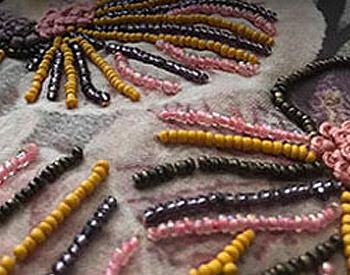 October 18–November 21, 2021
Style Journey
An exhibition of contemporary kurtas, hand-embroidered and collaboratively designed by FIT Textile/Surface Design students and Fashion Design students from Pearl Academy, India.
Includes an installation by N'Ketiah Brakohiapa, a textile artist and FIT alumus, taking inspiration from his native Ghana.
Also on view will be a display of garments by Emily Omesi, recent alumna (Fashion Design '21) and current Fashion Design student Anthony Cruz.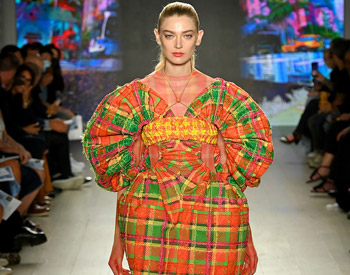 December 13, 2021–January 26, 2022
Journal and Pattern
Participating artists:
Anabella Bergero (Fashion Design MFA '20)

Donna Cleary (herbalist and artist)

Slavko Djuric (book artist, Fine Arts and Photography technologist)

Bil Donovan (adjunct associate professor, Illustration)

Esther Li (Fashion Design BFA '21)


Melanie Reim (artist and educator)

Tom Scott­ (assistant professor, Fashion Design)

Lauren Zodel (assistant professor, Fashion Design)

Woolpunk aka Michelle Vitale (invited visiting artist)



Work will include crocheted installations, fibrous stitchery, handmade books, collages, and theatrical garments exploring aspects of Latinx and Latin American culture and identity.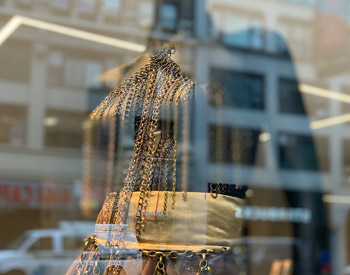 October 4–15, 2021
En Route
En Route was an art exhibition composed of emerging Hispanic and Latinx artists at the Fashion Institute of Technology.
They are a group of people who have come together to create a community to achieve their goals. As young artists, they are still on their lifelong journey of being creators. Therefore they are "en route."

They are a diverse group of artists, unified in creating space and community at FIT. They use a variety of mediums to convey their artistic messages, including painting, photography, and fashion design.