Jay and Patty Baker Endowed Scholarships
Baker Scholars are ambassadors of the Jay and Patty Baker School of Business and Technology. The Baker Scholars Program includes up to forty of some of the best students in our school across our ten programs and across all years of study. The students selected to join this program participate in opportunities that enhance skills such as problem solving, public speaking, leadership, and event and project management. Activities range from cultural outings and team building exercises, to volunteer and community service initiatives. Events for the Baker Scholars include bringing invited guests to campus for the Dean's Forum, connecting with Baker Scholar alumni, cultural outings ranging from arts to sports, volunteer and service activities, and of course spending some time on campus with our favorite visitors – Jay and Patty Baker. Through the Baker Scholars program, students gain knowledge beyond the classroom, develop fluency in the arts and philanthropic topics, and build a network for professional purposes.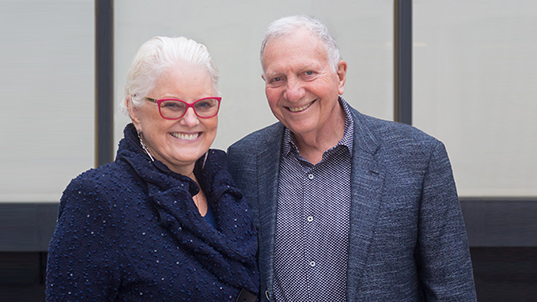 Who are Jay and Patty Baker?
Following careers in commerce and the arts, Jay and Patty Baker believe in education and the future of the retail industry.
Learn More About Jay and Patty Baker
Benefits
Baker Scholars:
receive an annual endowed scholarship to cover a portion of tuition costs;
enjoy priority status for course registration;
gain priority status for on-campus housing;
participate in exclusive Baker Scholar events, such as receptions with Jay and Patty Baker and networking with Baker Scholar alumni; and
join cultural events in New York City: Broadway performances, professional sporting events, guided museum tours, etc.
Program Requirements
Baker Scholars must:
maintain a full-time matriculation in a Jay and Patty Baker School of Business and Technology degree program;
maintain a minimum 3.0 grade point average;
exhibit a commitment to community service through participation in college and non-profit organization activities;
demonstrate financial need each year via the Federal Application for Student Aid (FAFSA), due January 15 for continuing students and February 1 for new students;
commit to a non-smoking lifestyle;
attend and participate in required meetings and activities for each semester; and
maintain productive committee activity (all Baker Scholars must participate in at least one committee for planning events, initiatives, and outings).
Eligibility to Apply
Applicants to the Baker Scholars program must:
be enrolled in a degree program in the Jay and Patty Baker School of Business and Technology;
be in semesters 1-4 of study at FIT (i.e., freshmen, sophomores, and rising juniors);
demonstrate high academic merit;
demonstrate financial need via Federal Application for Student Aid (FAFSA); and
meet Baker Scholars Program requirements (see above).
Application Process
Review information on the Baker Scholars program page to learn about the goals, benefits, requirements, and benefactors of the program.
Complete a Federal Application for Student Aid (FAFSA) filing, by January 15 for continuing students and February 1 for new students.
Financial Aid will send an invitation to apply to all eligible students via email starting in late February (this invitation includes a link to the web-based application system).
Complete the application by the deadline (typically by late March or early April). Early completion of the application is recommended since candidate selection decisions are made in phases leading up to the deadline.
Selected freshmen candidates are typically notified in April, and all other candidates by late May (when financial aid award notifications are released yet before tuition bills are sent).
Selection
Applications typically open in late February each year. Timing is tied to the FAFSA process since the first step in determining eligibility requirements is assessing financial need.
All applicants that meet eligibility requirements are reviewed in the Spring semester for consideration of a Fall entry into the program.
The screening for financial need is completed by FIT's Financial Aid Services team based on FAFSA and related information supplied by students in the FIT financial aid system.
The application requires background information, a few questions with brief answers, and an essay (500 words max) to articulate professional aspirations, interests and background, and what makes you a strong candidate.
The review process to consider eligible applicants includes input from a committee with representation from the Office of the Dean and Program Advisors.
Notification and Orientation
Candidates selected to receive an invitation to the Baker Scholars program are notified by the Financial Aid Services team at FIT, and then more details are shared from the Office of the Dean. Candidates must confirm their decision to accept the invitation with the Office of the Dean.
A New Baker Scholar orientation meeting is held early in the fall semester, after which the new members of the program join continuing members in meetings, activities, etc.
Continuing in the Baker Scholars Program
In order to remain in good standing in the Baker Scholars program, including being eligible to receive and participate in the benefits offered, students must adhere to all requirements outlined above and demonstrate financial need via FAFSA each year.
Additional Information
If you have questions regarding eligibility as it relates to financial aid and financial need, please contact Sharon Naftaliahu, Scholarship Coordinator, at (212) 217-3560 or

[email protected]

.
If you have questions regarding the Baker Scholar program in general, please contact the Office of the Dean at (212) 217-4330 or visit the Business and Liberal Arts Center, Room B423.