Area Construction Projects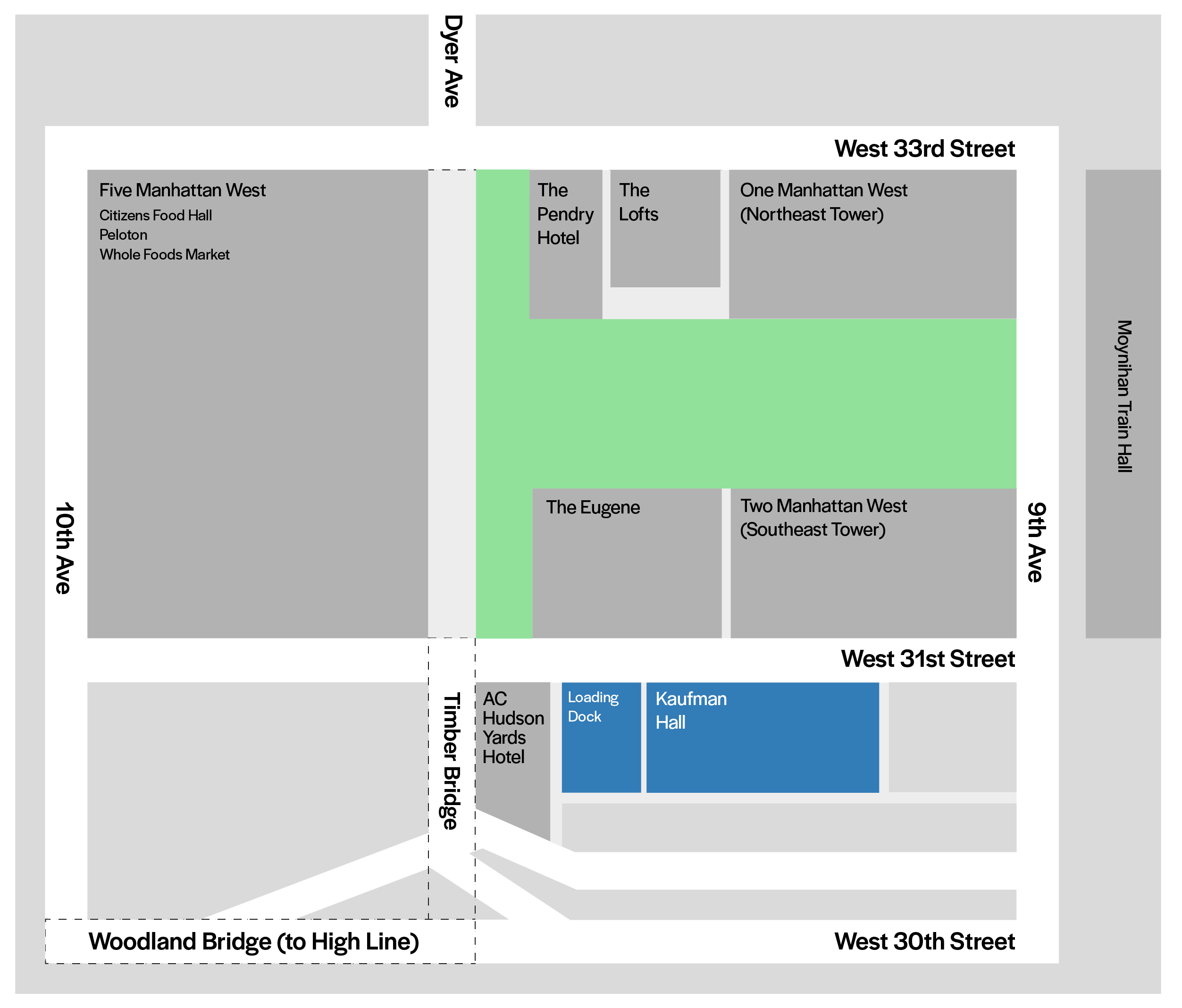 Across from Kaufman Hall on West 31st Street, Manhattan West, a major residential and commercial development stretching from 31st to 33rd streets and from Ninth Avenue to Dyer Avenue, is currently under construction.
When completed in 2022, the complex will include the Eugene, a 62-story residential building which opened in 2017; two commercial office buildings each over 60 stories tall; and a 30-story hotel with condominiums on the upper floors. An existing office building on the west side of the complex has been renovated and the first floor houses a Whole Foods Market, a Peloton Studio, and a Citizens market hall of food options. The complex surrounds a large public landscaped plaza, featuring many retail and dining establishments at plaza level.
Construction at Manhattan West
The developer, Brookfield Properties, has informed FIT that some of the work that is adjacent to the train tracks on West 31st Street can only be done after hours when it will not disrupt train operations. The company has obtained after-hours work permits allowing construction from 10 pm until 5 am, Monday through Friday, and all day on weekends. FIT posts weekly construction updates and will share information about nighttime work as it becomes available.
College administrators meet regularly with Brookfield Properties to discuss conditions, plan for upcoming activities, and identify measures that can be taken to reduce noise and disruption. (See noise reduction progress to date.)
Please report disruptive noise immediately. FIT logs all student complaints and reports them to Brookfield Properties the same day. College administrators can address these issues much more effectively with your input. You are encouraged to:
File a complaint with New York City every time the noise is excessive. Either call 311 or use the "request" option on the 311 NYC app. Repeated complaints may result in fines.
Submit a noise report to the Dean of Students Office each time that disruptive noise is experienced. Please email reports to

[email protected]

and include the date, time, and duration of the noise, as well as the room number in which you hear it.
Contact Brookfield Properties: Henry Caso, vice president, Manhattan West Construction, (212) 560-0746 or email

[email protected]

.
Learn more about the Manhattan West project on the developer's website.
One Manhattan West, Ninth Avenue at West 33rd Street
Dates: Occupancy began in 2021.
Responsible Party: Brookfield Properties
Two Manhattan West, Ninth Avenue at West 31st Street
Dates: July 2017–July 2022
Responsible Party: Brookfield Properties
Site preparation for this 62-story office building began in July 2017 and was then paused until December 2018. Six months of rock chopping, required for the building's deep foundation began in late December 2018 and was completed in June 2019. Vertical construction began in 2020 and will be completed in 2022. This work occurs on weekdays from 7 am to 6 pm. Currently, no weekend or nighttime work is anticipated.
The Pendry Hotel, 442 West 33rd Street between Ninth and Dyer Avenues
Dates: This property opened in fall 2021.
Responsible Party: Brookfield Properties
Dates: January 2022–May 2023
Location: 30th Street from Tenth Avenue to Dyer Avenue; Dyer Avenue from
30th Street to 31st Street
Responsible Party: The Moynihan Connector is a public-private partnership
between New York State Empire State Development, Brookfield Properties, and
the High Line. Brookfield Properties is overseeing the construction.
This L-shaped connector will allow pedestrians to move above ground from the
High Line to the Manhattan West plaza, and then across the public space to
Ninth Avenue, directly across from Moynihan Train Hall at Penn Station.
The connector, formed by two 600-foot, landscaped bridges, will begin at the
High Line at Tenth Avenue, move east along 30th Street and turn 90 degrees
north along Dyer Avenue from 30 th Street to 31 st Street, where it will join the plaza
at Manhattan West.
The Woodland Bridge, running above 30th Street, is designed to feature deep
soil beds and will be rimmed with trees and hedges. The Timber Bridge, made of
sustainably sourced wood, runs above Dyer Avenue into the public plaza at
Manhattan West.
Renderings of the project are here and Kaufman Hall is visible in several images.
Dates: August 2019–May 2022
Location: West 31st Street from Ninth Avenue to just east of the front door of Kaufman Hall
Responsible Party: Brookfield Properties for the New York City Department of Transportation
The bridge that supports the West 31st Street roadbed from Ninth Avenue to just before the entrance to Kaufman Hall must be replaced. This project involves closing this portion of the street to vehicles for the duration of the reconstruction and repaving. Pedestrian access has been maintained along the south sidewalk, on the Kaufman Hall side of the street. The western portion of the block has been converted to a two-way traffic zone for deliveries to and pick-ups and drop-offs at mid-block addresses only.
Van service between Kaufman Hall and the West 27th Street campus continues on a standard schedule.
Demolition of the roadbed began in late August 2019.
Dates: Project start to be determined.
Responsible Party: Arisa Realty
This 26-story hotel project is not part of the Manhattan West development. The building will be located directly west of Kaufman Hall and will abut the residence hall's loading dock.
While a project schedule is not yet available, similar construction projects take about two and a half years to complete. The first 18 months encompass demolition, site preparation, foundation work, and construction of the building exterior. The last year of work is primarily within the building.
FIT is in active negotiations with Arisa Realty, the project's developer, to proactively address issues of safety, disruption, and privacy for Kaufman Hall residents.