After-Hours Classroom Availability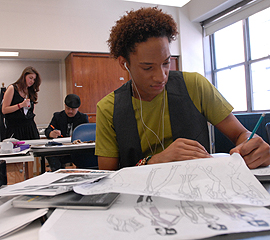 Need to get that project done? Need to spread out?
Classrooms and studios are available to FIT students when they are not being used for classes.
Reserve a Room
Click on the Student Tab
Click on After-Hours Classroom Availability to agree to the terms and conditions for room usage and to view a list of available rooms.
Check In to Use Your Reservation
Go to the security desk in Feldman Lobby. Bring your FIT ID card and a classmate, because two students must be in each classroom at all times. You will receive a sticker from the security officer, which must be visible at all times. You can work in the classroom until 2 am.