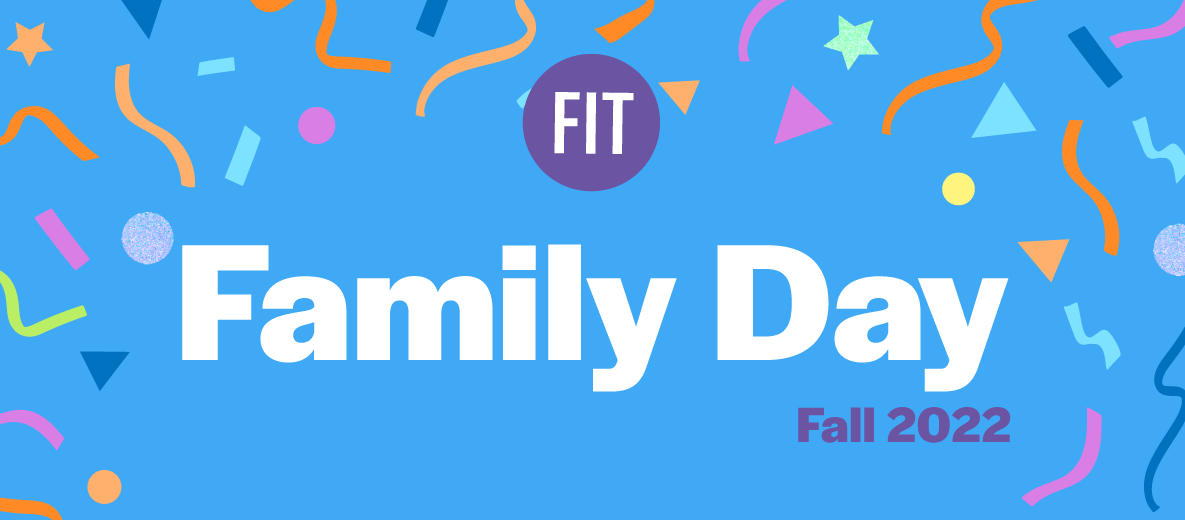 Saturday, November 5th, 10 am–4 pm
The FIT campus is a student's home away from home, and each year we invite family members and friends to make it theirs as part of Family Day. Share the FIT experience as you spend time connecting with your student, interacting with faculty and staff, and experiencing what makes being an FIT student so special.
In preparation for your visit to FIT check out the Museum at FIT virtual tours, take a virtual tour of the FIT campus, see what amazing alumni the HUE Magazine has interviewed, or simply check the Barnes and Noble at FIT website for your favorite FIT swag.
For the first time in three years, FIT will be hosting Family Day in person. We are so excited to have you back on campus! Below is a list of some of the events and activities that will be taking place on Family Day. This is not a comprehensive schedule; however, this will provide you with an idea of what will be happening on campus. Keep checking this page for a full and detailed schedule.
Family Day Activities

Time

Event

Location

10–11 am

CHECK-IN

Student Life & Orientation Leaders

11–11:45 am

WELCOME & STUDENT PERFORMANCES

Kick-off Family Day with an official FIT welcome! Families and students will be greeted by FIT President Joyce F. Brown, Interim Vice President for Academic Affairs, Yasemin Jones and FIT Student Government Association Vice President, Phoebe Beirne. The program will be emceed by Corie McCallum, Associate Dean of Students and feature performances by the FIT Dance Team and the Skyliners Club.

Dr. Brown, Corie McCallum, Yasemin Jones, Dance Team Coach

Haft Theater, Pomerantz

12–2 pm

FOOD TRUCKS ON 27TH STREET

Get a taste of New York at one of our three food trucks – NYC Pizza, Nathan's Hot Dogs, or Waffle Truck - and enjoy some complimentary popcorn from our signature popcorn truck! Use the food voucher provided at check-in.

Student Life

27th Street

12–2 pm

CAMPUS RESOURCE FAIR

Take time to learn more about the support services available to you FIT student. Featured departments include Academic Advisement, EOP, Alumni, Athletics & Recreation, Financial Aid, Health Services, Department of Student Life, Residential Life, FITABLE, Counseling Center, International Student Services, Library

Breezeway

1–4 pm

FAMILIES' CHOICE

Families have the option to take a campus or museum tour, take a family photo with Stitch, the official mascot of FIT, or attend a demonstration led by FIT faculty members. Some sessions are offered several times while others are limited to a specific time frame.

Various Campus Locations

1–1:45PM Tours:

CAMPUS TOURS

Depart from the Dubinsky Student Center Lobby

begins at 1 pm

MUSEUM TOUR

*space is limited, first come, first served.

Depart from the Feldman Lobby,

begins at 1 pm

FAMILY PHOTO OP WITH STITCH

Dubinsky Student Center Lobby

begins at 1 pm

Data Insights & Fashion Analytics

Led by Prof. Ramona Dunlap - Various social media platforms and databases are used as part of the big data conversation to understand and quantify consumer sentiment on fashion apparel before financial decisions and strategies are finalized. Data Insight and predictive analytics are employed to maximize revenue and margin. Critical thinking is required to analyze, interpret, and incorporate data into the final merchandise assortment plan.


A320, Dubinsky Student Center

begins at 1 pm

Denim Development

Led by Prof. Sean Cormier - What is denim, how is it made and converted into denim jeans?

A680, Dubinsky Student Center

begins at 1 pm

"Stream Your Story"

Led by Prof. Michael Cokkinos - Families will tour the MARCOM Video Studio and participate in a production workflow placing them as both the talent and director of a social media stream.

A586, Dubinsky Student Center

begins at 1 pm

Neuroscience of Happiness

Led by Prof. Dan Benkendorf - While happiness is often thought of as a subjective state, cognitive neuroscience continues to shed light on the physical substrates that correspond with varied levels of wellbeing. In this class, we will distinguish between major sections in the human brain and explore the role that several hormones and neurotransmitters play in moderating and influencing how we think, feel, and behave.


C509, Feldman Center

begins at 1 pm

The Elaboration Likelihood Model (ELM)

Led by Prof. Matthew Petrunia - The Elaboration Likelihood Model examines the different approaches persuaders may utilize to package their message to change a target audience's attitudes. This session will focus on both central processing and peripheral reasoning strategies, share techniques persuaders use to incorporate the ELM into their messaging, and identify the strengths and weaknesses of each approach.



C311, Feldman Center

begins at 1 pm

Web 3.0

Led by Prof. Mary Kassner - Learn about NFT's, AI, AR, and the Metaverse and their importance to the fashion industry.


C41B, Feldman Center

begins at 1 pm

JD 139 - Jewelry Design & Ideations

Led by Prof. Kim Nelson - Introduction to the jewelry product development process, followed by a light and fun design quiz (the Maitland Graves Design Quiz).


C507, Feldman Center

begins at 1 pm

First Year Experience and Sustainability in Fashion Merchandising

Led by Prof. Stephen Cucci - ​A sampling of FBM classes; learn about the evolution of fashion and the relationships between fashion industry sector​s and sustainability issues.


A324, Dubinsky Student Center

begins at 1 pm

Apparel and Home Textile Products Manufacturing

Led by Prof. Joseph Altieri – Introduction to Apparel and Home Textile Products Manufacturing.


C401, Feldman Center

begins at 1 pm

How to use the Scroll Saw

Professor Zhao will demonstrate how to use the scroll saw.


D633, Pomerantz Center

begins at 1 pm

Visual Design Concepts

Professor Salvatore Cesarani

C809, Feldman Center

begins at 1 pm

Basic Draping

Professor Eileen Karp leads a discussion of fabric grain and demonstrations of basic straight skirt with darts.

C715, Feldman Center

begins at 1 pm

Fashion Inspiration and the Creative Process

Professor Isabella Dawn Notaro

C707, Feldman Center

2-2:45 pm Tours:

CAMPUS TOURS

Depart from Dubinsky Student Center Lobby

begins at 2 pm

FAMILY PHOTO OP WITH STITCH

Dubinsky Student Center Lobby

begins at 2 pm

ALUMNI PANEL WITH LIZ MANALIO

Hear from recent FIT alumni. This panel features Alex Chimilio, an established Creative Director, Corey Moran, Head of Industry, Luxury & Fashion at Google, Mia Murphy, Freelance Photographer, and Emily Sunberg, Writer and Producer.

This panel is moderated by FIT Student Government Association's Vice President Phoebe Beirne and Senator for Residential Students, Mackenzie Harding.


8th Fl. Dubinsky Student Center

begins at 2 pm

Data Insights & Fashion Analytics

Led by Prof. Ramona Dunlap - Various social media platforms and databases are used as part of the big data conversation to understand and quantify consumer sentiment on fashion apparel before financial decisions and strategies are finalized. Data Insight and predictive analytics are employed to maximize revenue and margin. Critical thinking is required to analyze, interpret, and incorporate data into the final merchandise assortment plan.

A320, Dubinsky Student Center

begins at 2 pm

Denim Development

Led by Prof. Sean Cormier - What is denim, how is it made and converted into denim jeans?


A680, Dubinsky Student Center

begins at 2 pm

High versus Low-Context Messaging

Led by Prof. Matthew Petrunia - Culture plays a significant role in the way people communicate. Hall's cultural taxonomies provide insight into the ways people communicate with one another. This session will examine one of Hall's cultural taxonomies, the High versus Low-Context taxonomy, and how it impacts the way people communicate globally.


C311, Feldman Center

begins at 2 pm

Web 3.0

Led by Prof. Mary Kassner - Learn about NFT's, AI, AR, and the Metaverse and their importance to the fashion industry.


C415B, Feldman Center

begins at 2 pm

JD 139 - Jewelry Design & Ideations

Led by Prof. Kim Nelson - Introduction to the jewelry product development process, followed by a light and fun design quiz (the Maitland Graves Design Quiz).


C507, Feldman Center

begins at 2 pm

Apparel and Home Textile Products Manufacturing

Led by Prof. Joseph Altieri – Introduction to Apparel and Home Textile Products Manufacturing.


C401, Feldman Center

begins at 2 pm

How to Use the Scroll Saw

Professor Zhao will demonstrate how to use the scroll saw.


D633, Pomerantz Center

begins at 2 pm

Drawing the Figure in Charcoal

Professor Lepp will demonstrate drawing from the figure (clothed) exploring how to use charcoal line and the exploration of negative space.


D625, Pomerantz Center

3–3:45 Tours:

CAMPUS TOURS

Depart from the Dubinsky Student Center Lobby

begins at 3 pm

MUSEUM TOUR


*space is limited, first come, first served.

Depart from the Feldman Lobby

begins at 3 pm

FAMILY PHOTO OP WITH STITCH

Dubinsky Student Center Lobby

begins at 3 pm

DIVERSITY, EQUITY & INCLUSION PANEL

One of the primary goals of DEI and belonging in higher education is to create a learning environment where all students succeed and thrive. When students experience a sense of belonging on campus, their academic, health, and engagement outcomes improve. The purpose of this hour-long panel is to give the parents an idea about the college's commitment to DEI and belonging.

This panel is moderated by Dr. Ronald Milon, Chief Diversity Officer.

Katie Murphy Amphitheatre, Pomerantz Center

begins at 3 pm

Put the "I" in FIT: A Student's Point of View to Success

Success is defined differently and here at FIT we want students to feel accomplished both in and out of the classroom. Hear from three current FIT students as they share their journey of student leadership and how it helped them achieve their unique goals!

This panel is moderated by Julia Romano, Counselor for Orientation & New Student Programs.

8th Fl. Dubinsky Student Center

begins at 3 pm

Improving your Public Speaking

Led by Prof. Matthew Petrunia - As a soft skill, public speaking is one of the most valuable assets individuals can have in their repertoire. In this session, individuals will be introduced to some public speaking pedagogy that will help you engage your audience in more meaningful ways.

C311, Feldman Center

begins at 3 pm

Fashion Drawing Lesson with Live Model

Led by Prof. Steven Broadway – Families can observe and join students drawing a live fashion model.

C607, Feldman Center

begins at 3 pm

Web 3.0

Led by Prof. Mary Kassner - Learn about NFT's, AI, AR, and the Metaverse and their importance to the fashion industry.

C415B, Feldman Center

begins at 3 pm

Apparel and Home Textile Products Manufacturing

Led by Prof. Joseph Altieri – Introduction to Apparel and Home Textile Products Manufacturing.

C401, Feldman Center

begins at 3 pm

How to Use the Scroll Saw

Professor Zhao will demonstrate how to use the scroll saw.

D633, Pomerantz Center

begins at 3 pm

Drawing the Figure in Charcoal

Professor Lepp will demonstrate drawing from the figure (clothed) exploring how to use charcoal line and the exploration of negative space.

D625, Pomerantz Center

4–6 pm

OFF CAMPUS: EXPLORE CHELSEA WALKING TOURS

Come explore Chelsea with our Orientation Leaders. Our Orientation Leaders will escort you to some of our students most popular thrift shops and take you to the Chelsea Market & Highline!

Depart from Dubinsky Student Center Lobby
Hours of Operation: 10-4pm
Barnes and Noble Bookstore - Breezeway
Special Family Day offer - 10% off!
The Style Shop - 1st Floor, Dubinsky Student Center
Get a free Family Day stick with every purchase, and if you spend $50, enter a raffle for a Style Shop gift bag full of goodies!
Starbucks and FIT Dining Hall - 1st Floor, Dubinsky Student Center