Hot Off the Press: Graduate Students Collaborate with NPD
Research by FIT graduate students featured in NPD's annual Year in Review
CFMM treasures its alliance with beauty companies and executives, exemplified by a first-of-its kind collaboration with NPD, the leading retail tracking firm. For it's annual Hot Off the Press Year in Review briefing to clients, co-hosted by CEW, on January 28, 2016, NPD invited three class of 2016 CFMM students to present original trend forecast research via professionally shot videos.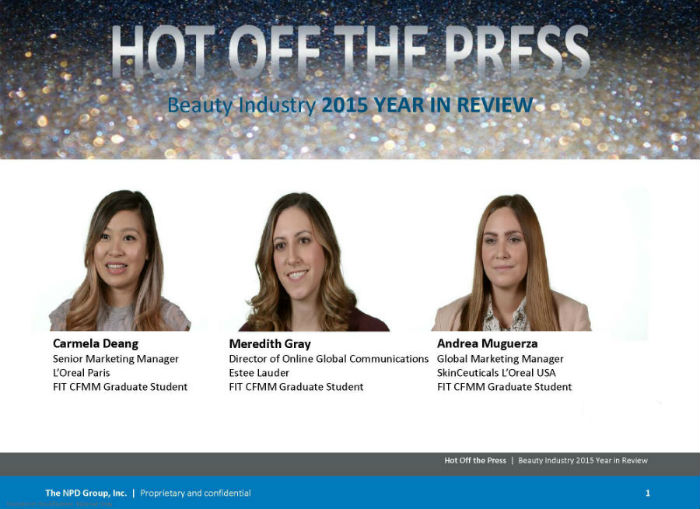 The Emerging Trend Predictions and Future Implications reports were developed as individual projects for CFMM's Graduate Seminar in Advanced Topics in Marketing, taught by Professor Brooke Carlson. Each student was charged with researching three categories—beauty, fashion, and lifestyle, and research included a Trend Trek in Lower Manhattan facilitated by Firmenich. This project was not about identifying the obvious, but rather sensing, distilling, and predicting what is emerging or about to emerge. "Not only were the students challenged to do extensive research, but they also had to ideate and describe their predictions in an innovative and unique manner," said Professor Carlson.
The results surpassed all expectations and the trend reports developed by students Carmela Deang, Meredith Gray, and Andrea Muguerza were selected to be presented at CFMM's semi-annual Executive Board Meeting. When board member Karen Grant, NPD's Global Beauty Industry Analyst, saw the research, she asked to include it in NPD's annual Hot Off the Press presentation to top-level executives. She found that the research, analysis, and creative reports not only supported the 2015 industry results, but also waligned with and independently articulated the trends identified by NPD for 2016.
Graduate student Carmela Deang, senior marketing manager for L'Oreal Paris, identified an inclusive generation in her Future Trends Inspired by Gen Z report. She described this group of young people as accepting, having moved beyond the multicultural to blended diversity, and possessing a "come as you are" attitude without questions or judgments. Often raised in cross-generational households, this group holds a greater affinity and respect for the older generation than their predecessors. She concluded that Gen Zers are mature and self-directed, and approach beauty as a "do-it-yourself" affair.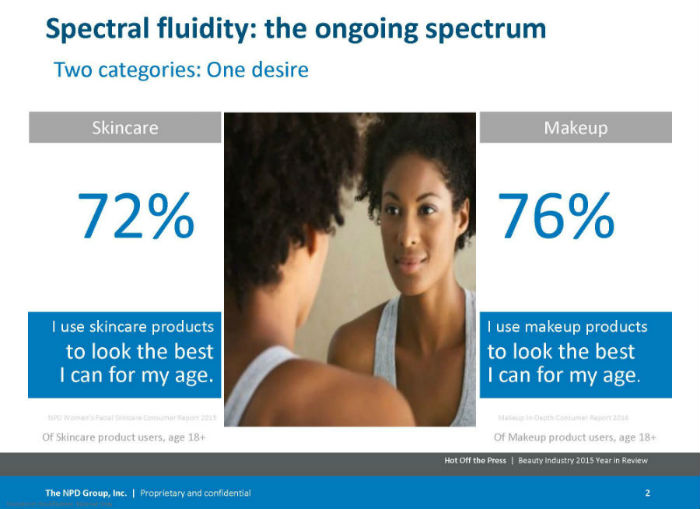 The macro-trend of Spectral Fluidity, coined by graduate student Meredith Gray, director of online global communications at Estée Lauder, is described as categoryless, boundaryless, and seamless. "In today's culture, Spectral Fluidity is not just about gender. It refers to everything from agelessness to body positivity and all the ways we live as more than one thing and shape shift," stated Ms. Gray in her video. In beauty, products become more fluid in texture and benefits, the no makeup, makeup look dominates, and the boundaries of skincare and makeup blur, as do the lines of health care and skin care.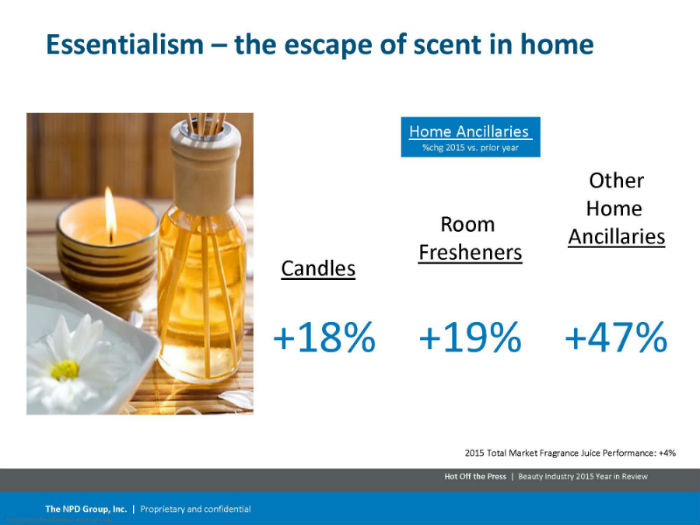 The trend of Essentialism: They Pursuit of the Essence, as identified by Andrea Muguerza, global marketing manager of SkinCeuticals at L'Oreal, highlights the future focus on meaning rather than material goods. "In the Essentialism lifestyle, the concept of luxury transitions from ostentatious goods and services to the value of meaning and experiences," she stated. Man-made natural environments will offer a new sort of escapism, including "brain breaks." In beauty, overcrowded makeup looks will be distilled to their essence like the simplistic yet bold floating eyeliner, or a minimalist nude face with one bold metallic finish on eyes, lips, or hairlines. Beauty will not only focus on function but on meaning as well.
Coached by Ms. Grant, Professor Carlson, and Professor Stephan Kanlian, CFMM department chair, and then filmed and edited by NPD, the students created videos that were integrated into NPD's trend round up that was presented at the exclusive January briefing held at the Harmony Club. In addition, the student information will be included in ongoing NPD client presentations about 2015 results and future trends. The videos were also screened again at CFMM's Annual Executive Mentor Luncheon on February 5.