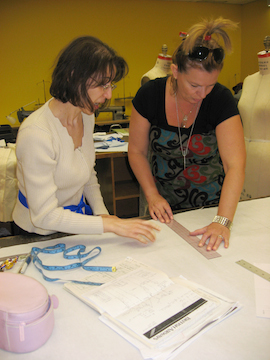 The Academic Skills Tutoring Center hires current FIT students, graduates, and others to provide tutoring. Hiring is based on need. You must have received a minimum of an A- grade in a course in order to tutor that course or you must have a written recommendation from a professor.
Language Courses
If you would like to tutor a modern language course, you must contact the chairperson of Modern Languages and Cultures and be approved by the appointed instructor for the language you would like to tutor.
Course Needs
We may need tutors in the following courses and subject areas, as well as others, for the upcoming semester.
CM: Various courses, especially SC146 (Basic Chemistry for CM majors)
FBM: Assoc. and upper level 6th through 8th semester courses (FM321, FM322, FM324, FM325, FM341, FM441)
FD: Draping, Sewing and Patternmaking (Must have completed your first-year courses before applying.)
ID: Computer Courses mainly (Revit, Autocad)
MA300: Mathematics of Financial Life Management
MA311: Mathematical Modeling for Business Applications
MA321: Data Analysis for Business Applications
MA322: Statistics, Machine Learning, and Data Mining
MG114: Principles of Product Construction
MG242: Principles of Accounting
MG304: Information Systems
MG306: Information Systems: Case Analysis
MG311: Manufacturing I: Equipment Analysis
MW: MW121, MW122, MW131, MW134, MW142, MW143, MW145
SC: SC132 (Color Science for Photography)
TC/PM: TC311, TC312, TC321, TC322, PM111, PM121, PM122, PM171, PM221
Rate of Pay
The rate of pay depends on your degree level.
No Degree: $15 per hour
Associate's Degree: $16 per hour
Bachelor's Degree: $18 per hour
Master's Degree: $20 per hour
How to Apply
Fill out a Tutor Application (.pdf)
Submit the completed application along with a current resume, transcripts (from FIT), and a copy of your degree or degrees to

[email protected]

.