Fall 2023 Events

Designed to Deliver: 2023 International Trade & Marketing Forum

September 18, 2023
9 am–6 pm
John E. Reeves Great Hall
Open to the FIT Community. Free Event.
9–10 am, Leadership in Sustainable Businesses
Dr. Shireen Musa
Chan Ju Chung, ITM Student
10–11 am, Life in the Luxury Lane
Prof. Henry Welt
11 am–Noon, International Trade Operations for Small Enterprises
Prof. Lawrence Delson
Noon–1 pm, ITM Chair Luncheon Presentation
Prof. Christine Pomeranz
1–2 pm, Deciphering the Supply Chain
Prof. Sonja Chapman
2–3 pm, The Bold and the Beautiful: What it Takes for a Compliance Career
Prof. Elizabeth Hodur , AVP International Trade, Knitwell Group (formally ascena Retail Group)
Lea-Ann Bigelow, Director of Green Trade Policy & Programs at CBP
Rachel Riedl, Americas CFO, Ernst & Young LLP
3–3:30 pm, Networking Break with Refreshments
3:30–5 pm, Interdisciplinary Research Sharing Panel
Prof. Meg Joseph (Global Fashion Management )
Prof. Karen Trivette (GML)
5–6 pm, Cross Border eCommerce & Social Media: Driving Growth for Small Businesses
Prof. Mark Greiz
Talking Trade @ FIT: Changing Trade Flows for Apparel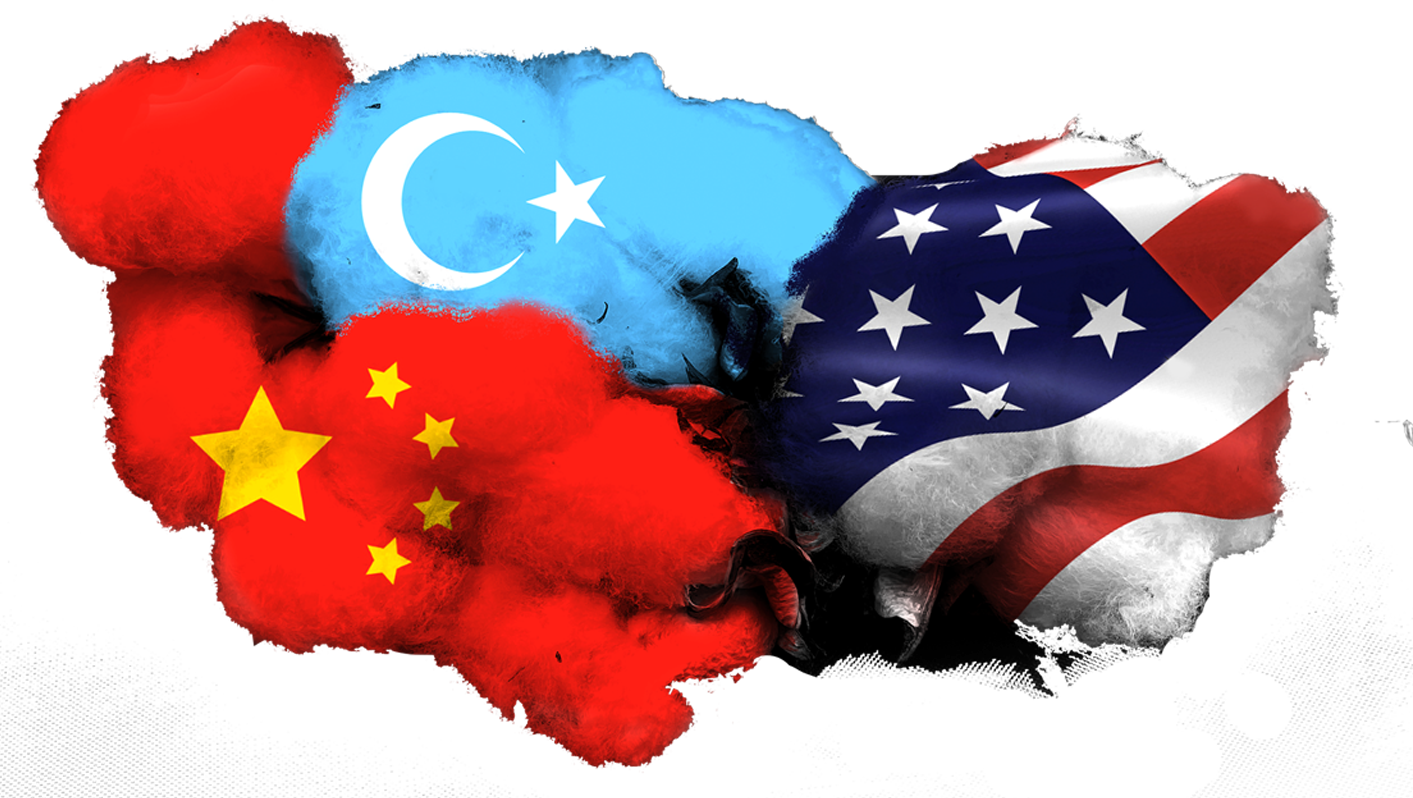 Thursday, 28 September 2023
6:30–8 pm
Dubinsky Center, 8th Floor Alcove A
Free Event
» View Program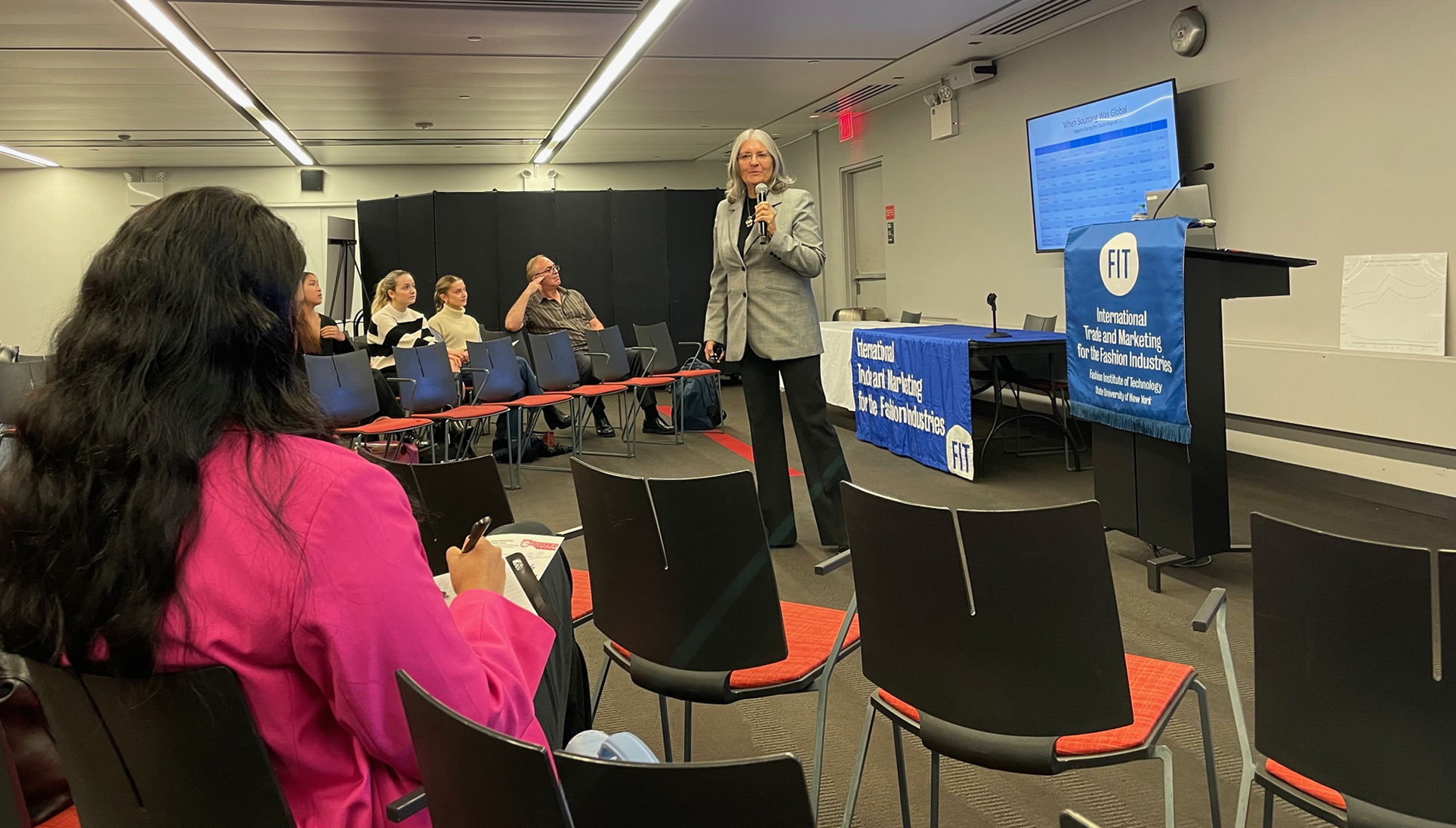 Professor Sonja Chapman will discuss the changing textile and apparel trade flows post 301 sanctions vs. post implementation of the Uyghur Forced Labor Prevention Act.
This event is made possible through a partnership with:


Talking Trade @ FIT: Reflections on the US-Brazil WTO Trade Dispute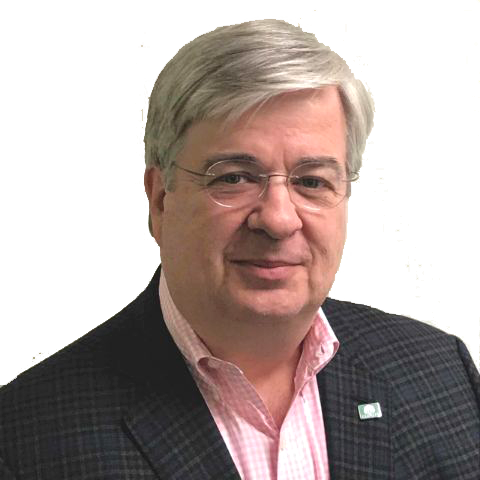 A Conversation with Cotton Board CEO Bill Gillon
*POSTPONED UNTIL SPRING 2024

» Review the Panel Report in the US-Brazil Cotton Dispute (.pdf)
In 2002 Brazil filed a complaint with the World Trade Organization (WTO), accusing the United States of violating international trade agreements by providing American cotton farmers with subsidies, such as export credit guarantees, direct payments to farmers, and various other support resources. These subsidies were deemed to harm Brazil and other cotton developing countries because they could not compete with the U. S.'s cheaper prices in global cotton markets. A WTO panel studied the case and reached a verdict.
Bill Gillon, President and CEO of The Cotton Board, will reflect on this historical trade case and about his role while defending the US in this international trade dispute.
This event is made possible through a partnership with: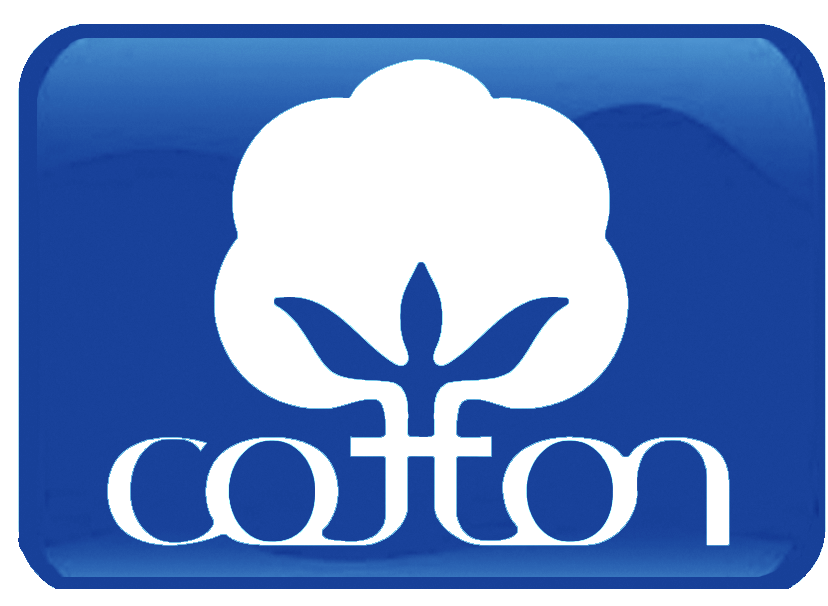 Talking Trade @ FIT: WITA on Career Pathways Panel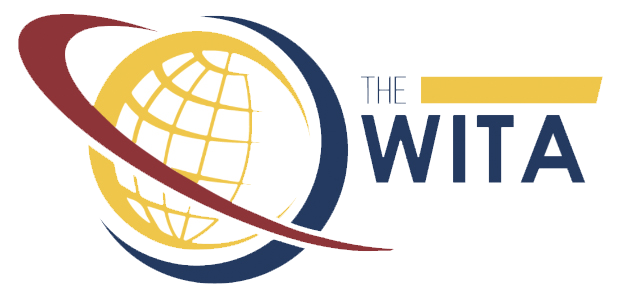 Monday, 9 October 2023
3:15–6 pm EST (two sessions, see below)
Katie Murphy Amphitheatre, Pomerantz Center or Watch Online
Free Event, Open to FIT Students and Faculty
» WITA on Career Pathways Program(.pdf)
» Monday's Pathways to Opportunity - FIT Zoom recording, use passcode: $%2rSPjZ
In partnership with the Washington International Trade Association (WITA) Academy, students will gain insight from trade professionals, pose questions to policymakers, and learn about exciting career opportunities in international affairs, business, and trade. Key take away will be an understanding of the trade policy-making community, the role of its key players, and the opportunities for internships and careers.
SESSION ONE
3:30–4:45 pm EST
Career opportunities in the public sector.
SESSION TWO
4:45–6 pm EST
Private sector opportunities
Students who attended at least 50% of sessions receive a free one-year membership to the WITA, a certificate of achievement, and access to attend WITA online policy discussions free of charge for one year.
35th Apparel Importers Trade & Transportation Conference


Wednesday, 8 November 2023
9 am–4 pm
Katie Murphy Amphitheatre & Great Reeves Hall
» Trade & Transportation Conference Website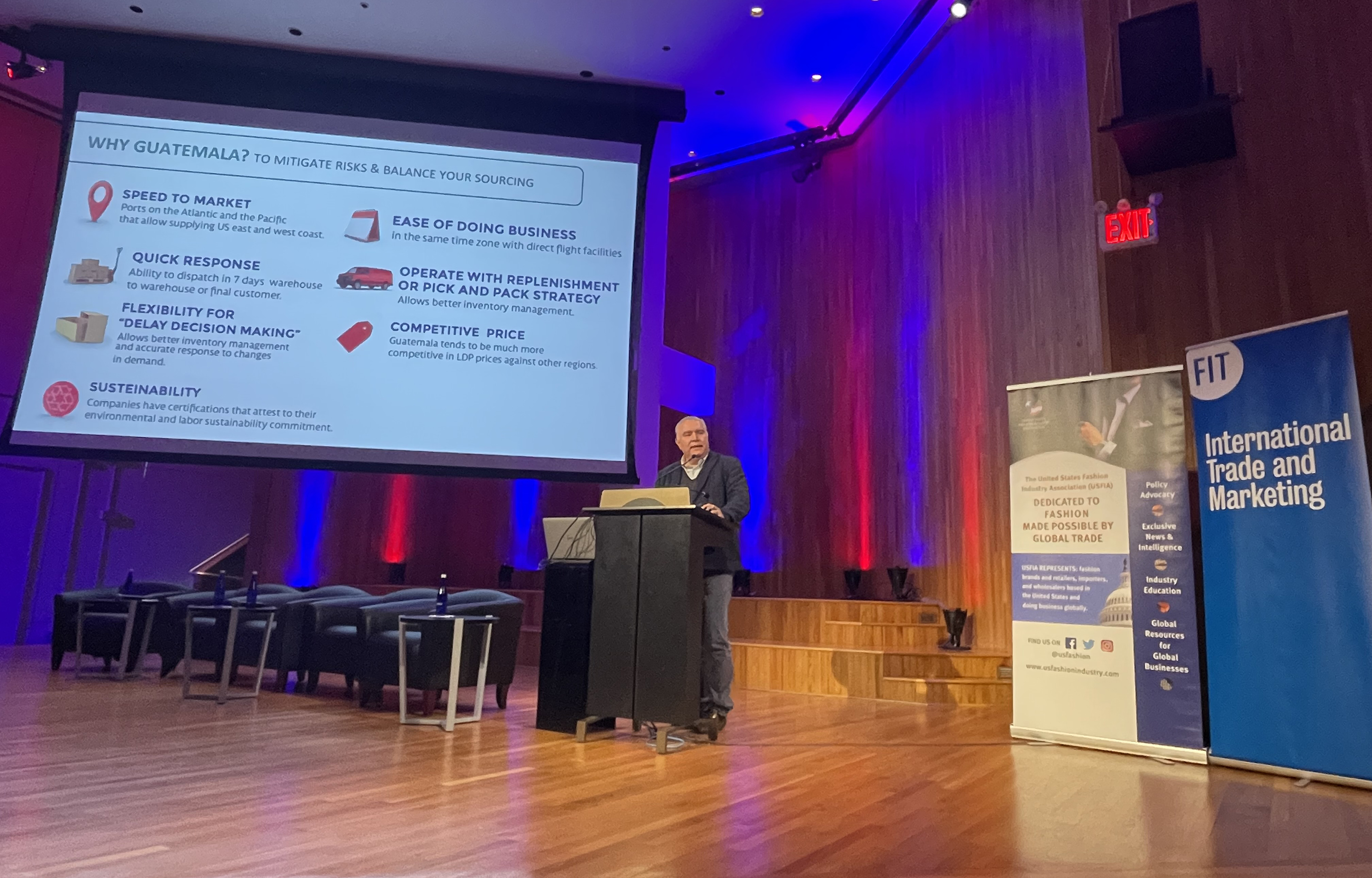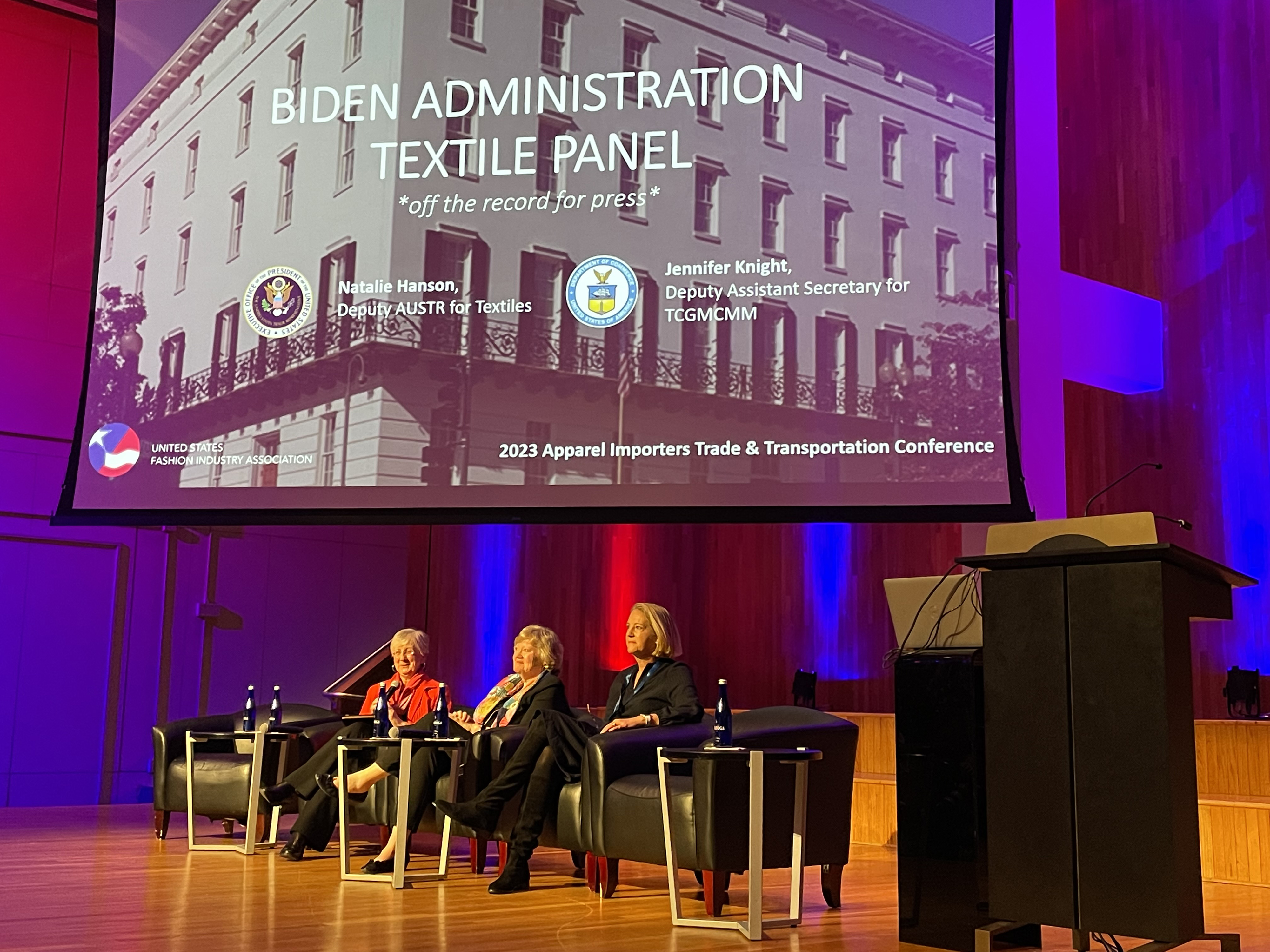 Industry professionals present on policies, global supply chain, and sourcing trends. In partnership with the United States Fashion Industry Association.
Talking Trade @ FIT: A Day in the Life of Diverse Impactful Founders
| | | |
| --- | --- | --- |
| David Uricoli | Ngozi Okaro | Kerry Bannigan |

Moderator: David Uricoli Principal, Uricoli Consulting Inc.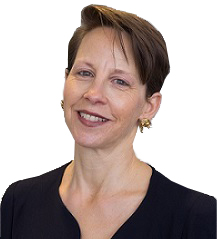 Opening Speaker: Lucia DeRespinis, Executive Director,
Office of the Grands & Sponsored Programs, FIT
Guest Speakers: Kerry Bannigan, Founder & Exe. Director
Fashion Impact Fund
Ngozi Okaro, Founder & Exe. Director Custom Collaborative

Lucia DeRespinis
Thursday, 16 November 2023
9:30 a.m. - 11:00 a.m.
Katie Murphy Amphitheatre "D" Building Lobby or Virtual
Free Event
» RSVP
» Livestream

Our special guest speakers will discuss what it takes found and run a non-profit int he fashion industry, collaborate with the United Nations to achieve its Sustainability Development Goals, as well as hone the specialized skills of promising leaders through business eduation and other lifelong mentorship for the next generation of professionals.
Spring 2023 Talking Trade @ FIT
The Impact of U.S. Policies on New York-Based Importers and Exporters
Thursday, 4 May 2023
» Watch the Recorded Video: Impact of U.S. Policies on New York-Based Importers and Exporters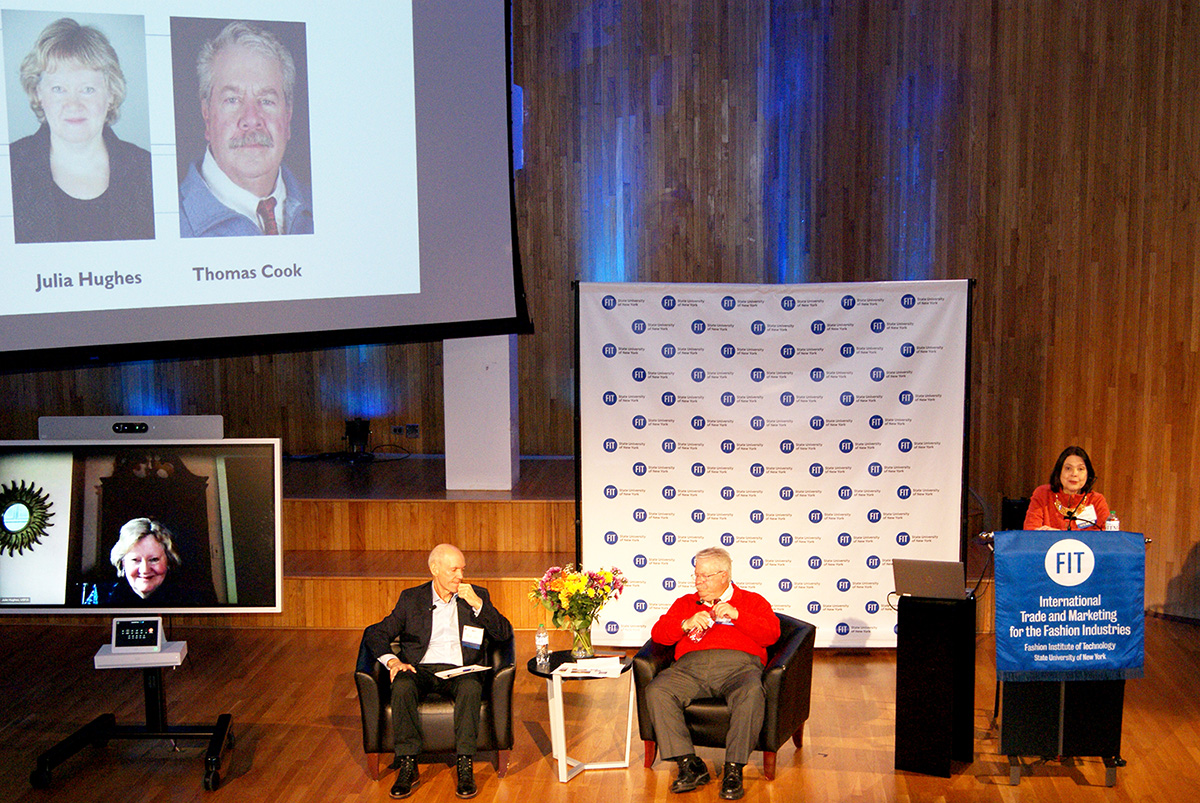 In Partnership with the New York District Export Council on the occasion of World Trade Week
Global supply chains are emerging from the impact of the pandemic and are adjusting to a "new norm" of international sourcing, import operations, and foreign business development. Since the passing of USMCA, all new export controls, sanctions, and tariffs have been originated by executive orders rather than congressional action. New York-based companies with a global footprint need to understand Washington, DC's actions to support US based exports and favorably impact inbound supply chains against the backdrop of a Democratic-led Senate and Republican-led House. This commercial expert panel will frame the issues to share their views and outline opportunities for legislative and government action.
| | | |
| --- | --- | --- |
| Robert Leo | Julia K. Hughes | Tom A. Cook |
Panelists:
Tom A. Cook, Managing Director, Blue Tiger International & National Institute for World Trade
Robert Leo, Esq. Meeks, Sheppard, Leo & Pillsbury LLP
Julia K. Hughes, President of the United States Fashion Industry Association (USFIA)
Alumni Career Panel: Off the Beaten Path
March 15, 2023
ITM Alumni discuss careers in Trade outside of Fashion and/or Careers in Fashion outside of Trade.
Moderator:
Sonja Chapman, Associate Professor, International Trade and Marketing
Panelists:
Kyuwon "Kate" Han, Director of Product Development To The Market, ITM 2022
Pauline Kerner, Events Specialist for Saks Fifth Ave, ITM 2020
Victoria Selg, Wholesale Logistics Coordinator, Slip Silk, ITM 2020 Cum Laude
Angela Serpe, Global Logistics Coordinator and Product Manager, ITM 2019
Samantha Velez, Law Clerk, Coffey Modica O'Meara Capowski LLP, ITM 2018
The ESG Challenge
November 9, 2022
Global brands must consistently navigate the protocols, cultures, and shifting legal sands upon which these international trade and marketing realities have functioned. "Environmental, social, and governance" (ESG) can lead to demanding and disruptive protocols, displacing traditional ways of thinking and time-tested norms.
The forum offered insights and strategies on bedrock issues: regulatory challenges to global trade from ESG and intellectual property standards, reconciling ESG with business growth and revenue objectives, avoiding greenwashing in global ESG advertising/marketing, and protecting brand integrity by leading ESG with company values.
Keynote Speaker:
Bill D'Arienzo, Founder, WDA Brand Strategies Management
Panelists:
Sydney Price, Founder and CEO, The Knew Purpose (TKP)
Pamela Church, Partner and Head of IP, Baker & McKenzie LLP
Gian Mario Borney, Worldwise Strategy Executive, Advisor, and Educator of Fashion and Luxury Management, Strategic Business Development, and Strategic Alliances
Presented in partnership with the Jay and Patty Baker School of Business and Technology.
Supply Chain Disruption and Logistics: Lessons Learned
October 17, 2022
The pandemic created a perfect storm of conditions that turned working logistical operations into perpetual log-jams. Key leaders across the logistics industry discussed the challenges, costs, where we are now, and what we have learned.
Moderator:
Sonja Chapman, Associate Professor, International Trade and Marketing, FIT
Key Speaker:
Bethann Rooney, Deputy Director, Port Department - PA NY/NJ
Presented in partnership with the Jay and Patty Baker School of Business and Technology.
International Marketing Careers in the Age of the Digital Consumers
May 5, 2022
With Gen Z emerging as the "sustainability generation," the panel discussed international marketing career options influenced by technology, the pandemic, and this consumer group's tendency to be fully online as the digital revolution evolves and as it becomes the most important spending group in 2026.
Moderator:
Mark Greiz, Adjunct Instructor, International Trade and Marketing, FIT; Founder/International Marketing Consultant, Mark Greiz Consulting
Panelists:
Dimitri Koumbis, Integrated Digital Marketer and Lecturer, Parsons School of Design at the New School and Rutgers Business School
Bill D'Arienzo, PhD, Founder and Chief Brand Officer, WDA Brand Strategies
Syaman Meagher, NFT and Web3 Evangelist; CEO Consultant to Pre-Rev and Early Growth Stage Startups
Susanna Chow, Founder, Susanna Chow ; former marketing executive at MAC cosmetics and NARS
Presented in partnership with the Jay and Patty Baker School of Business and Technology.
Alumni Career Panel: When It's Time to Move On
March 30, 2022
ITM alumni discuss how to recognize when a career move will be beneficial or if there is still more opportunity for growth where you are.

Panelists:
Eric Ezratty, Operations Manager, The Clear Cut Co.
Alia Reyna, Associate Global Security, The Estée Lauder Companies Inc.
Amber Carnahan, Sourcing Analyst, Kohl's
Presented in partnership with the New York District Export Council on the occasion of World Trade Week.
Decoding Destiny: Soundbites from the C-Suite for FIT
November 1, 2021
ITM advisory board member Dr. Anastasia Xenias in discussion with Jerry Rauchwerger, entrepreneur and co-founder of Beauty Soutions, Ltd. Rauchwerger discussed the evolution of this rapidly-growing enterprise into a New York exporting powerhouse.
Mistress of Ceremonies:
Irina Kapetenakis, principal and chief experience officer, corben&lane
Guest of Honor:
Sandra Campos, CEO of Project Verte and Founder of Fashion Launchpad (former CEO of Diane von Furstenberg)
Presented in partnership with the Jay and Patty Baker School of Business and Technology.