About the Building
FIT's new building—the first academic addition to the campus in nearly 50 years—is under construction, with substantial construction scheduled for fall 2023 and occupancy in spring 2024. It will provide a state-of-the-art learning environment and new opportunities for design and business innovation. Its glass façade opens the campus to the street and offers the neighborhood a glimpse of college life.
Designed by New York–based SHoP Architects in a competition sponsored by the National Endowment for the Arts, the 10-story, 100,000+ square-foot structure will redefine FIT's presence in the neighborhood. Its glass façade on West 28th Street opens the campus to the vitality of New York City, while allowing passersby a view of college life. Features include 26 smart, energy-efficient learning spaces (classrooms, studios, and labs); a double-height knitting lab; a fully accessible, double-height lobby that connects to FIT's Marvin Feldman Center on West 27th Street; and a soaring, light-filled atrium set between the new building and the Feldman Center.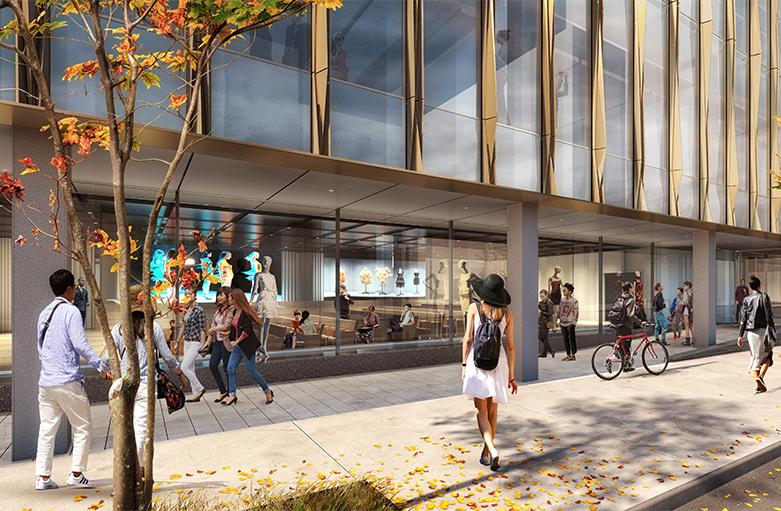 The building will advance FIT's commitment to a more sustainable campus, following a carbon footprint reduction of more than 55 percent in the past decade. FIT will seek LEED Gold certification for strategies that include sustainable materials, smart technology, energy efficiency, daylighting, and sustainable construction practices.>
Funding was provided by New York State and New York City, as well as FIT friends and supporters. The project was unanimously endorsed by Community Board 5 (CB5).