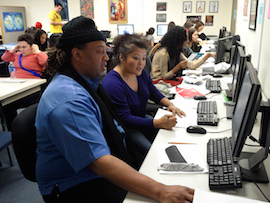 Individual tutoring: Individual tutoring sessions must be scheduled at least 48 hours in advance. You may sign up for one hour of individual tutoring per week.
Walk-in tutoring: In addition, you may attend walk-in sessions for certain subjects walk-in sessions .
Read the Tutoring Contract to understand the expecations and limitations of tutoring.
Scheduling Your Appointment
Using Google Chrome or Firefox, go to WCONLINE.
Choose the option Academic Skills Center. (For writing or speaking help, choose the option Writing & Speaking Studio).

Use the dropdown menu

Limit To

to choose the course you need help with. Only tutors who tutor that specific course will appear.

Sign up for a 30-minute or 60-minute session.

If your sesssion is online, the tutor will send a link to the session to your FIT email address.
Joining an Online Tutoring Session
When it is time for your online session, visit the link sent by your tutor at least five minutes before start time. Have all books, equipment and materials set up, and prepare your questions ahead of time to make the most of your session.
Cancellations
Appointments must be cancelled at least 24 hours in advance or you will count as an absence. You are allowed once absence per semester.
If you need to cancel, please send an email to your tutor and to the [email protected]