Domestic Violence Awareness Month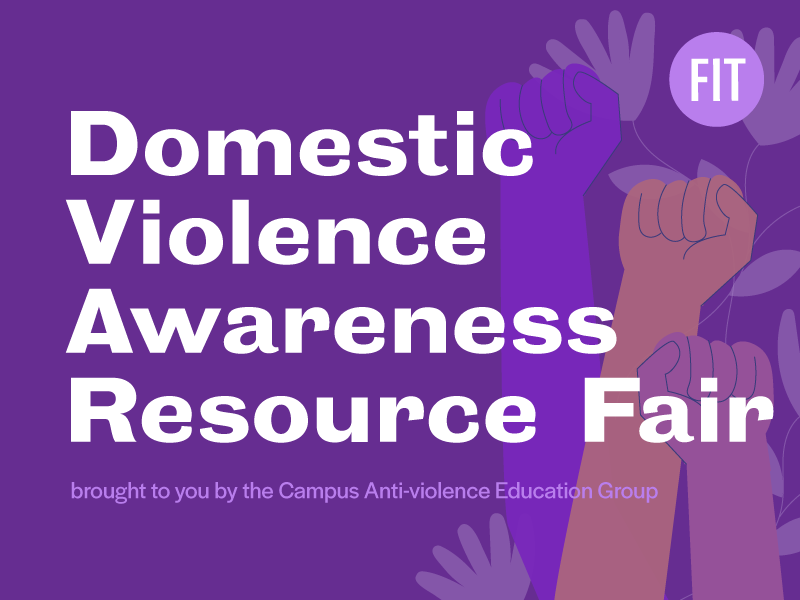 The Campus Anti-Violence Education Group invites the FIT community to participate in the Domestic Violence Awareness Resource Fair on Thursday, October 5, 2023 from 12 noon to 2pm in the Breezeway in recognition of Domestic Violence Awareness Month.
Helpful information, demonstrations, and giveaways from on-campus and local resources will be made available. We also ask that members of the FIT community wear purple (the symbolic color for domestic violence awareness, and historically, the battered women's movement) on this day to show their support for Domestic Violence Awareness Month.
We look forward to your participation!
Brought to you by the FIT Security Advisory Committee, the Campus Anti-violence Education Group, the Department of Events Management and Facilities Rental, the Office of the President, the Division of Enrollment Management & Student Success, the Diversity Collective, the Department of Public Safety, Athletics and Recreation, Counseling Services, Health Services, and the Title IX Office.
Resources and Allies
FIT Public Safety, (212) 217-7777
National Domestic Violence Hotline, 1-800-799-7233
FIT Health Services, (212) 217-4190
New York City Anti-violence Project, (212) 714-1141
FIT Counseling Services, (212) 217-4260
NYPD Housing Domestic Violence Unit 4, (212) 375-9360
FIT Affirmative Action, (212) 217-3360
The Office for the Prevention of Domestic Abuse (NYS) LGBTQ, 1-800-942-6906
FIT Anonymous Tip Line , (212) 217-8477
Safe Horizon, 1-800-621-4673
Adult Protective Services Central Intake Unit, (212) 630-1853
Sanctuary for Families, Inc., (212) 349-6009
Manhattan Legal Services, Domestic Violence Project, (646) 442-3100