Interested in an interlibrary loan? Here are the questions we receive most often about ILL. If you don't see your answer here, contact us at (212) 217-4364 or [email protected].
Interlibrary Loan (ILL) is a service which helps patrons obtain materials that are not available at the FIT Library. All patrons must have a valid FIT ID card and a current FIT email account.
You may request materials not owned by the Library. You may also request articles from journals we do not own or are unavailable via the databases. You may not request materials owned by the FIT Library if they are on reserve (chances are if the book is required reading here, it's required reading at another academic library). We may make an exception if the item is checked out, email us to inquire.
Yes! We will try to locate materials from lending libraries who do not charge for their materials. It may be that the only library that owns the item charges. In that case will receive an email with the price and an option to pay for the loan or not.
Yes! If you're looking for an item and it's declared lost or missing in our Catalog, please order it through OneSearch. Sign into your account, search for the item and click on "request from another library." Refer to our Borrowing Materials page for step-by-step instructions . Alternatively, if you're looking for an item and it's not on the shelf, please let a member of Access Services know by filling out a Search Request.
Sign into your OneSearch account. Use the "Other Libraries" search scope to search for the item you're looking for.

Click on "Check for available services"


Expand "Request from another library". The form should be pre-filled with the bibliographic citation. Make sure to click on "submit".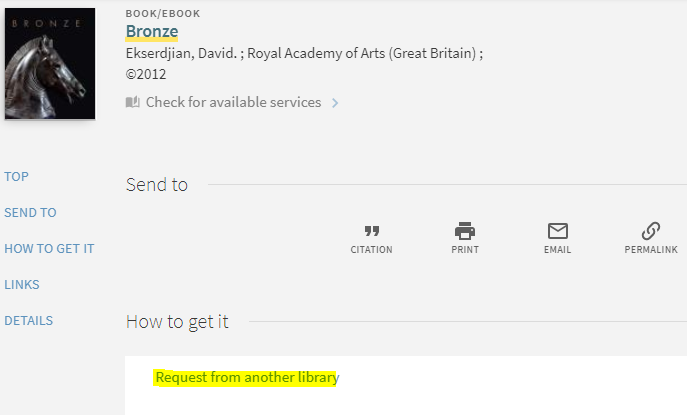 We recommend using the "Articles" filter in OneSearch. Find the article you are looking for and click on "Check for available services"


Click on "Request from another library", this will open up our Interlibrary Loan page. (This page should only be used to order articles). The log in will be your firstname_lastname and your MyFIT password. You may be directed to register as a new user.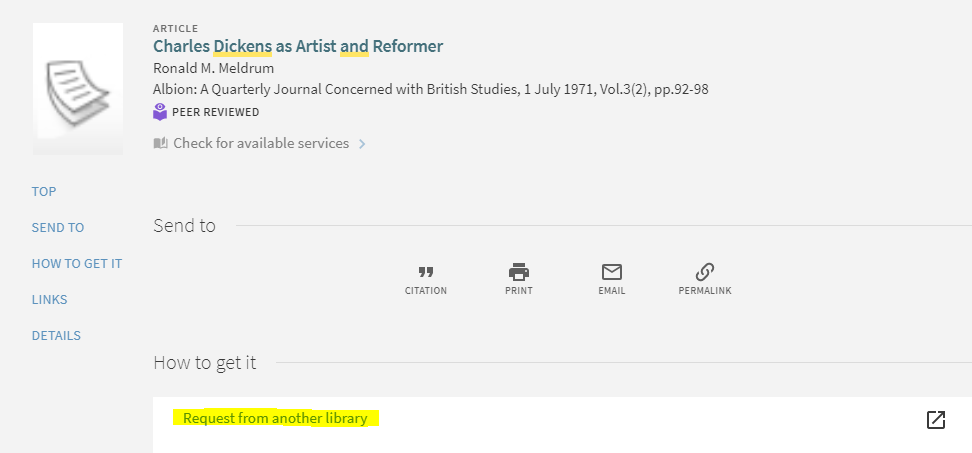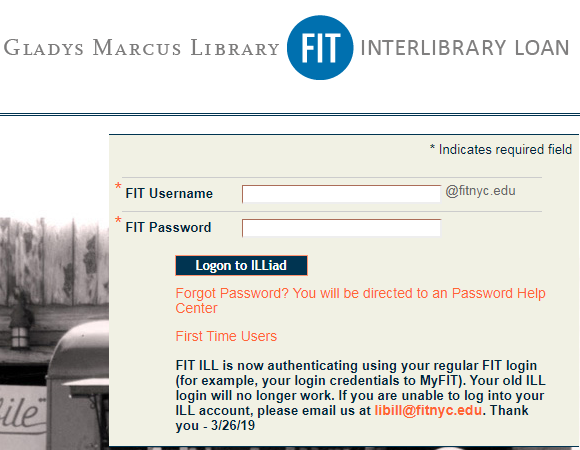 The article citation should be autopopulated, but it may require additional information. Please make sure the required fields are entered.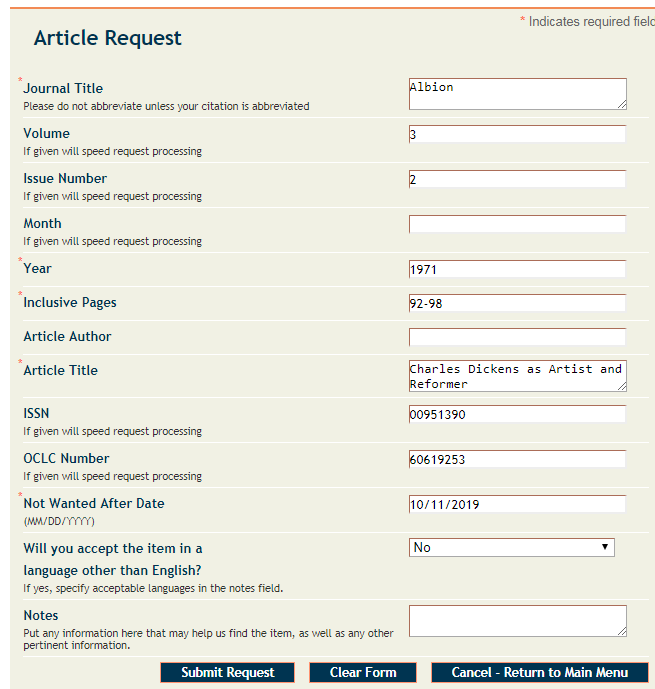 Make sure you click on Submit Request. You will be notified when the article is available to download.
Alternatively, you may directly submit a request through ILLiad. Make sure to log in (if it's your first time you will be brought to a registration page) and select article on the upper left hand side. Enter as much bibliographic information you have (the more you enter, the quicker it will be processed). Don't forget to click on "Submit Request".
Yes, log in to ILLiad (if it's your first time you will be brought to a registration page) and under "New Request" select "Book Chapter". Please include as much information as possible including the chapter title and inclusive pages. Please be mindful in the number of pages you are requesting as some libraries will not fulfill requests more than 50 pages.
No, items obtained via Interlibrary Loan cannot be placed on reserve. Please submit a purchase request form for any titles we do not own that you would like for the Library to acquire to be used for your class.
Physical materials are normally received and processed within 10 business days. However, depending on the speed and location of the lending library it may take longer than a week. The more esoteric the material the longer it may take to receive. Plan ahead and give yourself enough time to receive the materials. Article requests are generally processed within 2-3 business days, but can take up to a week to receive.
We primarily borrow items from the SUNY consortia, however we'll reach out to other library systems when SUNY doesn't have the items. Therefore, items borrowed from the SUNY consortia are loaned for 16 weeks with 3 renewals for graduate students, faculty and staff, no renewals for undergraduates. Due dates are at the discretion of the lending libraries for items borrowed from outside of the SUNY consortia.
The ILL Unit takes note of any damages to the items as they are received and processed. The patron will be responsible for any subsequent damages. We will assess the damage of the items and ask the lending library to send an invoice. This is passed on to the patron. There are usually two fees - a processing fee and a replacement fee. All patrons are responsible for any fees associated with lost or damaged items.
Undergraduate students may request up to 15 books and 5 A/V materials at once. Graduate students, Staff, and Faculty may request up to 25 books and 5 A/V materials at once. There is no limit on the amount of articles requested. There is no cap on the number of items requested per semester.
Log into your OneSearch Library account and renew your items from your Library Card. Refer to our How to Access My Account page to see our step-by-step instructions on renewing library material.
Keep in mind, the actual due date is determined by the lending library. Check back on the request to see the actual due date. Please contact our Interlibrary Loan Team if you have any questions about renewals.
Stop by the Library Services Desk on the 5th floor of the Goodman Building to pick up your items. Don't forget to bring your FIT ID to check out the materials.
All of our theses are digitally available to purchase through ProQuest. Interlibrary Loan can provide the table of contents and bibliography and/or one chapter of the thesis. Or connect with us on Ask the Library for more information on obtaining a copy of a thesis.
Individuals who are not affiliated with FIT must submit requests through their local university, corporate, or community library.
Please contact TECH HELP for password related issues as the Library does not supply passwords.
You can email us at [email protected] or call us at (212) 217-4364 Monday - Friday, 9:00am - 5:00pm.
last updated: 02/06/23