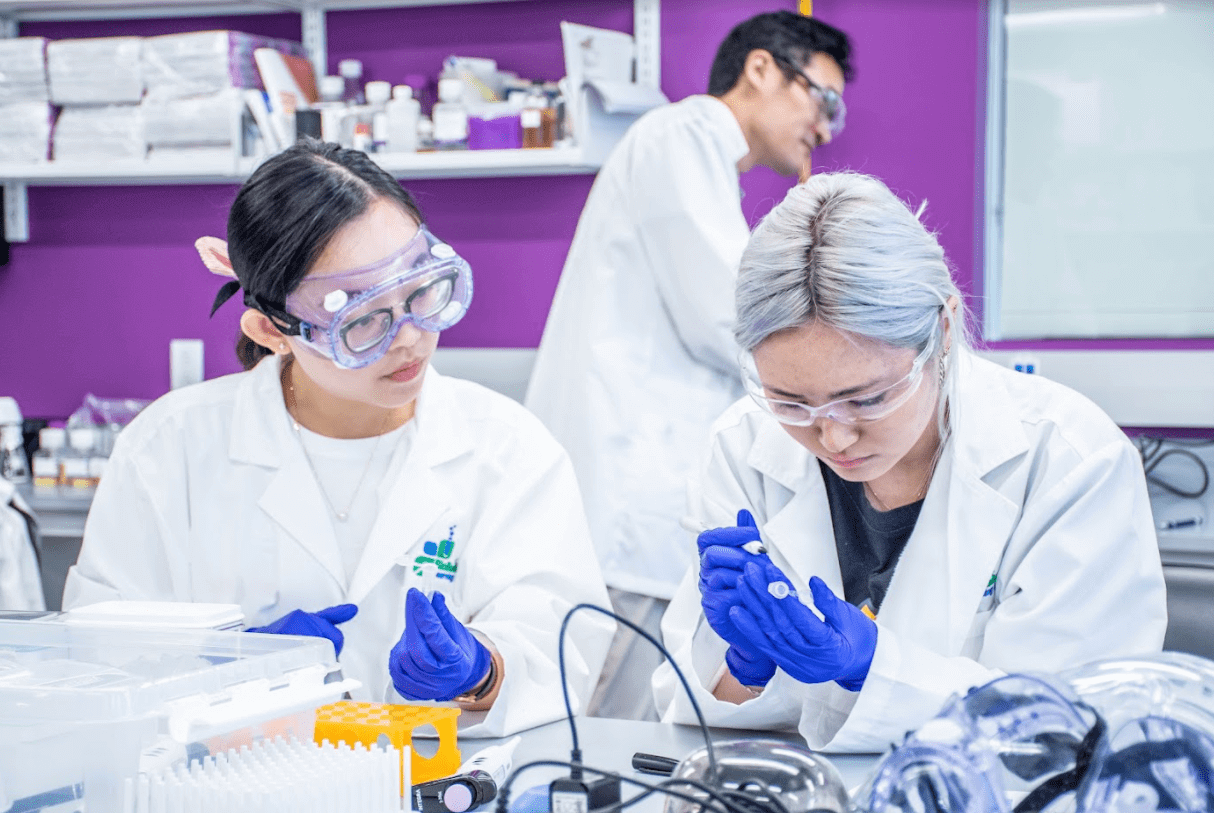 THE BEST INVESTMENT IN FASHION, TECH, AND INNOVATION YOU WILL EVER MAKE.
Welcome to FIT Circle
There is only one place that you will find the future of the new creative economy of fashion, tech and innovation flourishing . That place is FIT. And now, you can be an exclusive investor in this future by becoming a member of the FIT Circle, a select group of donors and partners supporting the initiatives that make FIT and its students the driving force of the creative industries and the changemakers that will fuel a new economy.
As an FIT Circle member, you and your organization will provide our students and community with a world-class education that provides immersive learning and experiences. You will offer an opportunity to pave the way for the innovation that will take our economy to a new level.
With your investment, you will enjoy an incredible collection of virtual, hybrid and in-person events that allow you to collaborate, network and expand your brand (both personal and corporate) with some of the most influential leaders in the fashion, tech and innovation spaces.
Just like FIT, the FIT Circle is an unconventional approach to investment, and one that will pay off for you, your company and our future for years to come.
FIT Circle Programming
As a member of the FIT Circle, you will have exclusive sponsor status across an exciting lineup of events and programs we have planned this year, including:
Curated Salons, Programs, and Panels
As an FIT Circle or Friends of FIT member, you get to enjoy private tours, meet and greets, behind the scene experiences, and presentations by FIT faculty and industry leaders. Members will also receive exclusive access to emerging innovation from FIT, showcasing student and faculty breakthroughs like the sensory garment for breast cancer patients and toys for children with autism.
Intimate Dinners and Experiential Events
Select members will have exclusive access to a curated and intimate dinner experience with an award-winning chef and cocktails with notable influencers, celebrities, industry leaders and FIT donors.
Annual FIT Awards Gala
April 13th, 2022
Join us at the Annual FIT Awards Gala 2022 as we honor the visionaries who led us to national and international acclaim. The evening will also highlight luminaries leading the next generation of innovators in the new creative economy.
FIT Entrepreneurship Conference
This fall, leading entrepreneurs and industry experts in the FIT community will convene to share their start-up stories and give advice to aspiring business owners. The conference will be held in both New York and Los Angeles. Prominent FIT speakers from the past have included Norma Kamali, Dayna Isom Johnson, Douglas Hand, Rodney Hutton, Lara Eurdolian, Fern Mallis, and many others.
The Social Justice Center at FIT
The Social Justice Center (SJC) at FIT is the first of its kind in higher education, established to alleviate the systemic problems faced by BIPOC youth, college students, and working professionals. The SJC will be unique in its ability to lead and collaborate with industry partners from the public and private sectors. It will address holistically diverse issues and provide the support needed for BIPOC youth, college students, and professionals throughout the life cycle of their careers. We can only make the industries that rely on creative thinkers and doers more equitable if we invest in sustained change.
There will be an opportunity for FIT Circle partner recognition on select social justice programming.
Past FIT Circle Programming
FIT Foundation partnered with the Costume Industry Coalition to host a Holiday Auction to raise vital funds to support artisans and business owners as they create and supply costumes for the entertainment industry. Funds raised also went towards providing equitable access to education for FIT students so that they can lead the costume and creative industries forward in the future.
Famous celebrities, musicians and fashion icons from Jennifer Garner to Hugh Jackman to Bernadette Peters donated personal items to support the future of the costume and creative industries. Just some of the items included: a shirt worn by Hugh Jackman in The Boy From Oz, a jacket worn by Bernadette Peters in the 2003 Broadway production of Gypsy, and a shirt worn by Donnie Wahlberg in Blue Bloods Episode 1010.
The awards, hosted by model, activist, and social impact entrepreneur Amber Valletta, will honor FIT alumna Stacy Flynn, co-founder and CEO of Evrnu, as well as Eileen Fisher, founder of EILEEN FISHER, Inc., and Abrima Erwiah, co-founder of Studio One Eighty Nine.
This year, we are excited to provide a virtual event that mixes celebration with education and advocacy. FIT's Sustainability Awards will feature intimate conversations with honorees, sustainable fashion leaders and students designing the future of sustainable materials. Ticket holders for the event will get exclusive access to honorees' keynotes and virtual tours of their places of work.
As the former Creative Director at Vogue, Sally Singer will lead a series of conversations for the FIT Foundation's membership group, Friends of FIT.
Sally will host a three part virtual series with creative industry experts and icons on topics ranging from the future of the fashion runway to diversity in the beauty industry, to how fashion shapes our current culture.
Join us on March 23rd as Dr. Joyce F. Brown, President of the Fashion Institute of Technology, sits down with FIT alumna, Norma Kamali to discuss her new book, I am Invincible. The two will discuss Norma's journey and her advice for the next generation of female leaders in the creative industries.
Throughout this spring, leading entrepreneurs and industry experts will convene virtually to discuss their unique paths to entrepreneurship, navigating and thriving amidst the pandemic, as well as imparting key takeaways for current and future FIT alumni interested in becoming entrepreneurs. Featured FIT alumni will include Norma Kamali and Dayna Isom Johnson.
Friends of FIT is an active and engaged membership group that supports the ingenuity, artistry, and innovation of our students and faculty in their journeys to create unconventional solutions to economic, environmental, and human challenges. Members gain exclusive access to curated virtual programs and events that are then broadcast through our media partnerships.
The FIT Foundation will partner with various nonprofit organizations throughout the year to share exciting virtual auctions. Famous celebrities, musicians, and fashion icons will auction off virtual coffees, coveted items from shows and movies, articles worn by celebrated performers, pieces signed by artists themselves, and much more. Auctions help the FIT Foundation support impactful initiatives like the Social Justice Collaborative, the Scholarship Fund, and the Innovation Fund.
Past Friends of FIT Virtual Programming
A conversation with The New Standard Institute's Maxine Bédat, moderated by FIT's Caroline Gordon. The two will discuss Maxine's journey in the sustainability fashion industry and touch on her new book, Unravelled, which exposes the fractures in our global supply chains, our relationships to each other, ourselves, and the planet.
Listen in on our first event as a part of the Friends of FIT Salon Series with Sally Singer and Bobbi Brown. Sally Singer and Bobbi Brown discuss Bobbi's new clean cosmetic line, Jones Road, and her tips on growing a business and the latest trends with beauty products.
Jane Hertzmark Hudis, The Estée Lauder Companies Executive Group President and FIT Board Member, sits down with Leonard Lauder to discuss the making of his new autobiography, The Company I Keep: My Life in Beauty.
As Chairman Emeritus and former CEO of The Estée Lauder Companies, Leonard reflects on his time in the beauty industry and gives insight as to how to overcome current industry challenges.
FIT alumna and board member Dayna Isom Johnson (BS, Fashion Merchandising Management), trend expert for Etsy, and judge on the NBC primetime series Making It, will sit down with Mona Aboelnaga Kanaan, managing partner at K6 Investments and member of FIT's Board of Trustees. The pair will talk about Dayna's time at FIT and her role as a trend expert, shining a spotlight on the 3.7 million small business owners on Etsy.
FIT alumnus and fashion designer Chris Bevans sits down with Mission magazine founder and editor-in-chief Karina Givargisoff. The pair discuss Bevans' time at FIT, his career trajectory, how he came to found DYNE, and his latest venture, Hallway.xyz, a social and professional network for the fashion industry.
Ivan Bart, president of IMG Models and Fashion, sits down with fashion designer Jason Wu for an exclusive virtual conversation about designing in lockdown—and what the future of fashion looks like.
FIT Associate Professor Ann Cantrell and finance mogul-turned-fashion CEO / founder of Another Tomorrow, Vanessa Barboni Hallik, unpack the accessibility of sustainable high-fashion clothing, the importance of company-consumer transparency, and the ups and downs of forging your own path in the fashion industry.
FIT President Joyce F. Brown and Founder and CEO of The Business of Fashion Imran Amed sit down for a fireside chat to discuss the future of the fashion industry and what it means for the next generation of the creative industry. The two talk about the careers of the future, starting a fashion business and the themes executives will be paying attention to over the coming years.
A conversation with Julie Wainwright, founder and CEO of The RealReal. Julie sits down with Springboard Growth Capital Partner, Lori Wachs, a venture capitalist, fund manager, and consumer analyst with over 25 years of benchmark-beating investment experience. During the virtual event, Julie and Lori will discuss Julie's founder journey, their working relationship,and how The RealReal is adapting and thriving during the pandemic.
Enjoy an exclusive chat between Veronica Chou, founder of the new eco-friendly clothing and accessories brand Everybody & Everyone, and Mission magazine Founder and Editor in Chief Karina Givargisoff. The pair discuss Veronica's unique career trajectory, her new sustainable brand, and their pledge to give back to the environment with every purchase.
During the virtual event, Sharleen Spiteri, lead singer/songwriter of Scottish band Texas, discuss why Francisco founded Costa Brazil, why he shifted his focus to beauty, and his tips for staying healthy and practicing wellness during quarantine.

This event was the first of our new Founders Series through our continuing partnership with Mission Magazine. This series highlights entrepreneurs and explores the early days of building their business, the challenges they've faced, and what inspires them to continue growing a dynamic company. For Brazil native Francisco, his new beauty line is a deeply personal endeavor, committed to preserving the natural beauty of the Amazon rainforest.
Sustainability activist and actress, Amber Valletta and Theanne Schiros PhD, Assistant Professor at FIT and Co-Founder of Werewool, chat about the future of textile materials in the fashion industry.
As a recent recipient of the Global Change Award, Werewool is creating fabrics on DNA level with natural colors, stretch and other features. Amber and Theanne dive into how to guide the next generation to rethink materials through nature, technology, circularity, and life cycle impact assessment.
Past In-Person Friends of FIT Programming
Private Tour of the Black in Time, A Black Renaissance exhibition by FIT's Black Student Union curators.
Hosted by: FIT's Black Student Union and the FIT Foundation
An intimate breakfast gathering to launch The Friends of FIT. Special presentation by Michael Ferraro, Executive Director, FIT/Infor Design and Technology Lab, discussed how FIT is moving the needle on innovation and advances in design.
Hosted by: Joan Hornig, Liz Peek, Mona Aboelnaga Kanaan, and the FIT Foundation