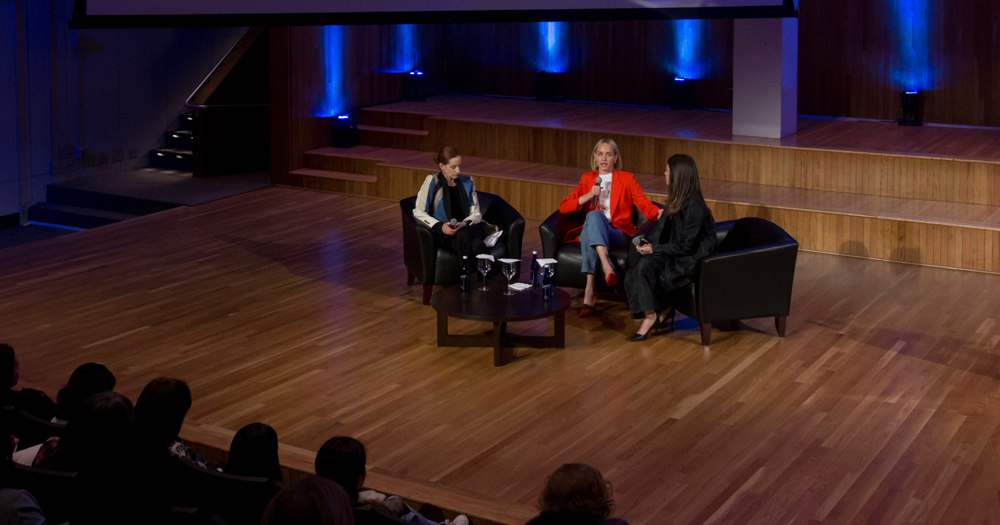 Sustainable Business and Design Conference
FIT's Sustainable Business and Design Conference aims to inform, involve, and inspire the entire FIT community to incorporate sustainability into all aspects of what we do.
The Sustainability Council at FIT hosts our annual Sustainable Business and Design Conference each spring. The event provides a platform for collaboration and discussion throughout the creative industries, highlighting advances in sustainable design and thought leadership. Environmental and social challenges and potential solutions are explored through innovative student projects, cross-institutional research, and industry partnerships. In recent years, breakout sessions have included topics such as farm-to-fashion, textile development, sustainable fashion supply chain, mindfulness in design, and packaging materials and recycling. The wide-ranging program features keynote speakers, panels, and projects that delve into pressing issues and exciting developments in the industry.
2022 FIT's 16th Annual Sustainable Business and Design Conference: April 5 & 6, 2022
Pathways to Impact
Pathways to Impact centers on four core themes that highlight the intersectionality of sustainable practices. Over the course of two days, attendees will be immersed in keynotes, talks, and panel discussions providing pathways to Social Justice x Social Responsibility, Environment x Materials, Consumption x Waste, and Design x Business. The event will feature leaders in numerous facets of sustainability and emphasize the FIT community's commitment to best practices in all its operations—including student projects, faculty and staff initiatives, and campus facilities.
Considers how our individual and collective actions can make an impact on society, with an emphasis on both people and the environment. Topics include representation within fashion and design, how designers use their work to help build community, and socially responsible sourcing of food and use of food waste.
Focuses on the ethical and environmental issues surrounding our choice of materials. Speakers will engage with the ways that action and accountability in material selection can improve quality of life, with emphasis on alternatives to plastics, less harmful fabric choices, and strategies for conservation.
Emphasizes the importance of equitable and sustainable consumer practices. The interrelated events will reveal how technological innovations and creative business solutions can help us become more mindful, informed shoppers—ultimately consuming better and less.
Offers guidelines and inventive strategies for sustainable business practices, and emphasizes the importance of forming professional networks. Both existing initiatives and future concepts will offer ideas for how to begin working sustainably while also providing inspiration for what might come next.
Learn About Previous Conferences