New York City Carbon Challenge
In 2007, then-mayor Michael Bloomberg challenged New York City colleges and hospitals to reduce their greenhouse gas emissions by 30 percent by 2030. FIT was the first to succeed, with a 40 percent reduction in less than four years. President Joyce F. Brown, along with leaders of 12 other institutions, then pledged to reduce the college's carbon footprint by 50 percent by 2025. FIT was first again, with a 55 percent reduction by 2018, seven years ahead of schedule.
Most of the energy reduction resulted from new steam-powered heating, cooling, and ventilation systems, which are much more efficient than electrical turbines. LED lighting with occupancy sensors also made a significant impact. The 55 percent carbon reduction is especially important because the college serves as a test case for buildings in New York and around the country. If other cities invest in energy-efficient infrastructure—Boston and Chicago are already taking action—the amount of greenhouse gases the U.S. releases could drop significantly.
The New York Independent System Operators and the New York Power Authority recently recognized the college for outstanding performance in the Demand Response program: On particularly hot summer days, when air conditioners drain the city's available power, institutions are paid to minimize electrical usage, because operating a "peak load" power plant is extremely costly. So far, the city has awarded FIT $1.25 million, which has been reinvested into additional energy-efficient equipment.
Green Roofs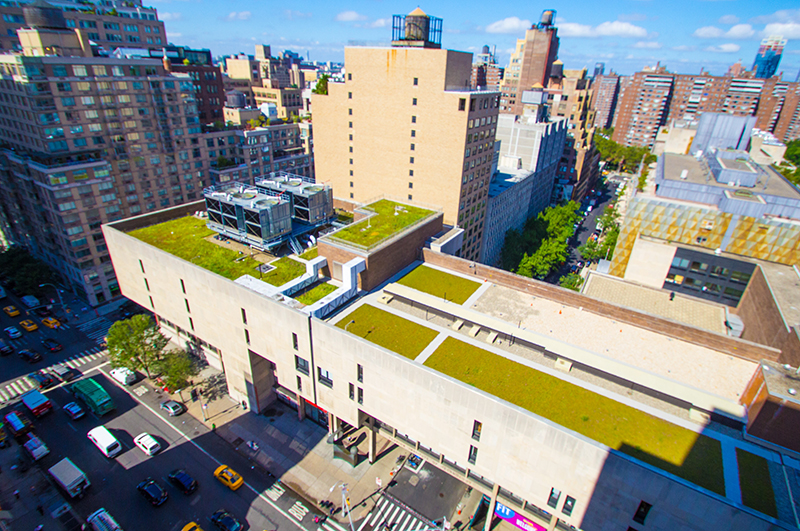 From the street level, FIT's imposing brutalist buildings are a signature of New York City's urban landscape. Look at FIT from above, and a greener picture emerges. The roofs of the academic buildings are covered with 1/2 acre of greenery that has been installed beginning in 2010. Solar panels on and adjacent to the Shirley Goodman Resource Center produce a total of 72 kW; in full sun, these panels create enough electricity to power most of the lights in the Fred P. Pomerantz Art and Design Center.
To create FIT's green roofs, sedum plants, which are hardy succulents that require little watering or maintenance, were installed on the roof in large trays.
Green roofs do all of the following:
help insulate the buildings, reducing the need for heating and air conditioning.
absorb carbon dioxide, improving air quality and lessening the college's carbon footprint.
reduce the heat island effect—the reason New York City is a few degrees warmer than its environs—making FIT's climate more livable.
soak up water during heavy rainfall that would otherwise flood the city's sewers, thus preventing untreated sewage from flowing into the Hudson and East rivers.
Environmentally Friendly Renovations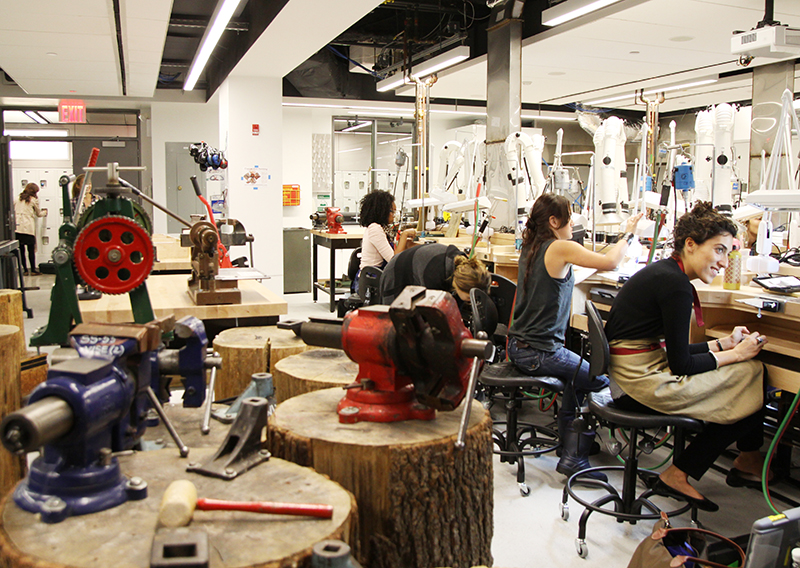 When renovating classrooms and other spaces on campus, FIT puts sustainability at the foreground:
Recycled, nontoxic, low-VOC (volatile organic compound) materials are used when possible.
In most cases, flooring is simple polished concrete, which requires nothing to be manufactured and is easy to maintain.
Construction materials are sourced within 500 miles of New York City.
Construction waste is brought to a nearby facility to be recycled.
Low-E windows reflect light, reducing air-conditioning costs.
LED lights with occupancy and daylight sensors are extremely energy-efficient.
Campus Recycling Program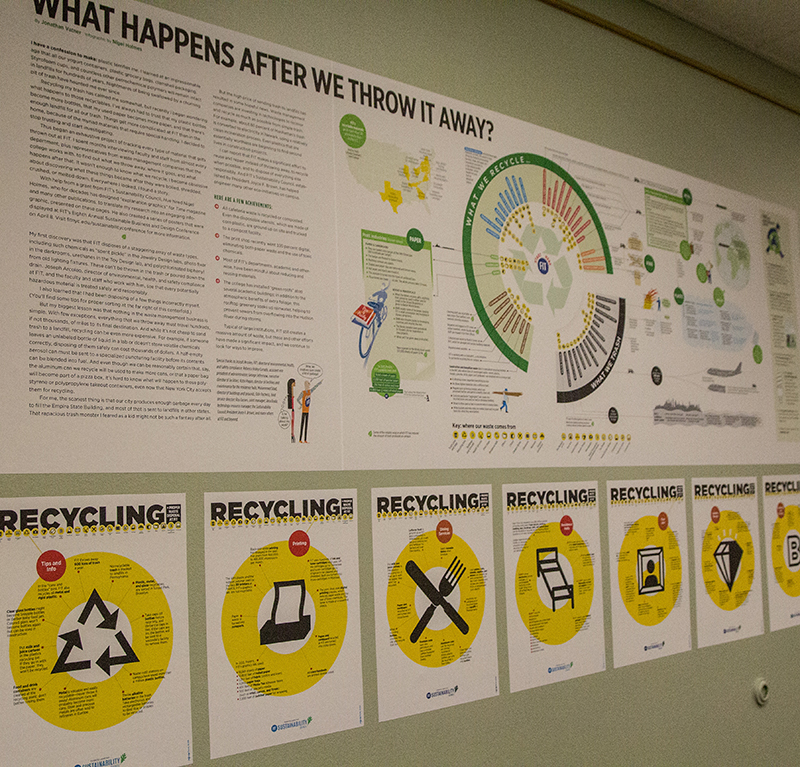 FIT has implemented a comprehensive recycling program in all campus buildings to rival that at any New York City institution.
The New York City Department of Sanitation picks up paper, plastic, metal, and glass for recycling.
Food waste in the dining hall is composted and made into fertilizer.
Electronics are broken down into components and recycled or sold.
A comprehensive hazardous waste management process ensures that toxic and flammable chemicals are disposed of safely and responsibly.
Light bulbs are broken down into their component parts and recycled.
Toner and ink cartridges are shredded and made into new cartridges.
Construction debris, such as wood and concrete, are sorted and recycled at a nearby facility.