Voter Registration and Education

Voter Registration and Education
As part of the college's social justice initiative, we are encouraging the FIT community to learn about voter registration rights and to vote in upcoming elections.
Students living in New York City and attending the Fashion Institute of Technology, have the right to vote in New York.
TurboVote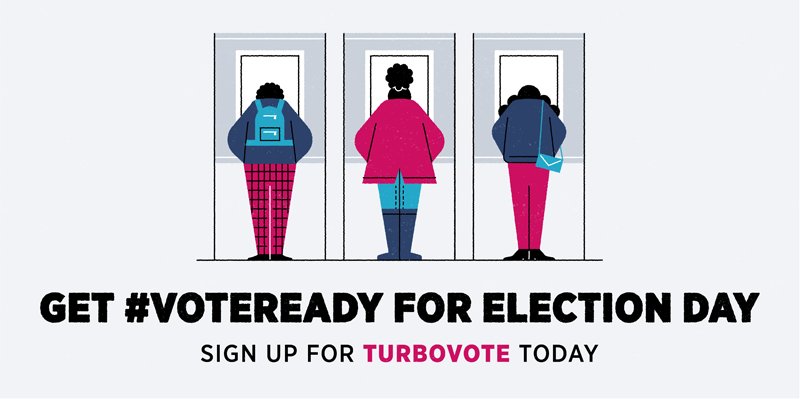 FIT is partnering with TurboVote to make it easier than ever to get ready to vote. You can register at any time, but deadlines vary from state to state. Vote.org has registration deadlines for upcoming elections.

If you have already registered to vote, you can still sign up with TurboVote to receive text or email reminders so you won't miss elections.
Register to Vote at TurboVote
Frequently Asked Questions about Voting
To register to vote in the City of New York:
You must be a citizen of the United States. This includes those born in Puerto Rico, Guam, and the U.S. Virgin Islands.
You must be a New York City resident for at least 30 days.
You must be 18 years of age before the next election.
You must not be serving a jail sentence or be on parole for a felony conviction, unless you have received a pardon for voting purposes.
You must not be judged mentally incompetent by a court.
You must not claim the right to vote elsewhere (outside the City of New York).
For Non-New York Residents
If you would like to register in your home state there are a few resources you may use. Note that registration deadlines and eligibility requirements vary per state.
Visit the U.S. Election Assistance Commission website to download the National Voter Registration form. This is the one document that enables you to register to vote anywhere in the country. It includes state specific instructions to assist you in filling out the form and getting it delivered to the proper address.
You will also find voter registration forms on TurboVote. TurboVote includes deadlines, easy-to-follow-directions, and a breakdown of the relevant laws.
About TurboVote: A product of the nonpartisan, 501(c)(3) nonprofit Deomocracy Works, is a "one-stop shop" voter registration and engagement service. Through a seamless interface, users can:
Register to vote, request an absentee ballot, and/or update an address. If a state does not permit registration online, they'll receive completed forms with stamped envelopes addressed to the local election office.
Track elections with text messages and email reminders. Users receive all the information needed to vote in every election, including poll locations, election dates, information on laws, and deadlines.
Ask for help through TurboVote's dedicated help desk.
Election Day is an optional holiday for employees and you are encouraged to take time to vote. New York State employees have the right to time off to vote, per N. Y. Election Law Section 3-110, with the following stipulations:
If you do not have 4 consecutive hours to vote, either from the opening of the polls to the beginning of your working shift, or between the end of your working shift and the closing of the polls, you may take off up to 2 hours, without loss of pay, to allow you time to vote if you are a registered voter.
You may take time off at the beginning or end of your working shift, as your employer may designate, unless otherwise mutually agreed.
You must notify your employer not less than 2 days, but not more than 10 days, before the day of the day of the election that you will take time off to vote.
More Information
FIT Disability Support Services (FIT-ABLE) is a National Voter Registration Act (NVRA) voter registration site. If you have questions, contact:
Gail Leech-Sims
[email protected]
Dubinsky Center, Room A570
(212) 217-4090