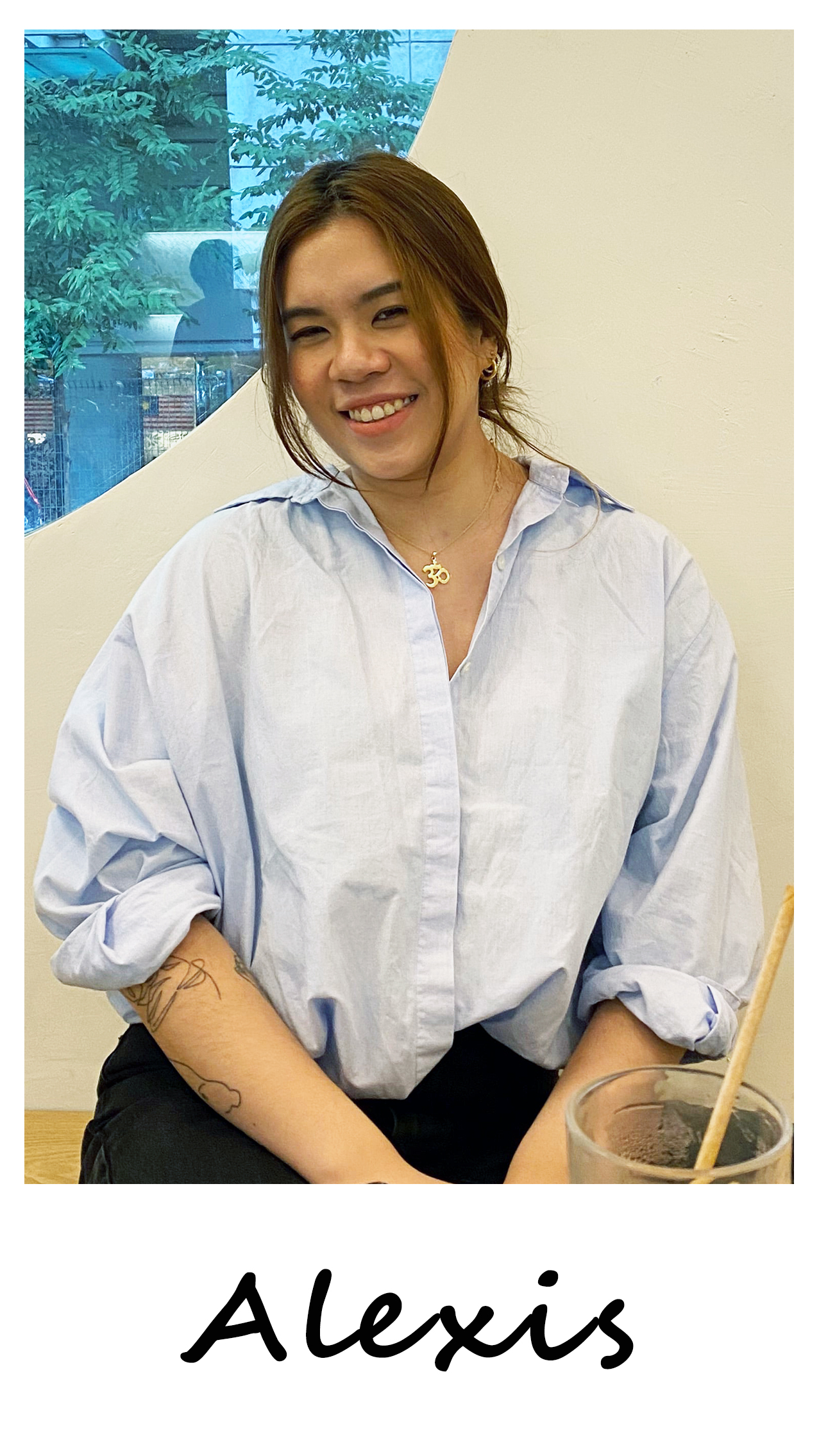 Name: Alexis
Major: Advertising and Marketing Communications BS '22
Hometown: Kuala Lumpur, Malaysia
Involvement on Campus: Student Government Association: Secretary of Campus Affairs
Alexis is a seasoned international student, having started her studies in the US at age 14 in California. The experience of studying abroad has challenged her to step out of her comfort zone and to gain new perspectives in life. Before arriving at FIT, she was concerned about assimilating herself to life in New York due to its reputation as a fast-paced city.
Alexis advises incoming international students to be proactive in making friends. She also feels it is important to remember to ask for help if you need it! There are plenty of campus resources available for students. Be patient with yourself when adjusting to life in New York City, as it takes time. She has just spent a semester abroad in Paris, France, in the Spring 22 semester and is excited to share her experiences with her peers.
Alexis is very proud of her Malaysian-Chinese roots and enjoys sharing her culture with friends in the US. She believes in spreading love and acceptance of different cultures with everyone she meets. Alexis's favorite part about FIT is the diversity and creativity of the students. She enjoys working out, picnics, and art museums!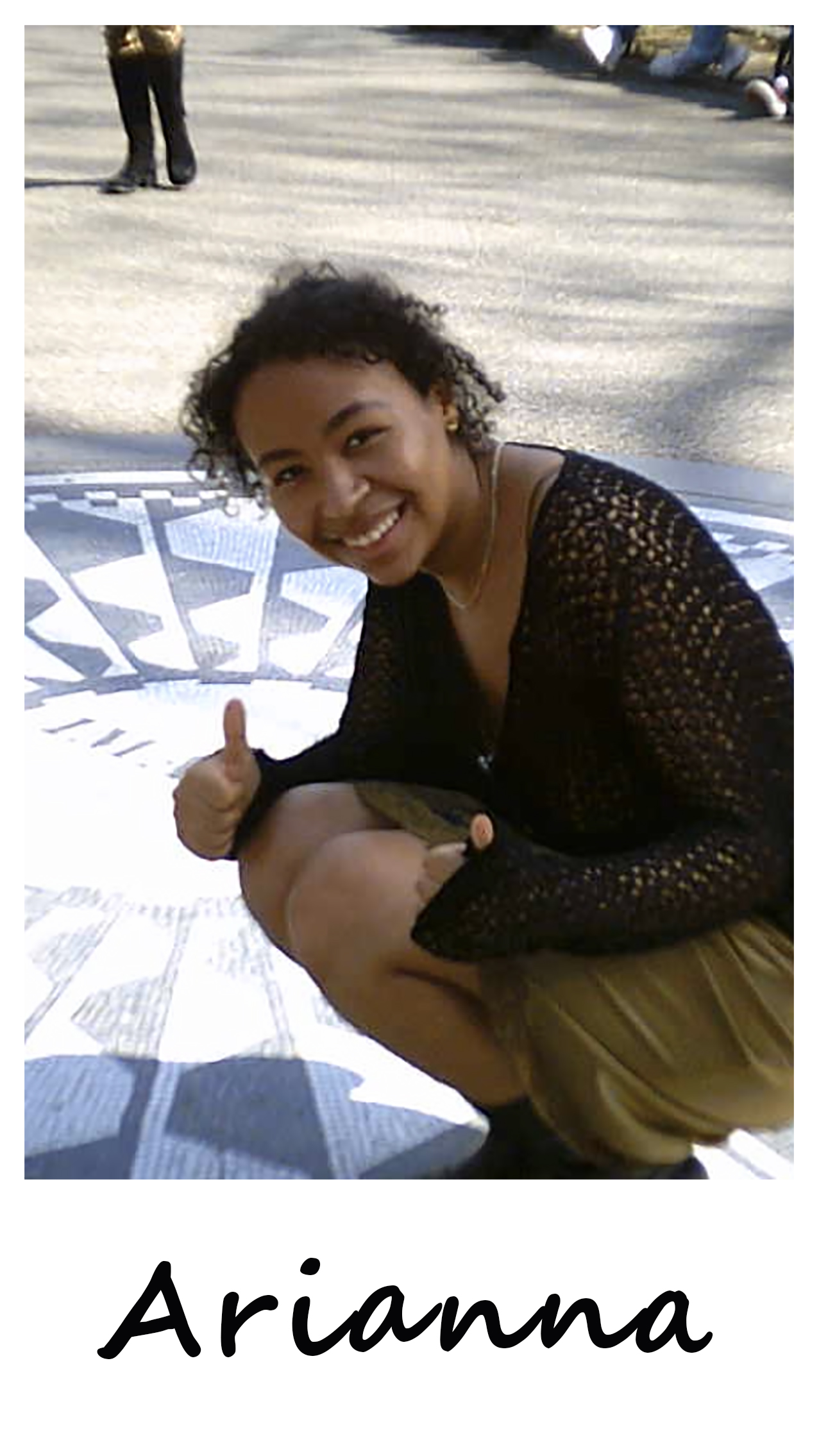 Name: Arianna
Major: Fashion Design AAS '23
Minor: English
Hometown: Toronto, Canada
Involvement on Campus: Phi Theta Kappa Honor Society
After watching the excitement of New York City from her hometown, Arianna moved here to pursue her studies at the center of the fashion industry. As a Black woman, she was concerned about the political climate in the United States. Though she has faced difficulties, she learned that FIT has a very supportive, open community that will support you through challenging situations.
Arianna feels it is essential to have a support system back home you can lean on. Having good friends and family members you can call when things get overwhelming can be crucial to the experience of acclimating to a new country. Enjoy living abroad and take in everything you can - it is a wonderful life experience to have at a young age!
Arianna has learned the importance of not comparing her work to others. Instead, be creative and experiment as much as possible; that's what FIT is for! Her favorite FIT moment was a critique from industry designers on her first-semester design project, where she received valuable feedback.
Outside of her studies, Arianna has multiple creative pursuits. She plays guitar, knits, draws, and creates zines using her photographs.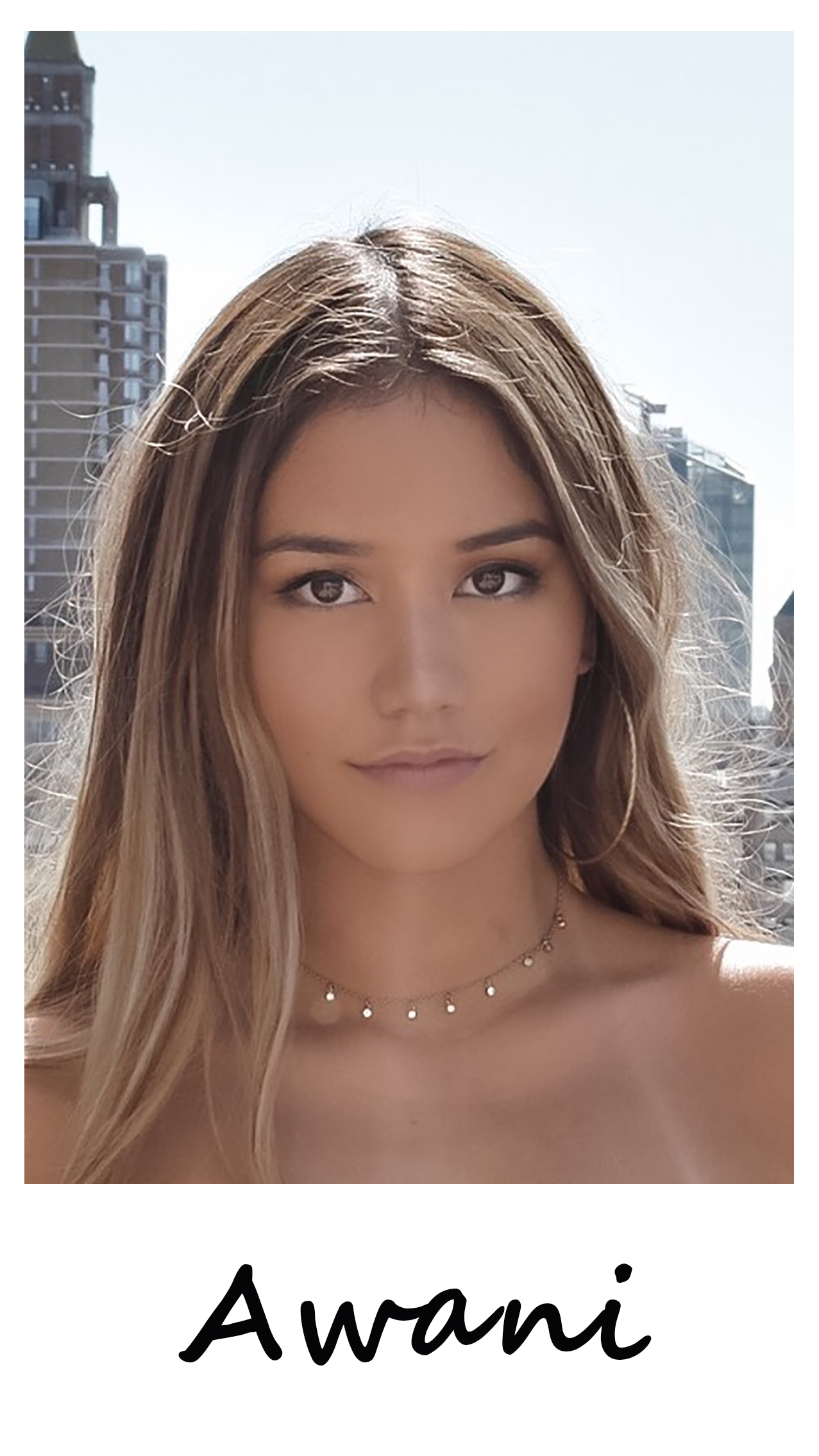 Name: Awani
Major: Fashion Business Management BS '23
Hometown: Melbourne, Australia & Jakarta, Indonesia
Involvement on Campus: Residential Life Social Media Assistant, Merchandising Society, Style Shop
Awani has spent her whole life abroad, living and studying in seven different cities throughout Asia. However, coming to FIT meant being on her own for the first time, and she was initially concerned about homesickness. Luckily, she found a strong sense of community here, and living on campus her first year helped her to make friends.
Awani loves all the opportunities to get involved on and off campus, like volunteering at New York Fashion Week. She advises new students to join clubs, volunteer at events, and use all the resources FIT offers. She also loves FIT's location on Fashion Avenue, in the heart of Chelsea. To her, the block that FIT is on feels like a little community, but then you step outside onto 27th street to the hustle of NYC. Awani's favorite thing about living in New York City is how alive the city makes you feel when you walk down the street: it feels like you are living in a movie!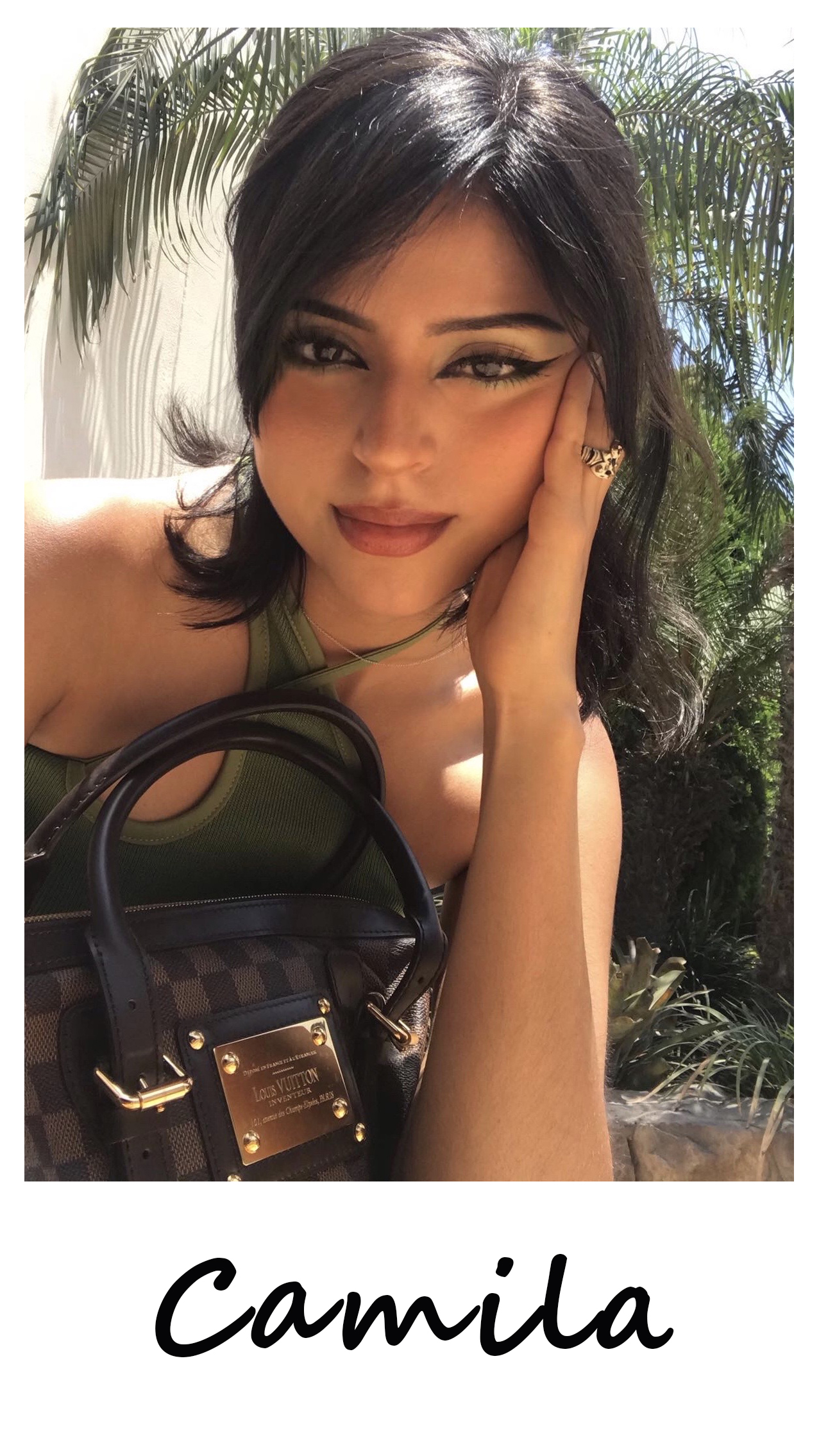 Name: Camila
Major: Fashion Business Management BS '23
Minor: Ethics and Sustainability
Hometown: Lima, Peru
Involvement on Campus: Academic Skills Center Tutor
Community Service: Gallop NYC
The desire for a different lifestyle and a better education led Camila to pursue studies in the US, and she joined FIT after transferring from another university in NYC. Starting as a second-year student at FIT, she learned to be patient with herself while transitioning to a new environment. She advises new students to be open-minded and curious. The city can sometimes be intimidating, but she finds it has so much to offer, and so does FIT! After investing so much in studying abroad, she advises other international students to be sure to take advantage of their experience. To de-stress, she recommends Mindful Mondays offered by Health Services; they provide the opportunity to converse in a respectful, safe space.
Camila's favorite thing about FIT is that students are driven and career-oriented. She finds it can be competitive but likes that it makes for an environment that pushes her harder. She loves the resources on campus, from the library and its archives of countless collections to New York Fashion Week-related opportunities. Camila finds that NYC has something for everybody, with so many people from different walks of life all coexisting. Camila recognizes that it can be hard to survive in New York, and to her, this means everybody who stays here wants to be here. She strongly encourages everyone to explore Queens, as you'll likely find your favorite foods from home there!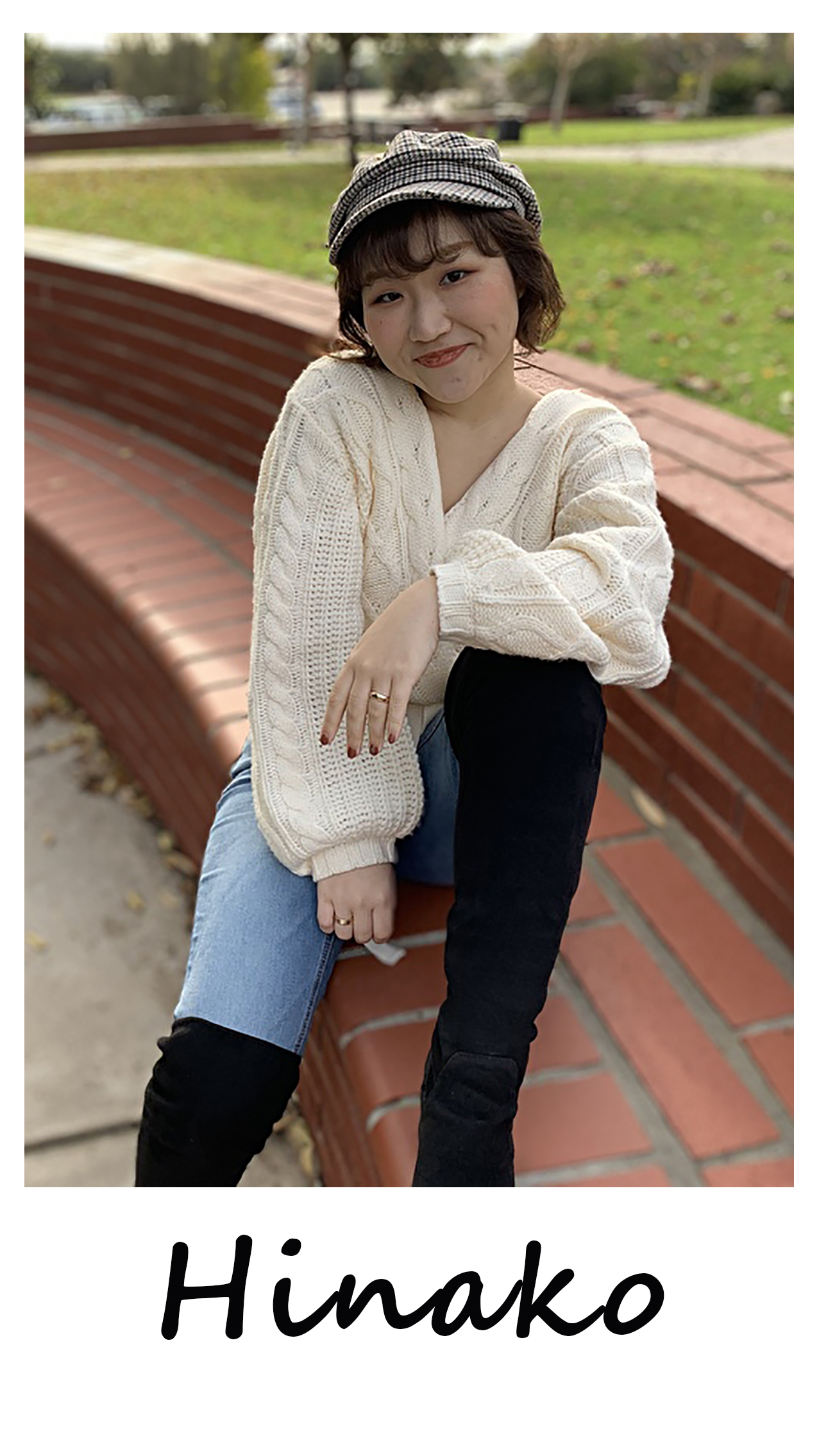 Name: Hinako
Major: Fashion Business Management BS '24
Hometown: Tokyo, Japan
Hinako began her college education in Southern California before transferring to FIT. It had always been her dream to live in the US, and she feels that studying abroad is not something you do alone; your family is always with you, so appreciate them!
After initially feeling concerned about moving to a place where she didn't know anyone, Hinako now feels at home in NYC. She loves the fast pace and opportunities it provides. She advises setting time aside daily to study to keep up with classwork and recommends using FIT tutoring services for extra help.
Hinako loves sushi and is passionate about doing yoga in her free time; she finds stretching is a great way to refresh and relax! She looks forward to connecting with other students to share her experiences living in the US and as a student at FIT.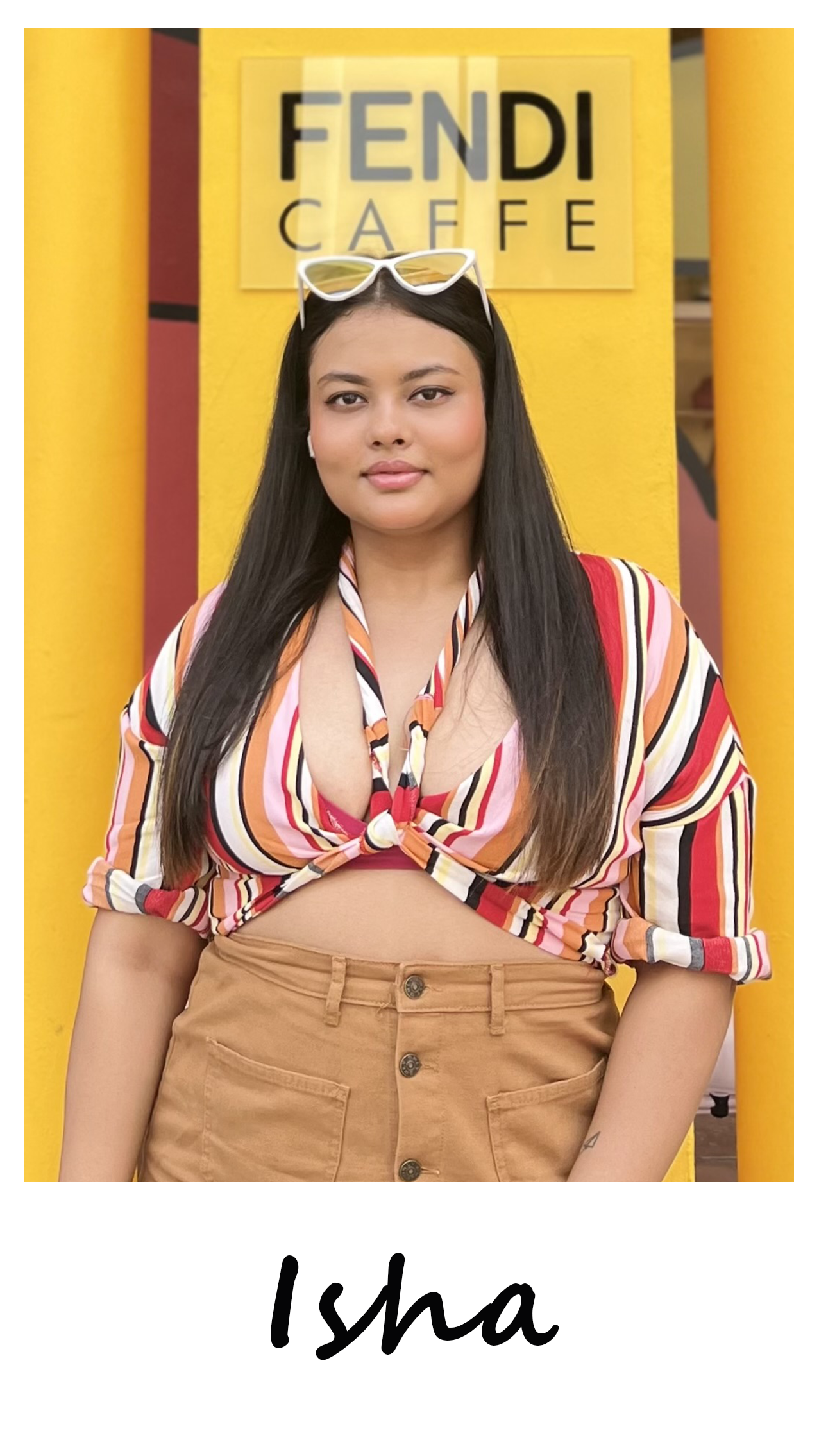 Name: Isha
Major: Fashion Design BFA '23
Hometown: Lucknow, India
Isha is a seasoned international traveler who feels that her extensive travels have helped her grow as a person, so it only made sense for her also to pursue her college education abroad. Her initial application to FIT was not accepted, but Isha is proud to have succeeded on her second attempt; this made her feel that she can achieve anything she sets her mind to! While new international students may initially feel out of place in a new environment, Isha has found FIT and New York City to be inviting and tolerant environments with much to do and learn. She loves to work as a Cultural Fellow as it allows her to help other students who come to FIT.
Isha finds her studies to be a lot of hard work, but they provide valuable training and skills for her profession, preparing her to succeed in the workplace. She stresses the importance of submitting work on time! The tutoring services from the Academic Skills Center are a helpful resource for students. When not in school, Isha is a huge thrill seeker! While traveling, her activities lean toward the adventurous, including scuba diving, skydiving, and bungee jumping.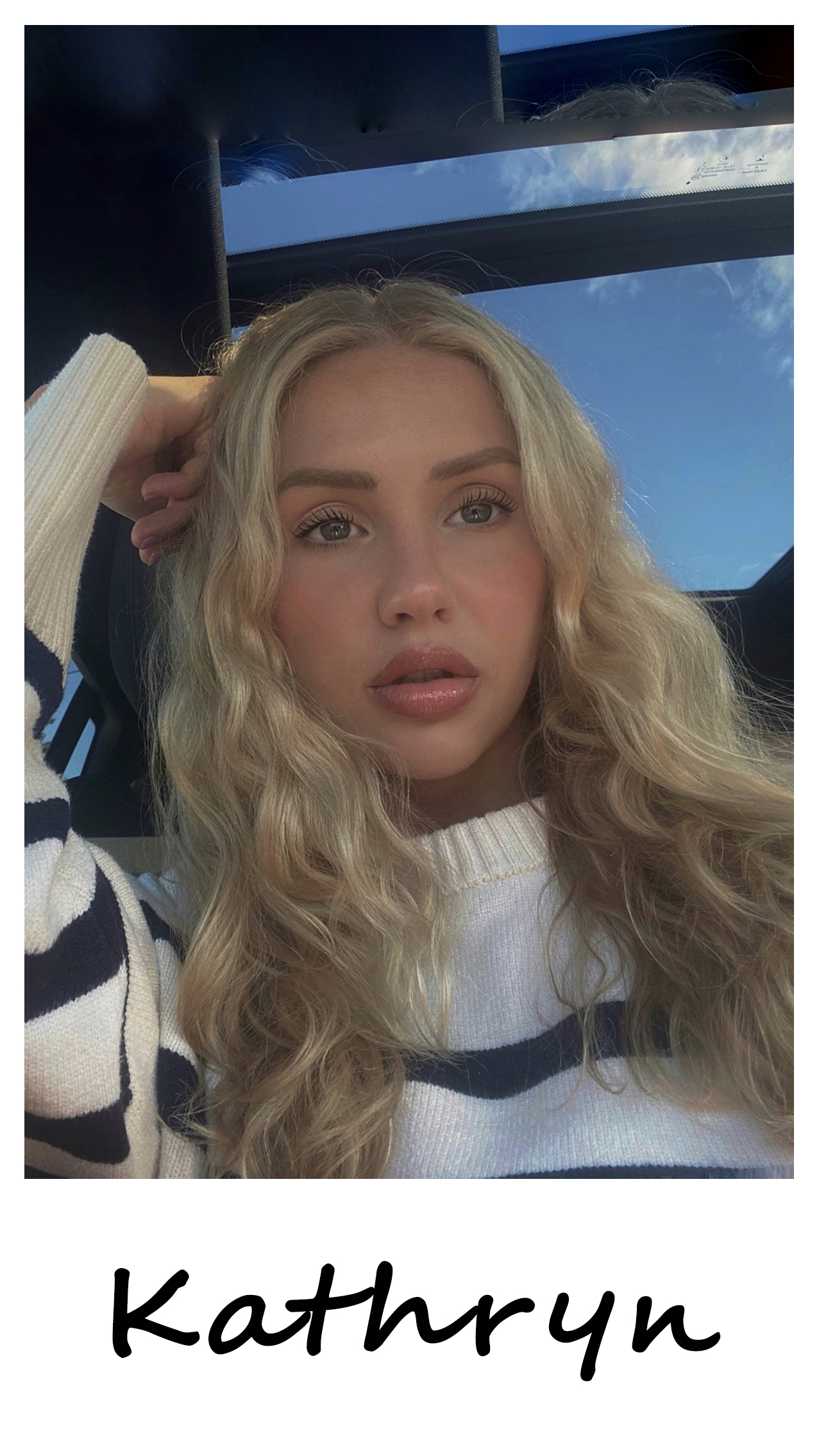 Name: Kathryn
Major: International Trade & Marketing BS '23
Minor: Economics
Hometown: Iqaluit, Canada
Involvement on Campus: Senator for International Trade and Marketing, President of ITSA Club
Community Service: Founder of Iqaluit Dance Academy, a non-profit dance academy in the Arctic.
Kathryn's ITM studies at FIT are a change from her prior educational pursuits. In Canada, she studied Political Science & International Relations and intended to pursue a career as a politician after graduation.
Because of her previous four years studying in Canada, Kathryn was initially concerned about being a bit older than the average FIT student. Luckily she soon realized that FIT has a very diverse group of students of all ages and backgrounds. One of the most important things she has learned at FIT is balancing having fun in New York City while prioritizing her course load. The key is picking courses that you're interested in.
Kathryn advises new students to try and get out of their comfort zones. Strike up a conversation with new people on campus, and don't let the bubble of being an "international student" stop you from getting out there! Her favorite part about FIT is the talent of her peers. Students are here for their shared interest in fashion, and she finds it motivating to see everyone working so hard.
In her free time, Kathryn is a skilled figure skater who also enjoys walking her dog in Central Park and visiting different jazz clubs and libraries in the city.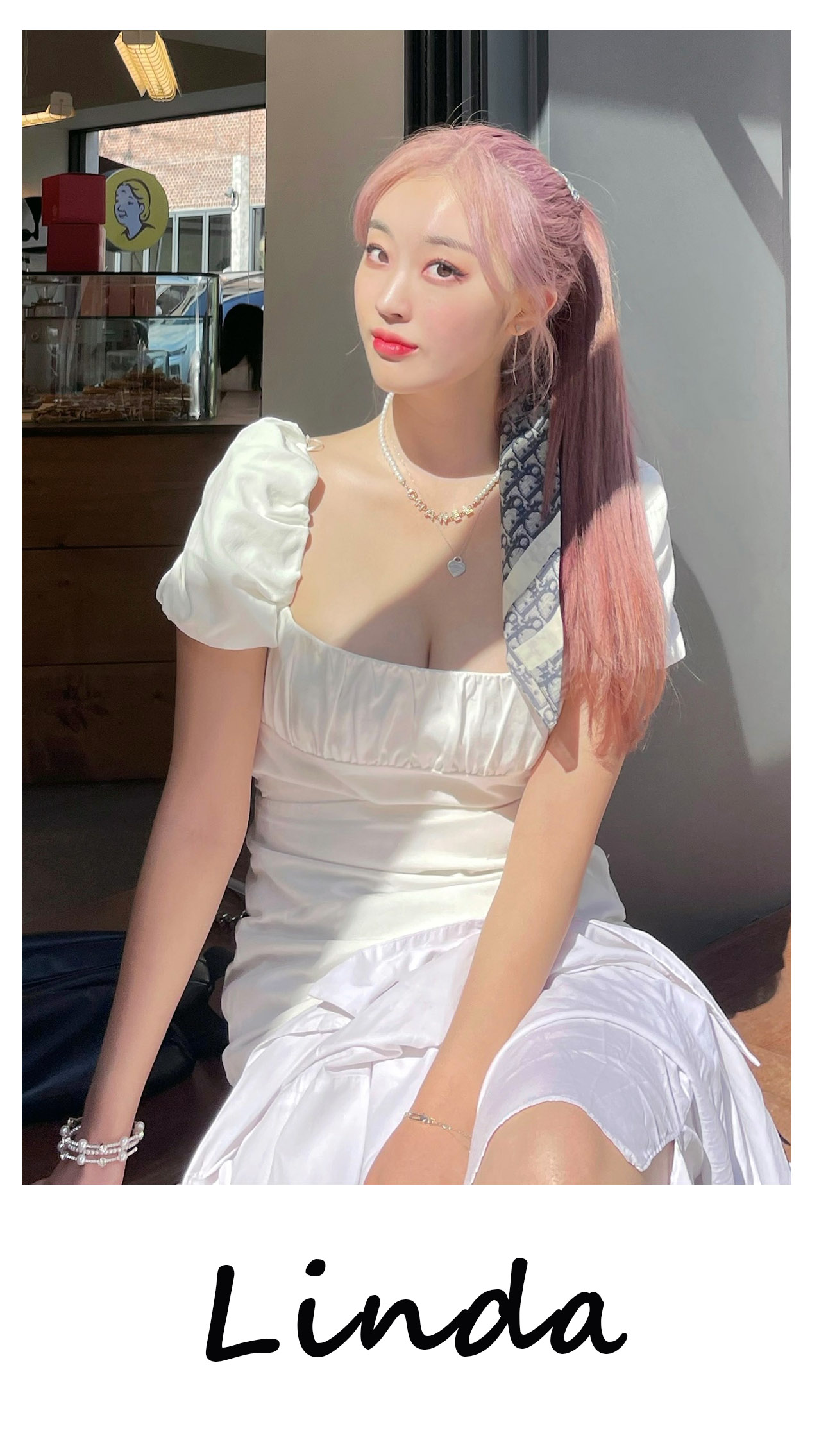 Name: Linda
Major: Fashion Business Management AAS '22
Hometown: Seoul, South Korea
Involvement on Campus: Academic Skills Center Tutor
Linda shares a birthday with her favorite designer, Coco Chanel! Linda's favorite part about the FIT community is the shared enthusiasm for fashion and the related discussions that take place inside and outside the classroom. She has found campus support services such as the Writing & Speaking Studio and the Academic Skills Center to be valuable resources for students. Staff are there to help review papers and presentations, so be sure to stop by! She believes that FIT provides many opportunities; you just need to seek them out. She advises new students to read their school email carefully as they'll find on-campus job openings, events, and other opportunities to get involved.
Linda loves living in the global fashion capital, New York City, a source of constant art and inspiration. She enjoys visiting museums, reading, and listening to classical music in her free time.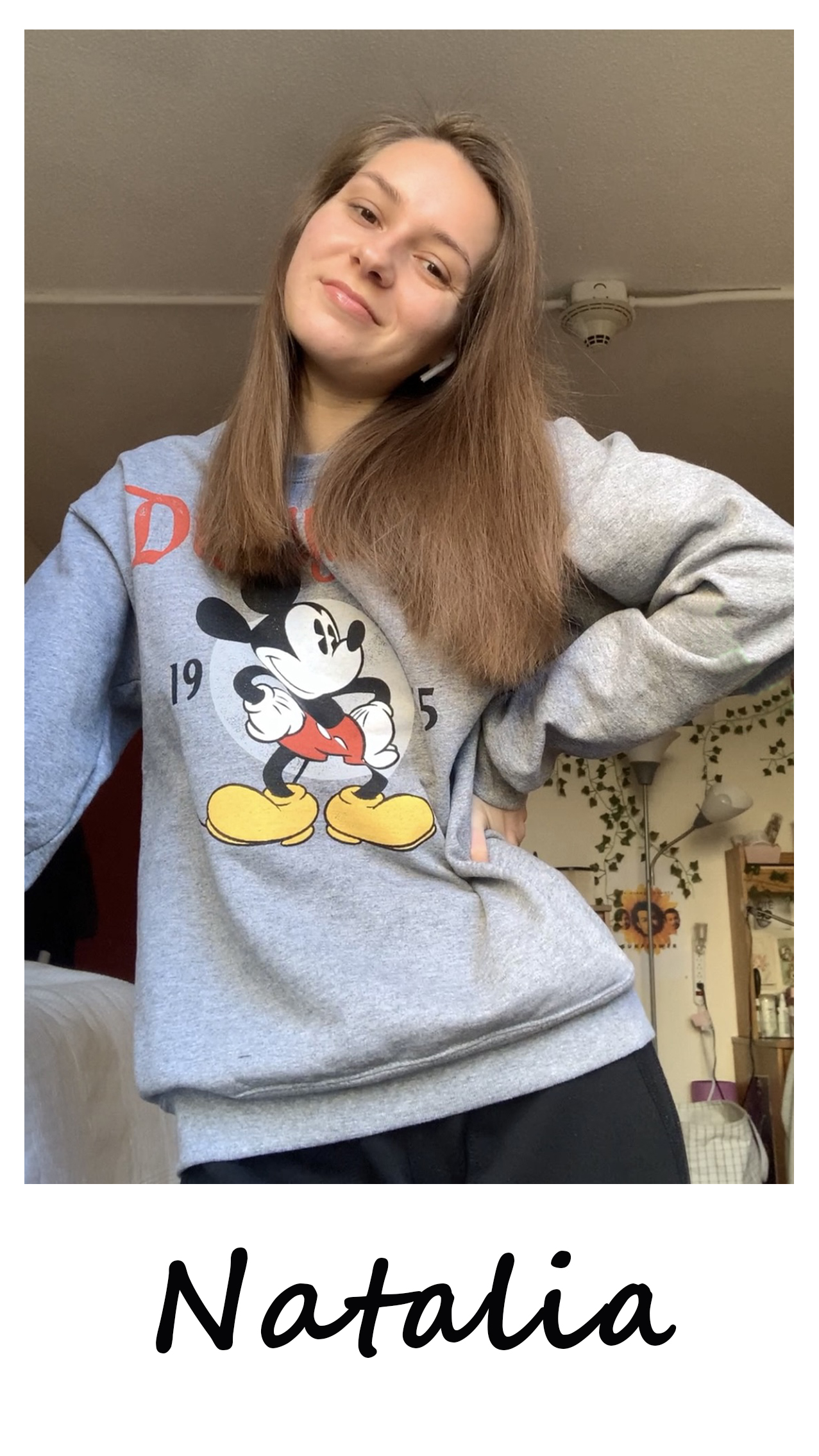 Name: Natalia
Major: Fashion Design AAS '23
Minor: Film and Media Studies
Hometown: Moscow, Russia
Involvement on Campus: Orientation Leader
Natalia's interest in studying fashion design stems from her previous professional work as a stylist and costumer for feature films and commercials in her home country. She plans to use the skills she learns at FIT to become a costume designer for TV and film. In addition, she loves attending college in such a multicultural city, and living in New York City provides her with education on and off campus.
Before coming to FIT, she was concerned about being older than her classmates but found a diverse range of students on campus. She advises new students not to stress, as they will find assistance and opportunities for growth here. Her favorite campus resources are the Library, Health Services, and the Counseling Center.
In her free time, Natalia loves conversing with others, sewing, hiking, and filming her walks around the city.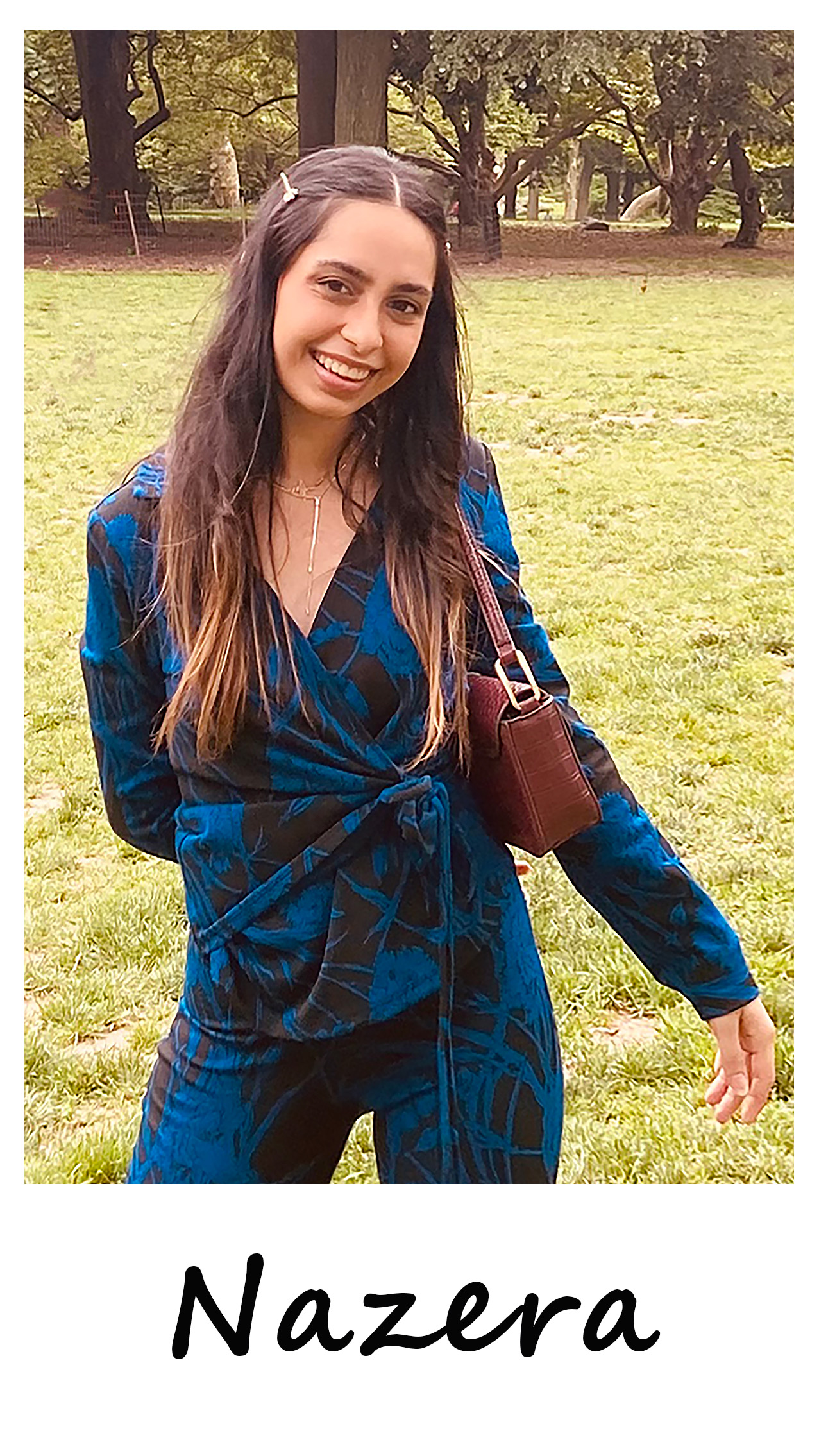 Name: Nazera
Major: Fashion Design BFA '24
Hometown: New Cairo City, Egypt
Involvement on Campus: Resident Assistant, International Programs Student Advisory Committee
Nazera is truly a world citizen, having lived in 6 countries before coming to the US to study. Moving around allowed her to acquire knowledge of various cultures and people and taught her to adapt to different environments.
Nazera completed her first year of FIT remotely from home. Starting a degree virtually was challenging, and she was initially concerned about how to meet new people. However, once on campus, she was able to make strong connections with others and found some amazing classmates and faculty. She is a natural leader who enjoys being involved with campus initiatives.
Nazera loves the fast pace of New York City - its role as a fashion capital made it the right place to pursue her studies and career. In addition, she has found her professors to be empathetic and helpful and advises new students to take advantage of the wealth of knowledge FIT professors have.
Outside of school, Nazera is an adrenaline-loving thrill seeker! Her activities include adventure parks, diving, sprinting, and water sports - anything that gives her a rush. She is also passionate about working out and a big fan of Bollywood films.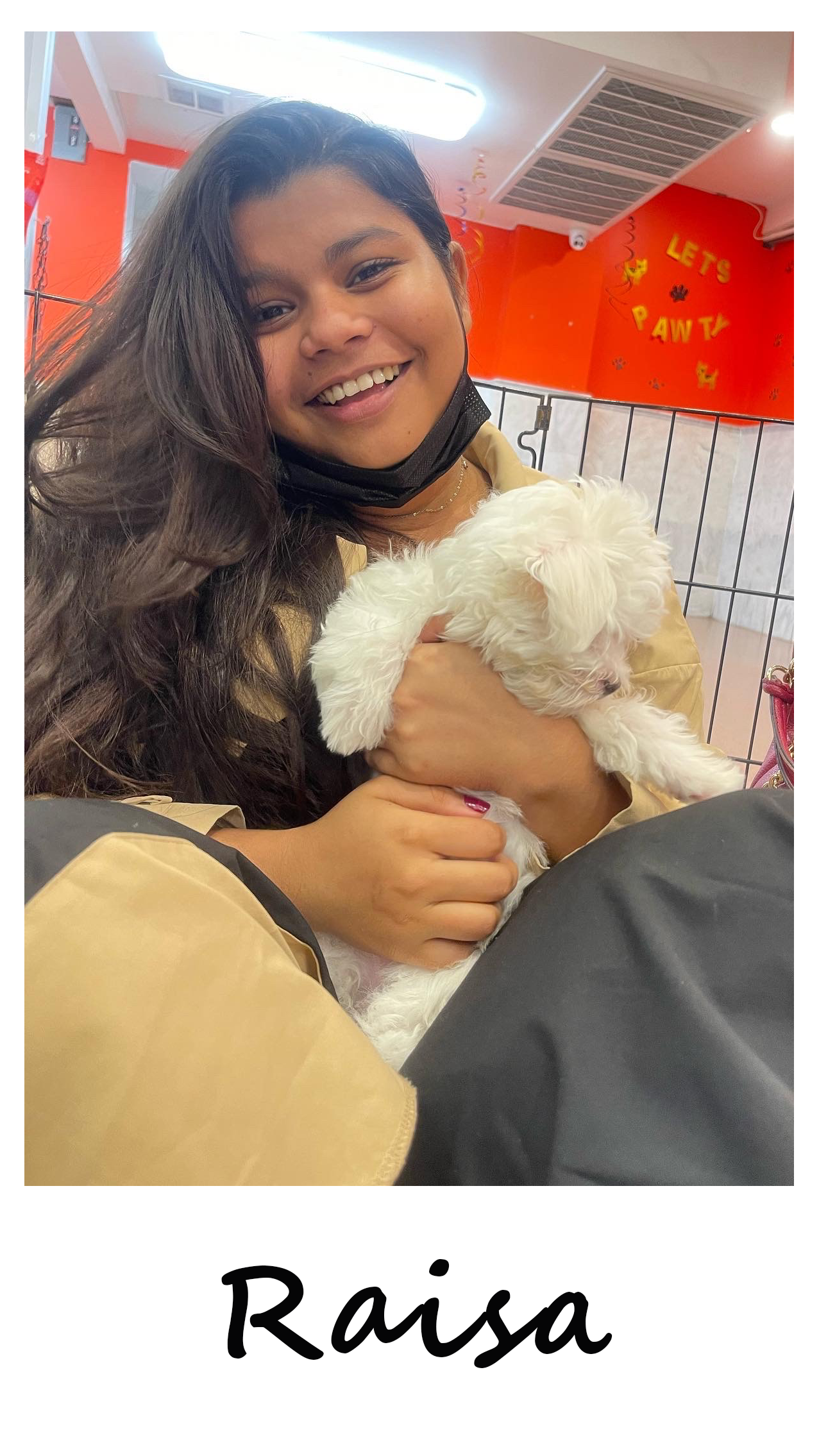 Name: Raisa
Major: Fashion Business Management BS '23
Minors: History of Art, Design Thinking
Hometown: Dhaka, Bangladesh
Involvement on Campus: Student Tour Guide, Orientation Leader
Raisa is a natural extrovert who loves being involved on campus. She wanted to study abroad to explore the world and experience life in a new country. Initially, moving to the US from Bangladesh was both exciting and terrifying. However, the student leaders' welcoming environment helped ease her transition. Pursuing a degree and living alone for the first time while acclimating to a new culture has certainly been a learning experience. She advises new international students to make the most of this new beginning and enjoy every moment to the fullest. You are not alone!
Raisa's favorite part of FIT is its lively and fantastic community of like-minded individuals. Health Services has been a valuable resource for her- check out their massage and acupuncture services!
Raisa loves to experience New York City nightlife, find the best dollar pizza, and spend time with loved ones when not at school.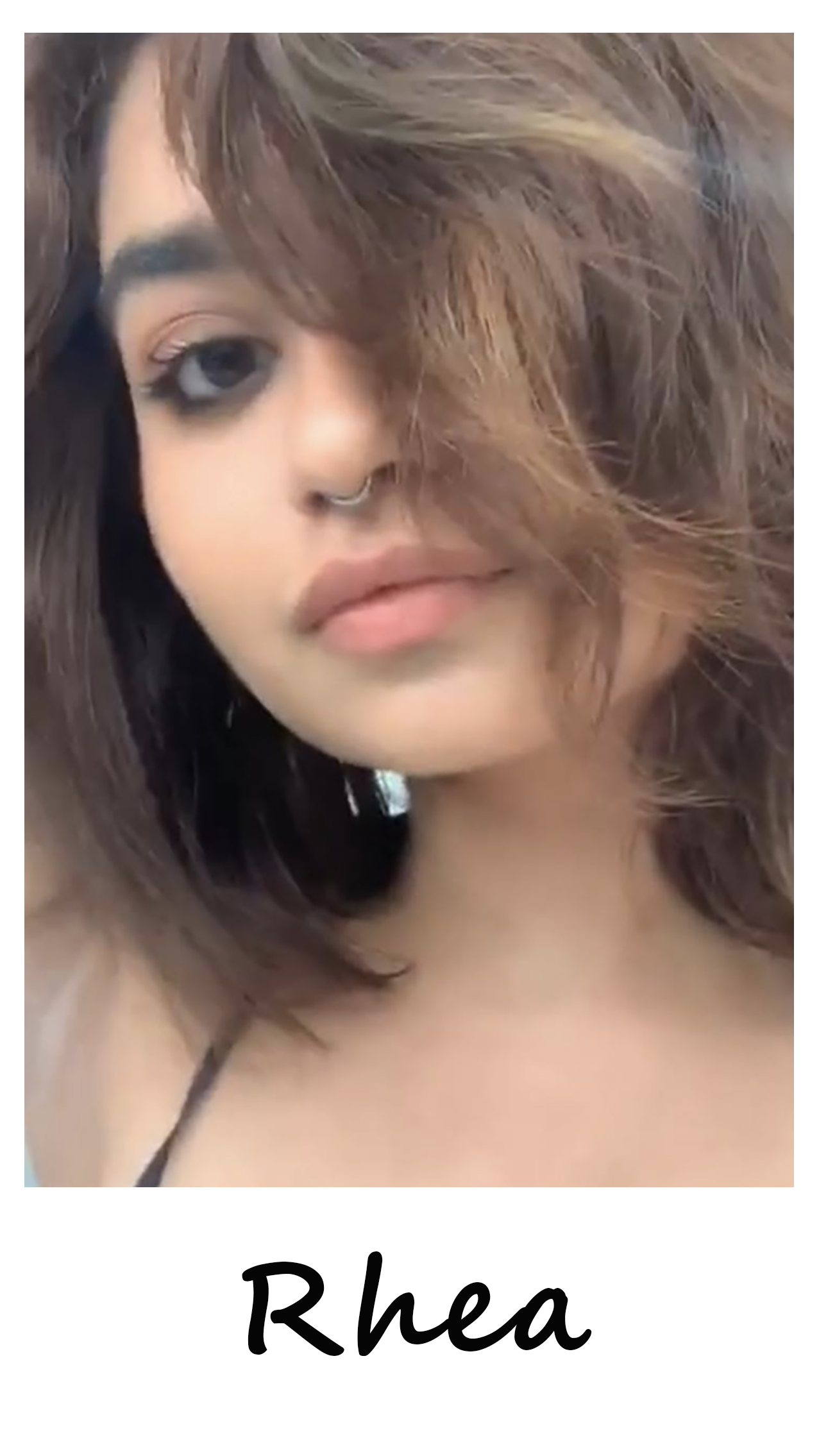 Name: Rhea
Major: Fashion Business Management BS '23
Hometown: Guangzhou, China
Involvement on Campus: Phi Theta Kappa Honor Society, National Society of Collegiate Scholars
Rhea is truly a global citizen. She lives in Dubai, is of Indian descent, was born in Uganda, raised in China, and attended secondary schools in Singapore and India. She is also a polyglot who speaks five languages. Still, moving to the US to attend FIT was a significant change, and she experienced culture shock while adjusting to her new home.
She emphasizes the importance of time management; it's essential to schedule time to complete assignments to avoid stress. Rhea loves that FIT provides the tools and resources to help her excel in her schoolwork. She also feels that the people, events, and resources available here will assist in the transition to the professional world.
While slowly coming out of the pandemic's uncertainty and restrictions, Rhea thinks New York is the perfect place to dive back into exploring the world, new people, and self-exploration. The diversity and newness that New York provides push her out of her comfort zone while making her feel at home at the same time. She is looking forward to a great senior year!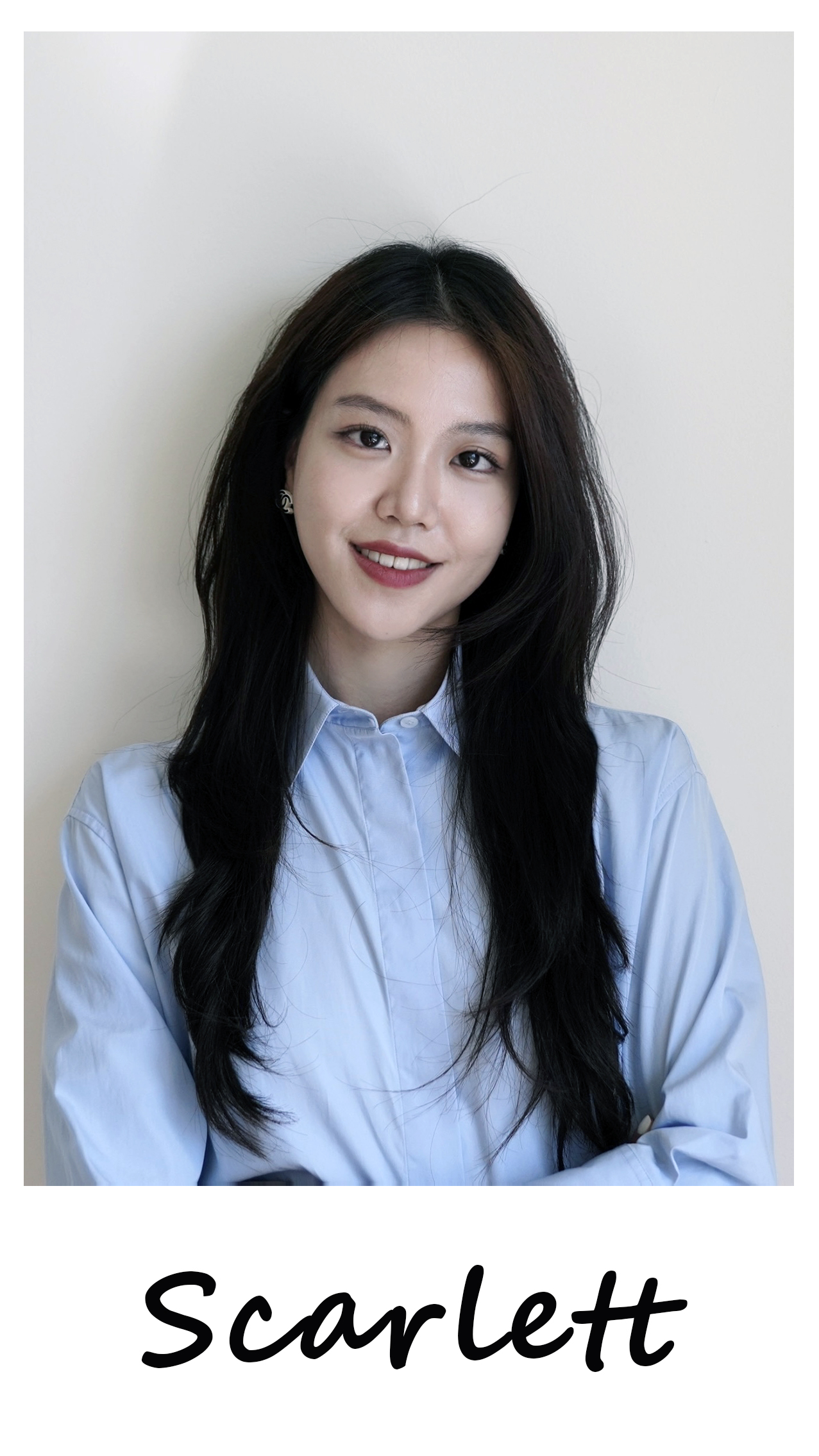 Name: Scarlett
Major: Fashion Business Management BS '22
Minor: Design Thinking
Hometown: Daegu, South Korea
New York City's status as a global fashion capital brought Scarlett to FIT after she decided to study Fashion Business Management. Before arriving, she was concerned about communicating solely in English and finding other students to whom she could relate. She wants incoming international students to know they are not the only ones afraid of being alone and communicating in a different language. She advises students not to be scared of reaching out to classmates, professors, and alumni; this could lead to new opportunities and connections. Scarlett's outreach to alumni led to a dream summer internship at The Row.
Scarlett finds the Writing & Speaking Studio to be a helpful campus resource. The tutors are available to assist with editing and recommendations for written assignments. Outside school, she is a Friends superfan who enjoys discovering new restaurants. When under stress, she craves spicy foods. The spicier, the better! Reach out to her on Instagram for her NYC restaurant recommendations.
Scarlett's proudest FIT achievements are making the most of her employment opportunities as an international student and maintaining a 4.0 GPA in her BS degree.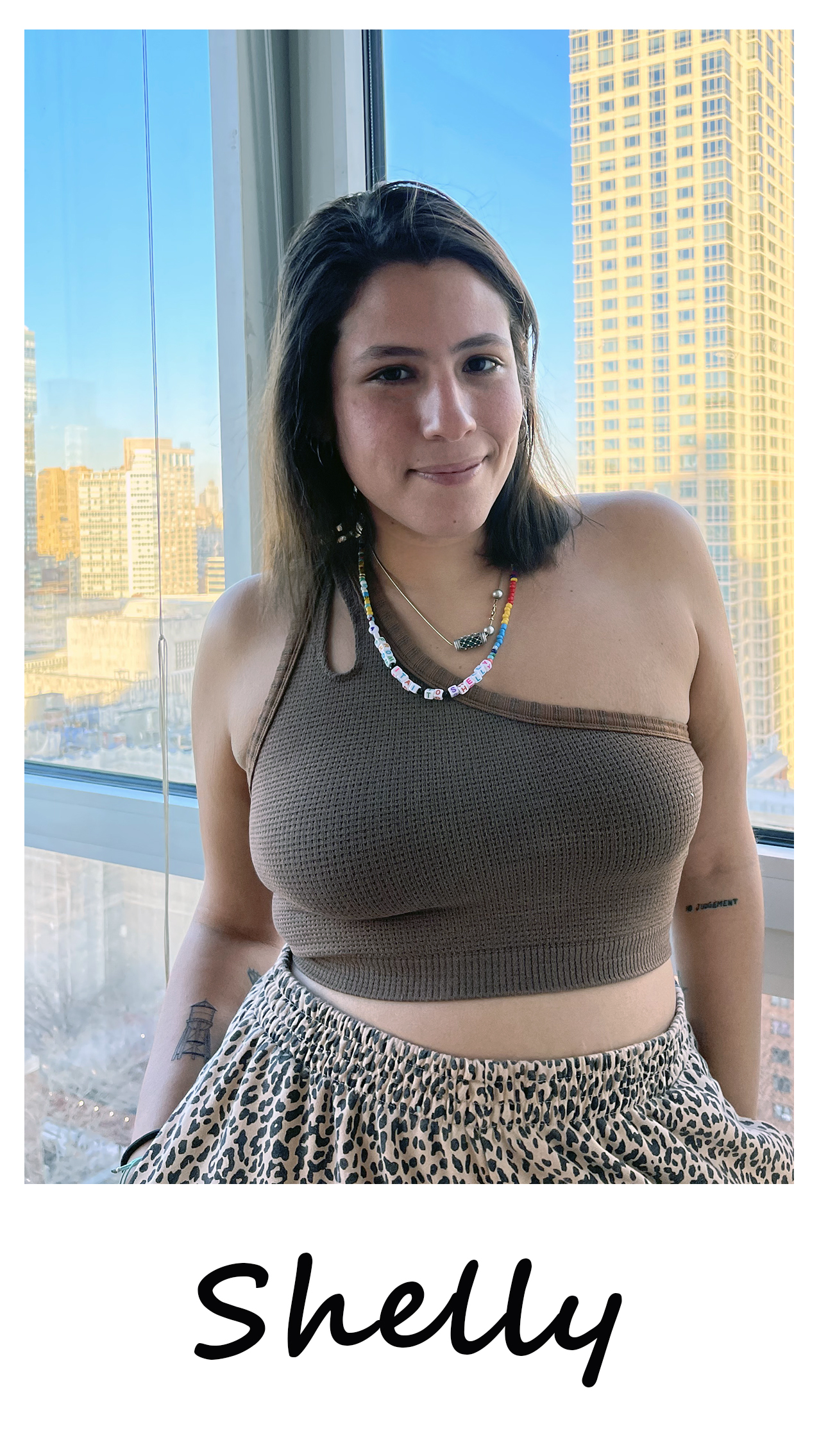 Name: Shelly
Major: Fashion Business Management BS '23
Minor: Economics
Hometown: Tel Aviv, Israel
Involvement on Campus: Vice President of the Phi Theta Kappa Honor Society, Lab Monitor, Academic Skills Center Tutor
After growing up in Israel and completing military service there, Shelly wanted to experience living and studying in a different part of the world. She was drawn to New York City as a place for opportunities in the fashion industry.
Before coming to FIT, she was concerned about the unfamiliar American education system and following the requirements related to her status as an international student. However, she learned that she was not alone, with many international students with the same concerns, and was comforted with the fact that there was always someone able to help and provide answers. She advises new students to believe in themselves and their ability to succeed and not to be afraid to reach out for help! Shelly's proudest FIT moment was making the Dean's List after freshman year.
Shelly loves the feeling of constant excitement and motion in NYC. She enjoys working out, hip hop dance classes, and flea market vintage shopping in her free time.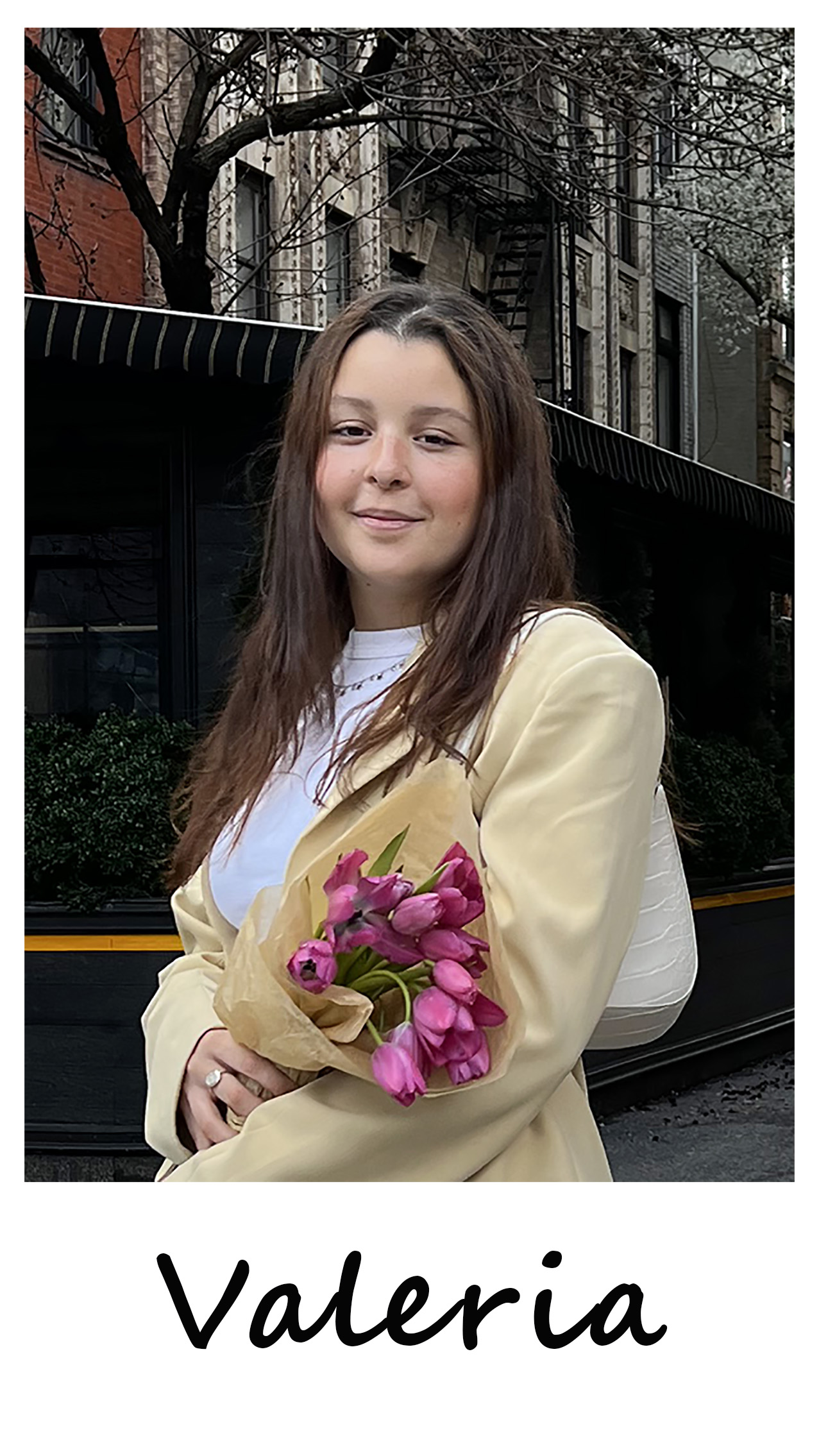 Name: Valeria
Major: Fashion Business Management BS '24
Hometown: Caracas, Venezuela
Involvement on Campus: Merchandising Society, Latinx Culture and Career Association
Valeria is passionate about building community. She was concerned about making friends IRL after doing her first year remotely, so she created a group chat to coordinate in-person meetups for the peers she had been interacting with online. Valeria's advice to new international students is not to be afraid to reach out to classmates and to get involved in clubs or activities on-campus. In addition, she stays organized with an Excel sheet of her class schedule, assignments, and extracurriculars - it makes college life more manageable!
Valeria loves how FIT is a space that embraces both individuality and professional goals. She finds her classmates' passion for their beliefs, schoolwork, and opinions inspiring. She also enjoys the opportunities to find on-campus work and internships.
For Valeria, there is never a dull moment in New York City! There is so much to do and explore alone or with friends. She likes taking sunset walks along the Hudson River and discovering new restaurants in her free time.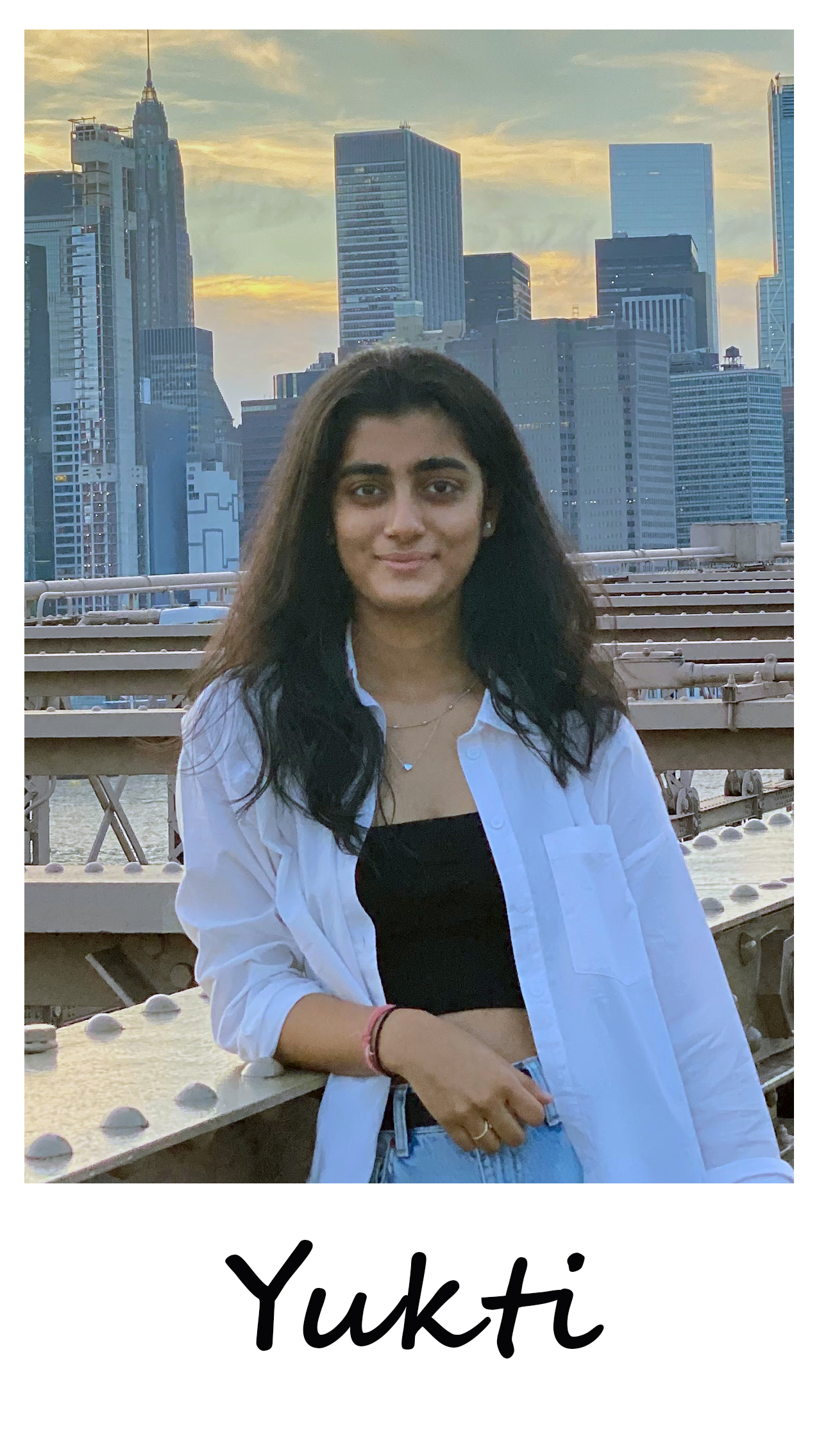 Name: Yukti
Major: Communication Design AAS '23
Hometown: Delhi, India
Involvement on Campus: Chief-of-Staff of FIT Student Government Association, Resident Assistant, Phi Theta Kappa Honor Society, Orientation Leader
Yukti is a highly involved FIT student in both the classroom and her extracurricular pursuits. It initially took time to adjust to a new country and balance her social, academic, and professional activities, but she is proud to have achieved these goals while maintaining a high GPA and starting her position as a Resident Assistant.
She wanted to study abroad to gain a broader understanding of her field and global experience. She loves that FIT is a diverse campus where you meet like-minded people from all over the world and believes these experiences are essential to personal and professional development and success. Yukti advises new students to get involved in campus events and to make as many connections and friends as possible.
Yukti believes that New York City is the place to make your dreams become your reality! Outside of school, she loves exploring the city on foot, baking, and painting.