Lighting Setup for Photography
What is needed:
Steady On studio lights
Diffuser umbrellas
Standing tripod
Digital camera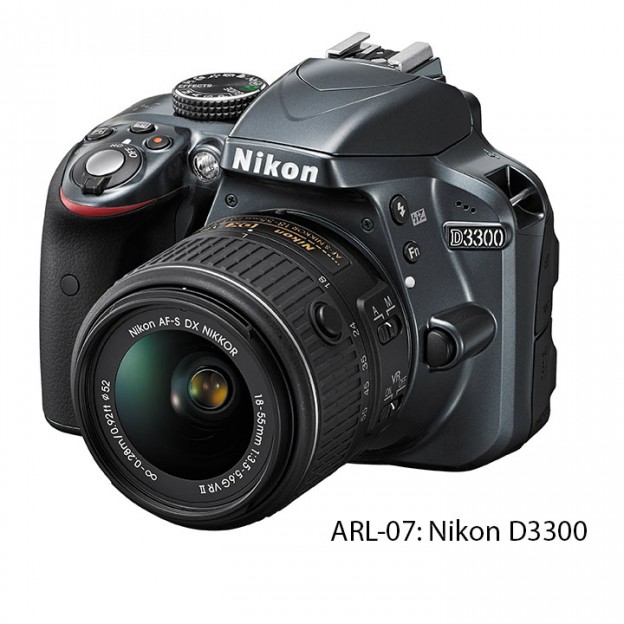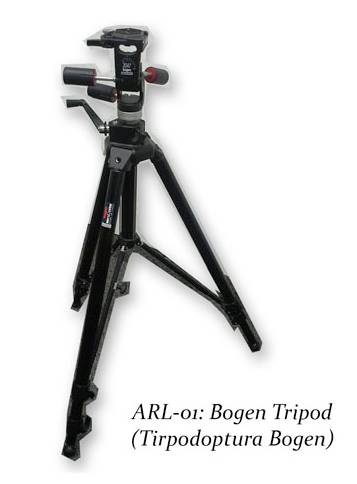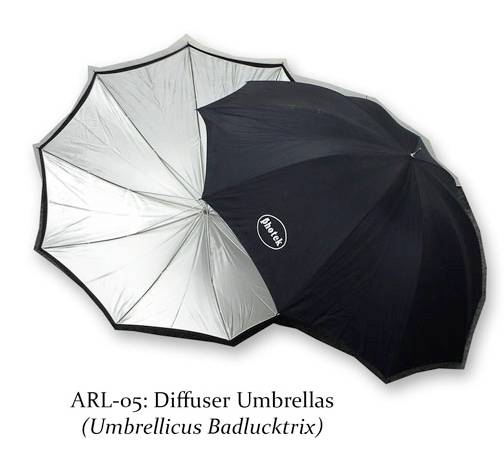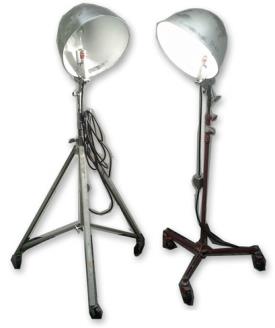 Standing Light and Umbrella Diffuser Setup
**Please Note: Not every Lighting Kit will be the same. For assembly instructions for the other kits available, please refer to the tutorial that is specific to the lighting kit in question.**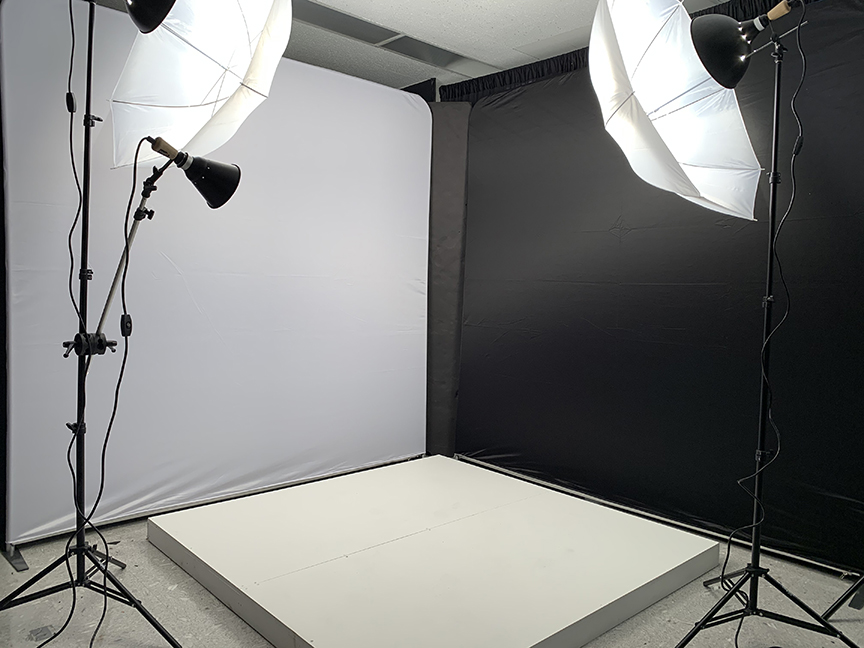 Shown is the correct setup for artwork documentation. The tripod is perpendicular to the wall; the lights, outfitted with diffuser umbrellas, are facing the wall at a 45° angle in relation to the object and wall.
Diffuser umbrellas will help soften and even-out your lighting. Loosen the clamp, insert the umbrella stem, then tighten. When the pole is in the correct position, tighten the clamp to secure the pole's position.
The reflective surface of the umbrella should be facing the light, and the light faced away from the wall.
Once both lights have been outfitted with diffuser umbrellas, adjust their positions so that the wall is evenly lit. In general, a 45 degree angle from light to wall will minimize shadows and glare.
If you need to tilt the lamp housing, to raise or lower the spotlight, carefully loosen the knob. When loose, reposition the lamp and tighten again. Be careful when you do this as the lamp will begin to tilt on its own when the screw loosens enough – keep a hand on the lamp housing itself.
When you have your lights and umbrellas set up and properly aligned, affix your artwork to the wall in the center of the lit area, and you are ready to shoot! It is a good idea to bracket your shots, and remember that a lot of the wall's inconsistencies or other issues can be edited in Photoshop.
Overhead View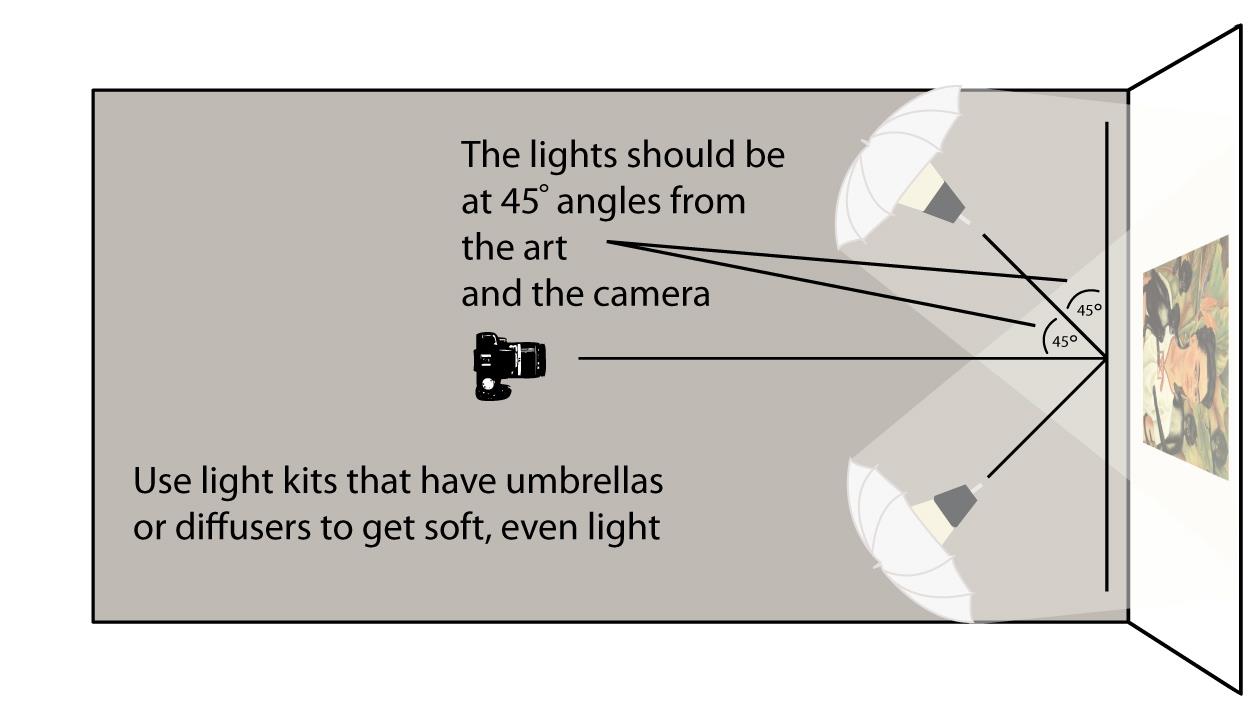 The lights should be at 45° angles from the art and camera. Use the standing lights with the umbrella diffuser attachments for soft, even light.
This is an overhead view of optimal lighting setup. Note that the exact angle may be adjusted to accommodate various surfaces and reflectivity in your artwork.
Side View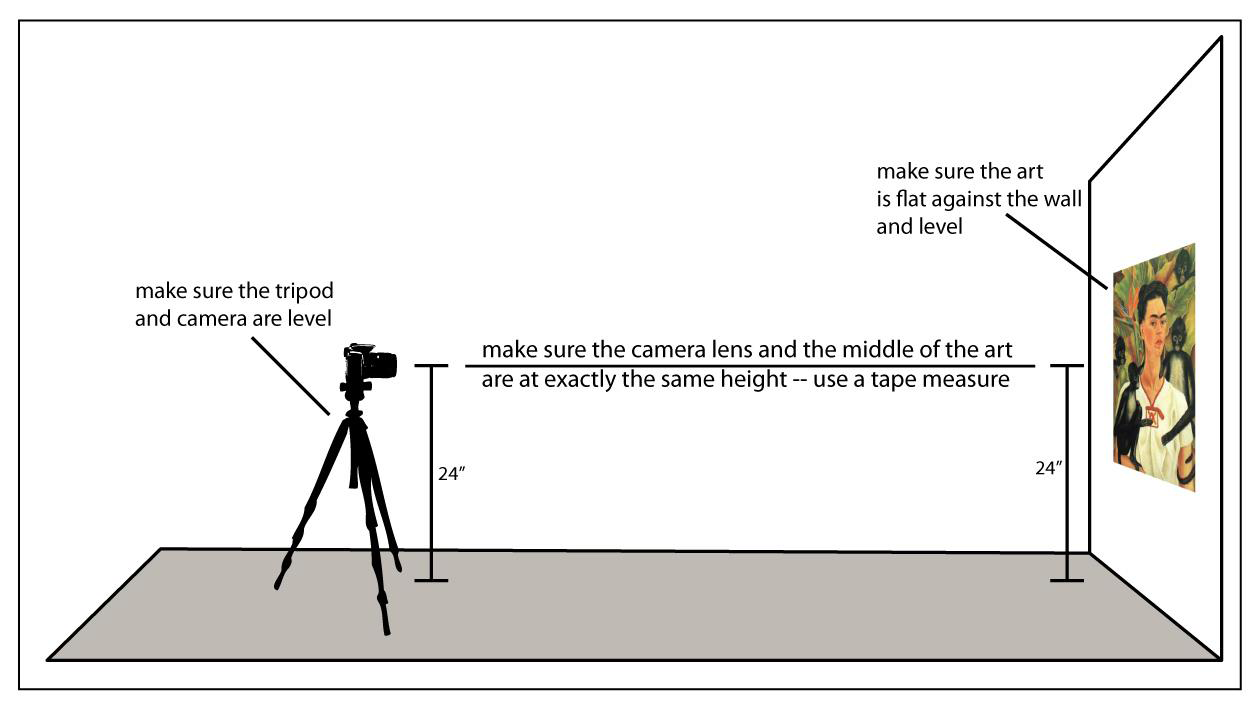 This is a side view, showing how the camera should be centered and leveled v. the artwork you are shooting. The camera lens and the middle of the area are exactly the same height.
Make sure the tripod and camera are level, while the art is flat against a wall and level to the ground. Then also ensure the distance of the camera is appropriate as to capture the whole image of the art. To take the perfect photo, ensure the center of the camera lens and the middle of the art are at the same height. A tape measure can be used for this if available.