Fashion Design MFA Showcase 2022
FIT's MFA in Fashion Design is a creative laboratory where technology, talent, and inspiration intersect in one of the world's premier fashion capitals.
The graduating class of the MFA Fashion Design program presented their final pieces in a runway show on Wednesday, June 8 at 3 pm in the Katie Murphy Amphitheatre.
Fashion Design MFA Showcase 2022: Unbound (Official Trailer) from FITNYC on Vimeo.
Music courtesy of Alfonso Ordosgoitia / GOITIA STUDIO
PHOTO GALLERY OF UNBOUND COLLECTIONS ON FLICKR
The Graduates
Ana Jablinski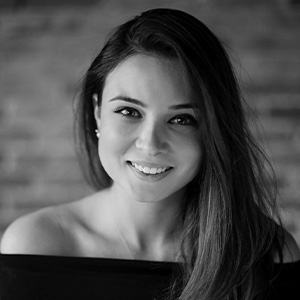 Ana Jablinski was born and raised in Curitiba, Brazil. After obtaining her bachelor's degree in fashion design and working for small Brazilian brands locally, she relocated to San Francisco as a designer for the bridal startup, Anomalie. Working closely with lace reinvigorated Ana's love for an art form she grew up appreciating on childhood trips to Santa Catarina, watching local women knit a distinct form of lace entirely by hand. In New York, Ana has worked for threeASFOUR and Proenza Schouler and earned her Master of Fine Arts in fashion design at the Fashion Institute of Technology.
Inspired by Margaret Mee's and Carl Friedrich von Martius' respective journeys to the Amazon Rainforest in Brazil, Ana Jablinski imagined discovering an old, abandoned greenhouse hidden in the middle of the rainforest today. This fantasy awoke Ana's nostalgia for her home country's diverse flora and unique architecture. Terra Incognita is a collection that highlights Brazilian craftsmanship and sustainability in fashion through classic and contemporary silhouettes.
Bethany Plymale
Bethany Plymale designs body and age-inclusive New York streetwear with black as the predominant color in all collections. Raised in the traditional South, Bethany's mother has been instrumental in her development into womanhood and how perceptions of fashion, beauty, and dress came to be. Her designs deconstruct the construction of women in domestic society and norms of beauty imposed onto women at a young age – showing curiosity about the relationship of body, form and cultural norms.
"Reflection" is the study of mother-daughter generations, the dynamic relationship between mother and daughter and how it affects fashion. From a young age my mother projected her tainted idea of beauty and insecurities onto my sister and me, in an effort to protect us from the patriarchy lies of what women should be. Inevitably my sister and I felt subjected to the male gaze, sexualized, and developed unrealistic expectations of daily dressing. Through my thesis, I dissect my mother, our relationship, and the insecurities of dress and body that were formed – breaking the cycle of generational shame with me.
Diala Dabbous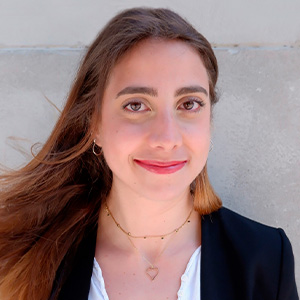 Texas-born with Lebanese origins, Diala Dabbous spent her childhood and teenage years traveling back and forth between America & Lebanon. Throughout her graduate studies at the Fashion Institute of Technology, Diala developed an experimental attitude toward design focusing on the human form and what it means to her. Dabbous constantly seeks to discover new methods and techniques – pushing their typical limits to create a holistic design identity. Although her work has revolved mostly around menswear, she keeps an open mind and enthusiasm to address new challenges.
The body, the physical structure that forms a human being, the structure that the fashion designer in me admires. The body is my inspiration, from the inside to the outside. It should be considered along with its movement, its imperfections and its existence. As a focus of my practice, I contemplate the body. I went on a journey of investigating the human form, looking at different ways of perception and coming up with my own. I studied classic anatomy, the dissection of a body and its kinetics. I admire the fit of clothes on a certain figure. I've always questioned how clothes can comfortably sit on the body, move with it and garnish it, giving it its utmost capabilities and enhancing them without necessarily restricting the physique.
He (Irene) Zhu
He Zhu pursues fashion as a fine art form that also incorporates modern ethos. Once trained as a scientist, Zhu is dedicated to creating a solid theoretical foundation for her design with a precise touch of details. Zhu inherited her grandma's aesthetic taste: the kind of elegance and subtlety that comes from the Chinese scholar-gentry in the early 19th century. With an aim to Introduce a balance of Apollo and Dionysian spirits into her designs, she explores the extension of the body with a sustainable approach – folding, zero waste patterns, collaging – reimagining fashion from linear to spatial, sensorial, and temporal dimensions.
Chinese designer He Zhu's philosophy is that "Fashion is a form of fine art." Her collection "cloth: square: white" is a way to experiment with clothing as an extension of the spiritual body. The collection projects the ancient East Asian view of the body into contemporary fashion through light & shadow and geometry. The designs feature white squares in different variations and combinations that change the silhouette on the body, with an aim to create a sustainable lifestyle - a unity between man and universe.
Johanna Orlowski
Johanna Luisa Orlowski was born in Germany and raised in Ukraine. She moved to Berlin in her 20s where she became highly skilled at tailoring and decided to study fashion design in order to develop her craft. After working for a few years she decided it was the right time for graduate school. Currently, she is both finishing her MA in Berlin with Hussein Chalayan as her supervising professor and her MFA at FIT in New York where she resides with her husband.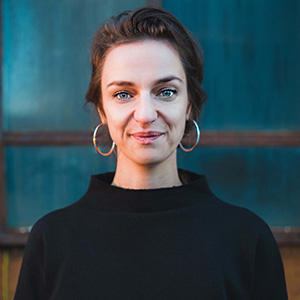 Johanna's designs are rooted in a sustainable approach, which is the most prominent and recurring element of her work. With sustainability as the leading compass of her creations, she also plays with the notion of being an immigrant. She finds inspiration in the past to create very personal and unique pieces by using discarded fabrics and garments that she transforms into new unisex pieces of clothing. Layering is a technique she often incorporates and interprets in a variety of ways. In this collection the pieces are interchangeable. There are no set outfits or rules on how to wear them.
Matthew Okerayi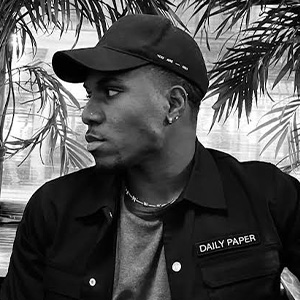 Queens native, Matthew Okerayi uses art as an escape from authority. Growing up with traditional standards imposed on him, his designs allow him to escape conformity. Prior to studying fashion design at the Fashion Institute of technology, he obtained his bachelor of fine arts degree in graphic design at SUNY Cortland. Business owner of the brand DBO established in 2017. In addition he was honored as a 2021 CFDA Design for justice Finalist and the Mimaki 2021 innovation award. Matthews' work is a catalyst for what is not known.
Matthew Okerayi's collection leverages fashion to express his personal interests for uniforms, art, culture, and politics in this collection. In embodying the delicate balance between political critique and history, his work takes risks. The back being one of the focal elements of each look because it is the body's greatest canvas. He also reflects on the strong women figures in his lifetime, striving to tell their story of their internalized efforts. Uniform, I believe, binds us; this is my counter-argument which is a privilege to be able to present.
Mengyao (Marie) Lin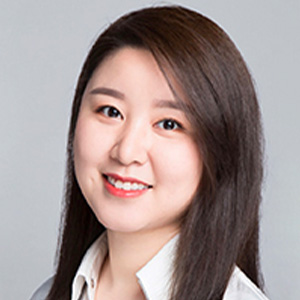 Mengyao Lin was raised in Shenzhen, China. She brings eclectic colors, surprising and one-of-a-kind textures, and a three-dimensional sculptural style to her designs. Mengyao brings her lively and cheerfully positive perspective to her creative universe. Among her passions, color selection and combining stand out as strengths. Prior to earning her Fashion Design MFA at Fashion Institute of Technology, Mengyao worked in design roles in ready-to-wear, swimwear, knitwear and accessories in New York, London, and Shenzhen. While working for a brand, her designs were selected to be shown on the runway during New York Fashion Week.
This collection is inspired by desserts and sweets. I wanted to find a theme that I enjoyed and that would make people feel joyful. The things around us often impact our emotions. In a depressing and stressful time, dessert is the food that brings happiness and delight to people. My color palette is inspired by the color combinations of candy wrappers and desserts. I use pastel and bright colors and uncommon materials like PVC to make beautiful and unique handcrafted designs. I hope the bright colors and surprising textures make people feel positive and upbeat in disappointing times.
Sarah Maazouz
With a practice rooted in exploration and experimentation, Sarah Maazouz uses scientific phenomena as a vehicle to enhance human perception and challenge the limits of physical form. Maazouz holds a Bachelor of Science Degree in Chemistry from the University of Notre Dame, and works at the intersection of fundamental science and human experience to bring her garments to life. Throughout both process and outcome, she aims to trigger a spirit of curiosity and inquisition. Maazouz was honored as a 2021 CFDA Geoffrey Beene Finalist and a 2022 Bob Fisch Scholar.
"THE OBSERVER" serves as a reflection of the value of physical presence within modern culture. Garments are constructed as extensions of the body where physical form is used to disrupt patterns of routine interaction and provoke an "awakening" of the wearer. The collection materializes light and color phenomenon through lace, pleating techniques, and diffraction gratings; ultimately expanding the presence of the physical body's boundary into the environment in which it exists. At what point do we stop blindly existing? Or is this a reality we accept?
Sean Patrick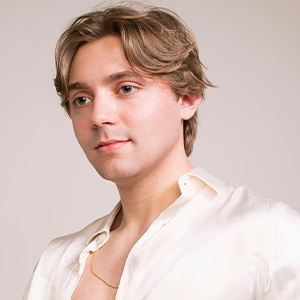 Sean Patrick is an Irish-American designer based in New York City. Through fashion, Sean illustrates escapist feminine fantasies, curated through a queer lens. Merging hyper-feminine aesthetics with Celtic motifs, Sean integrates his cultural heritage with a glamorous vision of femininity. Before pursuing his master's degree at the Fashion Institute of Technology, Sean earned his bachelor of fine arts degree in fashion design at Columbia College in Chicago. Sean has shared his eclectic taste and refined craftsmanship with New York based brands Mirror Palais, 3.1 Phillip Lim, Bach Mai, and JQN.
Marie-Louise O'Murphy was a young, Irish mistress who lived in the palace of Versailles. Far from her humble Irish beginnings, she lived in the center of femininity and luxury during the Rococo era. The Allegory of Femme depicts O'Murphy's story as a metaphor for Sean Patrick's own journey as a young man who grew up in an Irish household with feminine, dramatic taste. Once believing that the conservative traditions of Ireland had no place in the glamorous aesthetics he was interested in, The Allegory of Femme sees these contrasting influences intertwine to create a beautiful and sensual display of Gaelic art.
Shine He Sang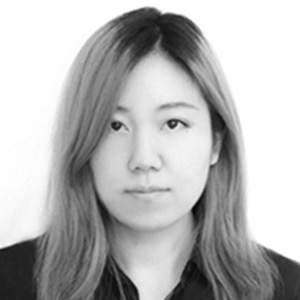 Raised in Beijing China, Shine He Sang combines architecture with fashion in her designs. Prior to earning her MFA at FIT, she studied fashion at Parsons, and holds a graduate degree in architecture design from Columbia University. Her work integrates digital approach with craft methods from 2D to 3D to address societal issues, especially feminism topics. She seeks an ideal Tomorrowland free of gender bias. During her study in the program, she received the Mimaki 2021 Innovation Award and was a finalist for the 2021 Geoffrey Beene Design Masters Scholar Award.
In some areas, especially Asia, gender rates at birth could hit 300 boys for every 100 girls illustrating the most severe situation of baby girl gendercide. The collection reveals systematic gender inequality in multiple aspects ranging from basic birth and living rights to societal engagement and to self-realization rights. To present these issues, the looks focus on computer-aided silhouette design and patternmaking as well as colorful fabric prints that are developed from hand painting. Hand pleats and beads are used to add textural sensation to the collection, while 3D color printed hardware brings in more depth of detail. The collection is realized with special thanks to sponsors Mimaki and Swarovski.
Shumeng Zhang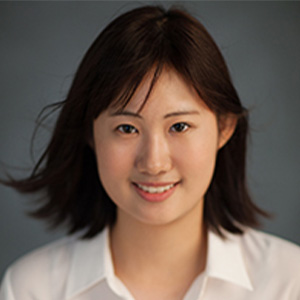 Shumeng Zhang was born and raised in Shanghai, China. She moved to New York and graduated from New York University, earning a Bachelor of Arts degree in interdisciplinary studies focusing on marketing, fashion business and art history. Shumeng interned at XUZHI and Bode which led to her interests in craftsmanship and sustainability. She intends to create avant-garde and unconventional designs. Her work is influenced by art history and gender studies. Shumeng's thesis collection was inspired by dancing and club culture, exploring the relationship between fashion and body and the symbolic meanings behind garments.
This collection represents our experience with clothes as the second skin and the contrast between masculinity and femininity. It is inspired by Martha Graham's "Lamentation" and the New York dance floor. The collection combines menswear and womenswear elements in a distorted way, by mixing ruffles and bold colors with tailored jackets, shirts, and menswear fabrics. It aims to question gender stereotypes. With stretchable fabrics, the wearer's body is restricted but is still free to move, showing the conflict that a dressed body faces.
Stephanie Kim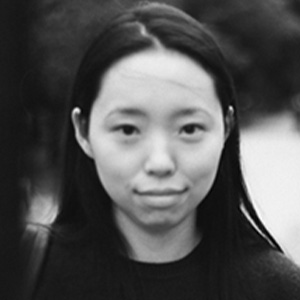 Stephanie Kim is a Korean-American multidisciplinary artist and award-winning designer. She studied visual communication at the School of the Art Institute of Chicago and received her MFA at the Fashion Institute of Technology, studying fashion and costume design. She is a two-time Cannes Young Lion winner for her graphic design works, and her fashion design works have been recognized by the CFDA. Her most recent film, a collaboration with Taylor Ervin, recently premiered at the Berlin Sci-Fi Film Festival.
Stephanie Kim's graduate collection "Sapiomatica" is based on the fictional story of a young heroine living in a distant dystopian future. The heroine's life is closely intertwined with machines. She lives amongst toxic waste in an unforgiving industrial landscape. The garments of this collection contain industrial pipes sewn into the seams. Acid-treated radio frequency shielding fabrics, rubber and plastic form the basis of many pieces in the collection. The film that accompanies the collection explores the heroine's escape from her factory job as she emancipates herself from the inhumane servitude on the factory floor and runs towards freedom.
Wenwen Lei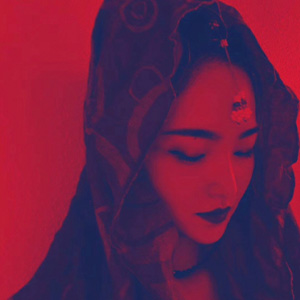 Born in nation Yi, China, WENWEN LEI is committed to combining diverse new elements with tradition to create a futuristic national brand. WenWen's philosophy is that the beauty of intangible cultural heritage should not only be displayed in museums but should be integrated and adapted to the modern fast pace. Her MFA thesis collection is the beginning of her exploration of nation Yi and ethnic diversity. With an experimental approach to life and her work, WenWen likes to visualize time in front of people, combining tradition with modernity, whether it is modern technology, silhouettes, or fashion trends.
​​With my collection name 彝Yi, I chose to combine Chinese and English characters, which echoes my design idea of combining Eastern elements with Western silhouettes. I was inspired by the mountains, birds, and animals in my hometown, and I fused the technique of Chinese ink painting to depict nature in my garments.In this graduation collection, I show five kinds of intangible cultural heritage crafts: handmade wool tassels, handmade pleating, silver bubble embroidery, patchwork embroidery and lingering embroidery. I created this collection with the intention of giving new blood to millennia-old civilizations by using modern and futuristic silhouettes to bring forward the old craftsmanship.
Xiaolin (Kristen) Wu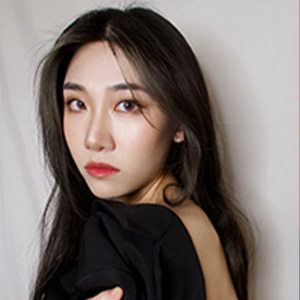 Kristen Wu is a Chinese designer. She earned a Bachelor of Fine Arts in fashion design at the Academy of Art University, and is completing her Master of Fine Arts in fashion design at Fashion Institute of Technology. She has worked in fashion design at Zero + Maria Cornejo. Kristen is obsessed with functional garments, deconstruction, and world cultures. Her philosophy is that modern clothing should also have functional design. The idea of perfect form and perfect function leads her to a unique design direction. With a longtime personal interest in riding, Kristen's work has a strong equestrian influence.
Kristen Wu's graduate collection explores the fusion between Western and Eastern equestrian culture. In her two years of researching and creating functional and innovative fashion, Kristen draws on her understanding of practical details and explores the evolution of equestrian clothing through time using past, present, and future silhouettes and techniques. She consistently tries to remove and simplify traditional trims, fabrics and shapes without losing the Western and Eastern equestrian elements. Always collecting and absorbing new research to combine with unique functional concepts, her design process creates infinite possibilities for the development of modern womenswear.
Yu-Hsuan (Stephanie) Chen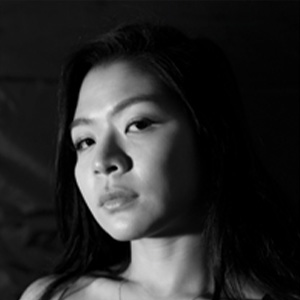 Yu-Hsuan Chen (preferred name Stephanie) is a Taiwanese-born, New York-based designer focused on luxury, minimal womenswear. She holds a BFA Fashion Design degree from Pratt Institute and is graduating with an MFA Fashion Design degree from Fashion Institute of Technology. Stephanie has worked closely with designers Narciso Rodriguez, Prabal Gurung, Caron Callahan and Asher Levine. Her mother is the first woman who inspired her with the contrast of vulnerability and strength, informing her definition of empowering women.
As designers, we often ask ourselves: Who is your muse? Who is the woman you are designing for? My answer to that question would be "Soft and delicate on the outside. On the inside, she holds passion, and is strong and untouchable. A sophisticated warrior." This collection introduces my definition of women that are seen as soft, gentle, but there is a strength to her personality. I reflect my personal observation onto clothing and fashion – finding a balance in the looks, and generating the idea of harmony in technique, fabrication, soft tailoring and draping around the female form.
Yuning Gong
Yuning Gong is a women's ready-to-wear designer currently based in New York. Her work is always inspired by a combination of literature, stand-up comedy, cult movies, contemporary art, rock music and architecture. She works by draping around the body and constantly playing with unconventional fabric and color combinations to provoke senses. Believing fashion should be not just clothing but also experiences and lifestyle, Yuning persistently strives to make interactive, interdisciplinary and immersive collections.
Mimicking the trajectory of tragic hero stories, I decided to write a tale with garments to document my six-year journey in fashion. Recognizing the comical absurdity of this journey, ¿Dusk /Dawn? aims to celebrate both virtues and flaws within, and to make peace with such conflict for growth and development. This collection is highly personal and plays a crucial role in her transformation from a student to a designer.
Yunjiao (Ciea) Mao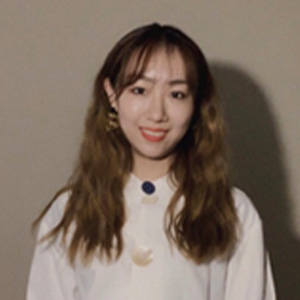 The collection is inspired by the cultural dilemmas that I have experienced living in Eastern and Western societies. Going back to personal roots, I use folds, layers and dimensional fabrications to find beauty under the more veiled expression of Eastern culture. It's a journey of self-discovery to explore two aspects, nature and people, and to understand the harmony of them. It's free and restrained, strong but soft. It aims to empower women with its oversized silhouette and create an emotional resonance through a surge of power in a static state.
"I cannot say that my dreams and reality are entirely separate. They are intertwined. Dreams are a kind of subconscious. They reflect our subconscious cognition of things during the daytime. Scenes of our dreams may also appear in our real lives as a kind of prediction. With the passage of time, this dreamland seems to become a part of my memory. As more time passes, I sometimes can't tell if something that happened was a dream or something that I actually experienced."
Zhendong (Samson) Jiang
Born in China, Samson Jiang studied fashion design in New York and Florence. Beginning with the simple idea of expressing people's feelings through clothes, Samson Jiang focuses on the contradictions of human feelings and how the effects of fabrics relate to those sentiments. Samson's designs transform feelings into a calm philosophy of life with poetic design language. It is sensitive, fragile, balanced and intimate.
Forty years after deconstruction shocked the world, the coronavirus pandemic, ethnic barriers, and wars tore us apart. People are getting confused, as if the impulse is still in their heart but cannot find the direction. Such a "Sentiment Dilemma" unintentionally reveals reconstruction. It has the same form as deconstruction but in the opposite direction. Not to show the rifts, but to hide and heal. By adding wrinkles, folds, and silk organza, the boundaries of the deconstructed clothes are blurred and a state of coexistence is created. Hidden in the folds of jackets and dresses to indicate a process of reconstruction, fabric flowers bloom and try to heal the broken garments and soften the rough structures.