The Materials Laboratory at FIT is equipped with:
analytical scanning electron microscope (Phenom XL Desktop SEM)
gold sputter coater (Cressington 108)
infra-red spectrophotometer (Nicolet iS5 FTIR)
visible spectrophotometers (Spectronic 200)
lithography 3D printer (Forms Lab 2)
Further equipment is available in other departments.
Analytical Scanning Electron Microscope
The Phenom XL Desktop SEM, supported by the National Science Foundation under Grant No. 1919563, is located in Room C816A.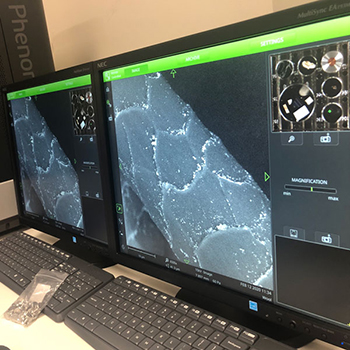 The Phenom XL SEM is a versatile variable-pressure benchtop SEM with a CeB6 electron source and electron and x-ray detectors:
a secondary electron detector for imaging surface topography
back-scatter electron detector for imaging with topography and compositional contrast (electron density contrast)
(This detector is especially useful for samples that cannot be coated. A gold coater is available, if needed.)
energy dispersive x-ray spectroscopy for characterization of elemental compositions
(Elemental composition profiles can be carried out at a point, line or area on the material under analysis.)
maximum sample size 100mm x 100mm x 65mm or 36 1/2" stubs per sample holder
variable pressure (high, medium, low) and electron voltage (5kV, 10kV, 15kV)
Uses of this SEM include characterizations of biomaterials and engineered textiles, nanocoatings, and ancient pigments. It will also be used in an electron beam-matter interaction research project.
The SEM will be integrated in various STEM courses, to support and train future curators in collaboration with The Museum at FIT and to enhance science exposures through collaborations in art, fashion, and design.
For further information and access of this equipment, please contact [email protected].
Principal Investigator: Dr. Deborah Berhanu
Co-Principal Investigator: Dr. Karen R. Pearson