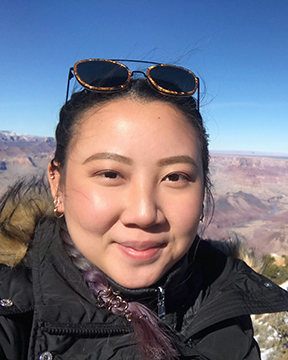 Name: Alexis
Major: Fashion Design, Special Occasion Specialization BFA '20
Minors: History of Art, Italian Studies
Hometown: Singapore
Involvement on Campus: Academic Skills Center Tutor
Alexis's Fashion Design studies at FIT have led her to pursue coursework in both Italy and New York City. She spent her first, second, and fourth semesters with the FIT in Florence program at Polimoda and will complete her studies as an international student in the US. Alexis had always wanted to travel the world, and decided that studying abroad was the perfect way to do so. She advises new international students to not be afraid of talking to people and making real connections. Some may feel inclined to stick to their own group, but after getting past any initial awkward interactions, one may find that people from other cultures are in the same situation too. If school gets stressful, be sure to visit Health Services for free massages and acupuncture!
Alexis loves the inclusivity she finds at FIT. Students are comfortable being themselves, and there are many different fun social and cultural activities on campus. In her free time, Alexis enjoys watching horror films, visiting gardens, and trying cuisines from other cultures.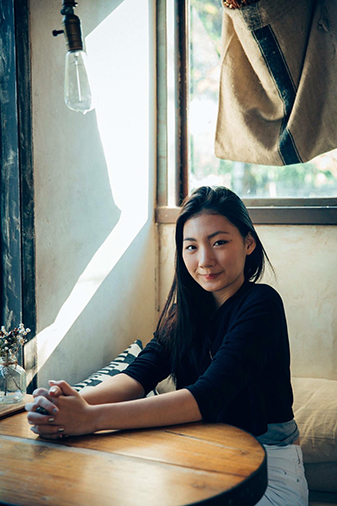 Name: Alin
Major: Fashion Business Management BS '20
Hometown: Bangkok, Thailand
Involvement on Campus: Orientation Leader, President of National Retail Federation Student Association, Creative Director of Runway27
Alin's program at FIT is her third time studying abroad! From early on, she wanted to pursue studies away from home in order to have a broader choice of majors. She believes that travelling and learning about other cultures make a person more mature and experienced.
She advises new international students to get a planner. Time management is key to living to the fullest in New York City, while excelling at school and internships! Alin regularly uses the FIT Writing & Speaking Studio, which has helped with improving her grades along with teaching tips on reviewing and editing written work. The Career & Internship Center has helped her land a dream internship. She recommends participating in Leadership Weekend and attending the end-of-year Block Party to let loose. Back home in Bangkok, Alin enjoys horseback riding.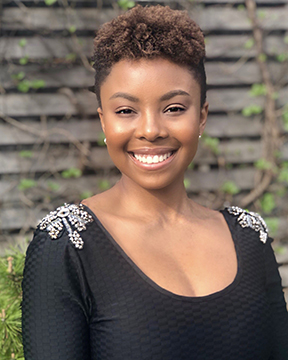 Name: Anya
Major: Fashion Business Management AAS '20
Hometown: Kingston, Jamaica
Involvement on Campus: Vice President of Fundraising for Phi Theta Kappa Honor Society, Track & Field
Community Service: Help Earth and Lives (HEAL), Operation Help the People, International Coastal Cleanup Day
Moving to New York City and studying at FIT is a teenage dream come true for Anya! She wanted to live in a fashion capital and gain professional international experience in the industry. Her goal is to use the knowledge and skills gained at FIT to help represent her home country in fashion. She is determined to increase the visibility and recognition of Jamaican fashion and thinks her studies at the center of the industry will aid her success.
Anya advises new international students to have an open mind and not stress by having too many expectations. Arrive with positive energy: this is just the beginning, and great things will happen! Attending orientation events and joining a club will help with adjusting to a new environment. Anya loves that FIT communicates events and resources available both on campus and in industry, keeping students engaged and aware.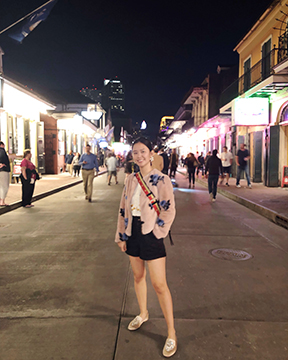 Name: Audrey
Major: Textile Surface Design BFA '21
Minors: Asian Studies, History of Art
Hometown: Bandung, Indonesia
Involvement on Campus: Phi Theta Kappa Honor Society
Audrey loves the community and friendships that can be found at FIT with people from different backgrounds and cultures. She wants new international students to know that they may feel lonely at times—this is normal and okay! She suggests working to build new friendships that can support you and make you feel whole. Also remember that family and friends are just one phone call away.
Audrey participated in a short-term FIT study abroad program, spending a summer in Italy studying Fabric Styling. She finds her instructors to be experienced and have extensive knowledge of the fashion industry. Outside of school, Audrey is a spin enthusiast and passionate about cooking.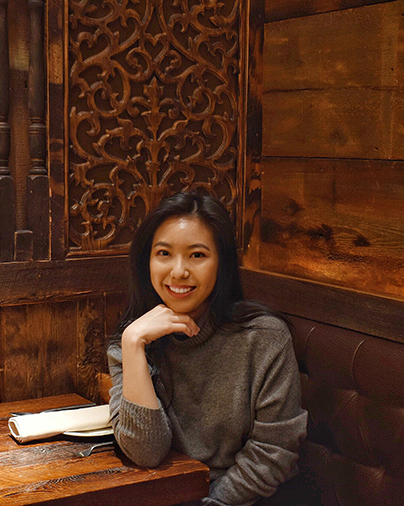 Name: Christine
Major: International Trade and Marketing BS '19
Hometown: Mandalay, Myanmar
Involvement on Campus: Student Monitor
Christine wanted to study abroad because of the increased opportunities and resources available in the US. She loves the sense of community at FIT, and enjoys having communal spaces in which to study and socialize with other students. She wants to let new international students to know that it is okay to get lost. Allowing yourself to wander can reveal new places you have not experienced before. She loves that New York City provides access to different kinds of food from all over the world. Her favorite dish is tiger prawn curry with rice from Southeast Asia. When she's not out exploring, Christine like to relax by watching TV, movies, and anime, reading manga and webtoons, and listening to music.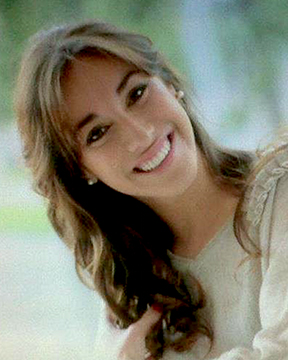 Name: Daniela
Major: Fashion Business Management BS '20
Minor: Mathematics
Hometown: Bogota, Colombia
Involvement on Campus: Phi Kappa Theta Honor Society
Daniela began her FIT experience in the Intensive English Language program and knew from early on that she wanted to study fashion. Before arriving, she was concerned about feeling alone in her new environment. During her first semester, she learned that good things don't come easily, but you shouldn't be afraid to fail and try again! Daniela loves the professors at FIT and feels that they have motivated her to be a better version of herself. Her proudest moment was graduating summa cum laude from her Associate program in Fashion Business Management. Daniela's favorite cuisines are Colombian and Italian. During her free time she likes to read, practice yoga, and hang out with friends.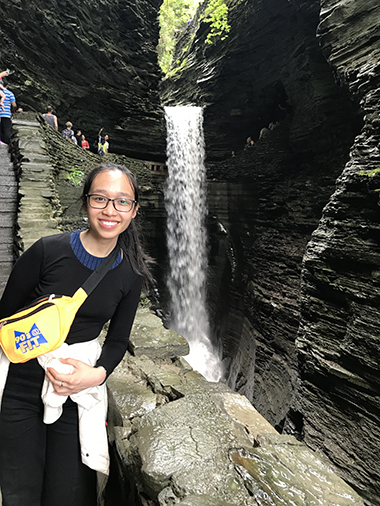 Name: Helen
Major: Fashion Design BS '21
Hometown: Ho Chi Minh City, Vietnam
Involvement on campus: Orientation Leader, W27
Helen's passion for design stems from a lifelong interest in Japanese culture and comics. Studying abroad runs in the family, and her father's experiences as an international student inspired her to become one too. Soon after arriving at FIT, she was faced with issues related to missing family and food from home, and creating new meaningful relationships. She found inspiration in her classmates and instructors and believes that it is never too late to pursue your dream. She advises new international students to take time out from their schoolwork to practice self-care. Grocery- and window-shopping are her favorite ways to de-stress. Helen loves that there are so many resources at FIT that could open doors to achieve one's dreams and that the people of New York City have a strong sense of purpose.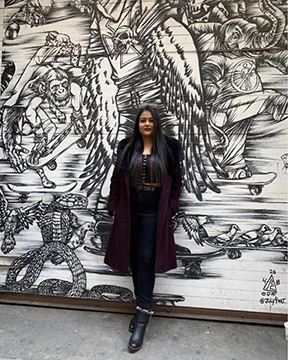 Name: Isha
Major: Fashion Design AAS '20
Hometown: Lucknow, India
Community Service: Prom Plus NYC
Isha is a seasoned international traveler who feels that her extensive travels have helped her grow as a person, so it only made sense for her also to pursue her college education abroad. Her initial application to FIT was not accepted, but Isha is proud to have succeeded on her second attempt; this made her feel that she can achieve anything she sets her mind to! While new international students may initially feel out of place in a new environment, Isha has found FIT and New York City to be accepting places where there is much to look forward to.
Isha finds her studies to be a lot of hard work, but they provide valuable training and skills for her profession, preparing her to succeed in the workplace. She stresses the importance of submitting your work on time! The tutoring services from the Academic Skills Center to be a helpful resource. When not in school Isha is a huge thrill seeker! While travelling, her activities lean toward the adventurous, including scuba diving, skydiving, and bungee jumping.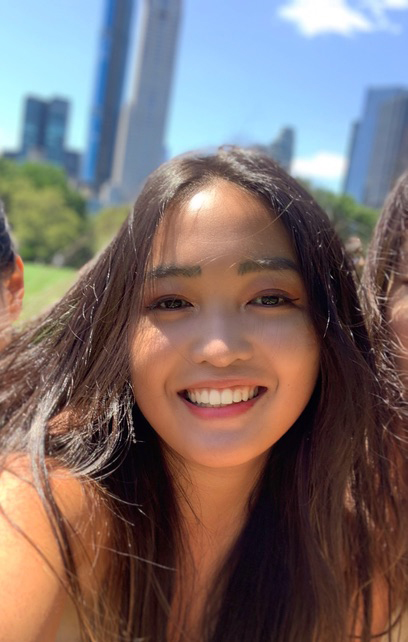 Name: Joyce
Major: Fashion Business Management, '18
Hometown: Jakarta, Indonesia
Singapore-born Japanese-Indonesian Joyce was interested in studying abroad in order to make friends and work with people from different cultures. She advises new international students to take advantage of the opportunities provided by FIT. Since starting her studies, she has learned to develop personal and professional connections by networking at campus events. Joyce loves the diverse, welcoming culture of the FIT community. She gets advisement about her status from the International Students Service office and curriculum advisement from the Office of the Registrar.
Joyce is interested in sustainable fashion, and is an avid runner and photographer in her free time.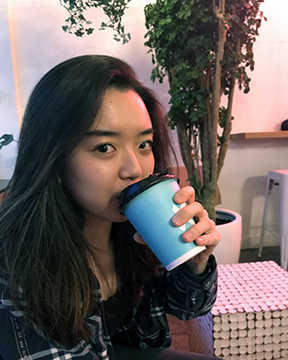 Name: Kazuki
Major: Home Products Development BFA '20
Minor: Sociology
Hometown: Aomori, Japan
Involvement on Campus: Home Products Club, Academic Skills Center Tutor
In 2013, Kazuki decided to move from Japan to New York to pursue her dream of starting her own home products line. Studying abroad in New York was the best decision she made since discovering her interest in home decoration.
Before arriving at FIT, Kazuki was most concerned about being a college student in a big city after growing up in rural Japan. Her proudest moment was earning an Associate degree in Textile Development & Marketing at FIT in 2018. She advises new international students to stay positive and motivated no matter what obstacles they face. She believes it is important to remind yourself why you moved to New York, and to get involved in club activities and events at FIT to meet new people and expand your network. She enjoys the local diversity of food, and people and her latest obsession is finding nearby cozy cafes to catch up with friends.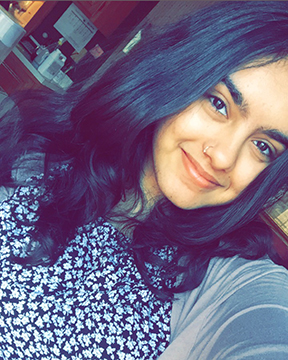 Name: Nimrita
Major: Fashion Design AAS '20
Hometown: Patiala, India
Involvement on Campus: President of the Co-Ed Hall Council, Residence Hall Association
Nimrita chose to study abroad because she wanted she wanted to explore fashion from different cultures and backgrounds and felt New York City was the best place to do so. Before arriving, she was most concerned about experiencing culture shock and worried she might have a hard time being able to adjust to new surroundings. Nimrita is most proud of getting through her first semester at FIT and succeeding in her coursework. She advises new international students to take things one step at a time and to prioritize self-care. Nimrita loves the diversity of FIT and the different cultural festivities celebrated on campus. Her favorite places in the city are the nearby High Line elevated park and the piers. Outside of class, Nimrita is an avid coder and enjoys drawing, dancing, and reading.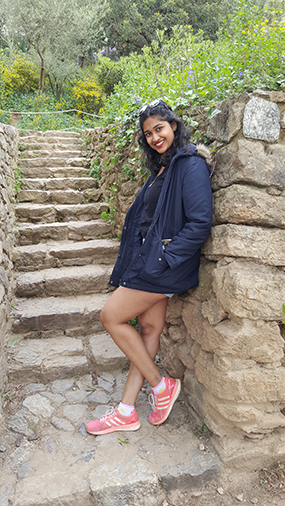 Major: Fashion Design BFA '20
Minors: Art History and French
Hometown: Singapore & Dubai, United Arab Emirates
Involvement on Campus: Resident Assistant
Ramani is both an international student and an FIT study abroad student! She began her first year of Fashion Design studies with the FIT in Florence program at Polimoda. She chose to study abroad in order to gain more international exposure to different areas and specializations of the fashion industry. Ramani is a dedicated student leader and serves as a Resident Assistant in an FIT Residence Hall.
She advises new international students to get involved in campus, meet new people, and explore! She also encourages students to use the services available through the Career & Internship Center.
In her free time, Ramani enjoys hanging out with friends, volunteering at Housing Works, and re-reading Harry Potter books.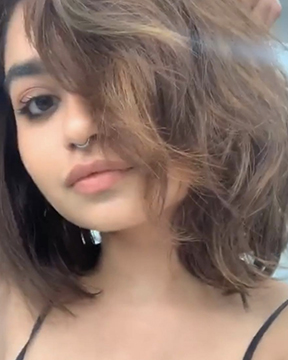 Name: Rhea
Major: Fashion Business Management AAS '20
Hometown: Guangzhou, China
Involvement on Campus: Phi Theta Kappa Honor Society, National Society of Collegiate Scholars
Community Service: Friends International – Laos
Rhea is truly a global citizen. She is of Indian descent, born in Uganda, raised in China, and attended secondary schools in Singapore and India. She is also a polyglot who speaks five languages. Still, moving to the US to attend FIT was a big change and she experienced culture shock while adjusting to her new home. She emphasizes the need for time management; it is very important to schedule yourself in order to complete assignments on time in order to avoid stress and do your best work. Rhea loves the opportunities she has at FIT. Rhea feels that the people, events, and resources available here will assist in the transition to the professional world.
Rhea enjoys a sense of freedom in New York City. She loves that people here express themselves and are accepted for who they are; this inspires her to do the same.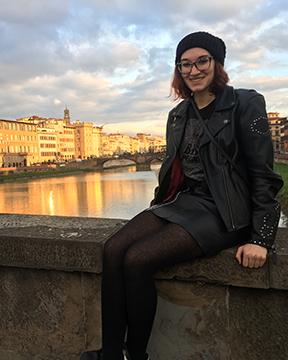 Name: Riley
Major: Fashion Design BFA '20
Minor: Ethics and Sustainability
Hometown: Lancaster, Kentucky
Involvement on Campus: Sustainability Week, FIT Natural Dye Garden
Riley has participated in two of FIT's Study Abroad programs in Italy! She spent a semester during her Associate's degree studying at Polimoda in Florence and the first year of her Bachelor's in Milan at Politecnico di Milano, where she studied Fashion Design. She was inspired to study abroad after befriending an Italian exchange student in high school and admired her courage to study in the US.
Before coming to FIT, Riley was concerned about navigating a major city and feeling comfortable at her new school. She recommends that new international students have a presence on campus outside of class: joining clubs and attending events will help form valuable connections. The Academic Advisement Center and the Career & Internship Center have been valuable resources for her—be sure to use them! She is also a big fan of the Counseling Center's Mental Health Week services.
Riley loves the energy and sense of discovery in New York City; there is always something new to see and do. In her free time, Riley enjoys, hiking, roller skating, yoga and painting with ink.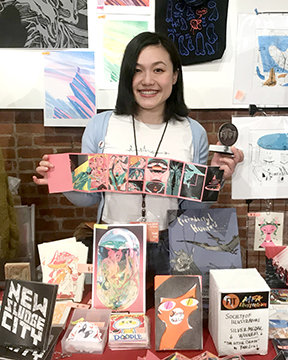 Name: Yadi
Major: Illustration MFA '20
Hometown: Nanchong, China
Yadi was drawn to pursue her graduate studies in the US for the professional and creative opportunities available here, and to have experiences outside of her comfort zone. Yadi's program has helped her find her artistic voice and developed her appreciation of abstract forms. Her favorite campus resource is the Interlibrary Loan service, which provides her with books from anywhere in the world for use in her thesis research. Yadi's proudest moment at FIT was having a class comic project receive the Society of Illustrators MoCCA Arts Festival Excellence Award silver medal.
She thinks international students will find inspiration living in New York City. The resources and diversity here make it an ideal place to find yourself and enrich your own voice. Off campus, Yadi is a frequent visitor to MoMA (free with student ID!), and spends time in the city's many museums, galleries, and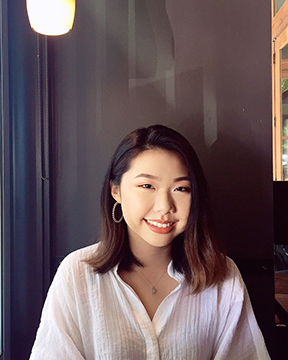 Name: Ying-Chih
Major: Fashion Business Management AAS '19
Hometown: Taipei, Taiwan
Ying-Chih was inspired by her family to study abroad. Her mother studied and worked in Japan, and Ying-Chih was eager both to experience places that were previously only accessible through media and live in a new culture. Ying-Chih is comfortable living in New York City; she finds the urban atmosphere similar to that of her hometown, Taipei. She advises new international students to be brave. Reach out to others, and don't be afraid to speak English! Being curious is important: it will help you to adjust to your new environment and have fun in the process. Ying-Chih loves the professional nature of FIT and finds her professors to be passionate about their work and push their students to succeed. She has gotten to know her new home by taking extensive walks throughout the city and discovering new favorite restaurants and shops with friends along the way. Ying-Chih is passionate about cosmetics and also a big reader, counting fiction, anime, and comics among her favorite genres.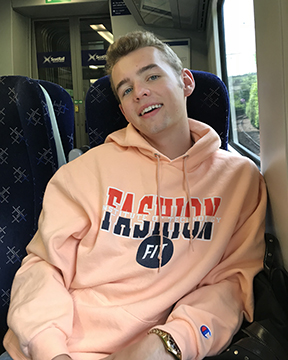 Name: Zeke
Major: Fashion Business Management AAS '20
Minor: Design Thinking
Hometown: Atlanta, Georgia & Hanoi, Vietnam
Zeke lived abroad throughout his childhood as a result of his mother's profession and had the good fortune of being able to visit five continents by the age of 15! He feels that the experiences he gained living overseas and the diverse array of people he's met have helped to inform the way he views and moves through the world.
Before coming to FIT, Zeke worried about living in an expensive, stimulating, and often times overwhelming city. He learned that your time in New York City is what you make of it. It is important to gradually open yourself up to new experiences and go out of your way to explore new areas. He feels that the best ways to engage with the local culture are through extracurricular activities and outings with friends. The sense of ambition here is contagious! He advises new international students to be open to befriending all types of people so you don't find yourself only hanging out with people from your home country.


Zeke loves being at a school that embraces individuality; he finds that FIT allows all students to showcase their unique natures. Zeke encourages everyone to express yourself because thats what FIT students love most about each other. When not busy with schoolwork, Zeke enjoys exploring the city with friends and binge-watching crime docuseries on Netflix.