Nicole Finigan Ndzibah
Q&A with the Executive Director of the Social Justice Center at FIT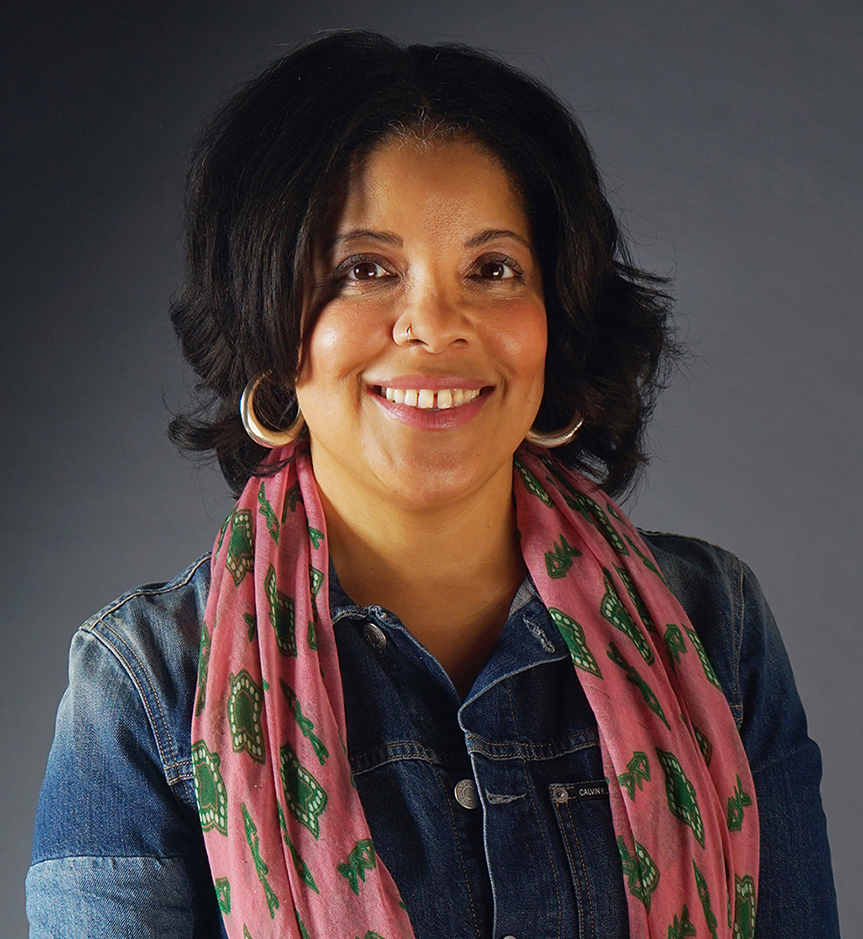 Nicole Finigan Ndzibah was named executive director of the SJC in August 2022. Throughout her life, she has shown her commitment to social justice and the advancement of BIPOC individuals and women. Her perspective and experiences make her uniquely qualified to guide the SJC, develop programming, and connect with students who will eventually work in creative spaces that have not always recognized the skills and talents of people of color.
Ndzibah has extensive experience in the fashion industry, most recently as a retail business trainer at Tommy Hilfiger, designing and executing training programs, facilitating classes, and providing support for corporate employees. She has led community service, philanthropic, civic engagement, and mentoring activities aimed at empowering youth. As part of the leadership team for Tommy Hilfiger's business resource group for Black employees, she was instrumental in implementing professional development programs for BIPOC associates. She has been an adjunct faculty member at FIT and LIM College, teaching fashion merchandising and management courses.
---
What is the Social Justice Center at FIT, from your perspective?
The SJC aims to create a pipeline of BIPOC students into FIT and from FIT into the industry. Starting with middle schoolers and high schoolers participating in our precollege programs, and then matriculating undergrads, we want to make sure that students of color understand that there are opportunities for them within the creative industries, and to open up the doors to those industries through higher education. We work with companies that also see a need to champion diversity, equity, and inclusion in their own ranks, and through their generous donations, we provide scholarships and other benefits for students. Our industry partners also provide opportunities such as internships, mentorships, and apprenticeships.
What does the SJC mean to you personally? Why is it the right place for you?

The work of the SJC resonated for me the moment I heard about it. I consider myself a fashion industry "lifer." I studied retailing at the High School of Fashion Industries in the late '80s and fashion merchandising as an undergrad, and I have a degree in marketing. My entire career has been in the fashion industry—at amazing companies such as the Gap, Talbots, Macy's, and most recently as a retail business trainer for Tommy Hilfiger.
As a Black woman coming up in the industry, I had stars in my eyes, figuring if I had this fantastic education and experience, it should be "easy street" for me. But there were times that I felt I was not seen. I've often had to find my own path without people to guide me. It definitely worked out for me, but that's not the story for a lot of people.
The plight of some Black and brown people in the industry is not lost on me. A lot of them leave because they don't have support, they don't feel they have a seat at the table. My stake in the SJC is in being a champion for these people.
Giving back in service has always been a part of my DNA. I've worked to empower young people and women, and I've been involved in corporate groups that support employees in various ways. When I first heard about the establishment of the SJC, I was actually working for one of the SJC's founding partners, PVH. I was absolutely intrigued because it connected three things that I have experience in and that I love: One, the fashion industry. Two, mission-based work. And three, working with students in an academic setting. I've been an adjunct professor at FIT and LIM for the past eight years, so I've had a lot of face time with students, learning about their perspectives, trepidations, and hopes for the future.
What advice would you give students who are finding their way and want to make an impact?

I would tell students to bring their authentic self to every room they walk into. It may be more comfortable to blend into the background, but I would challenge them to be a bold presence. We know that we're amazing, but we can't just sit back and wait for somebody to notice. One of my goals at the SJC is to make sure that when students of color graduate from FIT, they feel that whatever room they land in, they absolutely belong there.
Tell us about the SJC students—who are they?

Just as FIT admission is competitive, the SJC scholarship is competitive. We're looking for students from varied backgrounds, and we want to cast a net beyond the New York area because we know there is creative talent from coast to coast that we can cultivate at FIT. Applicants need to submit a biography because we want to know who they are, what they like to do, and how they're going to contribute to the FIT community as a whole. We want students who have demonstrated a willingness to become social justice leaders themselves. We're looking for the créme de la créme!
I'm very proud of our first cohort of 11 SJC Scholars. They are all freshman, so they are relatively young. They are in a range of majors, not just fashion, in both design and business areas, and they're having this shared experience of being SJC Scholars.
To see them navigating these spaces which, a year ago in high school, they might not have fathomed that they would be exposed to, is amazing to me. When I was a freshman, I would've loved to have these experiences!
How are you planning to expand the impact of the SJC, at FIT and beyond?

We're developing programming that's open to the entire FIT community, not just SJC Scholars. We can't be a champion for social justice and speak about the need for a fair and equitable industry if we're only focusing on a small microcosm of SJC students.
We're also expanding our recruitment efforts, reaching out to schools and community organizations. I've been invited to schools in states surrounding New York to tell students about FIT and how the SJC is working to make sure that students of color feel supported and nurtured and have a sense of belonging when they come here.
I'll be letting them know that the SJC is able to defray the high costs of education; a lot of times the reason why students choose not to further their education after high school is the cost. Eventually, we want to recruit beyond the metropolitan area.
Students need to know that an institution like FIT is within their reach.
How can donors play a role in the SJC?

Donor support is crucial to all of our efforts. It's about funding for scholarships, services, and activities, but it's also about participation. Our partners get to meet and interact with the students who benefit from their support. Those students are the future of the industry!
And, of course, the long-term success of the SJC depends on the industry's commitment to offering real opportunity to BIPOC students and graduates. We need to work with companies that want to see things change.
The SJC is a transformative idea, and it's off to an amazing start. But FIT can't do it alone. We need our industry partners to help us make sure it fulfills its promise. If you're an industry leader committed to meaningful change—we want to talk to you!