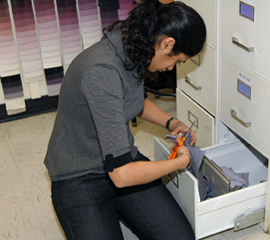 FIT has forged strong alliances with organizations ranging from communications to manufacturing and from museums to non-profits since its founding. More than 2500 organizations have hosted our students as interns.
Our students are eager to gain firsthand experience in their fields, and are prepared to meet the demands of your organizations because their practical training is targeted to specific career areas from their first day on campus. Think of an internship as an academic class that takes place in your workspace.
By sponsoring an intern, your organization will:
discover new talent and encourage qualified individuals to enter the fashion and related industries;
receive fresh ideas and energy from our highly motivated students; and
preview potential employees without any obligation or risk.
Annually, FIT's students fill more than a thousand credit-bearing internships—both paid and unpaid—in more than 25 academic majors. The part you play in their transition from student in an educational environment to professional in the business world is a very empowering one!
Sponsoring an Intern
NOTE: We run a student-preferenced placement process. Our students carry the responsibility of selecting for themselves the sponsor organizations in which they want to intern. We cannot guarantee that you will attract the attention of interns.
advertising
advertising and marketing communications (general)
auction houses (curatorial and non-curatorial)
buying
casting
communications and graphic design
cosmetics and fragrances
design: accessories, footwear, handbags, hats, jewelry, fashion apparel, menswear, textiles
direct and interactive marketing
display and/or exhibition design
event planning and management
fine arts
forecasting/trends
galleries (curatorial and non-curatorial)
home products development
global fashion marketing
interior design
international trade and marketing: import/export, licensing, logistics, sourcing
market research
marketing communications
media: broadcast, film, print, video
merchandising
modeling
museums (curatorial and non-curatorial)
music
patternmaking/technical design
photography
planning and allocation
product development
production management
public relations
retail management
showroom sales: accessories, apparel
styling
textile development and marketing
visual arts management: education, library, marketing
visual merchandising
The Internship Center runs a two-pronged academic program that comprises on-site professional/work experience supervised by an organization executive and classroom instruction.
Considerable care is taken to ensure that every internship experience is aligned with the student's major area of study and his or her career interests, and that it meets the operational needs of the sponsor organization. Ours is a student-preferenced program. Sponsors will not hear from a counselor until the counselor has an interested student, and that it is incumbent upon the sponsors to make their listings as attractive to students as possible.
Internships may be paid or unpaid. Please remember that paid internships are much more appealing to students and will frequently attract the most motivated individuals.
Because FIT's Internships are instructional in nature and relate to the student's academic major and/or career interest, interns DO NOT perform menial, repetitive tasks that are not compatible with instructional goals.
Interns are not intended to displace regular employees.
The Internship Center is a State University of New York program in full compliance with the Fair Labor Standards Act.
Number of Hours
For fall, spring, and summer students, the number of hours spent at a sponsor site depends on whether they are enrolled in a 2-, 3-, or 4-credit class.
4-credit class: minimum of 168 hours during the semester/session
3-credit class: minimum of 123 hours during the semester/session
2-credit class: minimum of 78 hours during the semester/session
Winter session interns serve a minimum of 78 hours.
Our program requires that sponsor organizations provide FIT students with professional, educationally-valid experiences that honor the policies and procedures of FIT, SUNY, and the New York Department of Education.
In addition, prospective sponsor organizations are required to:
Comply with state regulations related to Worker's Compensation
Identify executives in their organizations who are willing to provide interns with daily supervision
Assure that their supervisors have expertise in mentoring, teaching, guiding, and nurturing their interns
Interview prospective interns introduced to them by Internship Center counselors; negotiate with and agree to provide interns with the kinds of learning experiences desired by the interns
Complete an end-of-semester written (multiple choice) evaluation of the intern's work
Comply with FIT's commitment to producing an environment that is free from all forms of harassment
Validate the intern's reported hours completed at midtern and final evaluations
Participate in an on-site visit at your organization to learn more about the company, your expectations of interns and to for FIT to discuss expectations of internships and sponsors.
We work a semester in advance.
Students are required to apply for their internships one semester before the semester in which they plan on doing the internship.
The counseling, interviewing, and selection processes also take place a semester in advance of the actual internship.
Sponsors requesting students must apply at least 3-4 months prior to the semester to which they hope to attract interns to give their positions the best chance of being considered by our students
Fall Semester
Fall semester interns begin their on-site work in late August or early September, serve 12 weeks, and finish their internships in mid-December.
Winter Session
Winter session runs the entire month of January. Students begin their on-site work in late December or shortly after New Year and serve a minimum of 78 hours over the January session.
Spring Semester
Spring semester interns begin their on-site work in late January or early February, serve a minimum of 12 weeks, and finish their internships in May.
Summer Session
Summer session interns begin their on-site work at the end of May or early June, serve for six weeks, and finish their internships in mid-July.
Note: If the semester has already begun and you're looking to fill an immediate position, you may post a PAID non-credited internship (PT job) with Career Services.
The first step is to register in our online database, CSJB. You will be asked to provide information about your business and industry.
Click on "Request For Sponsor Organization Status" to go to the registration form.
Complete the requested information and click submit. Within 48 hours, you will receive an email with log in information, followed by another email with instructions to help you add your credited internship posting(s).
Your completed request will be posted for students to review. Once selected by a student, one of our industry-experienced counselors will contact you to set up a time to conduct an on-site review of your facility.
Once you have posted an internship, you do not need to post another one for the same position. Unlike a job posting, it is best to keep the posting active unless the position closes permanently.
For some semesters, and some majors, we tend to have more sponsors in our databank than we have students registered in our program. So we highly advise that you make your posting as appealing as possible.
If you experience difficulties or have further questions, please contact Career & Internship Services at (212) 217-3000 or [email protected].