Liberal Arts and Sciences
Critical thinking. Communication. Creativity. These hallmarks of a well-rounded, inquisitive mind will serve you well, no matter your major or career choice. How do you develop these foundational skills? Study the liberal arts and sciences.
Whether literature or psychology, history or philosophy, art history or film, or language, math, or science, our liberal arts and sciences courses will help you become an informed, reflective, and engaged citizen. Enroll in a major, one of our many minors, or an elective, and take a step toward a lifetime of curiosity and intellectual growth.
Always More to Explore
Guest lectures on international politics. Minors ranging from gender to language to art. And all the resources to keep answering So. Many. Questions!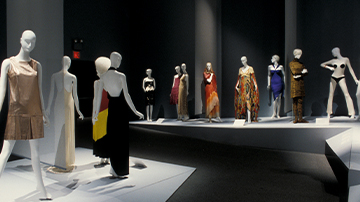 Majors
The School of Liberal Arts and Sciences oversees two majors: Film and Media, and Art History and Museum Professions. Find out more about each program.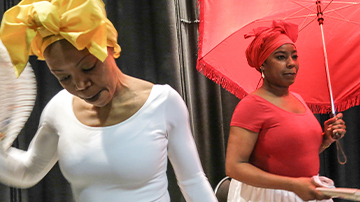 Minors
Want to supplement your core education? Take your pick among Liberal Arts and Sciences minors: Communication Studies, Integrative Wellness, Latin American Studies, and many more.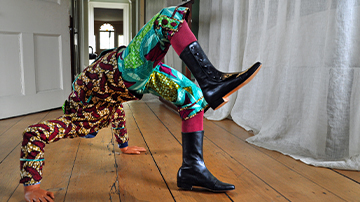 Departments
The School of Liberal Arts and Sciences' seven departments include Science and Math, English and Communication Studies, History of Art, and more.
Develop Your Most Important Muscle — Your Mind
Cleopatra to Clinton. Michelangelo to Mickalene Thomas. Aristophanes to Zola.
You might know the names. But do you know how they've shaped history and human thought and perception? How their works and deeds influenced others in their time and long after?
The liberal arts run the gamut of natural sciences, social sciences, and humanities. They ask the big questions to sate the inquisitive mind.
Here at FIT, you can study the liberal arts through individual courses, a wide array of minors, or one of our majors. Our faculty members are committed to fostering a mindset of empathy, inclusivity, and sustainability. They are committed to their own continued development as much as yours.
All majors at FIT require liberal arts credits, which also meet SUNY general education requirements.
Presidential Scholars Program
If you are academically accomplished and possess an inquisitive mind, we encourage you to apply for the Presidential Scholars Program, FIT's honors program.
You'll be challenged in the liberal arts through honors courses, a monthly speaking series, a senior seminar, exclusive networking opportunities, and more. If accepted, you'll receive a merit stipend, priority registration, and guaranteed access to housing in our residence halls.
Contact Us
School of Liberal Arts and Sciences
Business and Liberal Arts Center, Room B623
Mondays–Fridays, 9 am–5 pm