Degree Details
The two-year Master of Arts degree program in Fashion and Textile Studies: History, Theory, Museum Practice is an interdisciplinary, 50-credit program that offers comprehensive training in fashion and textile history and conservation theory and practice. In the second year, students have the option to concentrate in curatorial or conservation studies.
Through faculty and alumni, students have networking opportunities in museums throughout the United States and the world. The Museum at FIT, one of the most comprehensive repositories of costumes and textiles in the country, and the Gladys Marcus Library, with its extensive Special Collections, are extraordinary on-campus resources. New York City's array of acclaimed arts institutions provides a wealth of opportunities for study and inspiration, and dozens of galleries in FIT's Chelsea neighborhood, and famed auction houses such as Christie's and Sotheby's are just a few of the city's treasures.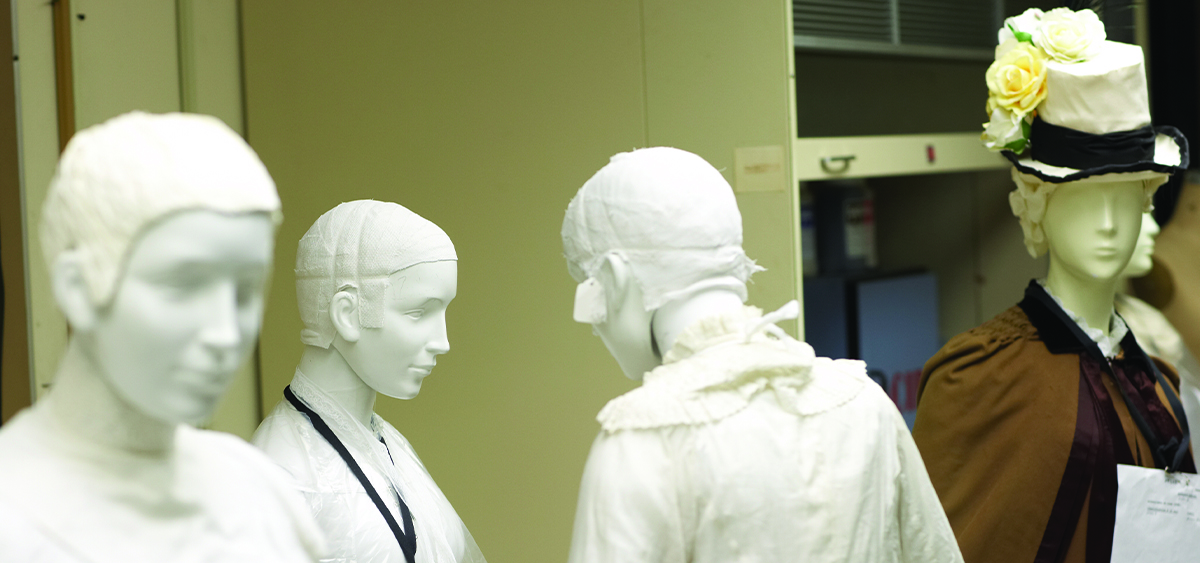 The program will prepare you to enter the museum field as a curator, conservator, collections manager, or educator; to teach fashion and textile history; and to work in fashion and textile archives, auction houses, or vintage dealerships. The curriculum balances an emphasis on academic research and writing with practical skills. In courses that examine the role of textiles, dress, and fashion in different societies and cultures, you are encouraged to take an innovative approach to the study of costume and textile history. Each spring, students have the opportunity to participate in an annual Symposium open to the public. Topics have ranged from the history of fashion journalism; to explorations of fashion's connections to architecture, modernism, and music; to issues such as appropriation and the ethics of contemporary fashion production.
Over two semesters, students plan and execute an exhibition that is mounted at The Museum at FIT. Exhibitions have included: Temptation, Joy and Scandal: Fragrance and Fashion: 1900–1950; Sole Desire: The Shoes of Christian Louboutin; The Women of Harper's Bazaar: Carmel Snow, Diana Vreeland and Louise Dahl-Wolfe; Lauren Bacall: The Look; and The Roaring Twenties and the Swinging Sixties.
The program emphasizes practical, professional experience, so you must complete an approved internship in order to graduate. Although only one internship is required, you may choose to serve additional internships for networking opportunities and professional growth. Internship sites have included The Museum at FIT, the Costume Institute at the Metropolitan Museum of Art, the Brooklyn Museum, the Cooper-Hewitt National Design Museum, the Museum of the City of New York, the Jewish Museum, the National Museum of the American Indian, the American Museum of Natural History, and the textile conservation lab at the Cathedral Church of St. John the Divine.
You will also complete a qualifying paper, which may take the form of a scholarly research paper, a proposed exhibition, or a fully documented conservation treatment.
Contact Us
If you have questions about this program, please reach out.
Fashion and Textile Studies: History, Theory, Museum Practice
School of Graduate Studies
Goodman Center, Room E315
(212) 217-4300
Lourdes Font
Acting Chair