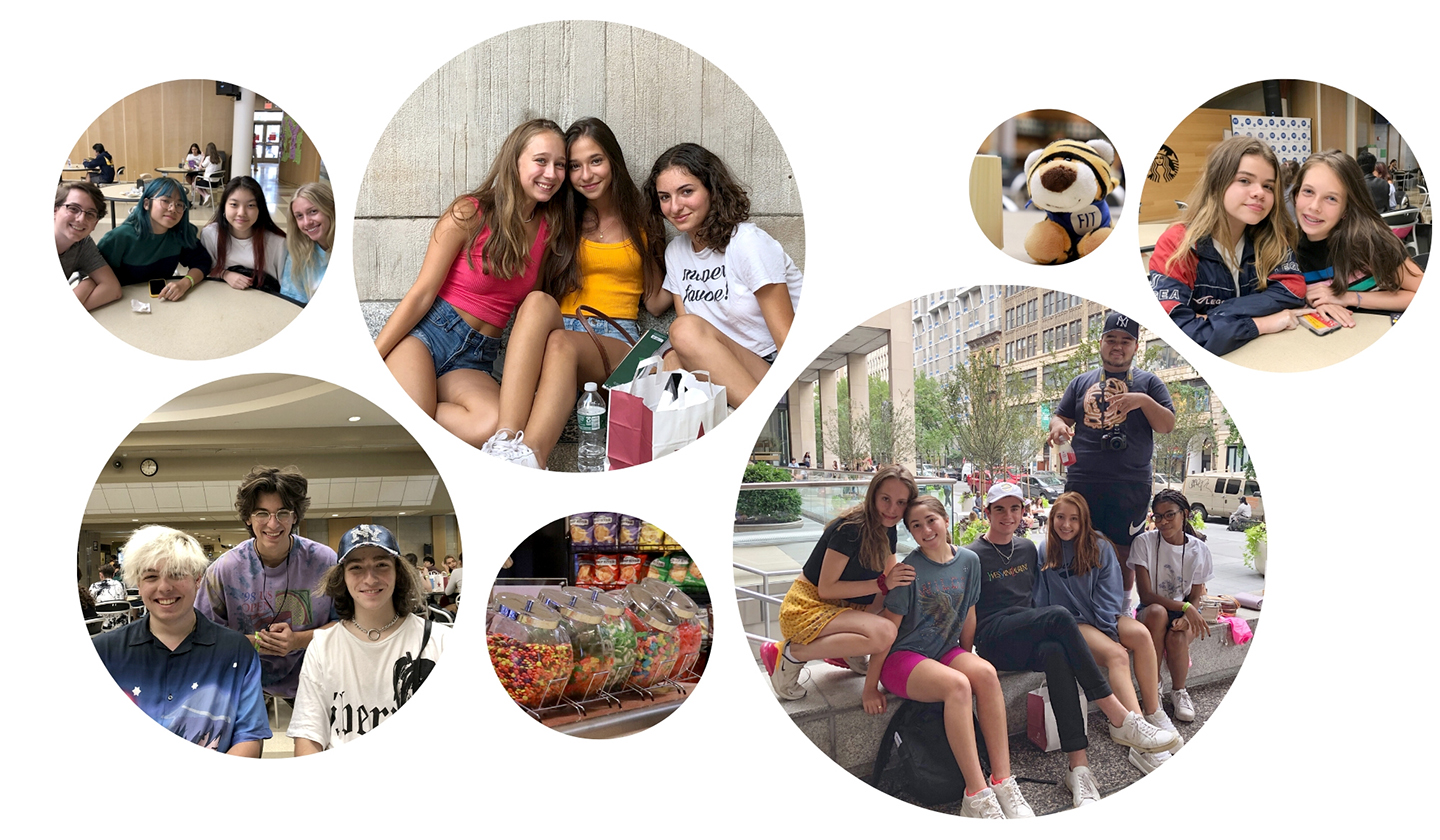 Common Lunch Hour
All Precollege students (high school and middle school) who are enrolled in two sessions per day will have the same lunch hour so they may socialize with other Precollege students. Common lunch hour is from 12:30–1:30 pm daily in all fall, spring, and summer programs. Students may visit any of the FIT dining lounges, or they may visit the local food option in the immediate vicinity of FIT. This is up to the discretion of the parent or guardian.
Please note: Students are not escorted to and from their classes to a dining location. Students must be comfortable traveling throughout the campus on their own.
During FIT's summer Precollege programs only, a Precollege staff member is assigned to the designated dining lounge to assist students, provide support, and to host our lunchtime activities.
During summer 2022 pre-paid lunches will be the ONLY meal option for on-campus dining. The summer lunch must be purchased in advance (see more information below).
Vending machines are available thought the campus (and are the only other opion to purchase food items on-campus).
Precollege Dining Spaces
Please note only the primary locations are staffed by a Precollege representative. Students are welcome to use these spaces whether they purchase an FIT meal option, bring lunch from home or purchase food from neigborhood vendors.
The primary dining space for the 4 day Workshop Program is located in the Lower Level of the Katie Murphy Amphitheatre (enter through Pomerantz 'D' Building Lower Level)
The primary dining space for the 11 day Summer Live Program is located in the David Dubinsky Student Center, 5th Floor, A-505 Student Lounge.
Summer Prepaid Meal Options
Meal plans are priced and purchased per week. Deadline to purchase lunch is June 9th, 2022.
Week of June 27, 28, 29, 30 - $50 for four boxed lunches
Week of July 5, 6, 7 - $37.50 for three boxed lunches
Week of July 11, 12, 13, 14 - $50 for four boxed lunches
Week of July 18, 19, 20, 21 - $50 for four boxed lunches
There are no discounts offered for purchasing multiple weeks.
Refunds/cancelled orders: Must be submitted in writing to [email protected] by June 15th.
No refunds after June 15th.
Lunch Options
The boxed lunch includes salad/sandwich, snack (side), beverage, and a sweet/fruit.
*If your child has food allergies or special dietary requirements, please contact FIT Dining Services at
[email protected]
Lunch Entrée:
Gluten Free Chicken and Cheese
Gluten Free Turkey and Cheese
Gluten Free Ham and Cheese
Vegan Hummus and Cucumber Sandwich
Vegan Cous Cous Salad
Chicken Caesar Salad
Chicken Garden Salad
Tuna Garden Salad
Garden Salad
Turkey and American Cheese Sandwich
Ham and Swiss Cheese Sandwich
Italian Club Sandwich
Tuna Salad Sandwich
Side Options:
Lays (Gluten Free Vegan)
Lays Sour Cream and Onion
Lays BBQ
Baked Lays

Dessert Options:
Whole fruit (Banana, Orange, Apple)
Cookie
Gluten Free/Vegan Cookie

Beverage Options (Bottled):
Dasani Water
Coke
Diet Coke
Sprite
Ginger Ale
Payment for Summer Prepaid Meal Options
Payment is required prior to selecting lunch options. Please review selections above before completing this form. The deadline to request lunch is June 9th, 2022.
FORM: Summer Pre-paid Lunch Request
Having trouble? Please contact our friends at Aramark: [email protected]