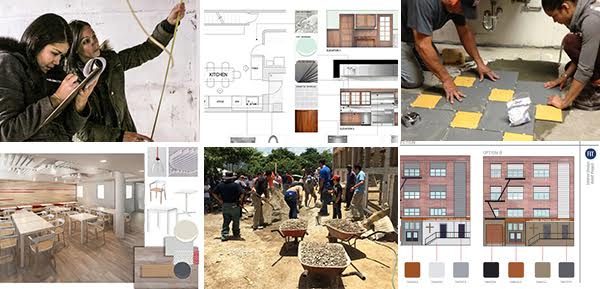 The Integrated Service-Learning Project is an expansion of the Interior Design Relief Project which was founded in 2013 to serve the families in Long Beach, NY, devastated by Superstorm Sandy.
The project started with a conversation at the end of Fall 2012 in the Materials & Methods for Interior Construction class. The conversation was between student Natalie Zepeda and professor Carmita Sanchez-Fong about the devastation created by Superstorm Sandy in Long Beach, NY, where Natalie lived.
Natalie equated the view of Long Beach after Superstorm Sandy with that which had been portrayed in the movie, The Book of Eli, a 2010 American post-apocalyptic action film starring Denzel Washington. Natalie, professor Joan Melnick, and professor Carmita Sanchez-Fong met with Bryan Murphy of Sandy Help LB on January 4, 2013. By the Spring of 2014, 14 students and 3 faculty from the interior design department and 4 students and 1 faculty from the photography department had teamed up to serve 17 families in Long Beach. In the summer of 2014, five members of the group and professor Sanchez-Fong traveled to Guatemala to build a bottle school for the children of Chidonjuan. During 2014-2015, students continued to volunteer, serving The Bowery Mission Women's Center and Living Waters Community Center.
To visit those projects go to: https://www.facebook.com/IDReliefProject/
After the group presented their projects at The Center for Architecture in NYC on November 4, 2015, the Integrated-Service Learning Project was created. The first meeting of the group was held at the Fashion Institute of Technology on January 4, 2016.
Current Projects
Restore NYC
Field Survey and Schematic Design Teams
Team 1: Ernesto Fong, Mohcen Haouara, Joanna Kraszewska, Abigael Marcelo
Team 2: Helaina Judge-Calow, Lauren Gorgano, Nicole Migeon
Team 3: Nelson Aw, Susan Lee, Lisbeth Jimenez, Emily Villa
Design Development & Production Team
Ernesto Fong, Lisbeth Jimenez, Joanna Kraszewska, Nicole Migeon, Carmita Sanchez-Fong
Bowery Mission Men's Center
Field Survey Team
Ernesto Fong, Lisbeth Jimenez, Joanna Kraszewska, Nicole Migeon, Carmita Sanchez-Fong
Schematic Design & Design Development Team
Ernesto Fong, Lisbeth Jimenez, Joanna Kraszewska, Yuko Nagasue, Nicole Migeon, Carmita Sanchez-Fong
St. Paul's House
http://www.saintpaulshouse.org/
Field Survey Team
Ernesto Fong, Habiba Koroma, Susan Lee, Martin Nolan, Carmita Sanchez-Fong, Rosalind Tsang