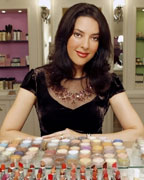 Leslie Blodgett, Cosmetics and Fragrance Marketing Alum
CEO, Bare Escenctuals
Leslie Blodgett is president and CEO of Bare Escentuals, a natural-ingredients cosmetics company with boutiques all over the country and sales on the QVC home shopping network. She became president of the firm in 1995, and it has done nothing but expand since then.
Blodgett earned her degree in 1985, and worked her way up through the ranks of the business, starting behind sales counters and then moving to product development. In 1994, she was offered a senior vice presidency at Bare Escentuals; just months after she joined the company, the president left and she was tapped for the position. Blodgett completely reworked the line and has since launched more than 40 new products.
"A lot of my decisions are based on personal experiences," Blodgett says. "This business is based on emotions, not just on the bottom line."
She still does makeovers at company boutiques and answers customer emails. Her philosophy is simple and dates back to what she learned behind the counter: "I'd rather gain a customer than make a sale."