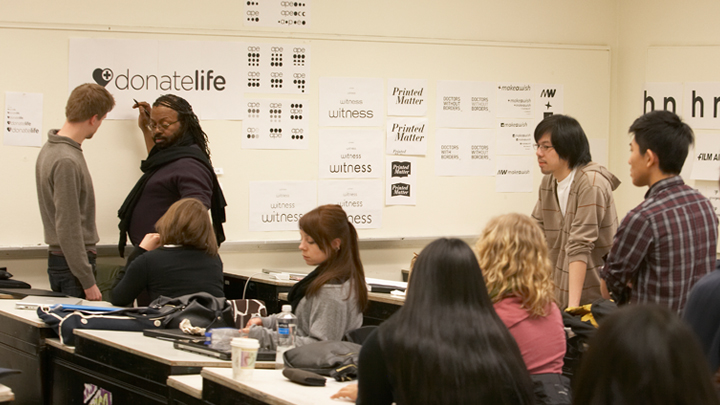 Create powerful visual statements that speak to your audience
Graphic designers give form and function to text and images for all sorts of communications, from corporate identity and magazines to websites and posters, translating complex information into easily understood visual messages. This program guides you to become a creative thinker with a mastery of conceptual and applied skills. A faculty of experienced professionals with their own successful careers teaches you editorial design (magazines, annual reports), environmental graphics (exhibits, signs), interactive web design, and promotional materials.
You'll study advanced typography, corporate identity systems, art history, and more; you will work on real projects for real clients. The program concludes with a senior thesis project and a juried design exhibition. You'll graduate with a strong portfolio to present to potential employers.
Highlights:
Graphic Design faculty are members of prestigious industry associations, including the Art Directors Club (ADC), the Type Directors Club (TDC), the American Institute of Graphic Arts (AIGA), and the Society of Publication Designers (SPD).
New York City is the center of the graphic design industry. The many design firms and agencies located here offer extensive internship and networking opportunities for students.
FIT Graphic Design students regularly win top honors in national and international competitions, such as the AFT International Color Coordination Poster Contest and the Abingdon Theatre Poster Contest.
In this program, you will:
learn versatile design skills that can be applied to magazine and newspaper publishing, catalog production, and promotional publication design.
study with practicing professionals whose varied experience exposes you to a wide range of approaches to graphic design.
gain first-hand experience through internships at major institutions and design firms, including MoMA, Pentagram, the Art Directors Club, and many others.
have the opportunity to study abroad in England at the London College of Communication, Chelsea College of Art & Design, or Nottingham Trent University.