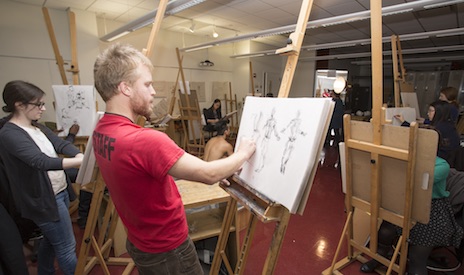 Tell a story in pictures
In our increasingly visual world, the illustrator plays a critical role in communicating ideas and information. The convergence of art and technology is creating opportunities and challenges that require new skills and new perspectives on the field. FIT's Master of Fine Arts in Illustration prepares you to be an innovative visual communicator, and fosters the entrepreneurial approach that professional illustrators need.
This program is for self-motivated illustrators who want to further develop their personal vision and for experienced illustrators seeking to reinvigorate their careers. Studio practice in drawing, painting, and digital media—and the integration of all three—provides a platform for you to find your own voice. Through a focus on studio practice along with classes on creative writing and research, you'll gain a broad perspective on the illustrator's role across different media. A faculty of noted illustrators offer rigorous assignments designed to elicit high-quality, competitive work. You'll hear distinguished guest lecturers and take advantage of FIT's New York City location with frequent field trips to museums and galleries.
The program culminates in a visual thesis body of work that is displayed in an exhibition at The Museum at FIT. Exhibits have included animation, concept art, children's books, graphic novels, murals, and reportage.
Highlights
The faculty includes the Executive Director, past presidents and members of the board of directors of the prestigious Society of Illustrators, members of the New York Art Director's Club and the Society for Publication Designers, and winners of the Society of Illustrators Distinguished Educator Award.
Award-winning alumni work has been recognized in the Society of Illustrators Annual Exhibition, as well as other industry competitions.
Students travel to the west coast to visit entertainment studios, artists and illustrators.
Faculty and students have received numerous awards, including gold and silver medals from the Society of Illustrators, the Stevan Dohanos Award, the Hamilton King Award, National Council for Social Studies/Children's Book Council Award, Frank R. Paul Award for Outstanding Achievement in Science Fiction Illustration, and the Chesley Award from the Association of Science Fiction/Fantasy Artists for Lifetime Artistic Achievement.
Students and alumni are regularly recognized as award and merit winners in Communication Arts, 3 x 3 Magazine, American Illustration, and other industry publications.
Some alumni go on to teach at FIT and other higher education programs, and lecture and teach in specialized high school and museum programs.
Clients of alumni include: Harper Collins Publishing, Macy's New York, Martha Stewart, The American Museum of Natural History, Barron's Educational Series, Cablevision, Candlewick Press, Computer Associates, Crain's New York Business, Doubleday, Plan Sponsor Magazine, TruTV, ESPN, ABC, Dunkin' Donuts, Six Flags, General Mills Cereals, Trailside Museum and Zoo, Major League Baseball, and Upper Deck Trading Cards.