COVID-19-Related Information
FIT faculty and staff members are currently working remotely.
Visit Fall Return 2021 for the most recent developments regarding the fall semester.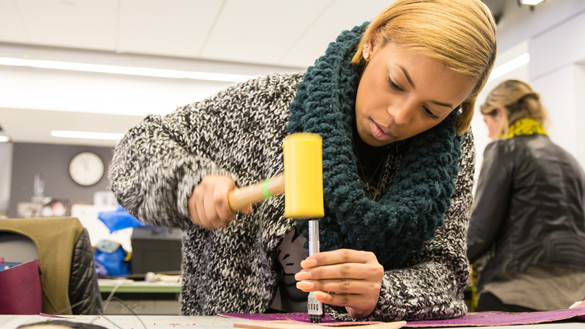 You were born knowing that it's the shoes, belt, handbag, and hat that make the outfit.
Some people just notice the clothes, but for you, it's the accessories that make the difference. Top designers know this too; that's why so many have lucrative accessory collections.
The center of the accessories world is New York City—home to the major design studios and sales offices. And FIT has close ties to the industry: to the people and places that can help you launch a great career. At FIT, you will design and produce a full range of accessories, from high-fashion shoes and handbags to athletic footwear. You'll create boots, belts, billfolds, and carrying gear for sports. If green is your color, a new course in nontraditional footwear focuses on sustainability.
Your faculty are active in all areas of the industry, from sports bags to pedorthic medicine to illustration, and they'll help you master the technical, design, and business skills you need. In hands-on classes you will learn about materials, construction, and presentation—and produce a professional-quality accessories line.
Highlights
FIT's Footwear and Accessories Design program was the first of its kind in the United States.
FIT offers the country's only certificate programs in Millinery and Performance Athletic Footwear.
AAS and BFA programs provide extensive networking opportunities for you to connect with industry leaders.
Study abroad summer programs at the London College of Fashion focus on design and construction.
Graduates find full-time employment or full-time freelance work at leading companies such as Michael Kors, Steve Madden, and Liz Claiborne.
In this program, you will:
get real-world experience through internships at major accessories companies, such as Kenneth Cole, Brown Show, and Nine West, among many others.
participate in industry-sponsored competitions and work on group projects in the Accessories and Millinery Club.
visit showrooms, design studios, and production facilities located in New York City, the heart of the industry.