2022: Pathways to Impact
Sustainable Business & Design Conference
April 5 and 6, 2022
FIT's 16th annual Sustainable Business and Design Conference: Pathways to Impact centers on four core themes that highlight the intersectionality of sustainable practices. Over the course of two intensive days, attendees will be immersed in keynotes, talks, and panel discussions providing pathways to Social Justice x Social Responsibility, Environment x Materials, Consumption x Waste, and Design x Business. The speakers are trailblazers in numerous facets of sustainability and emphasize the FIT community's commitment to best practices in all its operations—including student projects, faculty and staff initiatives, and campus facilities.
Social Justice x Social Responsibility considers how our individual and collective actions can make an impact on society, with an emphasis on both people and the environment. Topics include representation within fashion and design, how designers use their work to help build community, and socially responsible sourcing of food and use of food waste.
Environment x Materials focuses on the ethical and environmental issues surrounding our choice of materials. Speakers will engage with the ways that action and accountability in material selection can improve quality of life, with emphasis on alternatives to plastics, less harmful fabric choices, and strategies for conservation.
Consumption x Waste emphasizes the importance of equitable and sustainable consumer practices. The interrelated events will reveal how technological innovations and creative business solutions can help us become more mindful, informed shoppers—ultimately consuming better and less.
Design X Business offers guidelines and inventive strategies for sustainable business practices, and emphasizes the importance of forming professional networks. Both existing initiatives and future concepts will offer ideas for how to begin working sustainably while also providing inspiration for what might come next.
You can help contribute to FIT's Sustainability efforts by donating to our fund.
Additional Event
Virtual Artist Talk via Google Meet, Thursday, April 7th, 1–2 pm with student sustainable designers, Anne Kong, and Glenn Sokoli.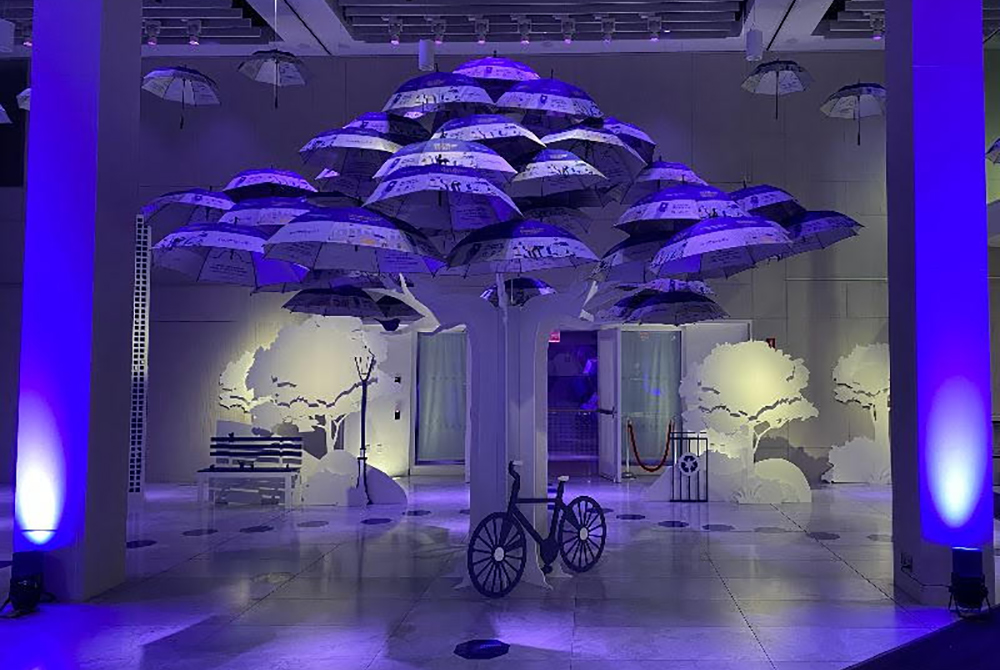 Exhibition, FIT's Art and Design Gallery, Under the Umbrella is a curriculum-based project facilitated by professors Anne Kong and Glenn Sokoli and their sixth-semester Visual Presentation and Exhibition Design students. Inspired by Rentbrella, an umbrella-sharing company, the students are collaborating on a large-scale exhibition concept that highlights sustainability and solutions for eliminating tons of umbrella waste from reaching landfills each year. Focusing on reuse and recycling, Under the Umbrella is a call to action and salute to New York City.