FabLab is FIT's professional digital fabrication lab that handles 3d printing, laser cutting, vinyl cutting and vacuum forming services for students, staff and faculty. It's currently equipped with two hand held 3d scanners, one Universal Laser System ILS 12.75 laser cutter, one Roland GS-24 vinyl cutter, one Mayku FormBox vacuum form machine and several 3d printers including four MakerBots, both a FormLabs Form2 & 3, one Ultimaker 3, two Raise 3d Pro2 and one Stratasys F120. Class projects need to be discussed by FabLab management before being accepted. Fablab specific orientations may be requested by completing a scheduling form and will conducted by Fablab staff. All submitted work must be properly setup before job is started. Files that are not setup properly won't be corrected and will be returned to the customer for correction (which may change the turnaround time).
---
Vinyl Cutting

Vinyl cutting services include single color die cut stickers and inkjet printing onto clear and white vinyl with custom die cutting
Acceptable Files: Vector based Adobe Illustrator files
Cost: Print and cut - $2.00/linear inch. Single color vinyl - $0.75/linear inch. Application tape - $0.25/linear inch
Guidelines
Using Illustrator, convert all fonts to outlines. Letters must have a minimum height of 1/2". Cutout shapes should be a minimum 1/16". Lines should be vector paths. The vinyl cutter uses these vectors as tool paths.
Optional application tape (transfer tape) aids in aligning artwork when pressing into place for single color vinyl only.
To print-and-cut on a 24" vinyl roll, your cutting vectors and artwork should be on separate layers with a 1.5" uncuttable margin on both sides so the file's width is 22.5" maximum.
For more in depth vinyl cutting information, use our vinyl cutting guide (.pdf).

Guide is a pdf and requires

Adobe Acrobat Reader. For additional tips, view our video quick guides, Illustrator- Image Trace, Vinyl Sticker Application Tape, Vinyl Cutting Vector File Setup and Illustrator - Outlining Fonts.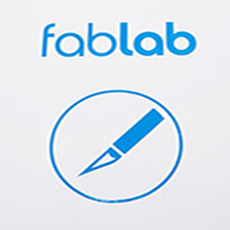 Single color vinyl. Fablab logo photo on left is an example of a blue single color vinyl cut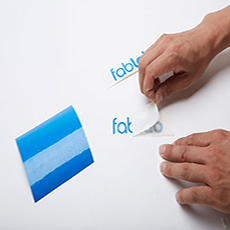 Application tape. For use with single color vinyl only. Use it after the sticker has been cut and weeded to transfer it to a substrate. Photo is an example of the process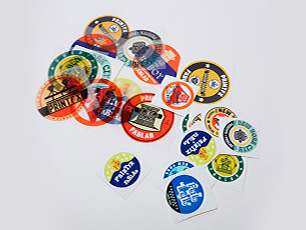 Print and Cut. High quality inkjet print. Choice of clear or white vinyl (see staff for adhesion details). Photo on left are examples of print-and-cut stickers
---
3D Printing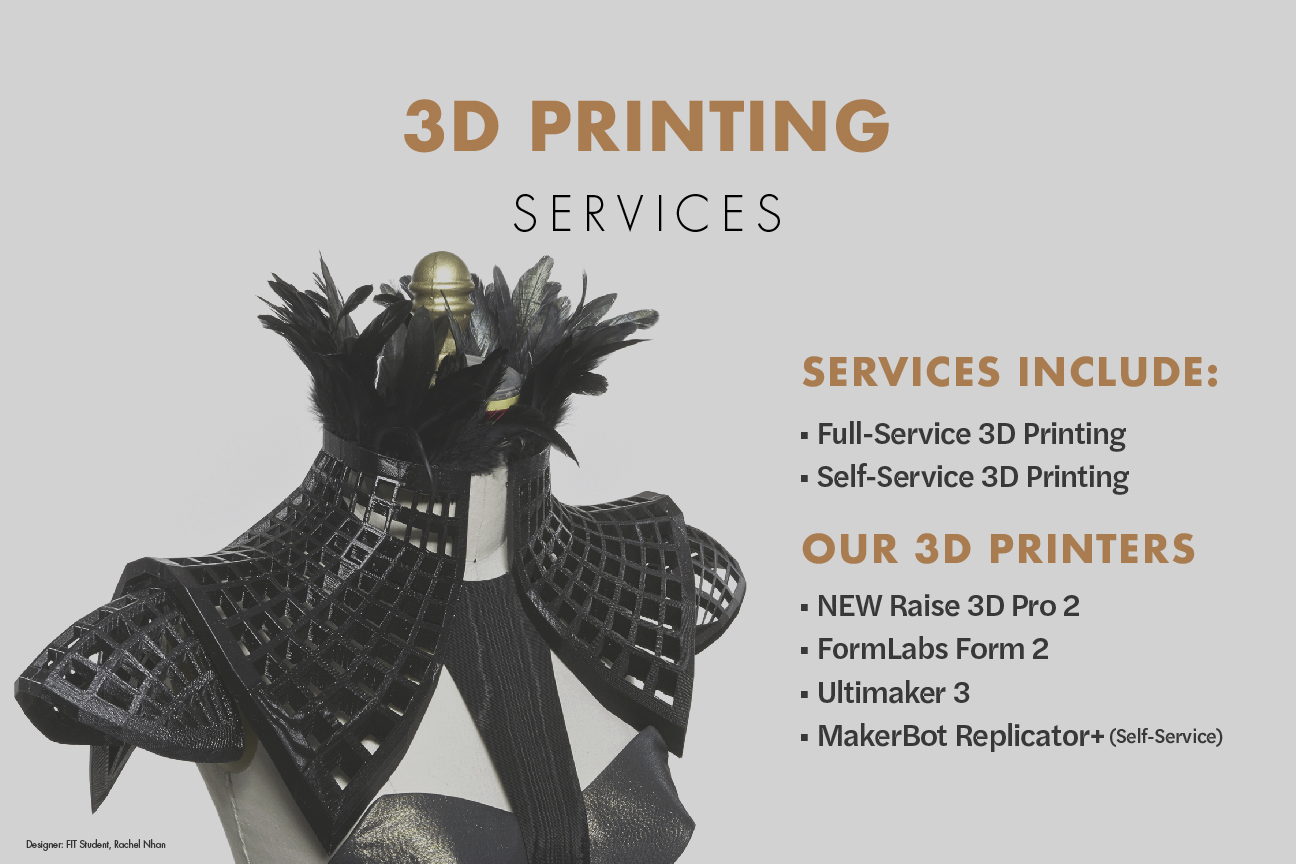 3d printing services include full and self service 3d printing. Our 3d printer fleet include the Stratasys F120; Raise 3d Pro2;
Formlabs Form 2&3; Ultimaker 3; MakerBot Replicator+ (self service)
Netfabb is a free STL viewer which can open your 3d files and diagnose inverted normals/faces and bad edges. Please see our Netfabb video tutorials for cleaning and repairing guidance. Netfabb is free and available for download.
Support Material: All 3d printers generate support material differently, and all support material types have different post-processing and finishing requirements. The Raise 3d and Stratasys F120 have dissolvable support material but the Form, Ultimaker and MakerBot printers do not so customers must clip or sand away their support structures manually.

Measurements in NetFabb: In the bottom right panel of the Netfabb window, you will see basic dimension information about your part, including size and volume, which can be used to estimate your cost (not including support material). For a more detailed guide on how to use Netfabb to measure and resize your models, please view our video guides.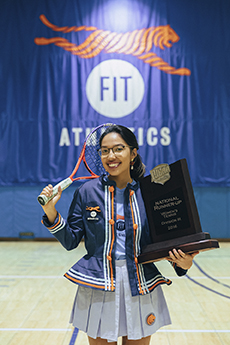 Garment design - Jennifer Lee (Assistant Professor, FBM). Tennis model - Jasmine Matos (FIT Athletics tennis player, FBM). Photographer - Anthony Nguyen (FBM student)
Full Service 3D Printing
FormLabs Form2 & 3

both print e

xtremely high detail using a variety of specialized plastic resins. They utilize

stereolithography, fusing photo-sensitive polymers into solid objects with focused points of light. Stereolithography allows for much higher detail than FDM printing, as well as printing in flexible and castable resins, but the Forms have a smaller print bed and a more involved support-removal process.
Build size: 5.7"L × 5.7"W × 6.9"H
Resin. $0.50/ml (
$5.00 minimum charge)
Ultimaker 3 prints using PLA plastic & specialty filaments such as white TPU, PETG, PVA, CopperFill, WoodFill, BronzeFill, Magnetic Iron, Stainless Steel, Carbon fiber and F-Electric. Capable of dual or single extrusion with water-soluble supports.
Build size: Left or right nozzle: 8.5"L x 8.5"W x 7.9"H. Dual material: 7.8"L x 8.5"W x 7.9"H
PLA plastic: $0.50/g
Specialty filaments: $0.75/g
(
$5.00 minimum charge)
Raise 3D Pro 2
Soluable supports. Single or dual extrusion
Build size: 11"L x 12"W x 11.8"H
PLA & ABS plastic: $5.00/cubic inch
(
$5.00 minimum charge)
Stratasys F120
S
oluable supports. Industrial grade. High quality
Build size: 10"L x 10"W x 10"H
ASA ivory & ABS black plastic: $7.00/cubic inch
(
$5.00 minimum charge)
*Self Service 3d Services
3D Printing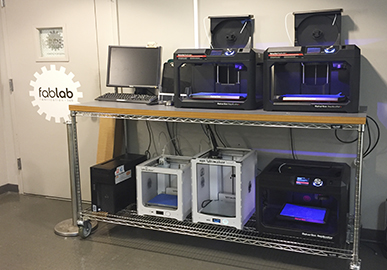 The FabLab has four MakerBot Replicator 3d printers and is a hobbyist-level 3d printer that prints inexpensive models out of PLA plastic filament (a corn based bio-plastic) using Fused-Deposition Modeling (FDM) technology. With proper preparation, they can produce good results for basic models, but are limited by their low detail level and support material that can be time-consuming to remove. Build size: 11.6" L X 7.6" W X 6.5" H. Price: $0.35/g. $5.00 minimum charge
Service suspended until further notice
Structure Sensor 3D Scanner: Attached to an iPad. Move around the object to scan it.
Haptic Touch 3D Scanner: Large object scanning. Hold in your hand and move around the object to scan it.
---
Vacuum Forming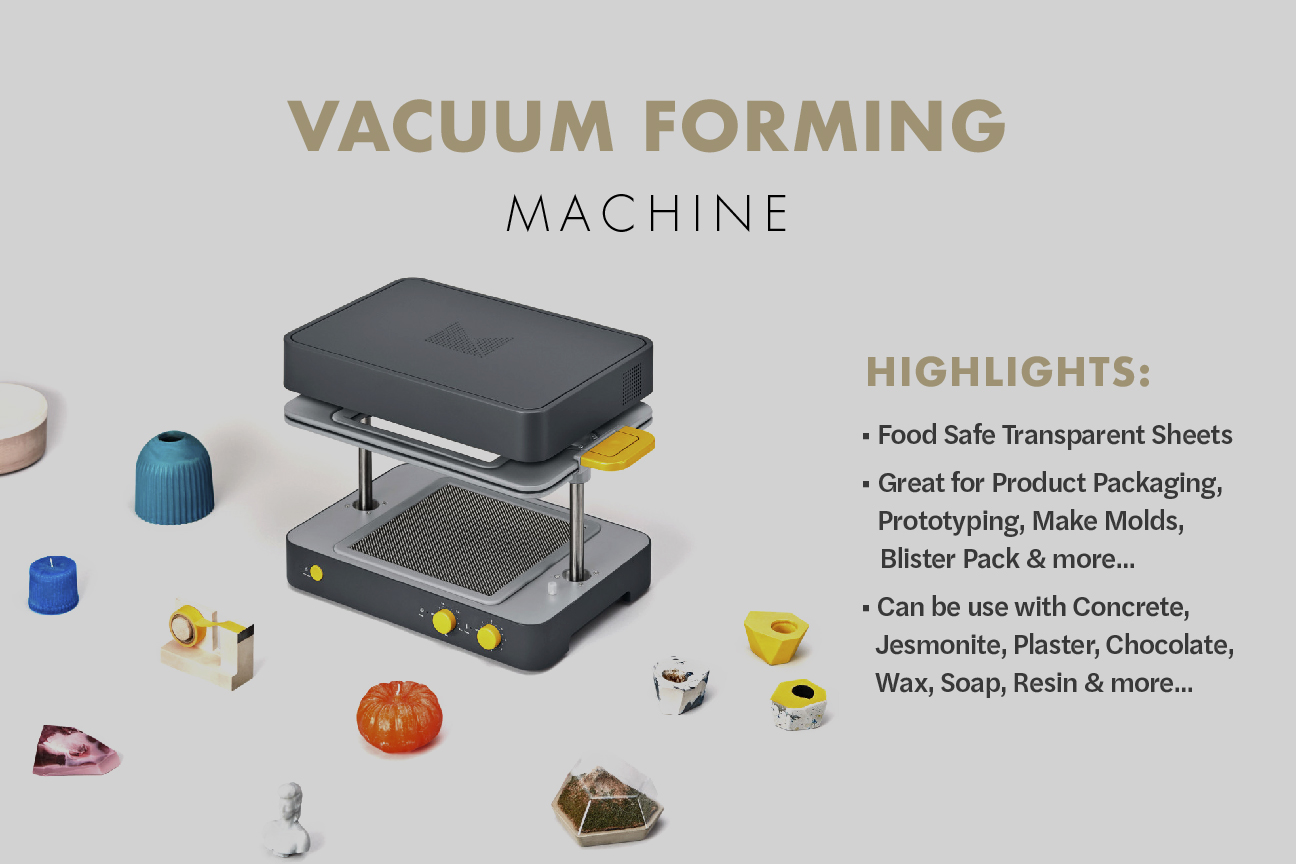 Highlights of the vacuum forming machine: Food safe transparent sheets; great for product packaging,
prototyping, mold making, blister pack and more.
Can be used with concrete, jesmonite, plaster, chocolate, wax, soap, resin and more
Choice of either transparent 0.5mm sheets made from food safe, recyclable PETg or white sheets made of Polystyrene which can be painted and are good for blister and product packaging and prototyping. The surface finish achieved is almost identical to that of the original object. Use in conjunction with a 3d printer and create molds of your 3d printed designs. Maximum width and length for mold making: 5.9"x5.9". No vacuum forming objects taller than the object's width.
---
Laser Cutting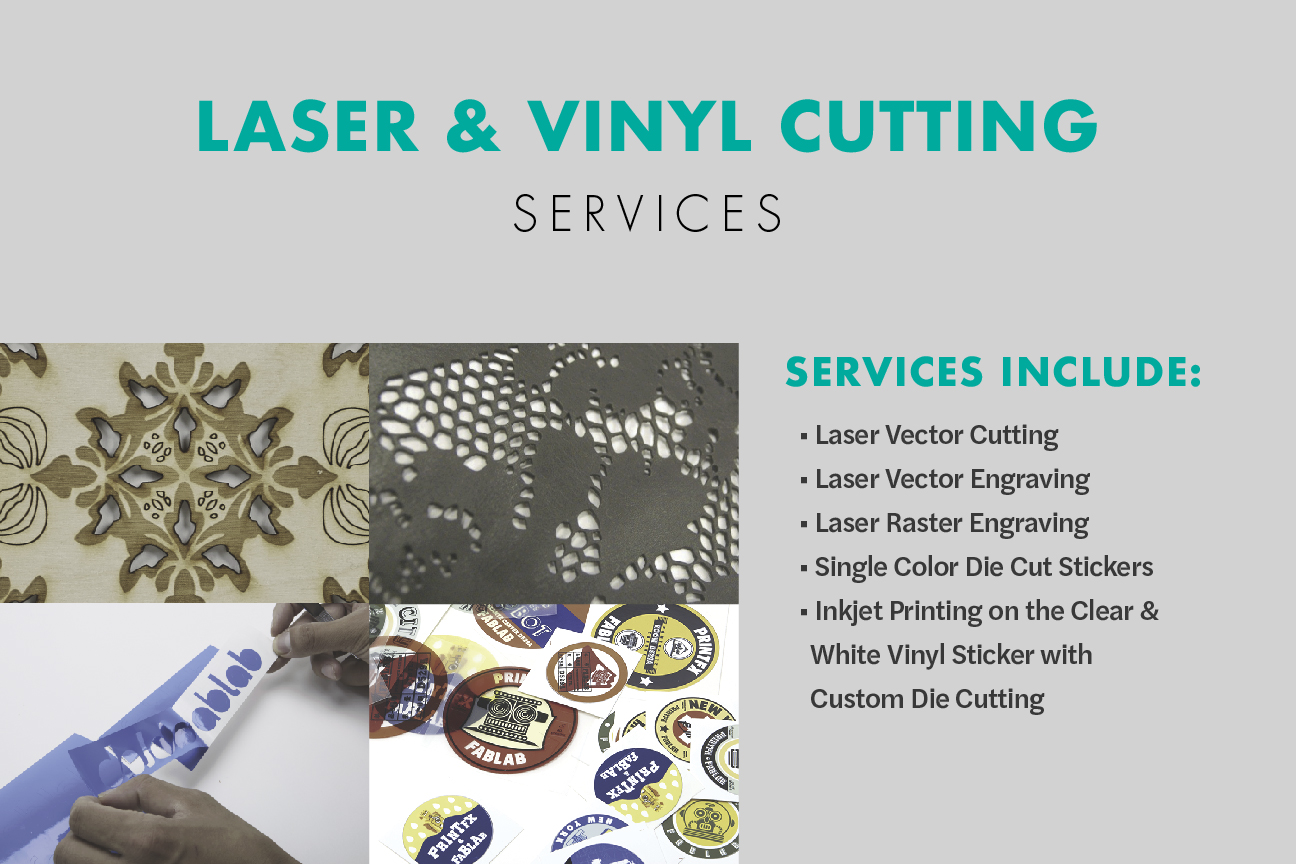 Service includes laser vector cutting, vector engraving, raster engraving
The FabLab is equipped with a Universal Systems ILS 12.75 Laser Cutter which has a material processing platform of 48" x 24" x 12"
Accepted file types: Illustrator files for Vector Cutting, Vector Engraving, Raster Engraving. Photoshop jpeg files for raster engraving. View Illustrator - Vector File Setup video quick guide.
Accepted materials: Please download our laser cutting acceptable materials & supplier guide (.pdf) for local suppliers and online vendors. We reserve the right to refuse material if we deem it to be unsafe or inappropriate. Guide is a pdf and requires Adobe Acrobat Reader.
1/4" thick material: Acrylic (only with brown paper backing); Softwoods (Ex: poplar, pine, balsa, cherry, walnut, soft maple, etc.); Paper Based Materials (Ex: cardboard, bristol board, museum board , chipboard, etc.); MDF and CDF; Natural Fabrics
1/8" thick material: Leather; Hardwoods (Ex: ash, birch, hickory, elm, oak, hard maple, etc); Cork; Rubber; Faux Leathers (Faux Leathers have to be approved by a Tech)
Accepted margins: 1/4" around entire laser cut file
Pricing: Initial setup fees : Standard job $7.00 setup charge/material. Complex job $10.00 setup charge/material. After this initial setup fee (per material), the price for use of the laser (for Vector Cutting, Vector Engraving, and Raster Engraving) is $0.85 per minute.
Guidelines: For in depth laser cutting information, see our laser cutting guide (pdf). Guide is a pdf and requires Adobe Acrobat Reader. For additional file setup tips, view Illustrator - Vector File Setup, Illustrator - Pattern Creation and Illustrator - Outlining Fonts video quick guides.
Laser Cutting Examples
Melanie Reim, Acting Associate Dean of the School of Art & Design. Wood laser cut submission for The Art & Design Gallery exhibit, "Conversations: Artwork In Dialogue" March through April 2020. The dialog between the two female 'sand puppets' reads: "And I like, said, it's not what I need, and he said, "I know, I know, I know, I know, I know, I know, I know, I know".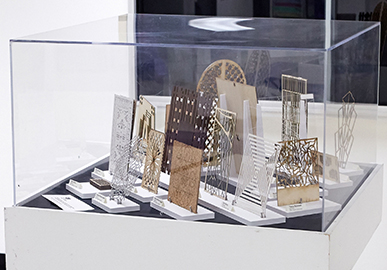 April 2015 Pomerantz Center
Interior Design Department, Studio V --- Residential.
Challenged to prototype a laser cut element for their residential project, students developed designs that were fabricated here at the FabLab.
Professors: Joseph Lembo, Takashi Kamiya and Johannes Knoops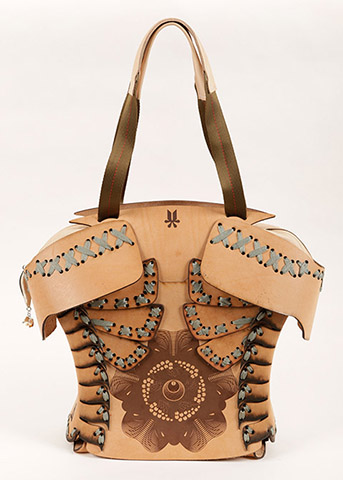 T. Jacob Hooker, Accessories Design graduate
Laser cut leather accessory for the BFA graduating student show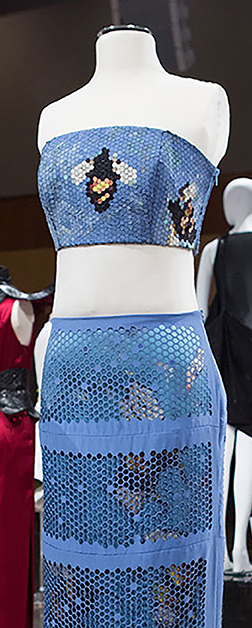 Hojun Lee, Fashion Design graduate. Laser cut dress