Baker School Dean's Forum featuring Charles Gorra, CEO & Founder of REBAG
November 4, 2020
By Rachel Brosman
The fall semester's Dean's Forum took place on Monday, November 4th at 5:30pm in the Katie Murphy Amphitheater. Baker Scholars helped coordinate on the day of the event. With the vintage industry booming, students flocked to the amphitheater to hear from the CEO and Founder of REBAG, Charles Gorra. This event was also co-sponsored by the Entrepreneurship department.
REBAG is a 'buy and sell' luxury handbag platform. It originated as a digitally native brand, but now has stores in California, Florida, and New York. REBAG carries every top brand, from Hermes to Louis Vuitton and Gucci.
In fireside chat format, student audience-members asked Mr. Gorra a variety of intriguing questions. Advertising and Marketing Communications students asked about the brand's social media tactics. Entrepreneurship students inquired about how Gorra was able to start the brand back in 2014. Fashion Business Management students asked about the company's retail expansion strategies. His expertise truly covered every area within the fashion business; however, Mr. Gorra has actually spent most of his career in the finance world.
Another amazing draw to the event was that REBAG was kind enough to donate a limited edition handbag for a lucky winner. One student won a Givenchy Pandora bag, which was part of a limited edition collection by artist Kenda Thomas. This was truly a one-of-a-kind handbag.
Mr. Gorra brought along an army of his trusted employees to occupy the front row. He consistently referred to these individuals in conversation, and he even emphasized that the employees were there to recruit FIT students. Gorra said that one of the most sought after professions he needs at his designer resale business are authenticators. Professional authenticators are highly skilled in the history, design, materials, and everything else that goes into distinguishing a real handbag from a fake one. It was great to see dozens of students networking with business professionals from REBAG after the forum was over.

---
What it Means to be Sustainable-Baker Scholar Dean's Forum

March 12, 2019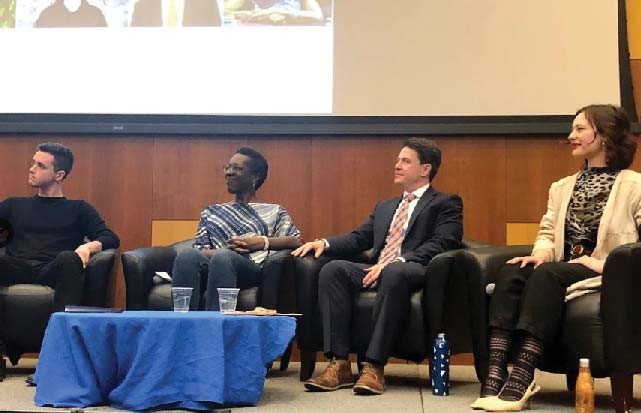 by Juliana Moreland and Kathleen Marinaro
In the spring semester, two members from the Baker Scholar Program, Dayna Lawrence and Caitlin Kennedy, put on an amazing Dean's Forum called What it Means to Be Sustainable. At the event, there were four panelists that were involved in apparel sustainability but each in a unique way. Willa Tsokanis, an FIT alum, is the chief executive officer and one of the founding members of Esa N.Y. The non-profit organization strives to make the fashion industry more sustainable by offering educational events, workshops, and lectures, all while being volunteer-based. Devin Gilmartin is the cofounder and President Querencia Studio, a multidisciplinary fashion brand that creates collections from 100% recycled materials. The Canvas by Querencia studios is a division of the brand that focuses on creating sustainable fashion and art locations throughout New York. Ngozi Okaro discussed founding Custom Collaborative, which offers women from low-income and immigrant communities the opportunity to launch string careers in the fashion industry. Custom Collaborative also propels the importance of fair compensation within the apparel industry as well as creating well-made sustainable fashion.
The panelists discussed the many issues surrounding the fashion industry's impact on the environment. The stigma of "not being sustainable enough" was heavily addressed, with each panelist stressing that every little action helps cause a greater reaction. Surprisingly, most panelists didn't com- pletely shun fast fashion, instead expressing that garments from those stores should not be worn only once. Panelists also discussed new technology that will help both companies and consumers track a garment throughout its entire production to see if it meets environmentally-friendly standards.
Students not only listened to the panelists about their careers and discussions on sustainability but asked questions . Some Fashion Design students asked how they can stay inspired when only created limited fashion lines. The panelists encouraged designing capsule collections and releasing them slower as well as having less pieces to a collection. Other students inquired about how to inform friends who might not understand why they are so passionate about sustainability. The panelists reassured these students by describing their own way of addressing the issue with friends and some helpful talking points for them to mention.
The event lead by Lawrence and Kennedy had a great turn out. The event ran smoothly, had amazing panelists, and was a major success.
---
The Business of Gender Neutral Dean's Forum

March 28, 2019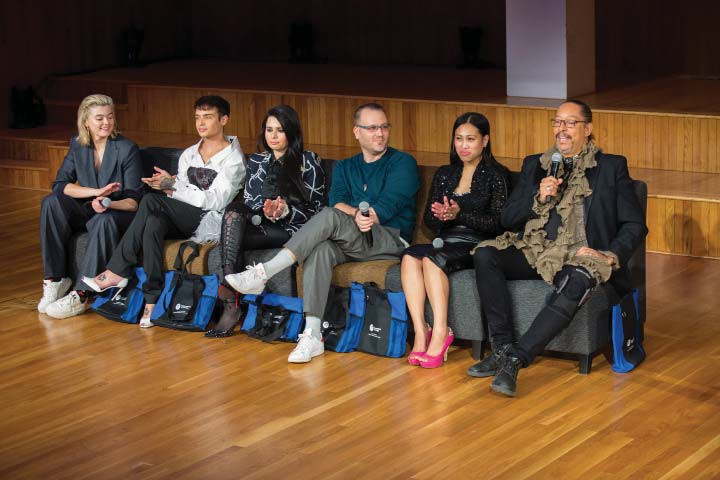 by Roche'r McFarlane
The Business of Gender Neutral Dean's Forum that took place on Thursday, March 28, 2019 was a great insight into the gender fluid fashion market. It included an amazing performance and fashion show to start.
The evening began with a song performance of Bad Influence by queer Latin artist, Baby Yors, coupled with a stunning fashion show. Following the show, was a beautiful introduction of each model featuring their preferred, or shall I say mandatory, pronouns and passion projects. The night continued with an eye-opening panel that lead into a great discussion about being true to one's self and breaking boundaries and barriers in the fashion world.
Photos taken by Lorenzo Ciniglio, Event funded by the Student Faculty Corporation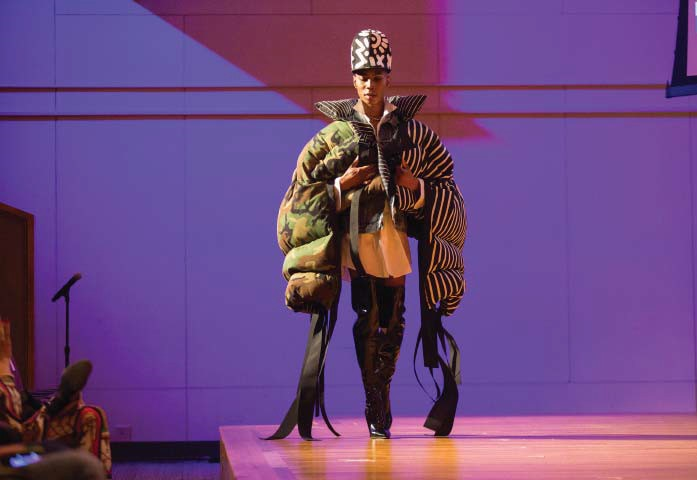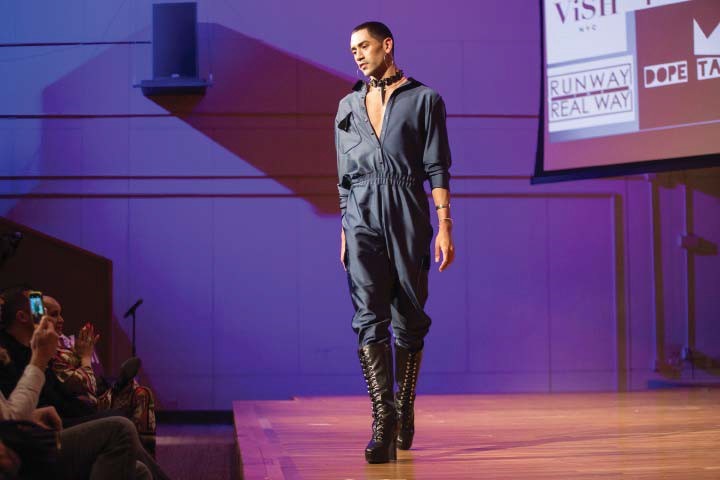 ---
The Jay and Patty Baker School of Business and Technology Dean's Forum,
featuring the Business of Modest Wear
Wednesday, October 10 at 6pm in the Katie Murphy Amphitheatre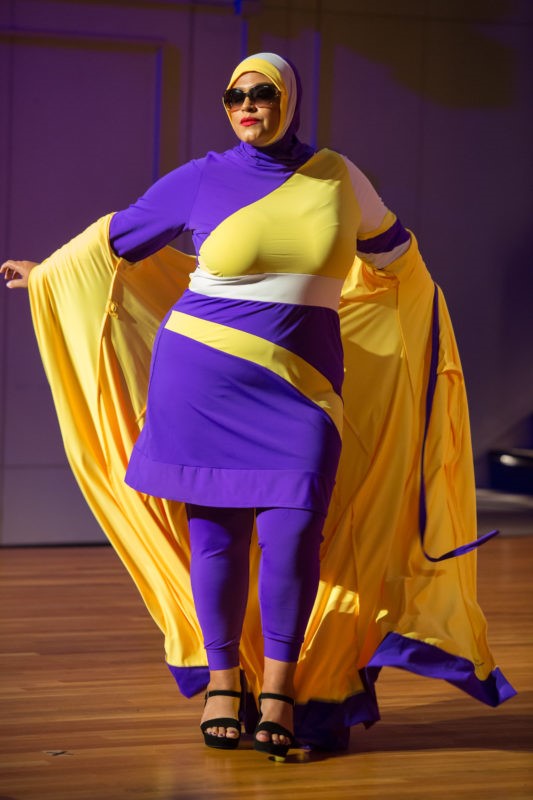 Modest wear has gained in popularity with Christian, Jewish and Muslim women thirsty for stylish clothes that satisfy their religious preferences and for women with a preference for wearing less skin-revealing clothes.
The audience heard from modest wear industry professionals Lisa Vogl, Director of Verona's Collection which is sold on Macy's.com and through her store in Orlando, FL., Nailah Lymus, CEO of Underwraps, the first Muslim/Modest female modeling agency, Veronica Marrinan, one of the partners in Litany, a modest wear company targeting Catholic women, and Sumiyyah Rasheed, CEO, SWH Apparel, a domestic manufacturer of plus size women's active wear and lingerie. The panel was moderated by the renowned plus size advocate, Catherine Schuller, CEO/Executive Director of Runway the Real Way.

The panel addressed and dispel myths and stereotypes commonly attributed to modest wear consumers, such as the misconception that equates modesty with drab or lack luster apparel and style. "Just because a woman dresses modestly doesn't mean she's lacking in fashion sensibility, said Ms. Rasheed. Furthermore, we want to encourage the future designers to explore a career in the lucrative modest wear industry and, armed with their technical and creative expertise, they can lead the effort in the fashion industry to bring fashionable styles and change to the market place."

Click here for more information on FIT Newsroom.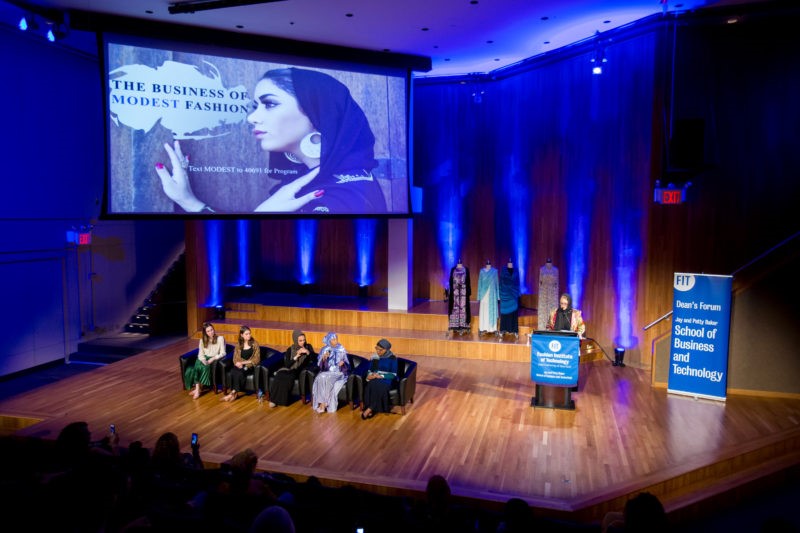 Photos by Lorenzo Ciniglio
---
18th Dean's Forum April 16, 2018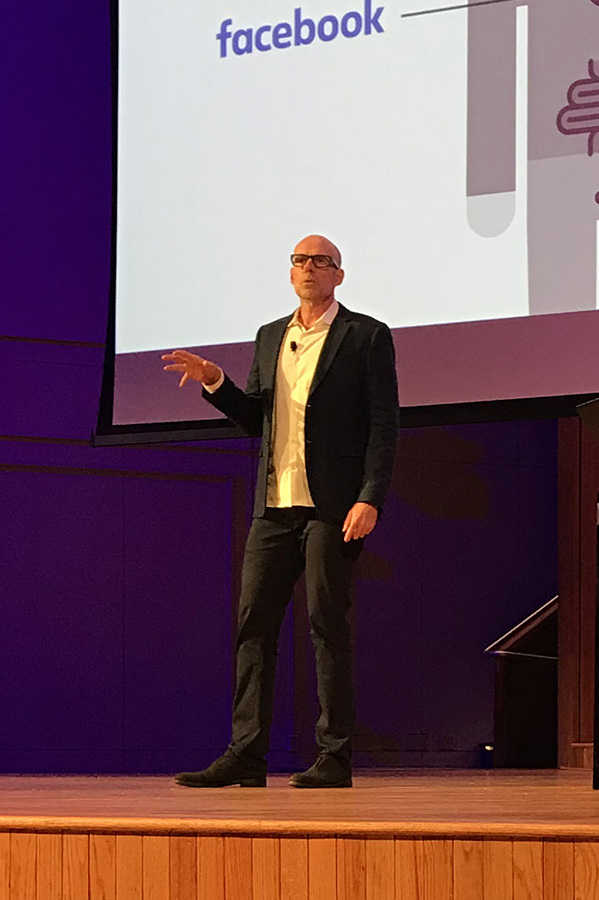 Scott Galloway by Caitlin Kennedy
Scott Galloway was the special guest for the Spring 2018 Dean's Forum. He is a New York Times and USA Today best-selling author. He is a speaker, writer, and a marketing professor at New York University Stern School of Business. Scott Galloway opened by introducing himself and thanking those who took time to organize this event. He spoke about his latest book, The Four: The Hidden DNA of Amazon, Apple, Facebook, and Google. With a mix of humor and information, everyone in the audience was completely engaged. He explained the four technology giants and their impact on the global economy. He went on to explain the chapter in the book that he did not write. Here he explained his stance on splitting up these four giants. Galloway made it clear that he is not against these companies, in fact he stated he uses and appreciates the services they provide. He simply spoke about the impact these companies may have in the future on the economy. Following his presentation, Galloway took time to answer some questions from the audience. He answered truthfully and offered advice. Finally, he raffled off twelve signed copies of his book. After the event, he took time to take photos and shake hands with attendees. The audience left with more knowledge about these companies, and their positive and negative impacts on the global economy. Scott Galloway provided so much knowledge and en-gaged the audience.
The goal is to open the eyes of the consumer to see the adverse impact and make a change.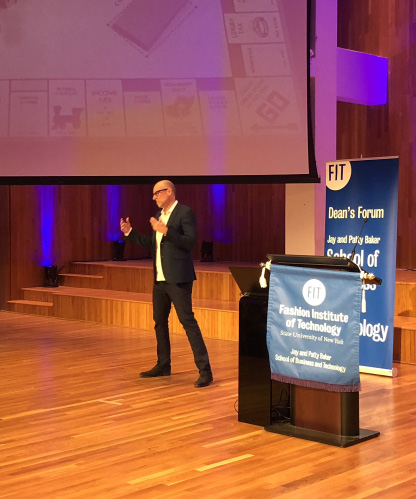 Event was funded by the Student Faculty Corporation.
---
17th Dean's Forum: November 15, 2017

The Business of Curves: How Curvy Women are Out and Proud
By Grace Kranz


Walking into the Business of Curves forum on Nov. 15 was like walking into a high-profile event. The lighting was moody, and upbeat music played softly in the background. Behind the chairs, photographers and videographers toyed with their equipment. Meanwhile, on the side of the stage, models and attendees posed for pictures against a backdrop representing the Business of Curves.
President Joyce F. Brown was greeted by the audience's applause as she walked onto the stage. She stood at the podium and spoke a few words about the plus-size fashion industry. "They feel like second class citizens," remarked Brown in reference to curvy women. She stated that it's time for us to accept them in the fashion industry. "They are out and they are proud!" Brown exclaimed.
With a thunderous clap, President Brown walked off the stage and a film introducing the guest panelists started. An interesting fact that stood out from the film was that 67% of women in the U.S. are size 14 or larger. That is over half the population, and yet plus size women are still frowned upon in society. Susan Moses, a celebrity stylist, stated, "The word plus is a positive, and it means a little bit more. A little bit more to love, a little bit more to hold onto," and as soon as the film ended, the fashion show began.
It started with beautiful, curvy women walking down the makeshift runway in lingerie. After lingerie came ready-to-wear and ended with sophisticated dresses. I stared in awe at the these women and could feel their confidence radiating throughout the room. They looked amazing in the garments, and they knew it! Their smiles were genuine and contagious. The runway show was more than just another fashion show. It was created to make a statement: Curvy women aren't going to hide anymore — it's their time to shine.
Up next came the panelist discussion moderated by Fern Mallis, the curator of New York Fashion Week. The panelists included Catherine Schuller, Susan Moses and Emme. Schuller is a fashion event impresario, as well as an educator for plus size fashion at the Fashion Institute of Technology. Moses is an illustrious celebrity stylist, blogger, spokesperson, and designer. Emme is a globally recognized women's advocate for positive body image and self-esteem.
The panelists discussed a range of topics regarding plus size women and their place in the fashion industry. In regard to the "normal" size going from a size 14 to a size 0, Emme stated, "It's not that [the plus size woman] walks into life as a plus size person. She's a woman first with a whole plethora of personality to reflect, so the industry getting on board is really a good thing." No woman's personality can be defined by their size. A woman that is a size 0 can still have the same dreams and aspirations that a size 18 woman.
Another difficult topic the speakers tackled was misconceptions within the fashion industry that have affected plus size women. "[The plus-size fashion industry] is a $21.4 billion business. 58% of women don't find anything they really like. Can you imagine if we satisfied those other 58 percent? That number would double. That would help the economy,"Catherine Schuller explained.
In response to the lack of well-fitting clothing for curvy women, she passionately exclaimed:
"Help curvy women use their bodies and their voices to encourage more designers to be inclusive in their collections…use your voice, use your Instagram, show yourself in the clothes because everyone's paying attention. (…) And that's where we have to start. Using your voice is the most powerfully positive thing you can do."
Each comment made by the panelists created a fresh perspective. If there is one thing the Business of Curves Forum proved, it is that curvy women are not only desirable, but they deserve to make their mark in the fashion industry. Not only did I leave with a couple fresh perspectives, but I also left with a newfound sense of self-love. In an industry as competitive and shallow as the fashion industry, it's good to know that there are people who embrace who they are instead of conforming to society's standards or, even more, try to change society's standards.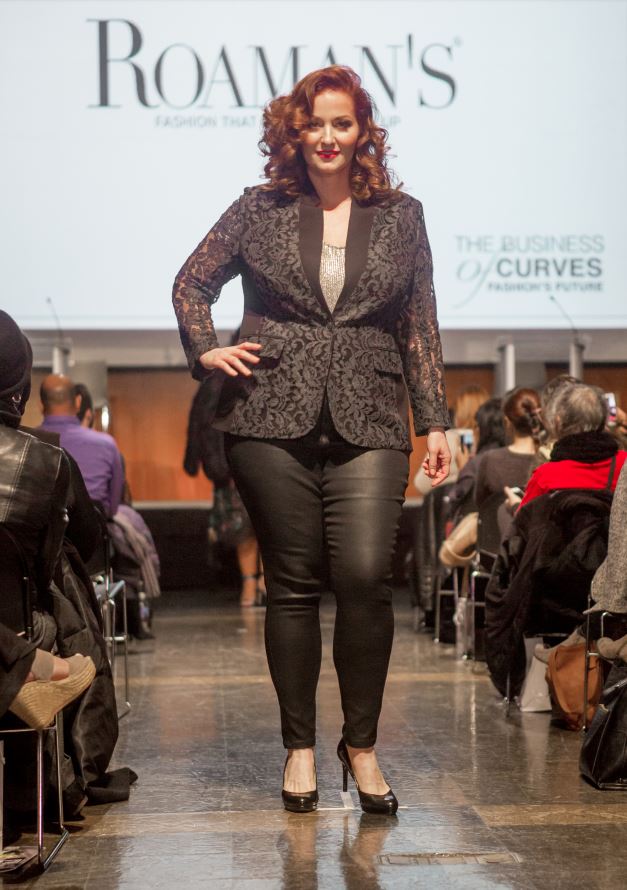 Photos taken by Lorenzo Ciniglio. Event was funded by the Student Faculty Corporation.

Click here for more information from FIT Newsroom.

---
16th Dean's Forum
April 3, 2017

"Toni Ko, Founder of NYX Cosmetics Talks Business at FIT"
by Ryann Casey

Toni was first introduced into the beauty business at the young age of 13.
She moved to the U.S from Korea with her family who bought a
small beauty supply business.

"No one teaches you how to eat; you instinctively know how to eat. Business is very similar to me," says Toni. She naturally grew up in the business helping her family out and working after school, on weekends and during school vacations, which aided to her keen business sense and entrepreneurial spirit. After working in the family business for 11 years, Toni left her parents business to create NYX.

Toni recognized a gap in the cosmetic market that she wanted to fill: "I saw a huge gap in the market between the quality of prestige brands and drugstore brands," she explains.

After leaving the family business, she started her own brand of color cosmetics. NYX married the two markets by delivering great quality with simple and chic packaging at a good price.

"I miss being in cosmetics every day. It's a really fulfilling business to be in," says Toni.
"Beauty business people are heavily loyal to your brand. She feels that makeup is artistry and can really change a person's attitude. She believes that positive impact can come out of just one lipstick. Toni describes the power of cosmetics, as "a tube of red lipstick is a domino effect on society. When a woman feels she is beautiful she is more confident and happy and it is a domino effect. It makes everybody happy."

So if Toni loved cosmetics so much, why did she sell the business? "I wanted to sell NYX because I was getting burnt out," says Toni. "I was married to the company and I was doing everything. My life had flashed by me and I felt like I had no life outside of work."

While Toni loved both the cosmetics industry and NYX, she sold the company to find a harmonious work life balance. She felt that NYX had gotten so large that it was beyond her control. Out of love for her business, Toni sold the company to L'Oréal in 2014, expressing that "L'Oréal has done a tremendous job and NYX has become a true global brand."

After selling NYX, Toni moved into the sunglass business with Perversion Sunglasses. She looked at many different categories, searching for something she personally cared for and knew a lot about. Toni landed on sunglasses, stating, "I love sunglasses, I personally have about a 100 pair collection of sunglasses." In similar technique to founding NYX, Toni recognized a missing gap in the sunglasses market of an aspirational price point brand. "It had everything I was looking for. I made a business plan that proved in theory so I bought a plane ticket to China and started looking for a supplier." Perverse Sunglasses launched in April 2016 at Coachella with a very similar business model to NYX Cosmetics.

Toni wrapped up her work experience with a few words of advice for young aspiring entrepreneurs:

1. "Only focus on your goal. Everything else is a noise. This puts you two steps back where you can look three steps forward. Focus on the big picture of what YOU want. Do not stress over the small stuff."

2. "Reinvest. Reinvest. Reinvest. When you see money rolling in, it is NOT your money. You cannot live like a rock star unless you are a rock star. It is important that a company have a strong financial platform. Why take a fruit off the tree when that fruit could evolve and grow another tree. It is your company's money not your money and your company needs that money reinvested to grow the business."

3. "When you do not know ask! When you ask questions, you will find people go out of their way to help you. People are good. They go out of their way to explain things to you."

Toni Koi has successfully created, grown and sold NYX Cosmetics and is now the CEO of Perverse Sunglasses.

Photo taken by Lorenzo Ciniglio

Event funded by the Student Faculty Corporation

15th Dean's Forum
October 22, 2015




"The Politics of Polish
The Woman Behind Essie"
By Janice Tran

Believe it or not, there is a real Essie behind today's most popular polishes. Now owned by L'Oréal, Essie has millions of loyal followers and is carried in thousands of salons, in 107 countries, with a selection of over 300 colors.

Essie Weingarten is a native New Yorker, as well as a FIT alumna, who has a fascination for fashion which became the foundation for her mega nail polish brand. Before launching her brand, Weingarten was a merchandiser in the gifts and hosiery department at Henri Bendel. Coming from an entrepreneurial family, Weingarten always aspired to be her own boss so she began with $10,000 and an idea which has since launched into a million dollar business.

Essie Weingarten shared with FIT how her love for getting her nails done sparked her jumping into and building a successful business.

Q: Was there ever a time where you were at a lost for inspiration?

A: Of course, it happens a lot. You think there's nothing left, but you can't give up. It's what makes the process exciting. Take a deep breath. Bend yourself in half and bounce forward and the next thing you know there's a flower blooming. I sat on a plane a lot because I traveled and my best ideas came when I least expected it. I'd take my book, I still have it today, and I take notes. It's my bible. I'd have hundreds of names that I'd store in this. You have to write things down! Its old school, but it works.

Q: What advice do you have for those aspiring to own their own business?

A: Number one, you have to get out there. If you have an idea what you want to do, go learn on someone else's clock before going into business for yourself. It's one thing to be in school in a classroom than the experience out in the industry and seeing how it happens. The working experience you have is invaluable. I was also totally committed. A lot of people think if you have a startup, you'd only work nine to five. No, you're going to work 24/7. When I was working with Asia, the phone would ring in the middle of the night, and I had to sound as though I were wide-awake. No matter where I was, I was always putting Essie first. If you have a good idea and you nurture it, you'll succeed. There's no easy money – you have to work. It has to be something no one has ever done and if you have that, go for it! And always remember to hire people that are smarter than you.

Photo taken by Lorenzo Ciniglio
Event funded by the Student Faculty Corporation

14th Dean's Forum
April 2, 2014

Photo taken by Lorenzo Ciniglio
Event Funded by the Student Faculty Corporation

"Tim Gunn Makes It Work "
By Desiree Perez

Admirers of Tim Gunn lined up an hour before the Dean's Forum anticipating getting the best seats in the Haft Auditorium and a chance to get a close up glimpse of the star.

Gunn approached the audience with an air of charm, in a navy striped suit, and a welcoming smile. He began the forum by talking about his inspiration behind his book, Tim Gunn's Fashion Bible, which everyone received a free copy of thanks to the Student Faculty Corporation.

Gunn's fascination with fashion history inspired him to write his own fashion bible about fashion's history with his opinions and guidance on the side. With its quick chapters on clothing categories such as underwear, coats and handbags, Gunn felt it was an antidote to prior fashion history textbooks, which are usually longer. "I wanted to make the book accessible and relatable. I don't go on for volumes about this evolution by years. Who cares?" explained Gunn before everyone laughed along.

He went on to reveal some surprising personal details when Gunn was in secondary school. Everyone quickly learned he was an antisocial nerd who hated sports and disliked getting dirty; he had an agonizing stutter that finally left him at age 19. He found his true pleasure later on in college while studying Art and Design. Gunn felt it was an affirmation finding who he really was in life. Along the way, he learned many concepts that were valuable, one of which he shared with us.

"The answer, to whatever problem it is you're solving, isn't in the back of the book. The answer is in you," said Gunn. Scanning the audience, it was evident that they were hanging on every word.

After acquiring an influential position on Project Runway, starring in his own show Under the Gunn, and writing a few books, Gunn showed gratitude and contentment when asked about his future projects. "I've been blessed with so many incredible opportunities that to even think about wishing about something else would be such hubris that I would hope I'd be struck by lightning," said Gunn.

13th Dean's Forum
April 9, 2013
Rent the Runway
"Be a Woman; Wear a Dress"
By Amelia Cheikhali

On April 9 young men and women poured into the Katie Murphy Amphitheater chattering away, checking phones, and even knitting, but all became silent as as Rent the Runway CEO Jennifer Hyman stepped on stage. In nude heels and a leather and linen A-line dress, she introduced herself simply as Jen. She exuded everything the woman CEO should.

I see myself as someone who has a vision and someone who is very mission driven so my vision is transforming the retail industry, Hyman said. Democratizing it.

Hyman started off with a short presentation entitled, Experimental Marketing: The New Frontier, covering the idea of how we went from a material economy to an experience economy. Anyone who has been observant lately, especially students in Advertising and Marketing Communications, will have noticed that stores and brands are going above and beyond to grab us and reel us in as consumers. Hyman contributes this to the shift in ownership, where we are so used to renting or gaining access illegally (books, music downloads, movies, etc.) that with her company she is just legalizing the rental behavior.

Rent the Runway launched in 2009 with only 28 designers; now in 2013 the company has 200 designers and 3 million online members. And even with the huge leap in numbers in just a few years it was no easy task. Some opposition from the opposite sex and getting people to believe in her and work for her without having her likability going down was difficult but she equates her success to hard work and being nimble with a changing environment.

I think that's the great thing about being an entrepreneur, you believe in so much in what you're doing that sometimes, you don't let distractions like how difficult this mountain is going to be to climb distract you. She also believes you have three responsibilities as an entrepreneur you must one, have a vision of your company two, hire the right people to create a culture and lastly, set your priorities.

To Ms. Hyman, there is this deeper meaning besides getting a dress for cheap. It is about bringing younger woman the awareness of designer names, of course not an issue here, but to many other girls in other states they are unfamiliar with any designer unless covered by Forever 21 and H&M. A new section of the company called RTR on Campus was created just for that reason. Representatives of the company would host events on their campus, but the process is very selective and you must go through a boot camp to learn all the ins and outs of being your own entrepreneur.

Besides giving access to college age girls we should be seeing a new market segment for maternity and plus size women and Jen even hinted at being able to rent accessories such as veils for weddings in the near future. Plus, she gave a heads-up during the Q&A session to all emerging designers to be on the lookout for a platform that will allow them to get involved in Rent the Runway.

Social media has created a platform for the company to have an honest conversation with their customers and see these Cinderella Moments that are featured on the RTR site with the dresses they rented. "It's more than just a job. It becomes something that, you know, I'm wholeheartedly committed to because I think that we're changing peoples' lives and we're really helping people to develop these emotional connections." And a final piece of advice from Ms. Hyman for all the girls entering the business world, "We can have it all."

Event funded by the Student Faculty Corporation.
Photo Taken by Lorenzo Ciniglio.
12th Dean's Forum
March 13, 2012

Joe Zee Gives Insight To Students



By Richard Gilmartin

On March 13th, 2012 Joe Zee, Creative Director of ELLE magazine and FIT alum, was a guest speaker at the Deans Forum held in The Great Hall.

Zee, who is an inspiration to all current students at FIT, shared his personal journey of hard work and persistence. Everyone's ears perked up waiting for the secret ingredient that has made him so successful. The answer was so simple that anyone in the room could have guessed it: determination.

A native of Toronto, Zee first came to FIT as a student in 1989. He was told he couldn't do it because he wasn't pretty, blonde and female, therefore the odds wouldn't be stacked in his favor. Zee decided to try out his luck anyway and applied late to the Advertising and Marketing Communications program. After pestering admissions for months, he was finally accepted in August.

Once he had arrived, Zee made it his mission at FIT to stand out. He became the Editor-in-Chief of FIT's W27 newspaper, and even went ahead and was able to find an internship all on his own at Sportswear Intl. He quickly realized the importance of standing out as an intern, and that all of his various extracurricular activities relied on the skills essential for getting a job done efficiently.

Once out of school, Zee was able to land a job at Allure, where he stayed for a few years before moving on to W Magazine, as the fashion editor. Zee is now the creative director at ELLE magazine.

The industry isn't just Devil Wears Prada, said Zee, whose job isn't a typical nine to five, and may include anything from exploring the visual identity of ELLE to which celebrity will grace its cover.

Zee also shows a strong passion for technology, encourages students to use social media to brand themselves, and even claims that the use of social media and its immediacy is more important than the press kit in today's society.

However, all work and no play isn't what Zee advises; he believes that having an active social life is essential to keeping a healthy balance between work and personal life. He says the key to keeping his determination and putting a little bit of pep in his step, is balance. While working towards ones goals he stresses that it is important to maintain a social life in order to live happy and reduce stress.

Event funded by the Student Faculty Corporation
Photo Taken by Lorenzo Ciniglio
11th Dean's Forum
October 25, 2011
Underneath it All: CEO of Calvin Klein Intimate Wear
By Dianna Mazzone

Calvin Klein Underwear: the brand is edgy, sexy, cool, and overseen by a man who serves on the Board of Directors for The Children's Place? That's right, Joe Gromek does it all. As President and CEO of the Warnaco Group, Inc., Joe Gromek and his team handle seven major accounts: Calvin Klein Underwear, Calvin Klein Swimwear, Calvin Klein Jeans, Olga, Chaps, Warners, and Speedo. Gromek detailed his work with each of these high profile clients during a recent lecture moderated by Dean Deborah Klesenski. From personal organization to employee motivation, Gromek shared the insight he has cultivated throughout his almost forty year career within the field of fashion. Gromek testified that vacations are key and also spoke to the value of practicing social and civic responsibility in the workplace.

Gromek has certainly proved his advice to be worthy: In 2003, when he was appointed to his current post as President and CEO of Warnaco, the company was on the verge of bankruptcy. However, through business practices implemented by Gromek, Warnaco has not only avoided bankruptcy, but has flourished. Today, the name Warnaco is synonymous with quality, innovation, and fiscal success. Gromek attributes these accomplishments to emphasis on product along with well executed global branding. With plans to double the revenue of the various Calvin Klein lines over the course of the next five years, Joe Gromek certainly has a lot on his plate. But armed with experience and effective management skills, no CEO could be more suitable for the job.

If for some reason you remain unconvinced by Joe Gromek's ability to operate a multi-billion dollar corporation the likes of Warnaco, Inc., consider his response to a question regarding the hiring process: I like to hire people who work harder and are smarter than I am that's why I hire a lot of women. Now that's a good business strategy!

Photo taken by Jerry Speier. The event was funded by the Student Faculty Corporation.
10th Dean's Forum
March 29, 2011
Dean's Forum: Terry Lundgren
by Kirby Irby

If you can say you love what you do, you will be a success at it, believes Terry Lundgren, the CEO of Macy's Inc., parent company of Macy's and Bloomingdale's department stores.

Debonair with the quintessential look of a leading man, Lundgren credits assertiveness, a bit of luck and human connection as the framework that guides him through the awkward stage of adolescence and into the ranks as an innovator in merchandising, branding and local sourcing. Lundgren, one of six children, originally set his sights on being a veterinarian, but soon after changed his mind. Sophomore year at the University of Arizona would put strain on Lundgren's relationship with his father, who worked two jobs to put Lundgren through school.

Underwhelmed by Lundgren's progress, his father declined to continue payments. Having to confront his poor academic performance, Lundgren was forced into paying his own way through school. By senior year, Lundgren would hold his first managerial position at a local restaurant where he started as an oyster shucker. Immediately graduating college, Lundgren had 13 job offers lined up, five of which were in retail.

By 35 Lundgren had exceeded his fathers expectations, landing the title of CEO to Bullocks Department Store chain. In 1988 Bullocks was acquired by Macy's, ultimately leading to Lundgren's dismissal from the company. I was devastated, said Lundgren, I had just had a new baby, I was moving closer to the Wilshire district of Los Angeles and the company was taken over. It was a scary time. After two months of pounding the pavement and searching for new opportunities, Lundgren was hired as Executive Vice President of Neiman Marcus Group; within 12 months he would become CEO. From 1994 to 1997 he worked as the CEO of Federated Merchandising Group, and in a fateful turn of events Lundgren's career would land him back at Macy's in his current role as CEO.

Photo taken by Lorenzo Ciniglio. The event was funded by the Student Faculty Corporation.
9th Dean's Forum
November 9, 2010
Those shoes... whispered the crowd huddled at the front of the amphitheatre, each waiting to share a word with Mindy Grossman. The familiar sound of cocktail laughter roared as Grossman delicately lifted her pant leg slightly higher, revealing the purple suede heels she was wearing. A self-proclaimed force of nature in five-inch heels, Grossman has served as President and Chief Executive Officer to Nike, Polo Ralph Lauren, Tommy Hilfiger and is currently the CEO of HSN, Inc. Its no wonder everyone was so eager to see her power pumps."

"At 19, Grossman's life took a pivotal turn when she broke off her engagement and moved to New York City. Even after majoring in English and Philosophy at both Manhattanville College and George Washington University, Grossman wanted to further expand her education once securing a career and took textile technology classes at FIT. On top of managing HSN Inc., Grossman also served on the board of directors for the National Retail Federation as well as the Cosmetic Executive Women. In addition, she is currently the Chairperson for the FIT Executive Women in Fashion Advisory board as well as a member of the Advisory Board of the J. Baker School of Retail at the Wharton School of Business."

""Nike made athletes perform better," Grossman noted, "that alone, is incredible." A huge believer of immersing oneself into a brand, she recalled, "When I worked for Nike, I took a trash bag and made my family toss all the other athletic clothing we had." Grossman is also a huge advocate for women in the workplace. She believes there need be more female leaders, especially in the retail sector. "Women make good leaders, we have more empathy and think differently about people," she said, "there are not enough women CEOs [only 15% of women hold such positions], there is a responsibility to create diversity." As the woman who remodeled HSN for success, Grossman describes being successful by having a "North Star vision." This translates into not just taking tiny steps to obtain goals, but charting an entire course for change."

"With such passion and conviction, coupled with a portfolio of amazing credentials, Grossman's advice was truly valuable. For those unfortunate enough not to make it to the Deans forum, here is what she had to say:

"On life: Lesson #1: Don't be afraid to leave and make a change if it is holding you back from success.
On the choices you make in college: My degrees in college helped me at Cocktail parties! she said laughing, before adding, but great communication is necessary today. In order to inspire people, articulate your vision and point-of-view.
On time management: Oh dear, I'm still figuring that out. You can have it all, just not at the same time. There are trade-offs and I always tell myself, Mindy, remember to breathe.
On paving a career path: My career path was not exactly mapped out. It was purpose, passion and risk-taking...which built a portfolio of knowledge and capabilities. Make decisions to your best ability and if its not right, make a change.
On networking: It is a combination of developing long-term relationships that are powerful. It is not just stepping up vertically or horizontally, but to embrace the value in all levels. Also, keep up with relationships, I just had lunch with my first boss on Friday. I had worked for him only for 11 months, and he is now 82 years old.
On power: Power is a combination of relationships, reputation and integrity. I always hire people smarter than me, the best people make you better--if they can do it, I will too."

"Grossman had an appropriate send off for her audience of up-and-coming fashion aficionados, Always celebrate success with a pair of five-inch heels.
8th Dean's Forum
April 13, 2010
Poised and impeccably dressed, home products maven Harry Slatkin projects an aura of confidence and ease. Slatkin was this year's distinguished guest speaker at the Dean's Forum held in the Great Hall on April 13th.

Slatkin is the home fragrance expert behind Slatkin & Co products sold at Bath & Body Works, at fine stores and on QVC. Before entering the home fragrance market, Slatkin was a businessman working at Bear Stearns where he admits he was out of place. "Wall Street wasn't something I was comfortable with," said Slatkin, "When I would go out to dinner with friends from Wall Street I didn't talk because I didn't have the same kind of lingo." He added, "Once I started the business, I was very passionate about it; oh my God--you couldn't shut the up!"

His experiences on Wall Street aided in his business' success, acknowledging that creativity can only get you so far. "Working on Wall Street did help me because it grounded me on how serious money is. I've met a lot of creative people but if they don't understand what it takes to bring [that creativity] to life, it fails."

In 2005, Limited Brands acquired Slatkin & Co. When asked about the perks of being owned by a larger corporation, Slatkin said frankly, "Hooray, I don't have to worry constantly about a checkbook anymore! When you start your own company your business is about one thing: money."

Bath & Body Works occupies the most mall space in America, a perk that provides his products ample exposure under the company's name. "We are not spending a lot of money in advertising, but using that money for the customer experience in the store." This includes the scent of the candles, which can take upwards of six months to develop per candle, to the displays in the stores. Les Wexler, head of Limited Brands and close friend, advised Slatkin, saying, "Always put yourself in the shoes of your customer. If you're content with your display windows but no one is stopping to look at them, they're bad windows." Slatkin said, "Everyone wants to know what's working. For me the fun is what's not working."

Harry Slatkin has combined business savvy with creativity and brought his vision to life. "Everyone's worried about how they'll financially make their dream come true," says Slatkin. "If you persevere and you're passionate, somewhere along the road, it'll happen."
7th Dean's Forum
October 28, 2009
When Kenneth Cole came to speak to an amphitheater full of eager students in the end of October, his message wasn't somber or negative. Cole kept his attentive audience laughing and ultimately gave the FIT student body a hand full of good advice for its future designers, buyers and entrepreneurs.

Cole, who started his career with Candies shoes, said to students, I urge you to specialize. Get really good at something.

Though some of his success has been interlaced with said mistakes, Cole still has high hopes for FIT's fashion industry wannabes. I think you are on a really exciting path. Its going to be hard, but exciting, he opinioned. And through the Q&A session, he continued to give positive and helpful advice to each student that was brave enough to pose a question in front of the 400+ students in the Great Hall.
6th Dean's Forum
March 4, 2009
Tommy Hilfiger spoke to FIT students about both his failures and his successes the latter he attributed to great clothes, unique marketing and Andy Warhol. He discussed how you can find success in any industry as long as you believe in your ideas and refused to give up hope. He told students that he had no formal training, but a passion for creating clothes that he loved. Tommy Hilfiger managed to discuss how life can lead you on many different paths and the importance of taking advantage of all of life's opportunities.
5th Dean's Forum
October 20, 2008
Bobbi Brown, make-up mogul and celebrity artist came to FIT to speak to students about how to actualize their aspirations. Bobbi talked about working hard and following your heart. She also spoke about believing in yourself and keeping your goals in sight no matter how removed you might feel.
4th Dean's Forum
April 2, 2008

Most of what you read about me is probably not true.

That's what Calvin Klein told students when he was the speaker at the Business and Technology Deans forum. In a short speech, he discussed the history of his company and his design philosophy.

I always had a vision for the kind of design I loved, he said. Its simple. Its not very decorative. Some describe it as minimalist. I think its very American. And it hasn't changed. That's important because people have to know who you are and what you stand for. The challenge was to make sure the people who worked for me understood that vision.

Afterward, he opened the floor to questions.
3rd Dean's Forum
October 17, 2007
The Fall 2007 Deans Forum featured Susan McGalla, President and Chief Merchandising Officer of American Eagle Outfitters Inc. She spoke about her career and answered questions from students in the Jay and Patty Baker School of Business and Technology. Recruiters for American Eagle Outfitters later returned to campus to conduct recruitment sessions with students.
2nd Dean's Forum
March 19, 2007
Martha Stewart came to FIT on March 19, and passed on the secrets of her success to a standing-room-only crowd of students in the John E. Reeves Great Hall. The event was the second Jay and Patty Baker School of Business and Technology Deans Forum, established last year by Dean Alan Kane to bring industry leaders and FIT students together. But it was less a forum than an extended Q&A session, which suited the audience just fine.

I started working with Kmart in 1987, Stewart said. The business went from zero dollars to $1 billion in ten years.

Today, at her myriad enterprises, from the magazine empire to television and radio shows to retail partnerships, it all boils down to attention to detail.

Were not celebrity designers, she says, were serious design teams.
1st Dean's Forum
October 5, 2006
Mickey Drexler, CEO of J. Crew, says, Don't let anyone tell you that product is not the most important thing in the world.

He should know. In his previous job as CEO of Gap, Inc., he turned the firm into a multibillion-dollar empire by re-envisioning its clothing, delivering star-studded advertising campaigns (Whoopi Goldberg, Spike Lee), and developing Gap offshoot Old Navy.

Addressing FIT students, Drexler gave an overview of his career and answered questions about the secrets of his success. Drexler grew up in the Bronx and alluded to a hardscrabble childhood that prepared him for the fast paced, competitive apparel industry. I like adversity, he said. A student asked what the worst habit in the industry was. Drexler replied, looking in the rearview mirror repeatedly if you don't move forward, you're going to get in trouble.