Thesis Capstone 2023

Welcome to the Graduate Exhibition and Experience Design Thesis Capstone 2023!
The adjudication of the students' work will take place in person on Dec 8th, 12–5:00pm with a celebratory Evening Reception 5-7pm.
Exhibition and Experience Design 2023 MA Candidates
Click the green menu button at the top right of this page for more information.
Caroline Siavichay
Thesis and Project
Heal Harm Protect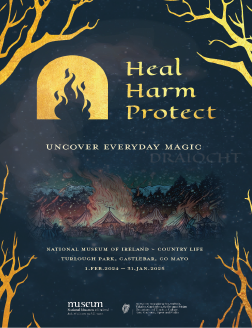 Modern museums have become more than spaces for academic exploration that solely foster intellectual well-being. These modern institutions have evolved into sacred spaces of community ritual and synergy that are fostering social well-being in an unprecedented way.
However, this phenomenon of societal cohesion and well-being is going largely underutilized, as many exhibitions are still designed with primarily intellectual learning outcomes in mind.
Understanding why and just how deeply the use of museums as ritual spaces can positively impact the social well-being of a surrounding community gives designers the opportunity to expand the scope of their intended project outcomes to include goals of fostering prosocial behavior and improving societal well-being.
Through the sequencing of design elements to strategically include moments of shared group experiences, both synchronous and complementary, interspersed with opportunities for individual rest and reflection, museums can accomplish these goals in order to better contribute to the overall well-being of communities.


The Design Development Package will be posted here on December 6 for your review.
Client: National Museum of Ireland
Venue: National Museum of Ireland - Country Life
Audience: Primary: Irish families and school groups
Secondary: Tourists
Ivar Theorin
Thesis and Project
The Wonderful Visit to Oz, a Hero's Experience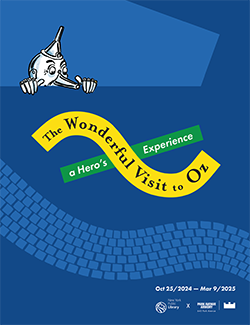 In nature we get a sense of awe from the view of an expansive vista as well as when we lean in to look at the iridescence of the shell of a beetle. In the built environment on the other hand, we expect everything to be at a human scale and anything that deviates from this norm is likely to cause a disruption. In the field of exhibitions, we have the opportunity to elicit the sense of awe by implementing elements of biophilic design and having deliberate changes of scale of specific exhibit elements. These interventions will help visitors have a sustained engagement throughout the exhibition resulting in a memorable experience.
The Design Development Package will be posted here on December 6 for your review.
Client: New York Public Library
Venue: Park Avenue Armory
Audience: Primary: Grandparents and grandchildren
Secondary: School groups
Emily Tse
Thesis and Project
Artificial Minority: Combating Unconscious Biases Embedded in Facial Recognition Technology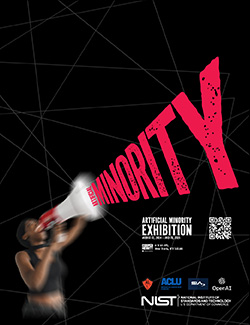 Our unconscious biases have been a problem in the past, present, and now the upcoming future. These biases — racial bias, gender bias, and age bias — perpetuate discrimination in facial recognition technology. The exhibition "Artificial Minority" brings public awareness to AI ethics encouraging responsible research and application. Exploring participatory museum techniques, such as role-play and workshop, provide ways to spark dialogue and foster awareness of these ongoing provocative issues.
The Design Development Package will be posted here on December 6 for your review.
Client: National Institute of Standards and Technology
Venue: Cooper Hewitt, Smithsonian Design Museum
Audience: Primary: High school students, college students, and adults
Secondary: Educators, researchers, and designers
Tanisi Ghosh
Thesis and Project
Light and You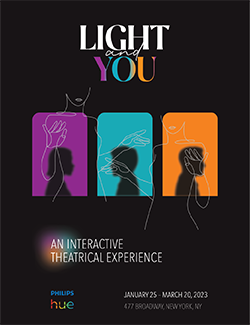 Lighting in design is just electric current running through a wire, but it also impacts the cognitive current that runs through our brain. The lighting of an environment can completely transform a space, and it can also be used to positively affect and enhance the mood of its visitors. The opportunity of learning the emotional, cognitive impact of lighting on humans can enable us to elevate the experience of those we design for, and aligning this with the circadian rhythm of nature can help foster well-being in the spaces we care about. Using this, we can create an indoor experience that touches upon all of these aspects of using lighting to affect perception and feelings in humans.
The Design Development Package will be posted here on December 6 for your review.
Client: Philips Hue
Venue: SoHo lofts, NYC (event space)
Audience: Primary: 25-45: Explorers and professional hobbyists
Secondary: Ages 18-24: Facilitators
Laura O'Grady
Thesis and Project
Sleep Factory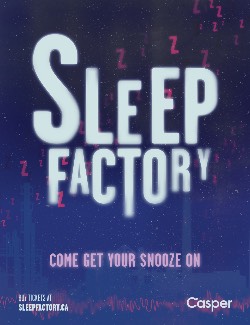 Meaningful friendships play an essential role in human wellbeing in every stage of life. However, as people age, friendship often moves lower on people's lists of priorities in favour of career and/or family. Studies show this results in increased levels of loneliness in adults today, often labeled a "loneliness epidemic". Additionally, finding and maintaining friendship in adulthood is increasingly hard as it requires practicing vulnerability, intentionality, making time, openness, and grace. Research shows that many adults attend museum exhibits, experiences, and events due to a social motivation. Designers can harness this intuitive motivation to create spaces that help visitors overcome barriers to friendship creation, maintenance, and strengthening. Design opportunities include: embedding friendship into design goals; creating a convivial space that ensures inclusivity; creating opportunities for social connection; and raise confidence in individual visitors.
The Design Development Package will be posted here on December 6 for your review.
Client: Casper Mattresses
Venue: Retail space, previously a bookstore, in downtown Ottawa, Ontario
Audience: Adults in periods of change and seeking identity
Primary: Young adults from mid-20s to 30s
Secondary: Adults around retirement
Wan Ting Lin
Thesis and Project
Shades of Empathy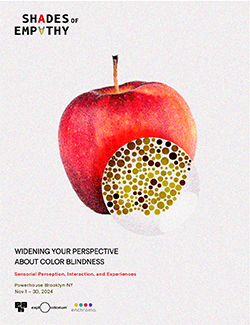 Inclusivity considerations play a significant role in current principles for the design industry, and designers try to consider how to create spaces where all feel welcomed.
Color is an important element in conveying information in spatial design, however, it is hard for people with color blindness to distinguish colors because most systems are designed for people who can discriminate color normally.
By understanding color blind perspectives, the designers can take advantage of diverse materials, mediums and lighting to create more inclusive, educational, and empathy-building exhibitions.
The Design Development Package will be posted here on December 6 for your review.
Client: EnChroma, Powerhouse Arts, and Exploratorium
Venue: Powerhouse (Brooklyn, New York)
Audience: Primary: Experience seekers
Secondary: Family and friends of those who are color-blind
Tertiary: Professional hobbyists
Janine Edovas
Thesis and Project
Superhero School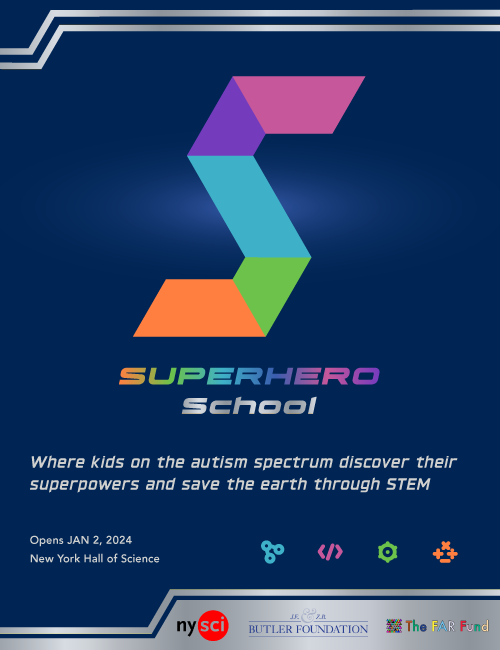 Inclusion in museums can extend beyond physical access to accommodating all audiences including the neurodivergent (with conditions such as autism, ADHD, and learning disabilities) through events such as early morning sensory-friendly programs. However, these programs are limited as they only happen occasionally and are very focused on accommodating sensory sensitivities, which vary even among neurodivergent visitors.
A multisensory exhibition around common interests can not just accommodate but engage children across a range of cognitive abilities, while focusing on visitors on the autism spectrum. This approach will increase their self-esteem and recognize that their unique abilities make them valued members of society.
The Design Development Package will be posted here on December 6 for your review.
Client: NY Hall of Science
Venue: NY Hall of Science
Audience: Primary: Families with young children ages 4 to 8 on the autism spectrum.
Secondary: Families with other neurodivergent and neurotypical children.
Flavia Pedrosa Tonietto
Thesis and Project
Horsecentrism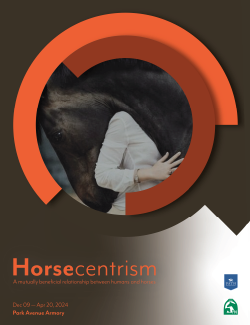 Navigating and orienting oneself in an exhibition are activities that can occur concomitantly or not, depending on the level of familiarity that the user has with the environment. Usually, when the visitor is open to exploring the space in a democratic way, they are more susceptible to behavioral patterns that assume individualistic preferences, thus allowing intrinsic elements of the exhibition to influence the path taken. Exactly there lies the opportunity for designers to affect a visitor's decision-making. Designers can strategically position elements such as displays, artwork, and text to create a hierarchy to explore the potential for spatial attraction.
The Design Development Package will be posted here on December 6 for your review.
Client: PATH International and German Equestrian Federation(FN)
Venue: Park Avenue Armory Conservancy
Audience: Primary: Local and international tourists.
Secondary: People who are directly involved with horses, such as equine therapy professionals, professional riders, and amateurs. People who provide any service to the welfare of horses
Tertiary: Horse lovers
D. Villella
Thesis and Project
The Rainbow Connection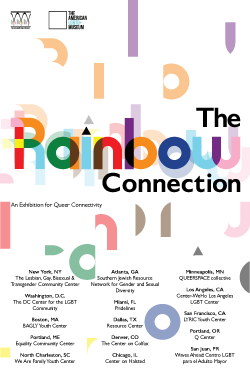 The expansion of the Queer community since the inception of the Queer rights movement has led to culture gaps and fracturing among differing Queer social groups. Rebuilding the connections between these unique groups would give Queer people insight into others as well as themselves. Fostering unity in this way can galvanize the community at large, while at the same time, addressing systemic internal phobias, deepening an individual's sense of self, and reinforcing empathy with the struggles of others.
Thought-provoking, educational spaces that welcome conversation among broad demographics of Queer people have the power to build community through discussion of Queer history and mental health.
The Design Development Package will be posted here on December 6 for your review.
Client: The American LGBTQ+ Museum & The Generations Project
Venue: Traveling Exhibition - Originating Venue: The LGBTQ+ Center, NYC
Audience: Primary: The Queer community
Secondary: Friends and family of the Queer community
Cameron Ledy
Thesis and Project
Designs On You: Find Your Missing Piece (of art)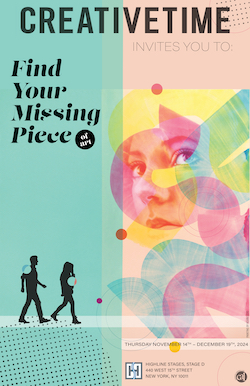 Collecting art is an identity-affirming practice driven by personal taste and a subjective definition of value however it seems incapable of escaping larger trends of The Art Market. As a result, spaces can be designed to encourage visitors to feel more confident in their individual choices in art, potentially protecting them from external market pressures when purchasing. Fine art exhibitions that incorporate community feedback toward nurturing individuality over market influence can impact both small and large galleries and increase their value to the community. This exhibition explores how this dynamic can occur and creates fun opportunities to give feedback on what can feel like a serious or inaccessible topic to some.
The Design Development Package will be posted here on December 6 for your review.
Client: Creative Time
Venue: Highline Stages
Audience: Primary: Art buyers
Secondary: Art enthusiasts
Janelle Sochet
Thesis and Project
Earth Within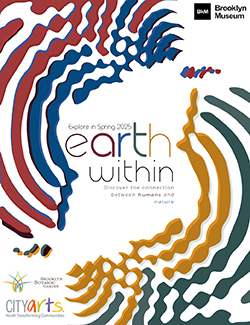 To ground is to align your mind, body, and soul. This can be accomplished in many ways depending on the preference of the individual's connection to their sense of self and environment. Although, a universally sound rule of grounding is breath-work. Our breath taps into every part of our being and connects us to our surroundings, providing confidence in the present. Before we continue, pause and take a breath. And not the typical implicit breath, but an intentional full belly breath, in and out. This is an opportunity to root into the now and clear your mind. Through the art of breath, spaces optimal for grounding can be integrated into designed environments to elevate experiences of visitor engagement.
The Design Development Package will be posted here on December 6 for your review.
Client: Philips Hue
Venue: Brooklyn Museum and Botanical Gardens
Audience: Primary: K-12
Secondary: Wanderers of all kinds
Mary Oleary
Thesis and Project
Originality of the Avant-Garde & Other Modernist Myths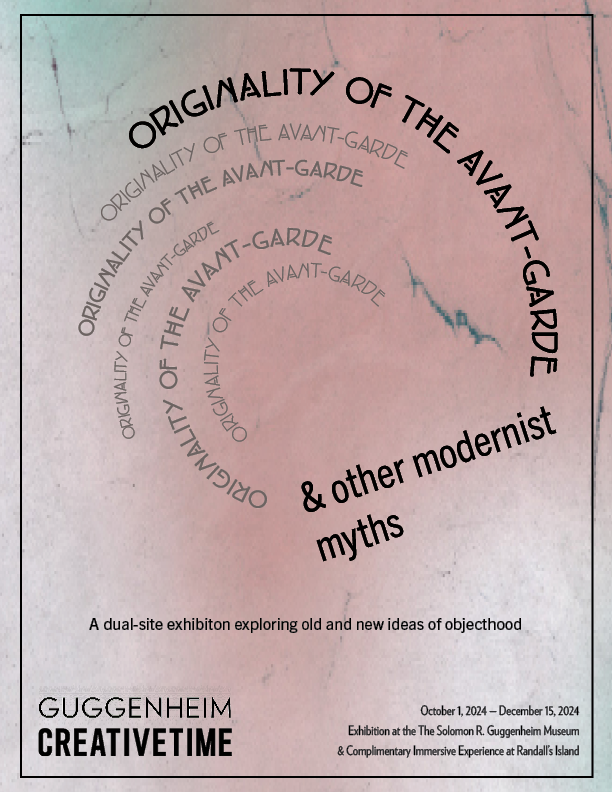 When observing large format information, such as a meta-narrative, you can lose the forest for the trees. The multi-site exhibition is no exception. In designing such an exhibition, designers need to refract information so that it is exciting and digestible but also ensure that it connects to the whole. This parallels the inclusion of technological tools in the realm of mixed reality in the exhibition space, which often precludes engagement beyond novelty. Designers need to tactfully embrace how much inherent obfuscation of spread, be it spatially or technologically, can be an opportunity to figure out when to contract. Utilizing Originality of the Avant-Garde and Other Modernist Myths by Rosalind Krauss as curatorial source material and organizing principle to model an expansive way of showing, traditionally and digitally, and thus seeing, while key stoning cohesiveness through a thoughtful design process, which centers concept, community, and circularity, within the experience industry. My thesis is an application of the aforementioned ideals at every stage of development to understand how to best help visitors appreciate the uniqueness of each tree without losing the appreciation of the forest.
The Design Development Package will be posted here on December 6 for your review.
Client: The Solomon R Guggenheim Museum and Creative Time
Venue: Due to the expansive nature of this exhibition, there are two venues: The 6th Floor of the Solomon R. Guggenheim Museum, New York and Randall's Island Park, Randall's Island New York
Audience: Primary: Art world industry, particularly museum professionals
Secondary: Young art enthusiasts. These individuals are either new collectors, young dealers, and enjoy art from a more social, rather than professional context
Sonali Agle
Thesis and Project
Symphony of Colors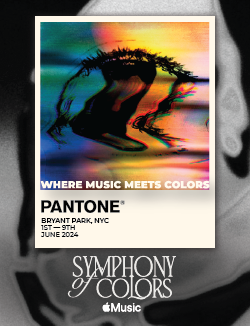 The importance of color in our everyday lives cannot be understated. Color plays a pivotal role in various aspects of human perception, communication, experience and cultural expressions. Color is one of the constants in our lives. We learn, work, live and sometimes even dream in color. This in turn, raises the question - Is color accessible to everyone? Effective color accessible experience plays a crucial role in creating inclusive and user-friendly environments by prioritizing color choices, contrast, and alternative design elements, thereby enhancing accessibility and ensuring equal participation for individuals with visual impairments or color vision deficiencies.
The Design Development Package will be posted here on December 6 for your review.
Client: Pantone x Apple Music
Venue: Bryant Park, NYC
Audience: Primary: People with color vision deficiencies & creatives
Secondary: Tourists and students