Information for Nondegree Credit Students
Credit courses at FIT are the perfect way to enhance your resume, upgrade and update your job skills, progress toward completing a degree, or get the credentials you need to give your career a boost. Our classes combine the academic rigor of credit-based study with hands-on practical skills and creative discovery.
For those seeking to develop or enhance specialized skills by learning the latest technical or professional techniques, FIT offers a number of competency-based credit certificate programs.
Current Course Offerings
Whether amping up your business acumen, diving deep into design, tapping into today's technology, or learning through liberal arts, credit study can help you take your career and personal journey to the next level.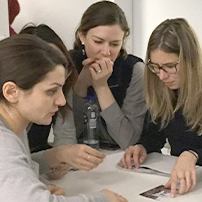 Advanced Career Development by the School of Graduate Studies
Ongoing training and development for individuals, managers, directors, senior executives, and FIT alumni. Enhance and advance your professional skills or gain new ones. Take a course, earn a degree-bearing certificate or nondegree certificate, and attend advanced seminars. Learn from leading industry and academic experts, tackle today's challenges, and make a measurable impact—in your career, within your company, and in society.
Learn more