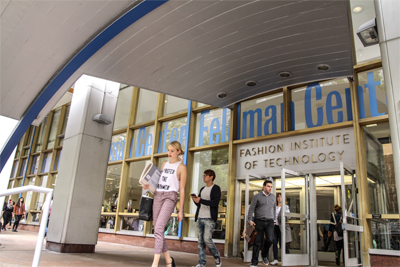 Are you coming to FIT for a conference or another event unrelated to admissions?
Learn more about FIT!
The best way to get to know FIT is to visit our campus. Prospective students, applicants, and their families are invited to join us for one or more of the events listed below. We look forward to showing you all that FIT has to offer!
The Admissions team is available to assist you on-campus, by email, and phone.
Office Number: (212) 217-3760
If you are a current applicant or student, please email [email protected].
If you are a prospective applicant seeking more information, please email [email protected].
On-Campus Information Sessions
To help you explore all FIT has to offer, we invite you to a virtual information session with an admissions representative. Information sessions are hosted by a member of the Admissions office and take place on Tuesdays and Fridays.
» Register for the FIT Information Session
Group information sessions are for 10 or more high school or college students representing an educational institution or a community agency. Group visits include a presentation by an Admissions Office representative.
Campus Tours
Please join us for a student-led tour of the FIT campus! You'll have the opportunity to see some of our classrooms and labs, a residence hall, our student-run boutique, and more! Plus you never know what sort of new and exciting creative student work will be on display at the time of your visit!
» Register for an On-Campus Tour
If you're not able to make it to campus, we welcome you to take a virtual tour of campus.
Annual and Special Events