ISCOM & AMC Global Marketing Communications
Program Type: ISCOM & AMC Global Marketing Communications (GMC) Curriculum New York-Paris
Institut Supérieur de Communication et Publicité (ISCOM), centrally located in the ninth arrondissement of Paris, has established itself as a premier training institute for students of advertising and marketing communications over the past 30 years. Students are immersed in the professional world through their strong alumni network and industry partnerships, as well as having industry professionals serving on the faculty. Located in the cultural center of Paris, campus is walking distance from Palais Garnier, Jardin des Tuileries, and the Champs-Élysées.
As of Fall 2022, ISCOM and the Advertising & Marketing Communications (AMC) department at FIT began offering this new joint Bachelor curriculum, wherein selected students from both institutions study Global Marketing Communications together over two academic years. The first year takes place in the U.S. on the FIT campus in New York City and the second year is in Paris, France on the ISCOM campus.
This unique curriculum includes Global Marketing Communications-related courses taught by ISCOM and FIT professors (in English), as well as internships (in English) in both countries. Students study together (with a few course exceptions) and work in U.S. and French teams on real projects for real brands and real international markets. This unparalleled curriculum is limited to 12 AMC students per cohort, with currently one cohort per year.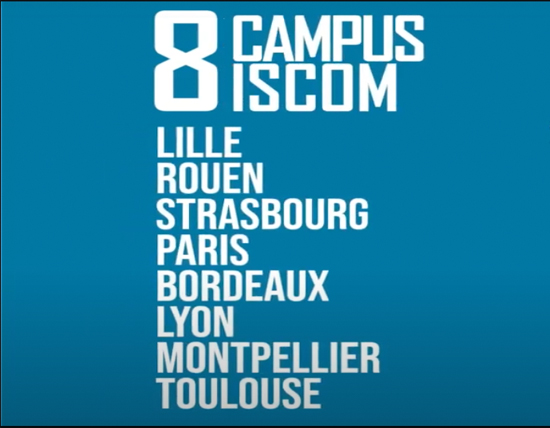 Approvals on an ongoing basis until September 30 for the following fall semester for a new cohort. (Deadline is one year in advance of when you wish to start the curriculum.)
Completion of the AAS degree in Advertising & Marketing Communications at FIT in New York City

Selection for the ISCOM-AMC GMC curriculum between the 1st and 2nd semesters of the AAS degree program

Interested students will need to submit an application and complete an interview with the GMC Program Coordinator at FIT

Selection of the AMC students will be based on criteria like global-international experience and perspective, motivation for the GMC curriculum, open-mindedness to different cultures, races, and religions, ability to work in teams, hone creative skills, etc.
If accepted, students will need to complete three (3) AMC Bachelor prep courses prior to beginning the curriculum:

SS242
MA300 or MA311
One Liberal Arts Economics elective (choice of SS200, SS201, SS302, SS343, SS443, SS445, or SS446)

Minimum 3.0 GPA
AMC students completing the GMC curriculum must go to ISCOM in Paris for their 7th and 8th semesters; students complete their FIT degree abroad. Note: FIT students in the cohort graduate with an AMC BS degree from FIT and ISCOM students in the cohort graduate with their ISCOM degree.
The ISCOM & AMC Global Marketing Communications curriculum is inspired by and is an expansion of FIT's AMC Bachelor's curriculum in a specific sequence, with a focus on global and international marketing communications. Students spend the first two semesters at FIT in New York City and the final two semesters at ISCOM in Paris, completing degree their requirements (including one internship in each city). Review the GMC curriculum here (.pdf).
Selected AMC students must take three (3) prep courses before beginning their GMC BS curriculum. They will then join the 12-13 ISCOM students (selected by ISCOM for this GMC curriculum) to form one joint cohort of 25 students. The cohort will follow the GMC curriculum together (two semesters in New York and then two semesters in Paris). Most courses will have a special section dedicated to students following the GMC curriculum, with the exception of certain choice courses in liberal arts (such as writing). Academic advisement is done within the Advertising & Marketing Communications department, specifically with the Program Coordinator Jean Marc Rejaud, as well as with the Academic Advisement Center (AAC).
While in Paris, students' schedules will be created for them by ISCOM, based on the required course equivalents. Note: one course at FIT is oftentimes equal to two or three shorter courses at ISCOM and the combination is referred to as a module. As a reflection of the French scheduling approach, times of classes may vary week-to-week, unlike those at FIT.
Specific academic calendar dates are not posted until closer to the beginning of term. Typically the ISCOM calendar is:
Fall: from September through January
Final exams/projects may take place before or after the two-week Winter Break
Spring: from early February through late June
Students are generally expected to arrive the weekend before orientation begins.
Students are responsible for making their own accommodation arrangements for the duration of their time in Paris. ISCOM does not provide student housing. Keep in mind that Paris is a large city, like New York City, and students may encounter similar challenges as they look for housing.
ISCOM recommends reviewing the below:
Students will be required to apply for a Long-Stay Visa for the duration of their stay in France. Students are encouraged to carefully review the Visa requirements and are required to attend a mandatory visa orientation session held by the Office of International Programs (OIP). Supporting documentation will be provided for your visa application.
Health Insurance
FIT requires all students to be covered in the U.S. and internationally for the duration of their study abroad program. Two types of coverage are required:
1. FIT requires students to be covered abroad for the duration of their program. This policy is mandatory, therefore students cannot waive it.
Coverage abroad: UHC Study Abroad Insurance
*Students will be enrolled and account will be billed before start of program. More detailed information about coverage and claims processes will be provided post-approval. Students may be responsible for purchasing French insurance; in which case, they will not be billed for UHC insurance.
2. FIT requires students to be covered in the U.S. for the duration of their program. Students may waive the Haylor insurance using the standard waiver process if they already have a U.S. based insurance policy with equal or better coverage.
Wellness
Students are eligible for student support services offered to other ISCOM students. Please review their website for further information.
See the Scholarships & Financial Aid page.
Please note that there are specific scholarships for AMC students participating in this curriculum. Please see the link above for more details.